April Fool's Day may not be an officially recognized holiday like Christmas or New Year, but given its global recognition and appeal, it still presents a great opportunity to engage your audience with witty content. It is also the perfect moment to get those creative juices flowing and experiment with the armory of interactive elements at your disposal.
Since humor is what you're aiming for, you can truly go to town with GIFs, animation, video, pun-filled copy, and bright, eclectic colors. All in all, April Fool's Day is a great time to have fun with your marketing messaging and humanize your brand.
The key, however, is not to overdo it. You don't want to confuse your audience or go so overboard with the use of design elements that the message gets lost in the clutter. At the same time, your pranks or jokes must have an edge to be able to truly stand out but without being offensive or off-putting.
All in all, if you want to create April Fool's Day emails that hit the nail on the head, you must brace yourself for some serious brainstorming.
How Not to Run April Fool's Day Promotions
We say this because April Fool's Day pranks on your customers and subscribers can backfire just as easily. Even behemoths like Google aren't immune to this risk. Gmail's legendary Mic-Drop prank fail on April Fool's Day in 2016 is proof!
The tech giant had added a 'send and mic drop' feature to Gmail that attached a Minion-inspired mic-drop GIF to the email copy automatically. The send button for this GIF was designed to mimic the actual email send button, which caused many users to inadvertently send the emails with the quirky GIF attached to business associates, clients, and bosses.
Some users even complained that Google's prank cost them jobs or resulted in business losses. At the time, Gmail had close to 1 billion monthly active users. This attempt at some harmless April Fool's fun quickly turned into a nightmare, prompting Google to roll back the feature.
In a blogpost following the fiascos, Google wrote, "Well, it looks like we pranked ourselves this year. Due to a bug, the Mic Drop feature inadvertently caused more headaches than laughs."
April Fool's Day Email Ideas You Can Experiment With in 2021
As you can see, a digital prank gone wrong can infuriate and alienate your users, besides denting your brand image. Unless you're Google, recovering from such a setback can be hard. So what can you do to create a cheeky marketing campaign that can earn you goodwill and clicks all at once?
Here are 7 April Fool's Day email ideas you can experiment with:
1. Get in on the prank

Instead of trying to prank your subscribers, why not be on their side as they plan to pull off the perfect bluff on their family and friends. This email from Brilliant Earth is a brilliant example of how it's done.
The jewelry brand ran a special April Fool's Day campaign by asking their subscribers to use the images from their virtual try-on feature to prank their loved ones with a fake engagement announcement. They took it a step further by extending the campaign on social media, asking users to share stories on their handle with a special mention of the brand!
This funny, edgy, and quirky campaign checks all the right boxes on the how to create April Fool's Day emails checklist. It may have well served as a prank inspiration for many who were absolutely out of ideas.
2. Make it elaborate
Kidstir, the brand promoting healthy meal boxes and the joy of cooking among kids and families, truly went all out with their April Fool's Day campaign. Not only did they run a special discount on a subscription to mark the occasion but also value-added it with creative offerings.
With a joke-writing manual and a special disguise kit, this monthly meal box offer is truly designed to lure anyone who has young kids at home and wants to maximize the April Fool's Day fun.
The bright pop of colors, coupled with eye-catching animation, also makes this email score perfectly on the design front.
3. The good-ol' discount announcement

If you can't think of something out-of-the-box, falling back on a tried and tested classic is often the safest bet. That's exactly what Good Beads has done with this April Fool's Day email that announces a special sale.
Apart from announcing a sitewide sale, they've sweetened the deal with a freebie and a special discount code. The subject line is clear and crisp, conveying exactly what's on offer; and the design clean and clutter-free.
4. Use it for brand reinforcement

Don't have anything special to say to your subscribers this April Fool's Day? No sale, no quirky campaigns, no special offers? You can still use this opportunity for some solid brand reinforcement, making sure your name stays fresh in their memory.
Sony's April Fool's Day email is a textbook example of how it can be done. This Mark Your Calendar email uses April Fool's Day as an opportunity to give the subscribers a lowdown on all the important events lined up for the month, with some relevant products shrewdly pegged along. Case in point: this new set of headphones pitched alongside a tax-filing reminder for April 15.
5. Spring a surprise

Puns are a great way to cash in on the April Fool's Day spirit and get your subscribers excited about discounts enough to want them to click on your CTA and explore what's on offer. Choosing words like 'surprise', 'no joke', 'not fooling' can extract that reaction from them, especially on Fool's Day.
Birch Lane seems to know it all too well. This email announcing a special, limited period discount in the spirit of April Fool's Day is proof. They have used the right buzz words at the right places to pique intrigue. The simple and elegant design of the email enhances the credibility of the message.
6. Prank them with fake announcements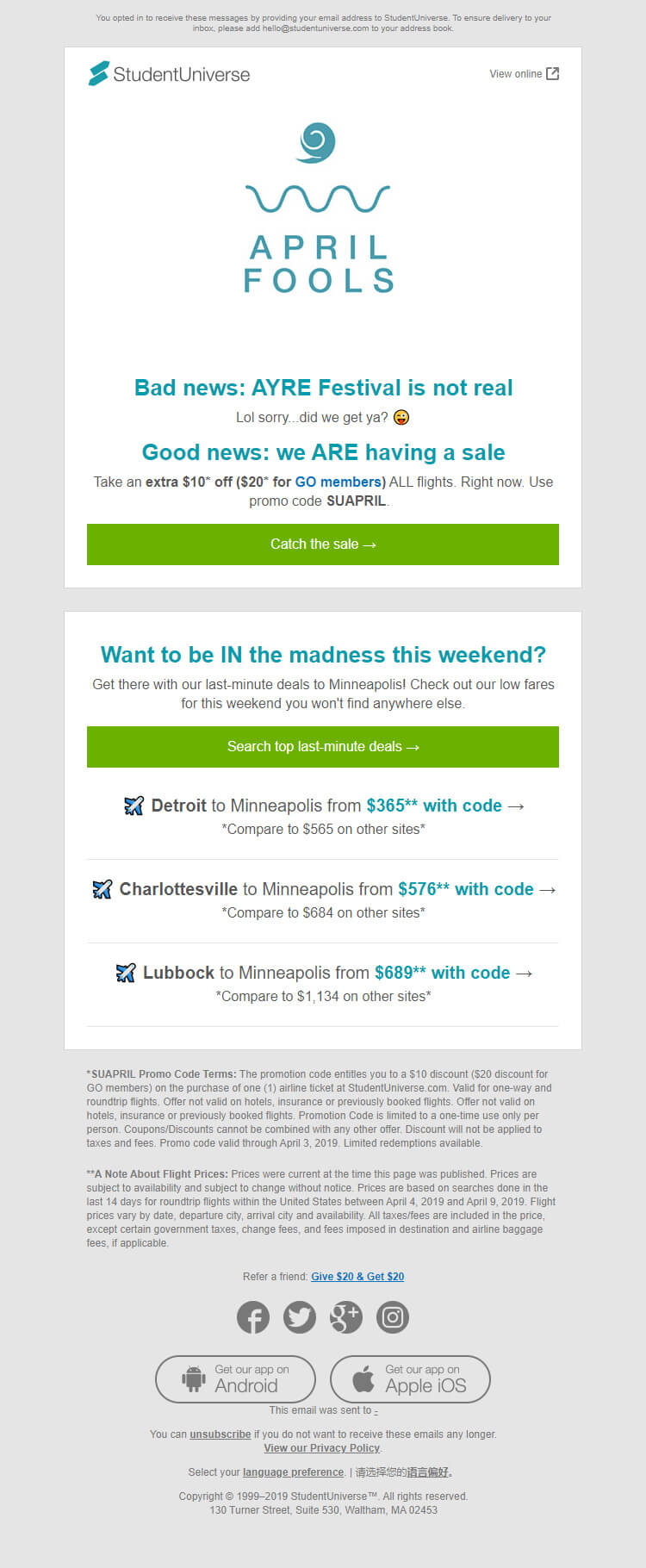 Given that it's April Fool's Day, a few pranks are to be expected. What could be a more fitting prank from a brand than an irresistible, albeit fake, announcement? As long as you don't do something outlandish, your subscribers will appreciate the good humor. Even so, it's a good idea to follow with the prank with an email that sets the record straight. When you add a discount to the mix, they're sure to be more forgiving.
Take the example of the follow-up April Fool's Day email from StudentUniverse that offers clarification about a festival announcement being fake, and then swiftly follows it up with a sale announcement and a special discount offer for premium members.
Good-natured humor such as this is just right to drive up engagement and clicks.
7. Post April Fool's Day offers

Another smart way to ride the April Fool's Day fervor and stand out in a sea of promotional messages is to time your emails differently than others. TruDog, for instance, sent out this free shipping email a day after April Fool's Day.
A limited-period offer, complete with a countdown timer, this FOMO-inducing email is designed to make the recipient feel special and at the same time prompting them to take the desired action.
Looking Ahead
Creating April Fool's Day emails can be fun, exciting, and challenging in equal parts.
If you're struggling to make headway with an amusing html email template, our team of design and coding experts can help! Get in touch with us today.