April Fools' Email Inspirations To Laugh It Off!
When was the last time you had a good laugh?
It's been said and noted by great brains throughout history that 'humor' keeps the brain healthy and human relationships intact. As Sydney J. Harris once said, "Never take life seriously. Nobody gets out alive anyway".
The Uplers have been getting mischievous with the same thought.
As per a data by statisticbrain, the number of people who play an April Fool's joke each year is estimated to be around 89,000,000. Now that's a lot!
On a second thought, we might as well be in there!

As the Fool's day seems to be right around the corner, we've handpicked some of the wittiest emails in the industry. Skim through these awesome, hilarious pranks:
BRAND: AMERICAN EAGLE OUTFITTERS

This is a witty email with a banner image designed in such a way that it highlights the OFFER area, also adding a sense of urgency.
The header has a "Find in Store" section, which can be linked to its physical stores. This helps in promoting cross-marketing.
The navigation menu is a great idea, turning your email into a microsite and enhancing interactivity. Although there is a video in the email, Video playback is not supported by majority of the email clients. However, this issue can be resolved by adding a fallback image instead and linking it to the video.
The email design is in sync with the clothing theme. The light-hearted representation adds the fool's day twist for a good laugh.
Towards the bottom is a social cause and a 'Learn More' button, which is nice in a way and can help in improving the click-through rate.
Social icons are included to promote sharing on social platforms.
BRAND: BANANA REPUBLIC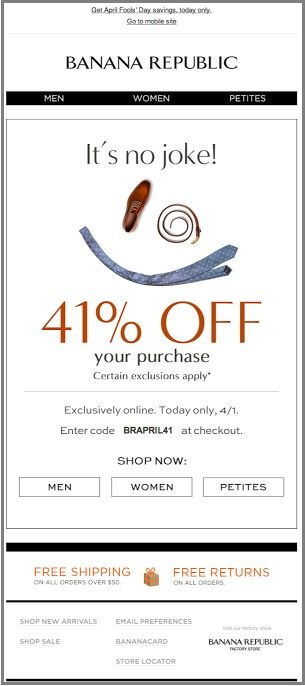 A short and minimalistic email with a winking smiley made by arranging their products smartly. This design suits the April fool's day theme.
The menu at the top ensures smooth navigation.
The 'email preferences' link at the bottom enables the subscriber to set email reception frequencies. This is a great way to reduce un-subscriptions.
BRAND: DELIVEROO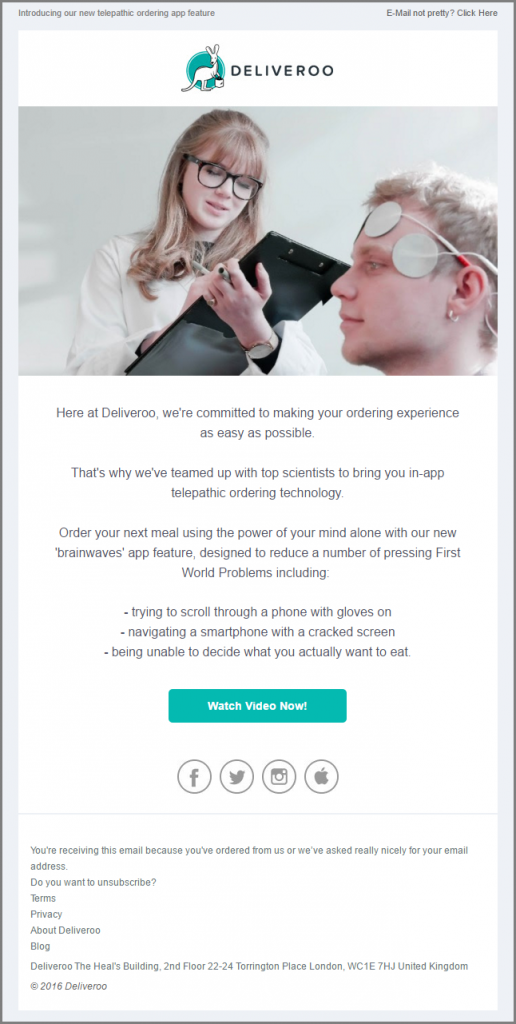 A quirky minimalistic design with a creative copy. This email is sure to make you chuckle.
The link to 'watch the video' is a great idea but make sure to give a fallback since videos aren't always compatible with majority of email clients. But yes, they can certainly improve click-through rates.
The logo of the brand is positioned clearly at the top along with the sender information provided in the footer of the email.
Social icons help connect and share the email to spread the fun.
The entire email is easy on the eye without much variations throughout.
BRAND: KING ARTHUR FLOUR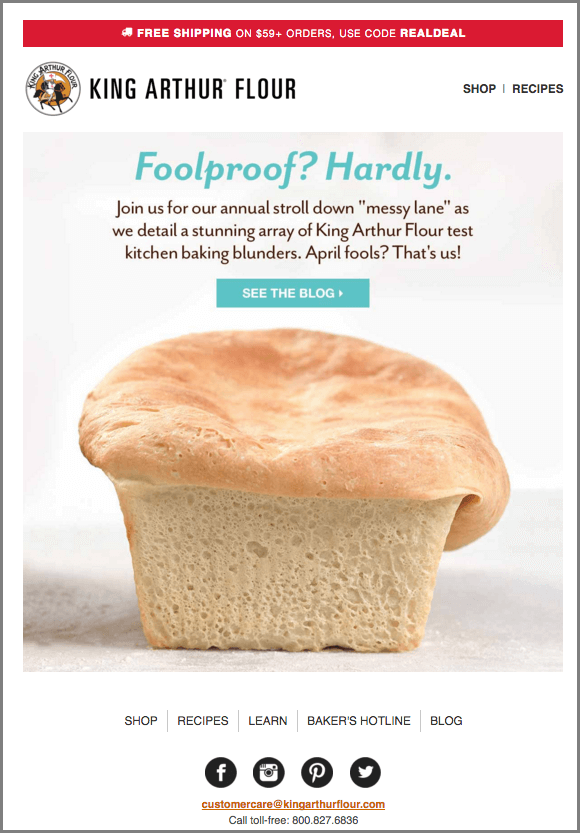 A simple email with a nifty tagline that is sure to make you want to click their CTA.
The image of the flattened bread clearly indicated a 'blunder-ful' yet fun ride through their fool's day blog.
The content includes an image in the background and the text placed over it. The tagline is catchy, but it could all go wrong if the image does not render properly. To avoid this, one must use alt text in a contrasting color.
BRAND: NEW LOOK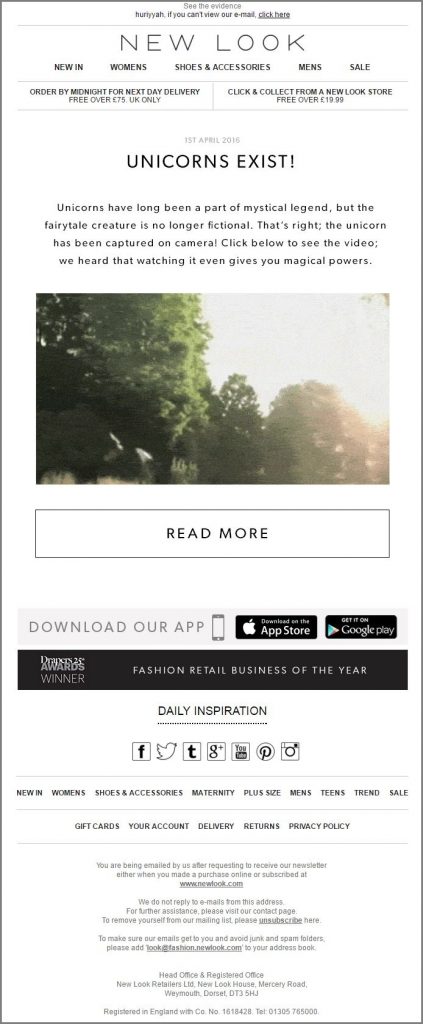 Their headline – 'Unicorns Exist' is in itself like woah! A pretty blunt representation of the Fool's day theme, funny nevertheless! That's followed by a snippet of the material that's enchanting and alluring enough to make you click on their 'read more' tab.
Right below the navigation menu in the header are two attractive offers.
BRAND: VENUS
The email is totally wacky and funny. They've twisted their usual offers and deals, and if you don't read it right then like Russell Peters says, "Somebody Gonna Get Hurt, Real Bad!!"
Their sarcastically funny banner image with an even interesting CTA tab is what makes it so amazing.
The email design is peppy and bright and goes extremely well with the April Fool's Day theme.
Wrapping Up:
April Fool's Day is an occasion to let your hair down and bring craziness around. Though brands fear staining their reputation in case the prank isn't received well, it's always good to experiment and tickle the funny bone to spread a wild kind of happiness with your email campaign templates.