21st of June, 2020 is Father's Day, and like every year, people would be showering their love on their father with special gifts. It comes as no surprise that in the last ten years, spending on Father's Day gifts has remarkably increased. In 2019, total spending for the holiday was estimated to touch $16 billion, up from last year's $15.3 billion.
The graph shown below proves that the popularity of Father's day has increased since 2012 and so has the spending.
Most of the marketers try to reach out to maximum shoppers with their Father's Day offers or gift guides through every digital channel available. However, email is one of the most preferred communication channels for all such seasonal engagement opportunities.
Considering this fact, we bring to you some great email examples to woo your subscribers and get them to buy something for their father. 
1. MyPoochFace
MyPoochFace sends out an offer email for Father's Day using a punny headline – Father's Day Purrfection. It would have been great if they would have included some kind of a visual in the email to match the Father's Day mood. Nonetheless, it still conveys the message clearly, highlighting the 60% off on the portrait. There is a textual CTA as well as a CTA button to encourage the reader to take action.
2. Cheryl's Cookies
Cheryl's Cookies has created such a tempting email for Father's Day. Whether it is the preheader text, the header image, the CTA, or the email navigation bar, the email has nailed all the email design best practices. They have also promoted their referral marketing strategy to drive more conversions.
3. Cabany co.
The email by Cabany co. has reiterated that Father's Day falls on 21st of June followed by their coupon code and offer details. The images give the recipient a clear idea on what they can gift to their dad. They have tried to create user-generated content by sharing their social media links and the hashtag #cabanyco. It would give them better visibility on those platforms. As far as images are concerned, they could have placed a GIF showing all those eight products that they have highlighted. It would have made the email shorter.
4. Leatherology
Leatherology suggests some great Father's Day gifts from their store with attractive images, engaging copy and clear CTAs. It perfectly abides by the 80:20 text to image ratio for optimum deliverability. However, the preheader text and View online link are missing.
5. Houndsbay
If you love conversational emails, Houndsbay presents one of the finest examples. The email starts off by greeting the subscriber and informs them about Father's Day. It then proceeds to share some of the top gifts for the occasion. The image of the gift is followed by a CTA that the users can click-through if they want to know the pricing details. The email ends with a courteous message wishing for the safety of the subscribers and asks them to reach out to him if they have any questions. Amidst all those robotic marketing emails, the humanized tone of this email is sure to win the subscriber's heart.
6. ScanMyPhotos
This email caught my attention because of the animation in the first fold. The GIF animation seems broken, right? I would like to emphasize the importance of email testing over here. Always test your emails for flawless rendering and ensure a smooth experience for the customer.
Along with Father's Day offer promotion, ScanMyPhotos has also shared what they are contributing their bit for COVID-19 emergency.
It could have been a great email, had the GIF worked well.

7. 80sTees
The email by 80sTees focuses more on text rather than images. Like Houndsbay, they have used the power of persuasive language to entice the customers to purchase from them. They have linked their product pages to certain keywords used in the email copy. Apart from a CTA button, they have included a text-based CTA so that the message is conveyed even to subscribers with images blocked. The email ends with snapshots of the tees you will be able to buy.
8. M&N Party Store
M&N Party Store has designed a short and sweet email highlighting their offerings in the header followed by a peppy hero image. It also underscores that 2020 has been a difficult year and therefore, it has become all the more important to appreciate the contributions of the father or grandfather. They have included the offer details yet again followed by a CTA toward the end of the email.
9. MANLY BANDS
Manly Bands has perfectly leveraged the power of GIF in their email. They have displayed various types of bands that go with a father's personality. The 15% off discount code is placed in such a way that the reader would surely notice it. The email ends with social sharing buttons. They have included a View in Browser link too for subscribers who are unable to view the GIF in their email client. The only thing they missed out on is the preheader text.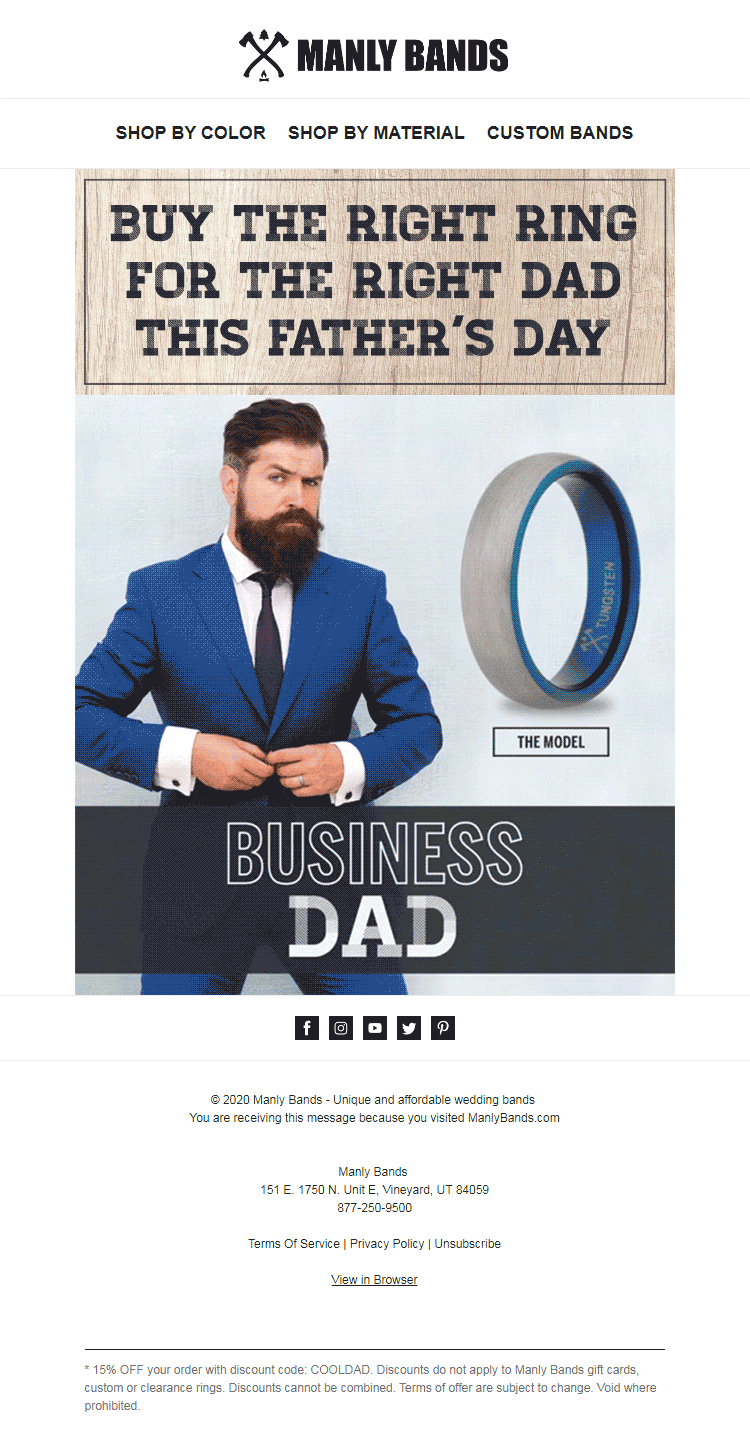 10. Lisa Angel
Wrapping Up
Have you planned to send Father's day emails to your subscribers yet? In case you are looking for some help to get beautiful emails designed and coded, Email Uplers has got your back.
Get in touch with us or visit our order page to place an order.
P.S. Don't worry even if it's an urgent requirement and you are in the last-minute rush because we have the fastest turnaround time.