Inspiring Father's Day Emails that Boosts ROI and Brings Smile
Father's day is just around the corner and it's time for marketers to pull the highest revenue possible from this golden opportunity. Emails here play a vital role as they can help consumers in making a buying decision, besides culminating into a satisfying season for marketers and consumers – helping boost conversion.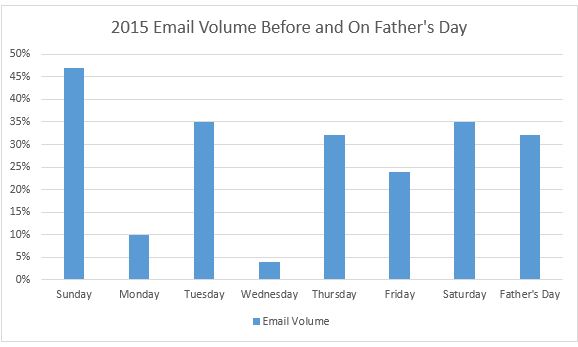 Creating a fluctuation in the email volume, email marketers experienced a boost of 19% in father's day email campaign.
That said, email marketing is the most effectual way to pump up sales in the most accurate way. However, many email marketers find it extremely difficult to showcase their offer in a ground-breaking way. To terminate this block, Uplers has come up with 7 beautiful yet interesting email inspirations that sell like hot cakes.
Kate Spade
Kate Spade is known for their wonderful yet crisp email designs that don't fail to the win over the hearts of their subscribers. Kate Spade always uses subtle colors which unlocks their email's full potential. The Happy Dad text with a great imagery behind it adds an auxiliary element that helps in increasing its visual appeal.
The CTA is clearly visible and indicates the consumers what to do next. In addition to that the free shipping offer just makes this email a hard one to ignore.
Godiva
Another mouthwatering email from Godiva that grabs the attention without wasting a split second. The email has stuck to its theme which makes it recognizable, and at the same time adds a trust element. The offered recommended products help the subscribers in making a buying decision without any hassle. With a great use of whitespace, this email is enough to convey the warm feeling of Father's Day.
J.Crew
J.Crew is a name that always come up with ground-breaking emails. With ample suggestions this inspiring Father's Day email contains all the ingredients of a great selling yet appealing email. Whether it's their visual element or crisp design, clear CTA or following the thumb rule of including enchanting images, this email has it all.
Dockers
Dockers has successfully linked the email with their brand name and it can't be ignored. This Father's Day email contains a well-optimized copy that brings a smile on subscribers face as soon as the iris meets the email. A few added images bring a nostalgic element which makes this email more clickable.
JC Penny
JC Penny's bold red email, juxtaposed with white color steals the show efficaciously. The bold and effortlessly visible offers make it a complete win-win email. Though, there is not much copy included but the creative is certainly a sale generator.
Dean & Deluca
A great email by Dean & Deluca perfectly sums up the Father's Day feeling in an email. The copy makes the email more informative, while offering recommended products to give more ideas to the consumers with efficient product information that saves the hassle of visiting the website and make a purchase then and there. All-in-all, this email from Dean & Deluca is one to attain inspiration.
Argos
When it comes to create an email that is relevant and the products are not easy to find anywhere else, Argos does it with complete ease. Every offered product contains an appealing name with great offers. The splash on the Father's Day text make this email a refreshing and different email which is instantly noticeable.
These were some of the great and inspiring Father's Day emails that are awe-strikingly beautiful. Father's day is the day to share the love and spread it joyously. Emails help in conveying this feeling in the best way possible with impeccable offers.
Have you planned sending amazing Father's day emails to your subscribers in 2016? In case you are experiencing a block in designing beautiful emails then worry no more, Uplers have got your back. Visit our order page to attain divine Father's day emails that are hand-coded and delivered at just 8 hours TAT.