Your email is your creation, you put in so much time and so many efforts into creating one. All you want after all the hard work is a good response and great sales.
With your fingers crossed and hopes high, you hit the send button! And wait…
The next day you check the statistics- the open rates, the click-throughs, etc. What you find out is that just a few of your emails actually got opened. And, there's nothing more depressing for email marketers than knowing this.
Subject line is the biggest factor influencing email open rates. You get them right and a lot will fall into place. But how to write a good one? How long should it be? What all to avoid?
Get apt answers to all such harrowing questions through mind blowing email subject line statistics compiled by the Uplers , and see a great boost in your email open rates.
1. While 7 words is the most common subject line word length (14.0% of them), 3 words (1.6% of them) have the highest engagement rates (21.2%, compared to 17.2% overall and 15.8% for 7 word lines).
Source: Sendgrid
2. Subject lines with 'soon' have higher engagement rates (21.9%) versus those referring to 'now'. Lines that use the word 'free' have significantly lower engagement rates (13.1% versus 17.2% for lines without 'free').
Source: Sendgrid
3. Using 'Daily' or weekly' in subject lines boosts open rates whereas 'monthly' hurts them.
Source: Sendgrid
4. Subject lines with words like 'Journal', 'Whitepaper', 'forecast', and 'training' are the worst performers.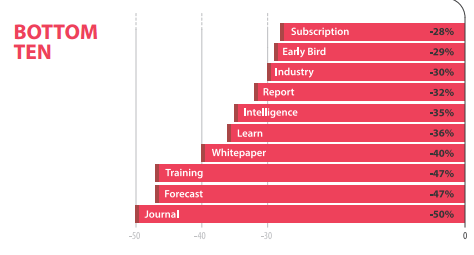 Bottom-10 performing words across billions of emails
Source: Adestra
5. Email opens on mobile devices has grown 30% from 2010 to 2015.
Source: Campaign Monitor.
An iPhone shows about 35-38 characters of your subject line and Galaxy S4 shows about 33 in portrait mode. Whereas an iPad shows 39 characters, regardless of the orientation.
6. Multichannel retailers see a 37% increase in unique open rates for emails with personalized subject lines when compared to emails with non-personalized ones.
Source: Experian
7. Subject lines with hard numbers have a higher open and reply rate. The open rate is 53.2% as compared to the 2015 average of 51.9%.
Source: Yesware
8. Don't get too creative. The best email subject lines describe what's in the email, without a hard sell.
Source: MailChimp 
Subject lines can make or break the success of your email. So, the next time you sit down to create your email campaign, make sure you consider the above email subject line statistics and write really good ones. You can check out the top 75 holiday email subject lines here. And for any other designing and coding related matters, you can always consult the Uplers.