An Email Landing Page optimized around conversion and activation drives great results in the world of email marketing.
Whenever you plan out your email campaigns, you have a wish to get maximum subscribers to take action. Isn't it disturbing when you spend all your brainpower and efforts in preparing an awesome email campaign but you still have to struggle with conversion rates? To give an impetus to your conversion rates, the perfect idea is to have an exclusive email landing page supporting your email campaign.
Let's take an example to understand it better.
Imagine you receive an email promoting a specific mobile phone model and the email redirects you to the company website instead of the page displaying information related to the specific model. Wouldn't it be an instant turn off for you that you have to search the entire website for the model they are promoting? It would kill your interest and they would end up losing a customer regardless of how good the product is.
Now, that's what a best performing landing page actually does. It takes your customers to the information that they are looking for, right away. Preparing a well-thought-out page pertinent to your email campaign is of paramount importance for marketers who wish to increase their conversion rates and strengthen their marketing.
Have a look at the below email followed by its supporting email landing page.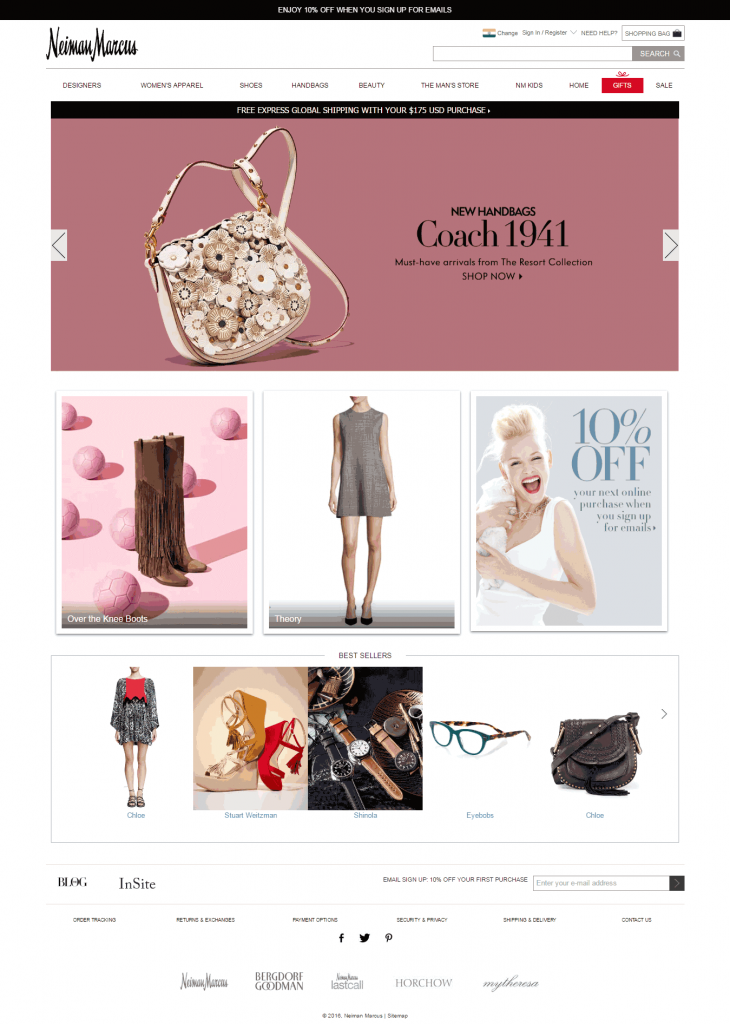 Let's discuss the main reasons why landing pages are important.
1. Conversion as the primary aim
The primary aim of these pages is to attract visitors and generate sales by converting them into customers. They can be best utilized to highlight the features and services promoted in the email and attract potential customers to check it out in detail.
The below email exclusively promotes cookware available on discounted prices.
2. No distractions for the user
As there are no external links, the user remains clear and focused on a specific kind of purchase, download, form submission, free trial or the concerned activity desired from them. It makes sure that your email campaign proves to be more successful and helps you in achieving your business targets according to the specific content of your email.

Fig: Email exclusively promotes attractive shoulder bags and similar products with short & crisp content, no unnecessary links and prominent CTAs.
3. Compelling Call-to-Action
Once the user clicks on the CTA in the email, they can be redirected to the email landing page and convinced to take the necessary action. The Call-to-Action easily draws user attention and it becomes clear for the user what he or she should do next, thereby serving well the purpose of your email.
Check out the compelling Call to Action in the below email.
4. Enhanced metrics
It is easier to understand what is working for your business by executing the best practices for landing page. Rather than redirecting the email to your website homepage, it is prudent to redirect them to a specific page. If you are not getting the expected results from your users, you can even modify the content as it is easier to redesign a landing page rather than the homepage of your website.
5. Improve the effectiveness of email campaigns
An effective marketing strategy would be to create multiple unique email campaigns that redirect the user to the same page. By doing so, it becomes possible for you to know what kind of text and images work best in email marketing for your target audience.
Likewise, you can highlight different products or product features in the emails to know which products are loved the most by your customers. It helps you in your future marketing strategies too and getting more leads in your sales funnel.
Wrapping up
To cut a long story short, well designed and optimized landing pages can effectively help you in converting more visitors into leads when compared to your homepage. If your email campaigns are in sync with the dedicated page, your customers are sure to bless that "Made for Each Other" couple by bringing business for you.
Get your business rolling even faster with these lead magnets that allow you to put forth the relevant product information in an impressive way and turn prospective clients into happy customers.
Voila! We can help you in creating effective email landing pages and assure you that it will surely enhance in lead conversions.