'Landing Pages are a prized possession of your marketing strategy.'
The above statement is true! With a combination of appropriate calls to action, your website's landing pages can be the biggest asset of your online marketing efforts. The Landing pages of your website give a deeper insight into certain products or services to your website visitors.
In simple terms, a landing page is a specific page on your website that is designed to collect information about your website visitors. Once the information base is ready, it can be leveraged for various marketing purposes namely customer retention or lead generation. Speaking of landing pages, there are a variety of website-building platforms available, however, HubSpot surely tops the list due to its easy functionality and seamless integrations. It is surely one of the best landing page design services present online.
Creating a landing page using HubSpot is an easy process and it can be completed in a few steps and clicks. Make your way till the end of this post as I will be shedding light on the step-by-step process to successfully create the perfect landing page using HubSpot.
Without any further ado, let's get started!
Why Should You Use HubSpot For Creating Landing Pages?
HubSpot can be defined as an all-in-one marketing platform that allows its users to leverage a wide range of tools and features for generating leads and conversion optimization. The landing page builder of HubSpot is easy to utilize and provides multiple templates and customization options.
The highlight is that HubSpot's landing pages are compatible with mobile devices of all sizes, which ensures that your visitors are having a seamless browsing experience.
Step By Step Guide To Create A Landing Page Using HubSpot
Step 1 – Select a Template
First things first, to create a landing page on HubSpot, you need to select a template of your choice. HubSpot is a tool that offers a wide range of templates to its users. While choosing a template, you need to ensure that it not only looks great but is also effective at capturing the attention of your visitors depending on your niche, and is capable of converting leads.
To choose a template, you need to navigate to the 'Landing Pages dashboard in HubSpot and click on the 'Create a new landing page' option. You will have the option to either begin with a blank page or choose one of the templates offered by HubSpot. If you select the template, you will have the option to customize it according to your choice and requirements.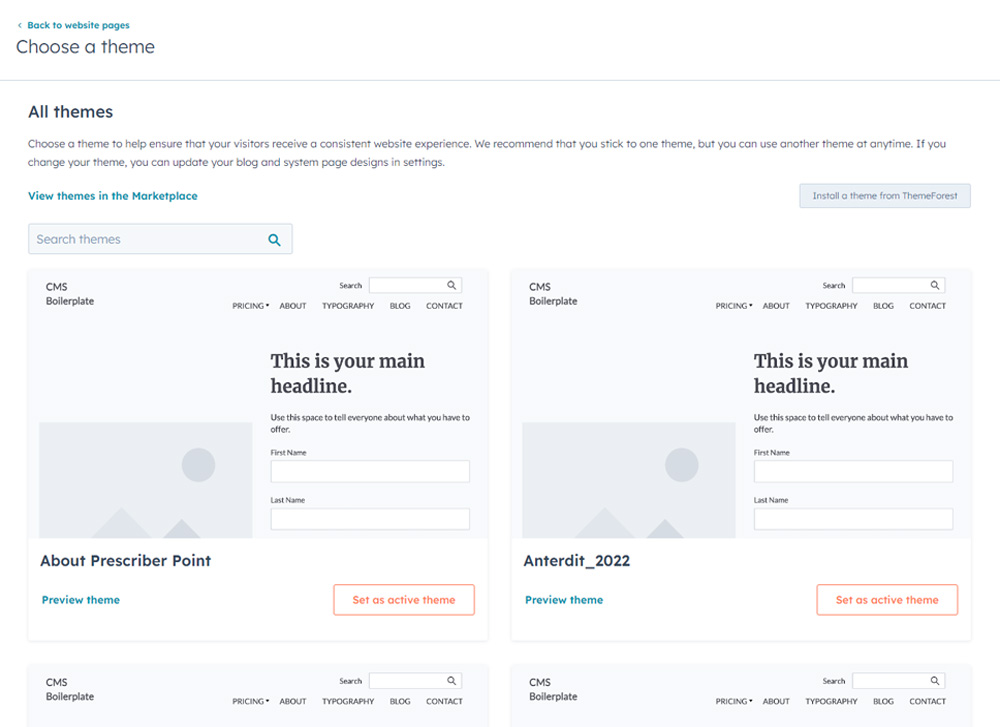 Step 2 – Customize the HubSpot Template
After choosing the template, it is now time to alter it as per your needs. HubSpot allows you to edit the elements of your landing page with different custom HubSpot email templates. You can alter subtitles, body text, title, etc. You will also have the option to add elements like images, videos, etc., to further enhance the look and appeal of your landing page.
For customizing the landing page, you need to click on the element that is to be edited and make the changes accordingly. The best part about the platform's landing page editor is that it is super user-friendly, which allows its users to create an impressive landing page without much hassle.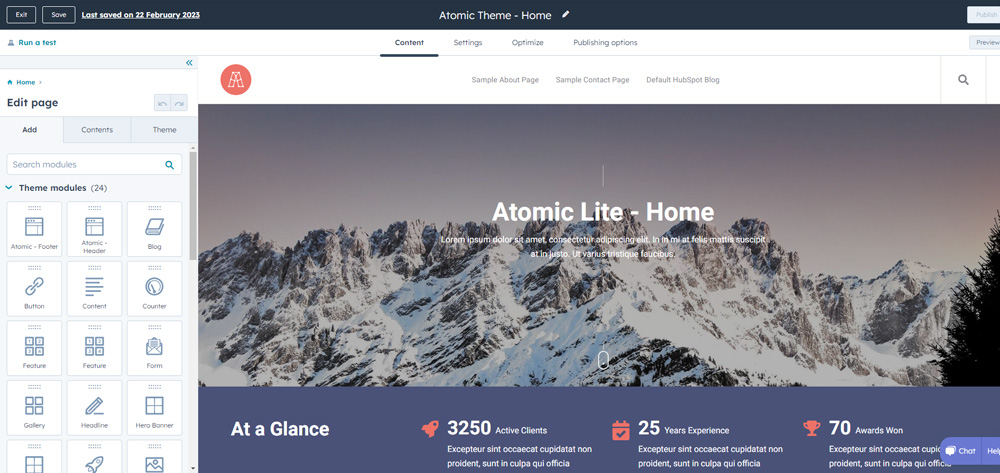 Step 3 – Add a Form/CTA
The most crucial element of a brand's landing page is the contact form. The website visitors leverage this section to fill in their contact details like their email address, name, etc. to avail of offers from your website.
For adding a form section to your HubSpot landing page, click on the Form section in your landing page editor and click on the Add New Form option. Now, you will have the option to customize the form by adjusting its layout, and style or even by adding additional fields. Additionally, you can also automatically store the information submitted by your visitors by connecting the form to a capture tool like HubSpot's CRM.
Additionally, you can also add calls to action to your landing page to push your website visitors to take an action. To incorporate a CTA, simply click on the Add Element option present on the left-hand menu and choose CTA. You can then avail yourself of the option to choose an existing CTA or simply create a new one by clicking on the Create new CTA button.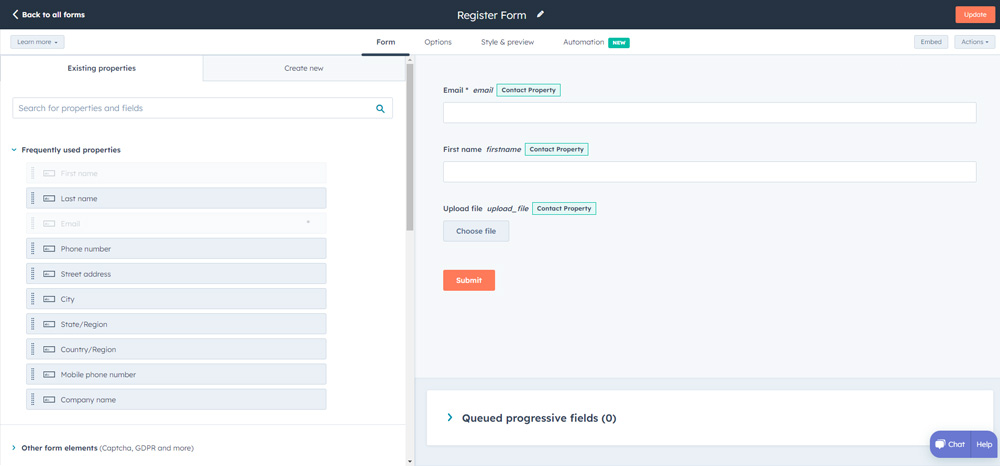 Step 4 – Customize the thank you page and confirmation emails
After the completion of your form/CTA, the next step is to set up a page showcasing your gratitude. After submitting the form, your visitors get redirected to the Thank you page. This page is used for creating confirmation emails or to provide additional information about the customer's order.
For setting up the Thank You page, click on the Thank You tab in the landing page editor and choose the 'Create new thank you page' option. You can further customize the page by adding images, text, and various other elements.
Step 5 – Optimize for SEO
Now that you have added the content and customized the template as per your choice, it is important to optimize the landing page to ensure that it ranks well in Search Engine Results Page (SERP). HubSpot offers various tools that can assist in optimizing your landing page for Search engine optimization.
To begin with, simply click on the settings tab in the left menu and choose SEO from the tab. Now, you can customize the meta description, page title, and various other SEO-related settings.
Quick Tip – The platform offers a content strategy tool that can assist in identifying keywords to target on the landing page. If you wish to access this functionality, you need to click on the Marketing tab in the left-hand menu and choose the content strategy option. You can then enter a topic related to your landing page and get a list of keywords that need to be targeted.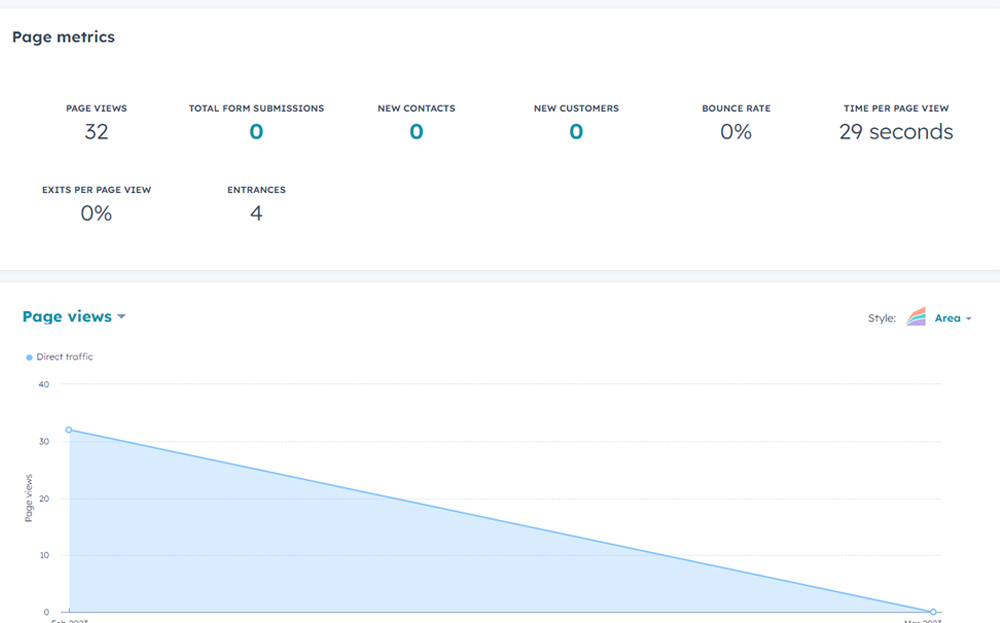 Step 6 – Preview and Publish the Landing Page
It is now time to preview your landing page to ensure that it looks good and suits the overall vibe and appearance of your website. If it all looks good, then you can go ahead and publish the landing page to your website.
However, as a bonus, we have mentioned a few points that you need to keep in mind while you preview and create a landing page on HubSpot.
Always ensure that the landing page is straightforward to understand. Avoid cluttering or stuffing the landing page with too much text or multimedia elements like images and videos.
The headlines should be compelling
The headlines should be catchy enough to grab the attention of your website visitors. However, it should be easy to comprehend and not complicated.
Ensure that the landing page is responsive
Make sure that the loading speed of the landing page is on point. Quite often, due to more loading time, potential customers get agitated and leave the website midway, which increases the bounce rate of the website and can negatively impact the performance of your website.
Keep it concise and to the point
Lastly, keep the content simple and to the point. Ensure that it is not too elaborate and avoid including words that are difficult to understand. The idea here is to include content that is crisp, easy, and concise.
Final Thoughts
Your brand's landing page acts like a launching pad to help you begin a conversation with your potential customers. Apart from this, it also gives your prospects a sneak peek into what your brand stands for. Hence, your landing page must be tastefully designed and executed.
Hoping the detailed steps will help you create stunning landing pages using a powerful platform like HubSpot. Need help with creating a pixel-perfect landing page in HubSpot? Our experts can help!