Don't you love reading email newsletters that draw you in? Whether it's the sassy language within each email or compelling design, the key to a good email newsletter lies in being able to effectively deploy the art of storytelling.
Whether you're a B2B marketer creating an email newsletter for your subscribers or an internal communications professional aiming to boost employee engagement through your internal newsletter, you must learn how to utilize the art of storytelling within your emails.
What kind of compelling story will capture the attention of your audience? Should you aim to play with words and use wit to draw your reader in? Or should you focus on key design elements and let the images in your newsletter convey a story?
The answer is, you can choose either approach. But the key element to any good story requires you to make sure you understand who your target audience is and what they need. You then need to make your target customer or employee the hero of your story. Every word or visual should be about attracting them, drawing them in and keep them hooked!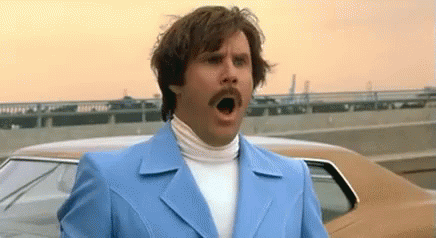 5 Basic Principles to Keep in Mind to Master the Art of Storytelling
Here are some basic principles to keep in mind to learn the art of storytelling until it becomes second nature to you:
When writing your email newsletters or focusing on its design, don't forget your why. Ask yourself why you're writing this email or why you're designing it. What's your end goal? Is it to sell a product? Is it to get the reader to subscribe to your blog? Having the end-goal in mind will help you craft a compelling story.
Hone in on who your target audience is and why should they care. Remember, your target audience is always the hero of your story. They are the only ones that matter. So, it's your job to make them feel special. Rock their day!
Use different visual elements within your email newsletters to create drama, suspense or ignite some kind of emotional response. Be sure to also hone in on the right colours to attract your audience.
Keep your tone light and conversational and ensure you're using emojis within your emails as well as personalizing your emails.
Keep your copy short and concise. You're writing in an age where most people are reading your emails on mobile devices. Short and snappy stories work the best!
Still not sure you can master the art of storytelling within your email marketing newsletters to boost engagement? Luckily for you, we've compiled a list of five types of unique newsletters from various brands to show you how each of them utilizes one or more basic principles of the art of storytelling to form an intimate bond with their target audience.
Let's have a look at some of our top picks!
1. Netflix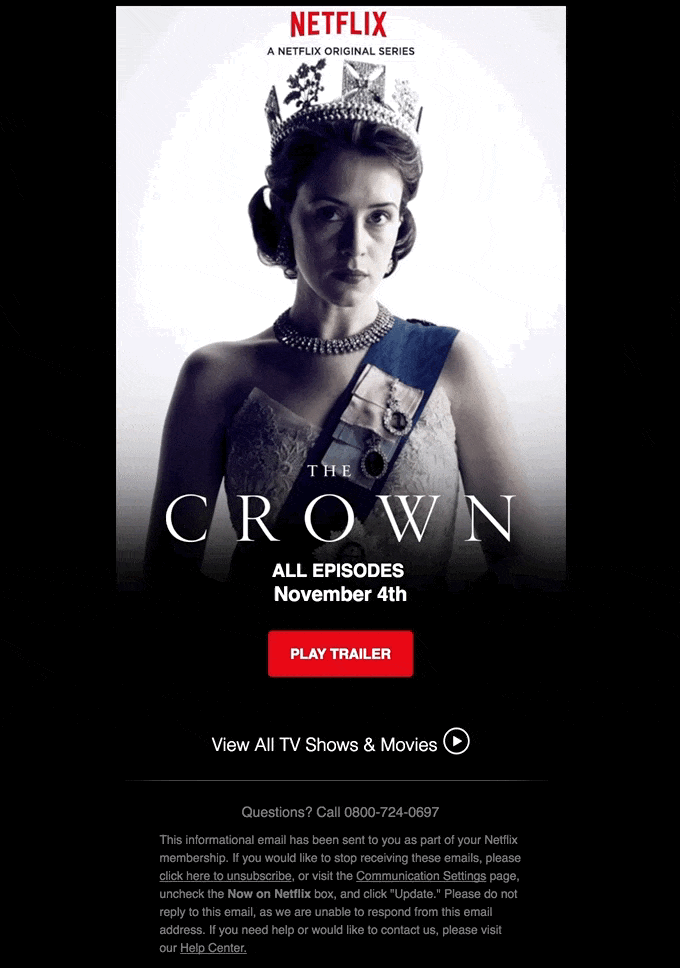 Source: Really Good Emails
Netflix is known to use the power of suspense to draw their readers in. Suspense is a powerful emotion used in storytelling to captivate your audience and make them keep coming back for more.
Much like the addictive nature of their TV shows, Netflix utilizes suspense within their newsletters as well. They mostly draw on visuals and design to tell the story.
The above newsletter for the popular TV show, The Crown, is an excellent case in point. The use of the actress' animated image takes over most of the space strategically.

You're not expecting her to suddenly look at you with that mysterious expression. Her expression is arresting, keeping the reader engaged and in anticipation of what's going to happen next.
The sleek design and dark imagery tells a story as well. It evokes emotions of suspense, tension and uncertainty.
The use of suspense is a great move to deploy in any story. The key to utilizing the art of storytelling in any newsletter is to ensure you don't give away the whole story. You need to give the audience bits and pieces and get them to want more so they can take an action, such as click on a CTA button to purchase something or visit your website to read the whole story.
2. Warby Parker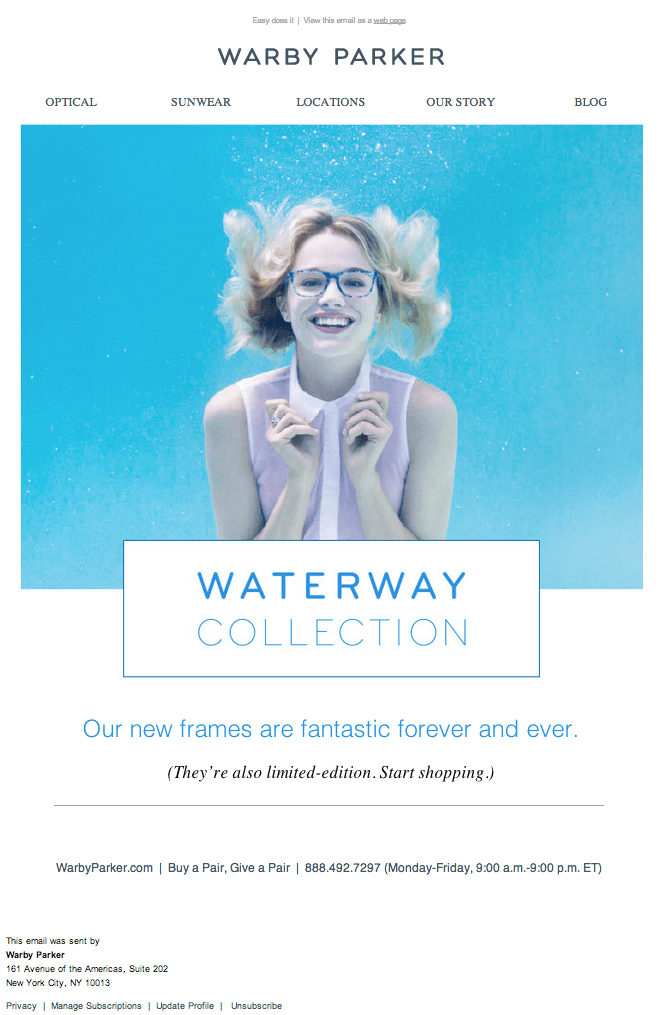 I really like the above email from the American online retailer of prescription glasses and sunglasses, Warby Parker. It really goes to show that sometimes you can tell a story with simple and minimalist design.
The first reason why this email works so well is that it doesn't confuse the reader. The reader doesn't have to go hunting all the way to find out how to navigate the Warby Parker website as all the main buttons are placed strategically within the email.
The use of just one woman wearing their trendy glasses while floating underwater shows they really know who they're speaking to. Their female audience is sophisticated and hip and most likely in their 20s and 30s. The fact that they've used a woman who fits squarely within that demographic shows they want readers to imagine themselves as her: wearing those glasses and looking fab, floating away as if in a dream!
They clearly know their audience is the hero of their story and they utilize this storytelling tactic perfectly. Similarly, the colour blue is used to ignite emotions of calmness, serenity and reliability. This is brilliant utilization of color in emails to up their storytelling game!
3. Southwest Airlines

This email from the Southwest Airlines really shows some epic storytelling skills, in terms of both design as well as copy. The first thing this brand has done spectacularly well is to directly speak to their target persona and make them the central hero of their story.
The use of the words, "you, your, you've" immediately make it all about the person who really matters – the reader! What's more is that they've personalized each section, breaking their audience's journey into bite-sized pieces so that it's easy for them to digest the information without causing overwhelm.
This is achieved spectacularly through the way the newsletter is designed into separate blocks with different colours so that each colour block is almost like a different chapter outlining the target persona's journey!
4. Airbnb

Source: Really Good Emails
Airbnb has done an excellent job of personalizing emails for their target persona. Take the above example. This email is clearly speaking to outdoorsy adventurists who want to hike, climb terrain, jump out of planes and explore the world. They utilize effective storytelling in several ways.
The first is to heavily rely on visuals that denote a sense of adventure and a great love for the outdoors to speak to their audience. The second way they are effectively deploying the art of storytelling is by dividing up the information into different content blocks.
This is a great way to tell a story visually. They've ensured the main headshot image evokes greenery, adventure and thrill and then use more general visuals throughout the rest of their emails. Overall, their minimalist design, short and concise copy and effective visuals all work together to tell a great story and appeal to the outdoorsy sentiments of their target audience.
5. J.Crew

Source: Really Good Emails
J.Crew, the multi-brand retailer, is a pro at utilizing visuals and key colours to ignite an emotional reaction within their target audience. Evoking an emotional response through the art of storytelling is by no means a new concept. If you remember watching Disney movies as a kid, you'll also remember how enraged you were at Mufasa's death in The Lion King or how empathetic you felt at Cinderella's plight. The best stories ignite emotions and brands need to start thinking about emotional storytelling to draw their customers in.
J.Crew does this beautifully through the use of specific colours and images within their newsletter design. The first thing to note in the above email newsletter example is how tuned in J.Crew is on what it wants its target audience to do. They want them to make a purchase during their 50% off sale. Not only do they make this obvious through the bolded 50% off typography, but they also become super creative by putting a hot dog as the main visual and letting it tell the story.
A hot dog has nothing to do with their brand. But the reason they've used it is because it immediately ignites hunger in your belly and creates a sense of urgency. They also use the world "ketchup" to so that the reader is forced to think of ketchup and feel hungry again. Moreover, the colour of ketchup is red and red denotes passion and fierceness, besides evoking a sense of urgency.
You'll notice that most of the clothing items displayed within their email are red in addition to the content block towards the end. This is not an accident but a clever way to compel their audience to feel emotional, ignite a sense of urgency within them and get them to make a purchase. This is storytelling at its finest!
So, there you have it. 5 examples from top brands that have effectively and quite creatively, deployed the art of storytelling to capture their target audience's attention. You can take your storytelling techniques a step further by reading this great piece on utilizing some of the hottest email design trends within your newsletters to make them stand out even more! Now start crafting epic stories with your email newsletters!
Author Bio: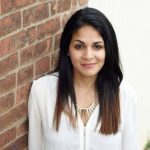 Filza Naveed is a Content Marketing Specialist for ContactMonkey, an organization focusing on innovative solutions for internal communicators, such as email tracking and providing responsive HTML email templates. Filza is passionate about providing value to internal comms professionals by enabling them to create engaging employee experiences. During her free time, she's exploring various community events in Toronto and practicing yoga. You can connect with her on Twitter.