Creating an email list is no longer a rocket science. All you need is the right resources and right tactics. At the first thought, it may seem exhausting to make an email list, but eventually when you see your subscriber list grow, you will be more than grateful. So many marketers choose to purchase email lists as a quick option to meet the list growth needs. That's not even an option if you want to have a competent email marketing strategy.
Effective subscriber list management is an integral part of email marketing. Unless you have an organically grown list with engaged subscribers, your email marketing strategy will be in vain.
To begin with, we shall understand the concept of a healthy list.
What is a healthy list?
A healthy list is the one that consists of subscribers who open and/or click-through your emails. If your subscribers do not take any action on your emails, it implies a missed opportunity. It makes no sense to send emails that land in the spam folders or invalid addresses. It will, ultimately, damage your email deliverability and sender reputation.
On the other hand, you should also consider the email churn that includes subscribers who unsubscribe to your list, report you as spam, invalid addresses, and those who are disengaged or have not opened your emails since four to six months.
On an average, 17% of the emails are not reaching the subscriber's inbox. Obviously, you cannot completely eliminate the churn, but you can revive the list and restrict the churn rate.
We shall now move on to delve deeper into how to implement effective email list management.
Simple Tips for Better Email List Management
1. Send a welcome email to the new subscribers (with double opt-in)
The contact of the subscribers begins with your brand right at the time they sign up to your emails. It is the most appropriate time to leave a long-lasting impression on their mind and use their excitement to the maximum potential. The subscribers look forward to learning more about your brand and this can be achieved with the help of an informative, yet interesting welcome email.
Additionally, it is highly recommended that you send a verification email to confirm the email address provided by the user.
Let's understand it with the help of an example.
Buffer sends a verification email as soon as the subscriber signs up. The email ends with a professional signature and link to the FAQs.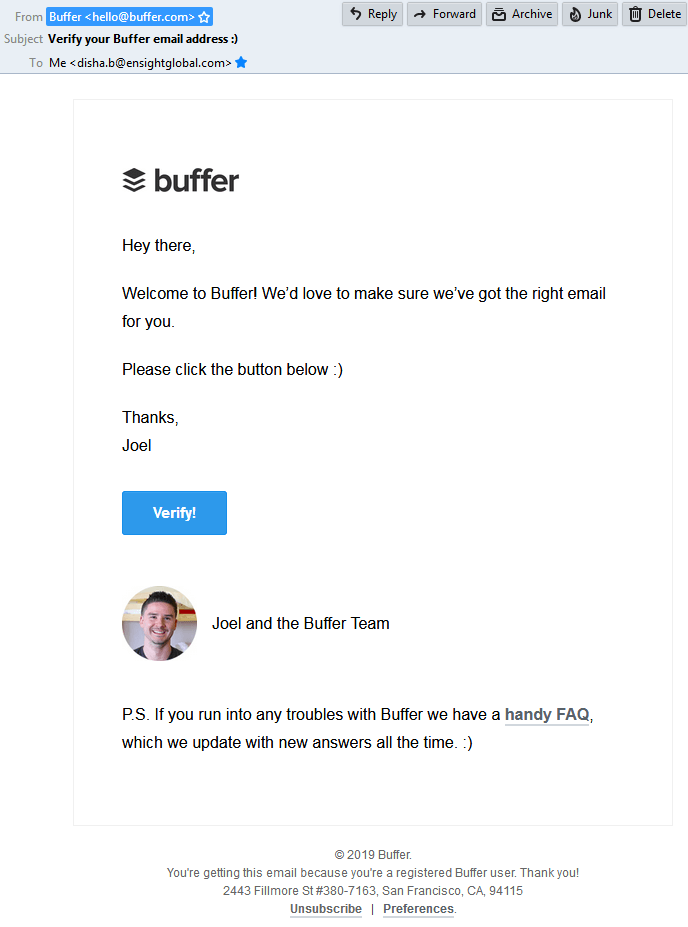 Once the subscriber confirms the email address, they send out a welcome email with a step-by-step guide to use their free trial and a clear CTA.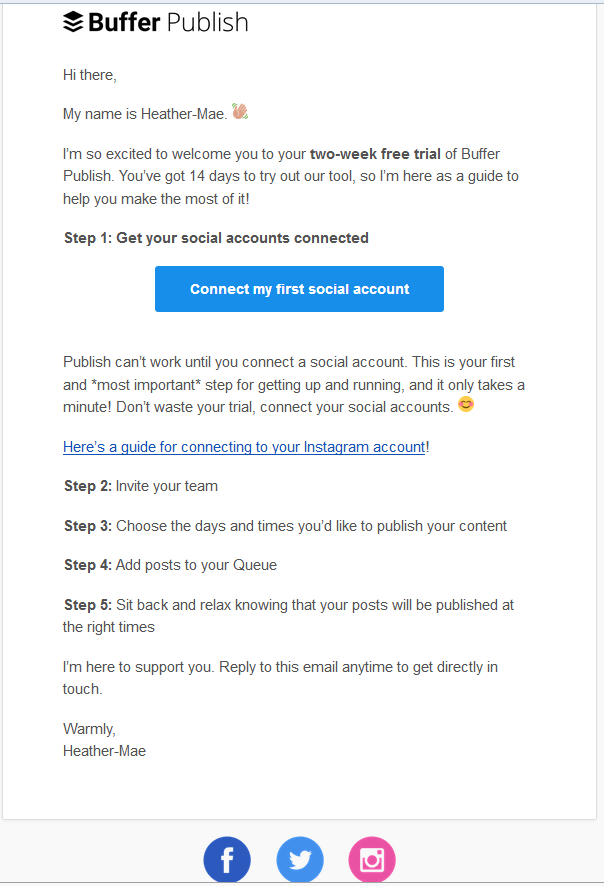 2. Allow the subscribers to set their preferences
According to a research, people unsubscribe from email lists most commonly because of too many emails.
Let the subscriber know the time intervals at which you will be sending them emails and allow them to select their preferences. This will set the right expectations and mitigate the likelihood of unsubscribes.
BrightTALK sends an engaging welcome email to the new subscribers, explaining about their offering. In the email footer, they inform the subscriber that they will send a series of emails along with a link to the preference center.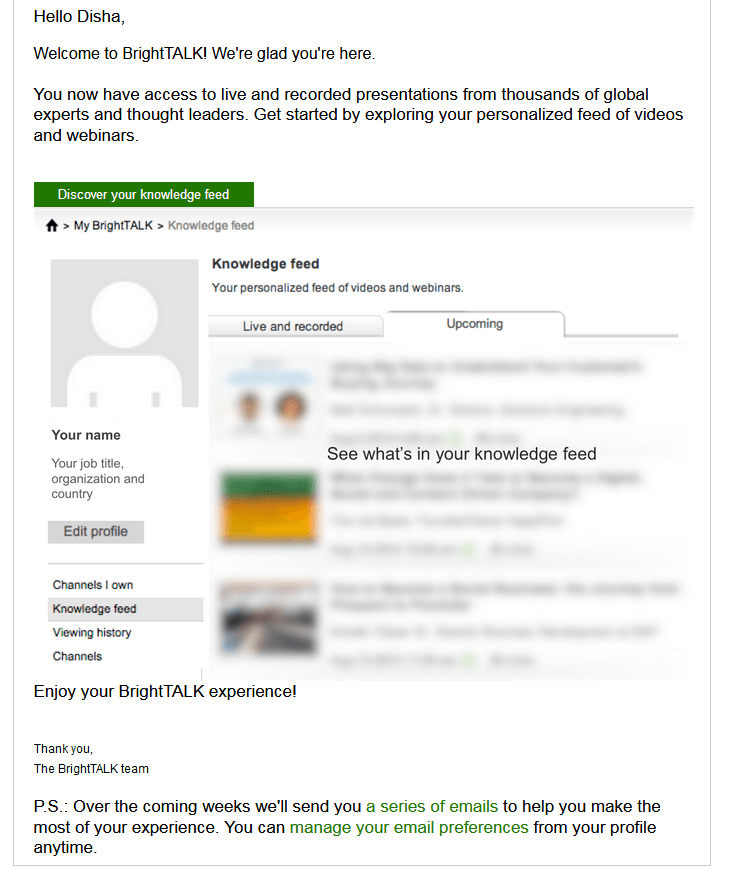 Respect their preferences and send emails accordingly.
3. Ask the subscriber to whitelist your email address
Ensuring the deliverability of your email is possible by getting your email address whitelisted. By doing so, the subscriber is asked to add the email address to the address book so that it lands in the inbox rather than the spam folder.
See how Butlin's does it.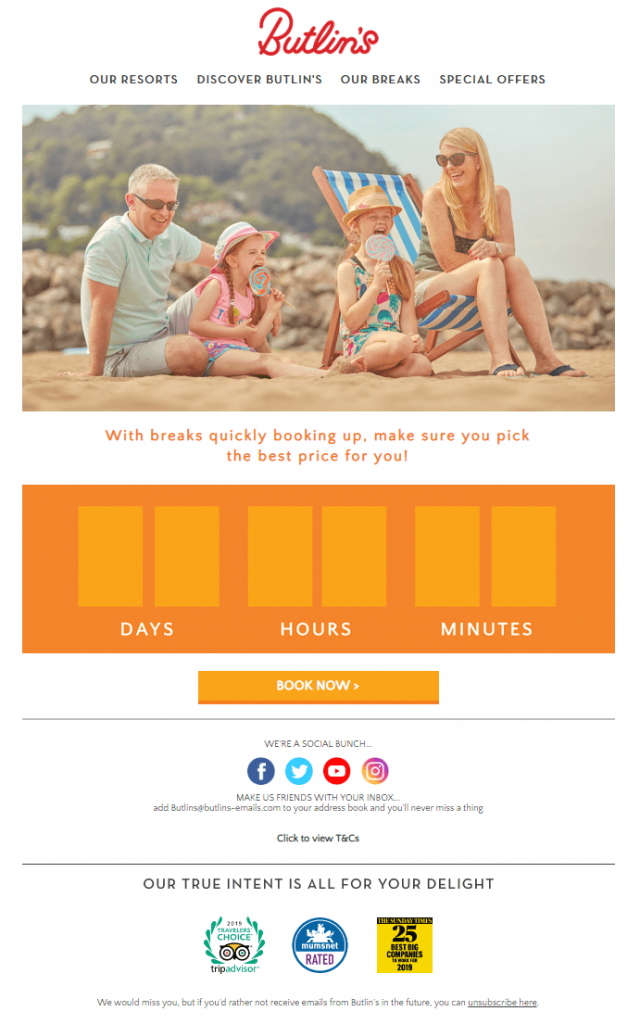 4. Clean your email list regularly
You should check the email list for:
Duplicate email addresses
Invalid email addresses
Email addresses from hard or soft bounces
Remove all these email addresses and also resolve any typing errors. If your bounce rate is high, it will directly affect your sender reputation. It will, ultimately, damage your email deliverability too. Therefore, you should make it a point to keep your email lists free from such addresses.
5. Revive the dormant subscribers
Once you have removed the invalid email addresses, check for the engagement of the remaining subscribers. The contacts who have a valid email address and are subscribed to your emails but do not open or read your emails are known as unengaged contacts.
You can either delete their email address or send them a re-engagement email.
Let them know about any updates that they might have missed out on, and that their association is valuable to you.
Here's a nice re-engagement email from Redbubble that incentivizes the subscriber with a 10% discount coupon code.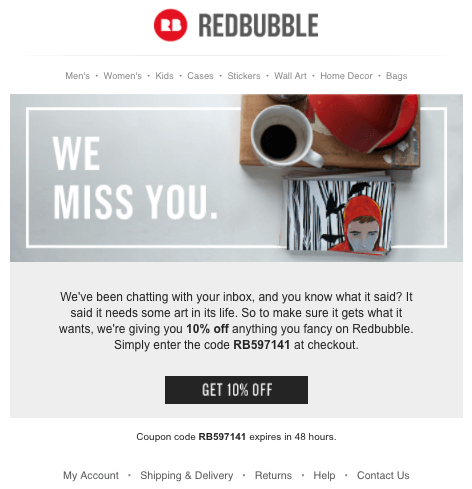 6. Never forget an unsubscribe link
According to the legal policies like GDPR and CAN-SPAM, you should always include an unsubscribe link in the email. If your subscribers are unable to find it, they might mark your email as spam and that is even worse than unsubscribing. Let the users unsubscribe if they are not interested in your offerings; they would not contribute to your business, anyway.
If the unengaged users are no longer on your list, you can send out better and more relevant emails to those who are genuinely interested in hearing from you. It will make your email marketing strategy cost-effective and yield better return on investment.
Wrapping Up
Have a short list with quality subscribers rather than a long list just for the sake of it. Analyze your metrics, especially the bounce rate to maintain list hygiene and build a winning email strategy.