[This post was originally published on 22nd October 2014. It has been updated on 17th November 2021]
One of the most challenging things that email marketing managers have to deal with, is email unsubscribes. While the unsubscribe rate cannot be totally eliminated, you can still reduce it.
So, what is a good email unsubscribe rate?
According to the norms, the average unsubscribe rate stands at 0.1%. If your unsubscribe rate is higher than 0.1%, you must consider revisiting your email marketing strategy.
However, the silver lining to the cloud of unsubscribe from emails is that it is better than getting marked as spam.
That said, let's discuss the positive aspects of unsubscribes.
1. Your sender reputation remains undamaged
Although unsubscribes mean that you have lost a prospective client (perhaps, forever), it does not damage your email sender reputation. As a result, your sales funnel remains intact. An email unsubscribe means that the user is not interested in your products or services. It is, therefore, better that they leave the list rather than staying on the list but not engaging with your emails. If you want to create emails that not only blow your subscribers' minds but also are highly engaging, then contact us.
2. You can get to understand why they unsubscribed
When a subscriber clicks on the unsubscribe mail link, you can redirect them to a preference center and request their feedback. This will let you know the reason for unsubscribes and understand their expectations. It is quite likely that you would not receive feedback from everyone who unsubscribes but those who do can share valuable insights with you.
3. Your list will have only qualified prospects
More often than not, subscribers get on your list without any intention to purchase. As bitter as it may sound, not everyone is interested in the products or services you offer. These prospects are not qualified for your services which makes it an impractical approach to make them stay on the list. Therefore, whenever an uninterested customer proceeds with an email opt out, it is actually a blessing in disguise.
4. Unsubscribes allow you to determine the flaws in your email marketing strategy
If you start noticing too many unsubscribes, you should analyze your email marketing strategy and determine whether you are sending too frequent emails. You should check if your emails are relevant for the recipients and their buyer's journey. Making the necessary changes in your HTML email template will help you reduce the email unsubscribe rate and allow you to create HTML emails that resonate the most with the target audience.
Email Uplers can help you in building emails that not only have a low unsubscribe rate but also bring more conversions.
The Downside of Unsubscribes
Unsubscribes imply that the reader will not engage with any of the future communications which might have a negative impact on sales.
A higher email unsubscribe rate means increased customer attrition and burn out of the list. It can hamper the growth of your business if unsubscribes continue to increase.
In case your unsubscribes exceed the rate of subscription rate, it can lead to considerable drop in the number of conversions which can be a matter of serious concern for marketers.
How to Reduce the Email Unsubscribe Rate
1. Segment the Email List
Segment the subscribers in different groups based on their age, gender, educational qualification, demographics, job position, past purchases, and other parameters that match your industry type and business. So essentially when your subscribers go for an email opt out, they unsubscribe from this list.
By segmenting your email list, you can send out personalized emails that are more relevant for the subscribers. The most effective segmentation criteria are purchase history and demographics. To start with, you can pick two unique segments and go on to build multiple email campaigns with advanced segmentation options.
2. Map the content to match the buyer's journey
Whenever you get a new subscriber on your list, you can send a welcome email and try to gather more information that would let you understand their preferences. You can use an automation software tool that would allow dynamic segmentation and help you in the creation of better emails based on the stage the buyer is in.
If you want to build an effective email automation workflow, get in touch with us.
3. Inform the subscribers about the alternative communication channels
Despite all your efforts, if the subscriber still chooses to unsubscribe from all emails, he or she should know that you are also active on social media in case they want to stay in touch with you or receive important company updates. Include social sharing buttons in the footer of the unsubscribe page or the preference center so that the subscribers can still have a chance to hear from you.
4. Monitor the load time of your emails
The load time of emails varies based on the email client and device of the users. You should have a fast loading email that will leave a better impact on the reader. Do not add too many images or heavy visual elements to your HTML email template; it can make the email slow to load.
5. Send the emails at a consistent schedule
Receiving emails at a particular time sets the right expectations and works as a powerful brand statement. For instance, I receive an email from Invision App every Wednesday morning at 10 AM in which they share interesting articles related to their industry. This kind of consistency makes me look forward to their emails and learn more about their services.
6. Analyze your email frequency
Determine the right email frequency for your segments. Although it might take several email frequency tests and trial & error method to work it out, you must make sure that you are not sending too many or too few emails.
7. Take the customer feedback seriously
Whenever you get an unsubscribe, ask for the customer's feedback so that you can modify your email marketing strategy to cut down unsubscribes. Even though the feedback might not bring the recipient back, it will help you shape up the future strategy.
8. Send personalized and exclusive offers
Incentivize your customers with personalized offers they cannot deny. It will not only keep them engaged but also discourage them from unsubscribing.
9. Give the customers an option to adjust their email preferences
Redirect the unsubscribe link to a preference center from where the customers can change their preferences and put the changes into practice as soon as possible.
That said, let's move on to discuss some of the most interesting unsubscribe HTML email examples to inspire you.
1. Atlas Obscura
Atlas Obscura's unsubscribe email is a basic HTML email template that is crisp, to-the-point, professional, and at the same time does a great job of articulating their remorse as well. Remember, the more direct you are in your unsubscriber emails, the more you'll be appreciated by your subscribers. Even though they will no longer be on your list, they'll at least part ways on a good note.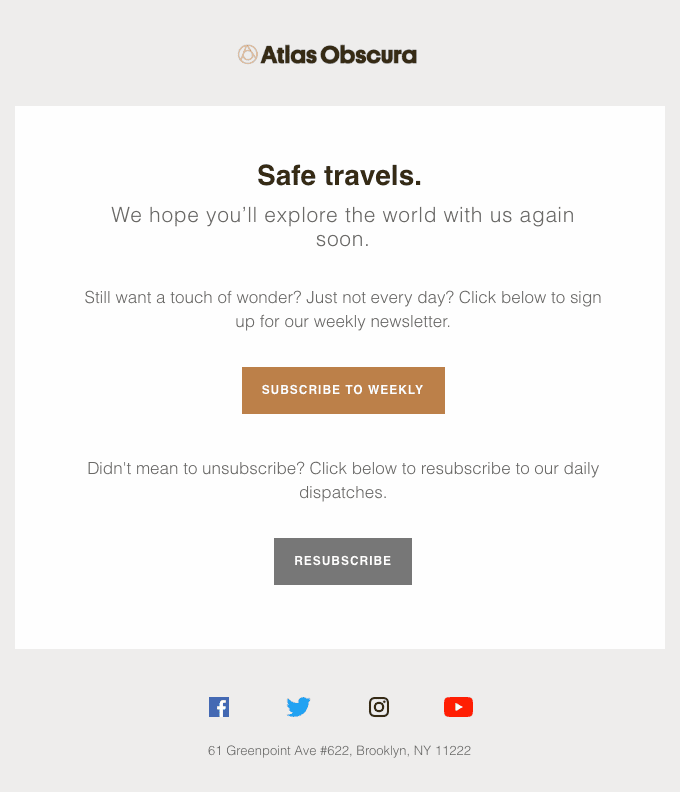 2. Bestmade
The reason why this, in our opinion, ranks among the best unsubscribe email example out there is because of its sheer simplicity. A dutiful acknowledgement of the user's action followed up by an earnest plea, laced with a healthy dose of humor, to get them to reconsider the same. Full marks for the approach.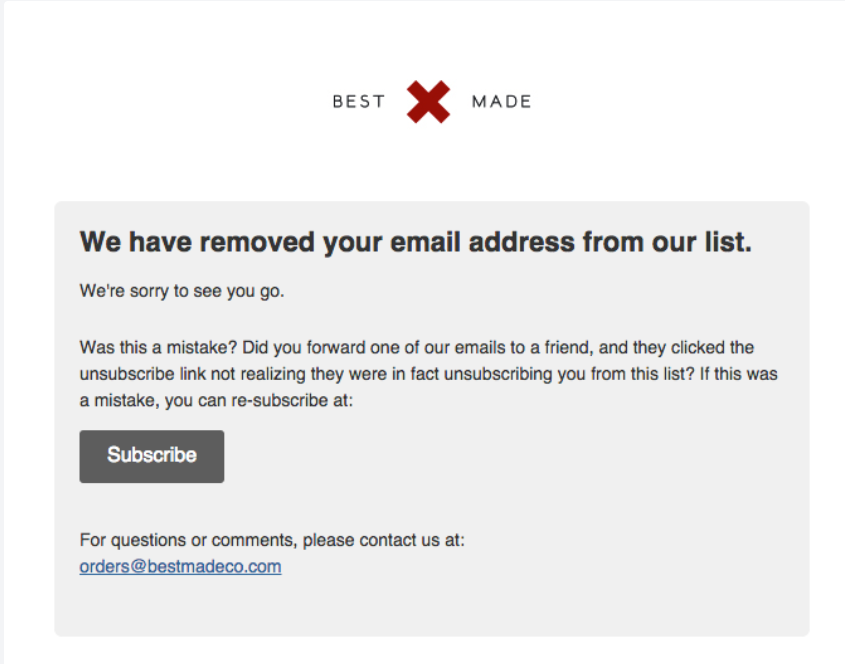 3. Readymag
Readymag's approach to unsubscribe emails is one that we really appreciate and something that is starting to get really popular among brands these days. What's this said approach, you ask? This: monitoring your subscriber's engagement levels, identifying the least engaged ones, and asking them whether they want to opt out of your communications. This kind of upfront behavior is generally well-received by customers and ensures that you part ways with them on good terms.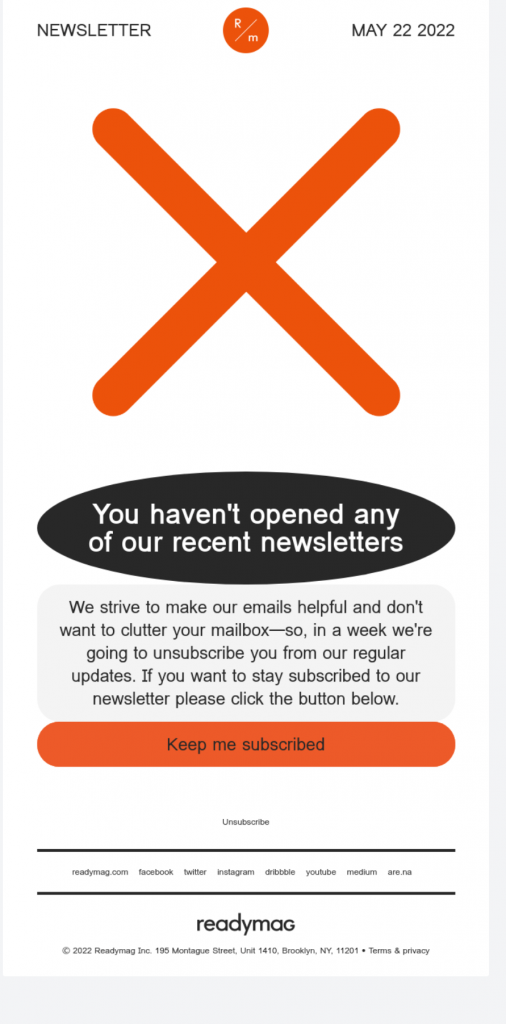 4. HubSpot
HubSpot has an amazing video on the unsubscribe landing page with this message. Another way it stands out is that it points out to the subscribers to keep in touch on social platforms if not the email subscription.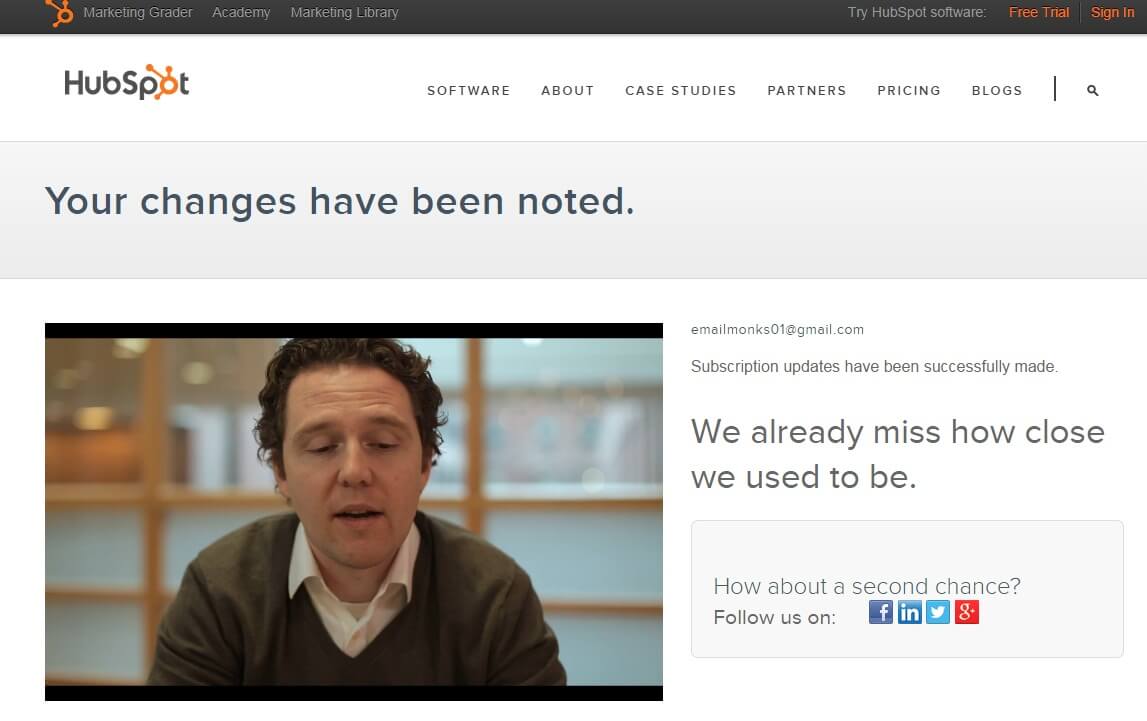 5. Groupon
Groupon's unsubscribe page generated quite a stir with its funny video that punishes Derrick for his folly of sending an email the subscriber did not like, followed by an immediate closing screen that reads- "That was pretty mean… I hope you are happy. Want to make it up to Derrick? Resubscribe!" Surely a creative marketer's way,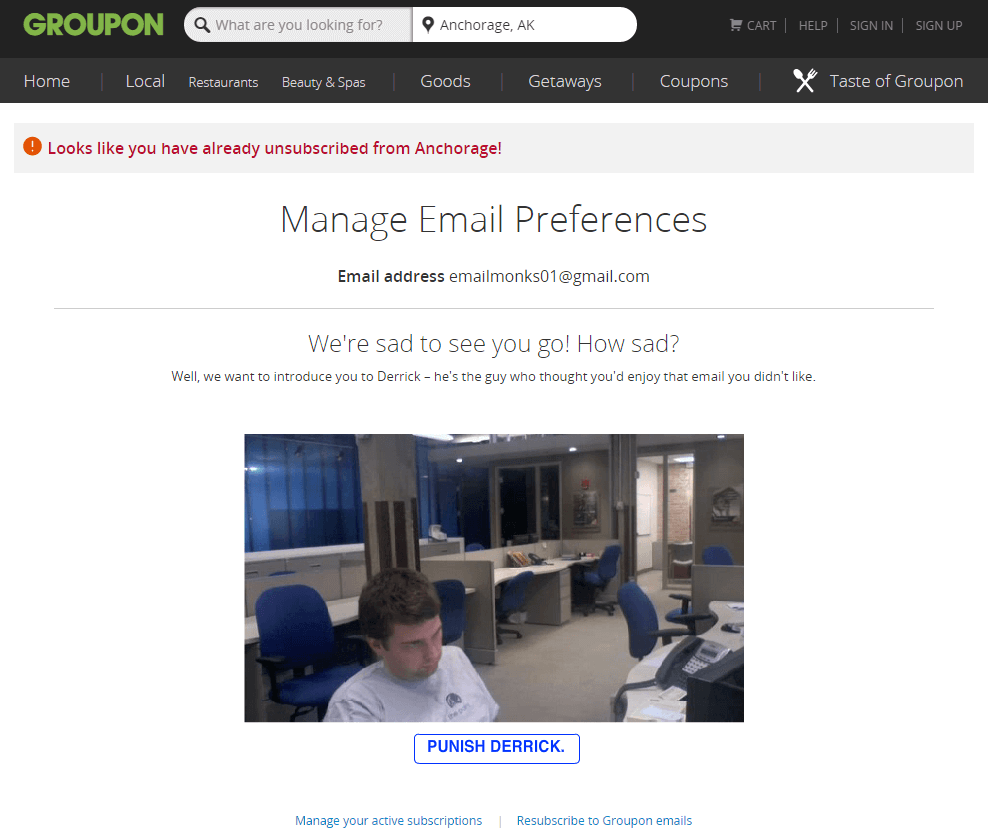 6. Cuisinart
This unsubscribe email from Cuisinart gives users another option to ponder upon before proceeding to click the unsubscribe button- adjusting their preferences. A big reason why subscribers opt out of brand's communications is because they get overwhelmed by their sending frequency. Quite a smart tactic then this by Cuisinart, won't you agree?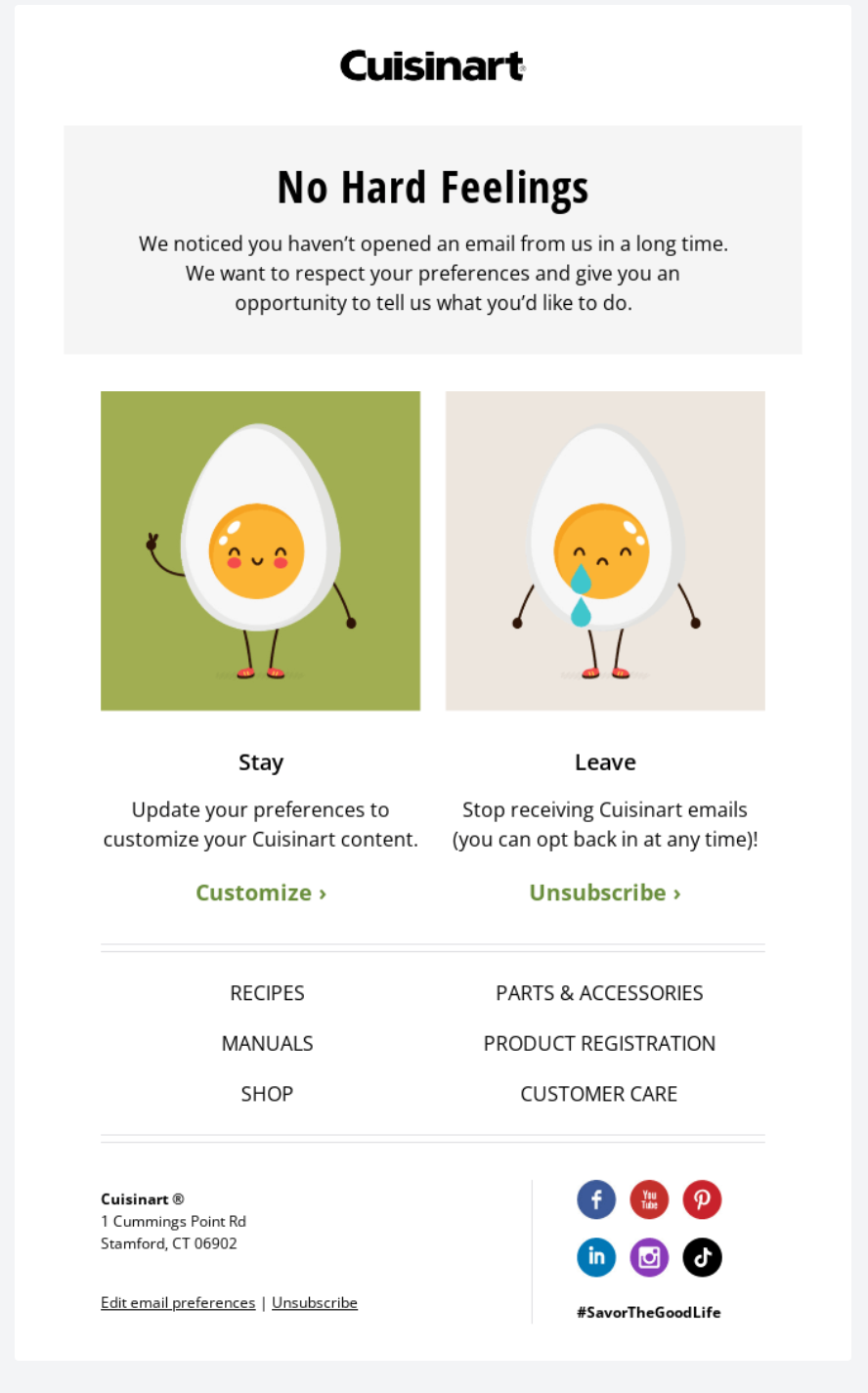 7. Costco
Costco's unsubscribe message showcases a 'Did you know?' box on the side containing the links to benefits, security assurance and preferences to the Costco subscription. The use of words 'You're in control!' makes the subscriber feel that they can still continue with their final decision.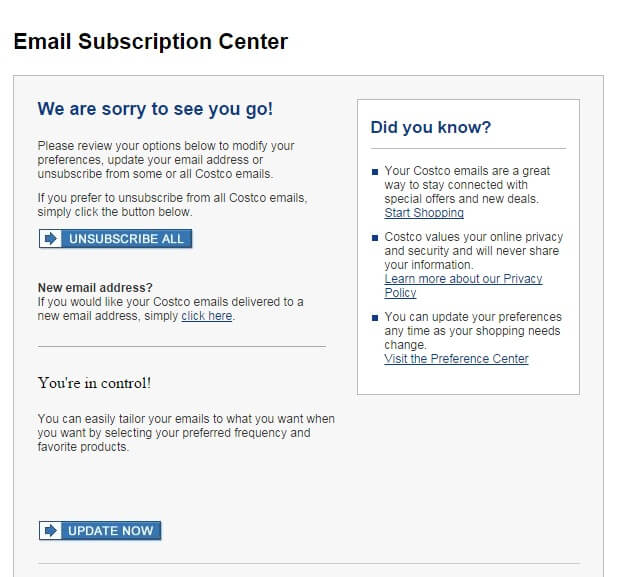 8. Hulu
Hulu's unsubscribe message is earnest, amiable, and extremely polished. They don't make you guilty about cancelling your subscription but subtly call your attention to the fact that by doing so you might potentially be letting go of "thousands of episodes of TV". Really makes you think what your weekends would be like without Hulu, doesn't it?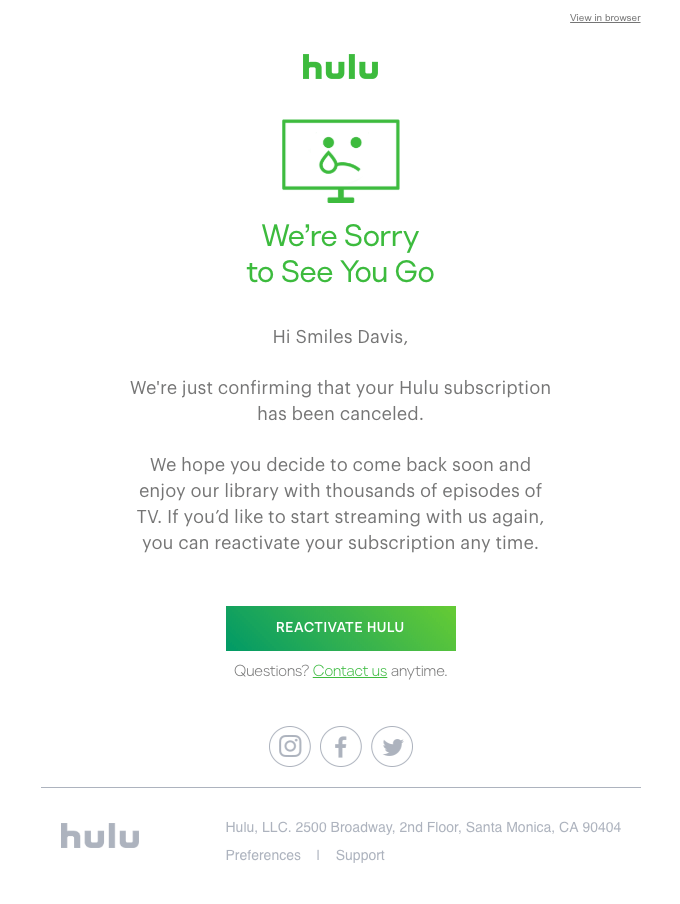 9. Beta List
We've said this before and we'll say it again- if you're falling short of ideas, turn to pop culture of inspiration. If you're well versed with your target demographic, using the right pop-culture reference can do wonders for your engagement metrics. And in the case of unsubscribe emails, it might just cause them to have a change of heart. Woody and Buzz Lightyear bidding you goodbye in your inbox is quite the hard sight to behold, isn't it?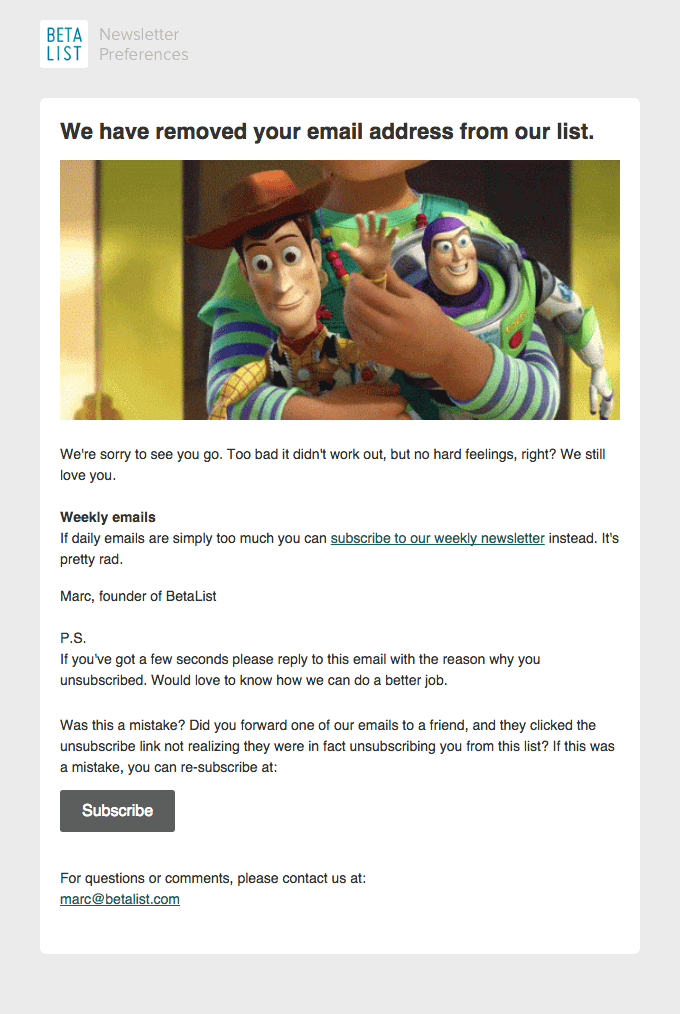 10. JETSETTER
JETSETTTER's unsubscribe page has a neat table containing various email frequencies with a short description about what to expect from each one of them. The unsubscribe email message allows the user to set the preferences according to his or her choice. That increases the likelihood of reducing unsubscribes.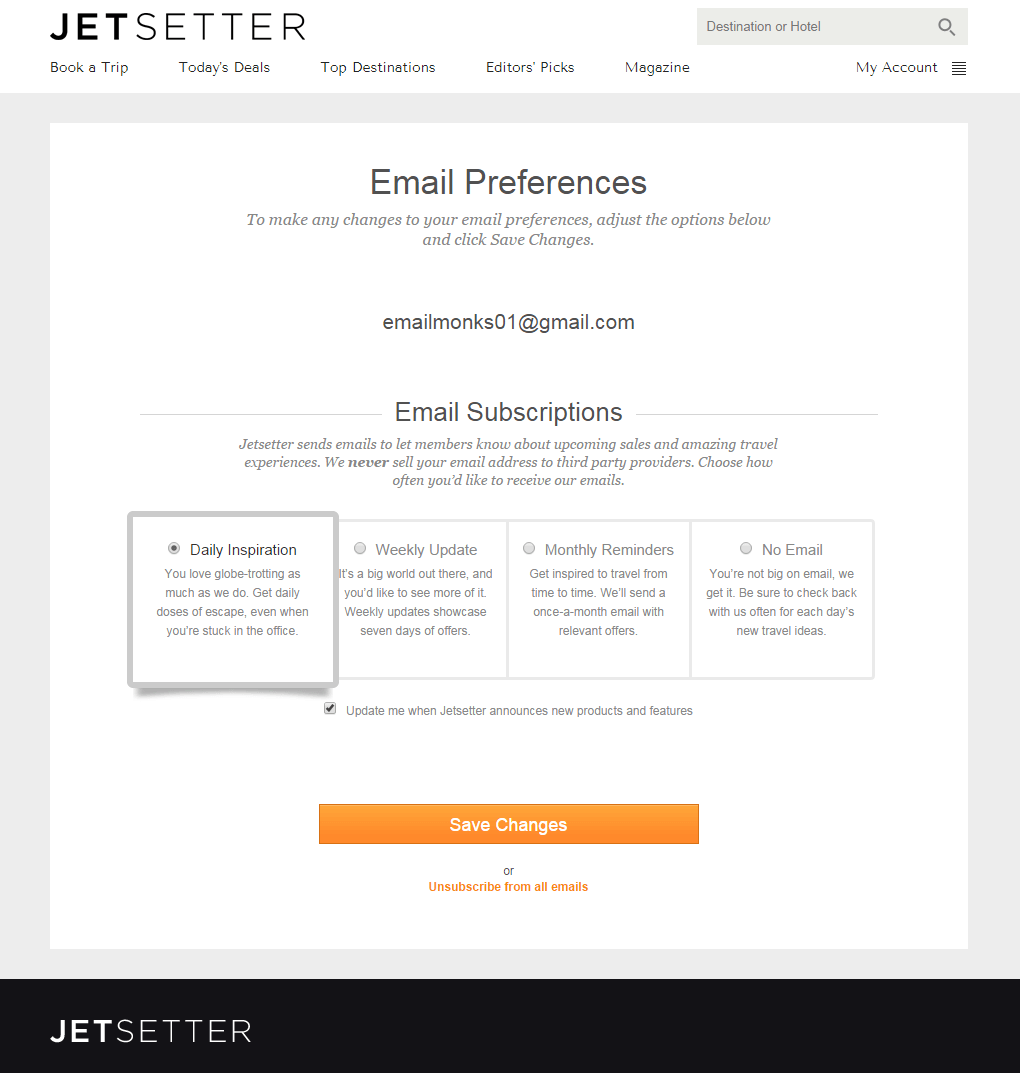 ---
Other creative ideas that can be incorporated to design unsubscribe landing pages, are as follows:
1. Blending past behavior with rational reasons to stay back!
Example: A future sneak peek – Larger than life heaven's preview in email or landing page.
2. Real time personalization on unsubscribe page!
Examples: Sand clock – "Dying in your separation, 8 seconds to bring us back to life" – Resubscribe
You left a time bomb! Tick Tick Tick, It's dreadful, Save us – 10,9,8….2 Resubscribe and a few seconds later… 1 Blast!!
It is 7.00 AM in Sydney, our email manager hasn't woke up yet and you are about to spoil his day. Unsubscribe later as he wakes up? No?
3. Showing the loss in humorous way using a funny image.
Example: "No longer want to receive insightful blog updates? Well, you can leave us for sure, but half knowledge is a dangerous thing! 😛
Wrapping Up
Incorporate these simple-to-implement ideas into your businesses' unsubscribe landing page, to be able to make those priceless subscribers stay!
Signing off with an opt out email example to inspire you: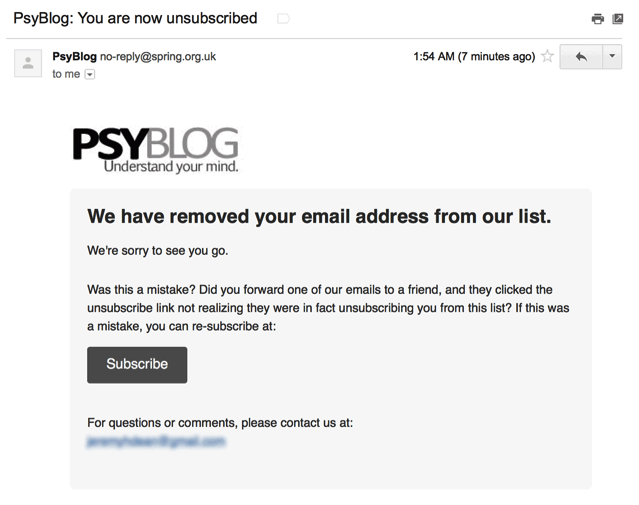 However, remember that the best unsubscribe email message of confirmation is the one that you don't send.
If you have any other tips, do let us know in the comments below.