"Get closer to your customers. So close that you tell them what they need well before they realize it themselves."
–Steve Jobs
Jobs hit the nail on the head years before terms like "customer engagement" and "customer experience" became commonplace in business parlance.
To succeed in today's hyper-competitive world, organizations must know their customers better, anticipate their needs, and deliver personalized, memorable, and unique experiences rather than generic messaging and offers.
And knowing customers and achieving business success starts with effective customer engagement.
Customer engagement is about personalized communications and delivering connected experiences at every step of the customer journey, rather than fleeting, one-off transactions. A connected email marketing platform like Salesforce Marketing Cloud (SFMC) makes it easier for companies to engage better with customers and get a powerful edge over competitors.
So, if you are looking to take your brand's customer engagement strategies to the next level with email marketing, this article is for you. Keep reading to know how SFMC can help you truly connect with customers with personalized, memorable email campaigns.
The Importance of Customer Engagement
Let's consider an industry that's beset with challenges in the modern era: Retail.
One of the biggest challenges for today's retail companies is that consumers are thoroughly spoiled for choice. To satisfy their needs, they can choose from any number of retailers. They're not afraid to switch brands or give a negative review to brands that didn't satisfy them. For companies, this means that customer loyalty is at a premium.
Today's consumers are also less likely to trust brands, which affects their loyalty and long-term support. On the other hand, 95% of customers say that if they trust a brand, they are more likely to remain loyal to it.
So, to retain customers and earn their loyalty, retailers must:
Make customers feel important, valued, and heard
Understand customers better and meet their needs with tailored products, offers, and discounts
Deliver seamless multi-channel experiences, both online and in-store
Provide timely customer support to quickly address queries, and resolve issues or complaints
Send personalized messages that stand out from a sea of generic marketing "noise"
In short, retailers must focus on customer engagement.
When retailers – and for that matter, all kinds of companies – listen to customers and continually engage with them, they can offer personalized and fluid experiences over multiple purchase channels. They can also deliver exceptional service, make customers feel special with personalized content and offerings, and get the right message to the right person via the right channel and at the right time. All of this is the key to customer loyalty, increased sales, and higher profits.
Effortless Customer Engagement with Data and Salesforce Marketing Cloud
According to Salesforce, 80% of customers say that brand experiences are as important as products and services. Customer engagement is vital in order to deliver seamless and connected experiences.
But how do you get started?
A: By understanding your customers better!
Effective and ongoing customer engagement requires getting a deep understanding of customers, including figuring out:
Who they are
Where they live and work
What they like – and don't like
What they want and need
Why they would choose your brand over other brands
And for this, you need data.
To understand customers, gather data about them, and use it (ethically) to design personalized messaging and offerings. You can then deliver the best experiences that garner customer loyalty, repeat sales, and positive word-of-mouth. And for this, a connected CRM like Salesforce Marketing Cloud is vital.
SFMC provides an integrated, 360-degree view of every customer. Use these insights to:
Keep up with their evolving needs
Create tailored email marketing campaigns to meet their demands and expectations
Leverage intelligent marketing automation to send the right message at the right moment
The next few sections further explore how SFMC can help you power up your brand's customer engagement strategies to deliver positive customer experiences for long-term business success.
Build Meaningful Customer Relationships with Email Marketing Automation
SFMC offers numerous email marketing automation capabilities so you can:
Get a complete view of every customer, connect all this data, and engage them in unique ways with relevant messaging via email and other channels
Create highly-segmented email lists to create tailored campaigns and maintain healthy subscriber engagement
Take advantage of AI-powered personalization with Einstein AI to engage with customers in hyper-personalized ways they appreciate and remember
Leverage analytics to continually improve your email campaigns and engagement strategies
With SFMC, you can automate many kinds of emails, including:
Welcome
Cart abandonment
Special occasion
Event promotions

This event promotion email is well-designed, has a clean layout, and uses white space very effectively – all of which are proven to grab subscribers' attention. It also includes personalization by addressing the subscriber by name. The importance of personalization for effective engagement is addressed below.
Product recommendations
Newsletters
Transactional (e.g., password resets)
This simple password reset email can be easily automated in SFMC. It's short and to-the-point and quickly addresses the customer's problem. It also manages to promote sales without being aggressive or in-your-face.
SFMC provides dozens of readymade templates, a "single source of truth" for every subscriber, as well as powerful capabilities for:
Audience segmentation
Send time optimization (Einstein STO)
Content personalization
Mobile-friendly emails
A/B testing
Analytics
Take full advantage of these features to enhance the way you engage with customers via email.
Deepen Relationships by Engaging with Customers throughout the Customer Journey
Your customers and email subscribers demand connected, seamless experiences at every stage of their buying journey. With SFMC's powerful journey-building tools, your brand can build 1-on-1 customer journeys across all channels. You no longer have to waste time or money on sending static, one-way messages that customers ignore. Instead, you can engage with them via personalized, two-way communications across every journey touchpoint.
With SFMC Journey Builder, you can:
Build multi-channel journeys for every customer across multiple touchpoints
Easily visualize each subscriber's journey as they move down the sales funnel
Design tailored messaging and personalized interactions to engage with each customer and guide them towards conversion or purchase
Automate and scale customized email campaigns for each stage of each customer's journey
With its intuitive, drag-and-drop interface, you can easily map customer journeys and tell a visual story of customers' experiences as they engage with your brand.
Why is journey mapping important?
Because journeys positively increase customer engagement, according to 73% of high-performing marketers. Mapping of journeys allows you to understand customers better, so you can take action to nurture relationships with each customer and deliver greater value with every interaction.
Impress and Delight Customers with Personalized Email Messaging
Personalization is an important aspect of successful customer engagement because:
These facts show that email personalization, engagement, and business results are all closely connected. With personalized email messaging, you can engage with your audience of leads, prospects, and customers in 1-on-1 ways that make them feel special. Considering that the average person receives 121 emails per day, personalization is also one of the best ways to win the battle for the inbox.
Once you understand customers better and map each customer's journey with your brand, you can build personalized email campaigns with SFMC Email Studio and Einstein AI. Use these tools to personalize multiple aspects of every campaign, including:
Content
Subject lines
CTA
Design/layout
Graphics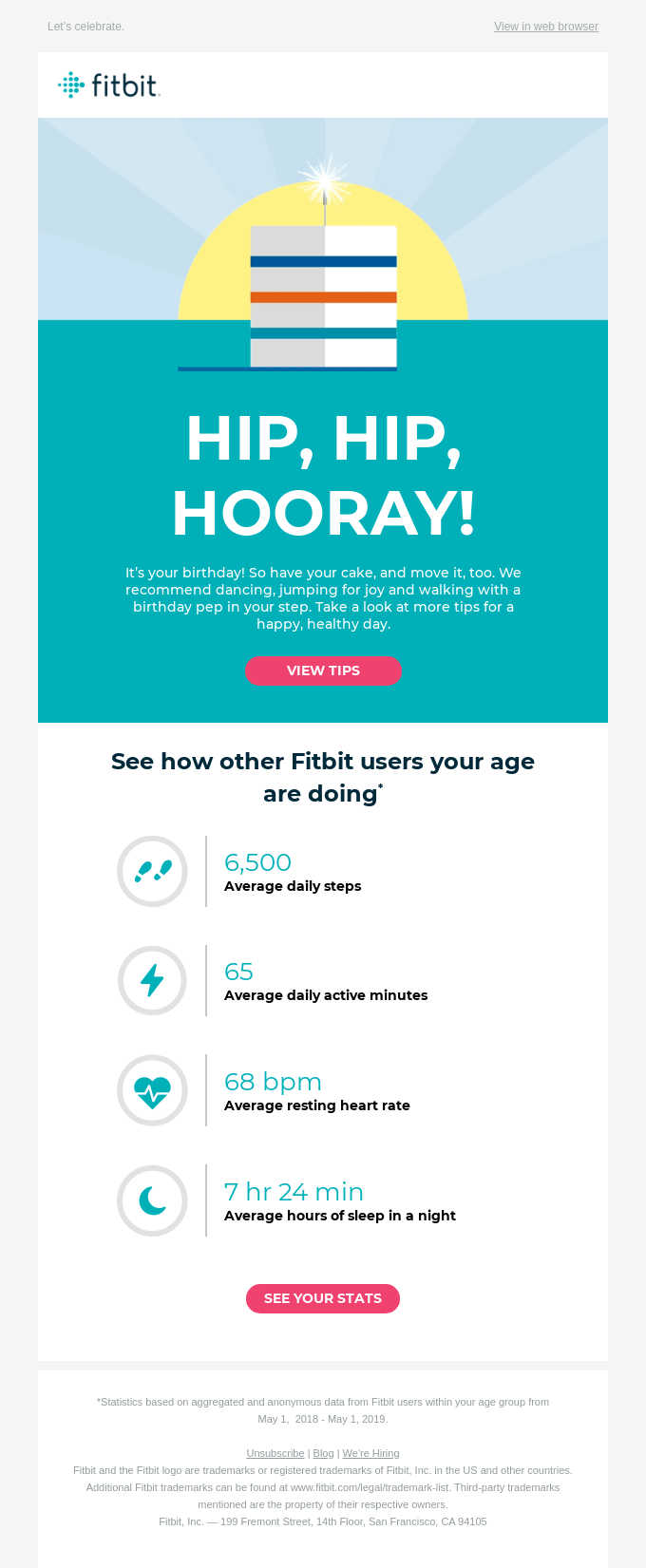 Fitbit's email makes the subscriber feel special on their birthday. It also provides personalized health information that could be valuable for the recipient.
With SFMC, you can also:
Segment subscribers to create personalized messaging for each relevant target segment
Connect with audiences based on what they will do next with Einstein's predictive scoring
Use Content Builder to create dynamic content with quizzes, timers, product carousels, etc. that subscribers want to engage with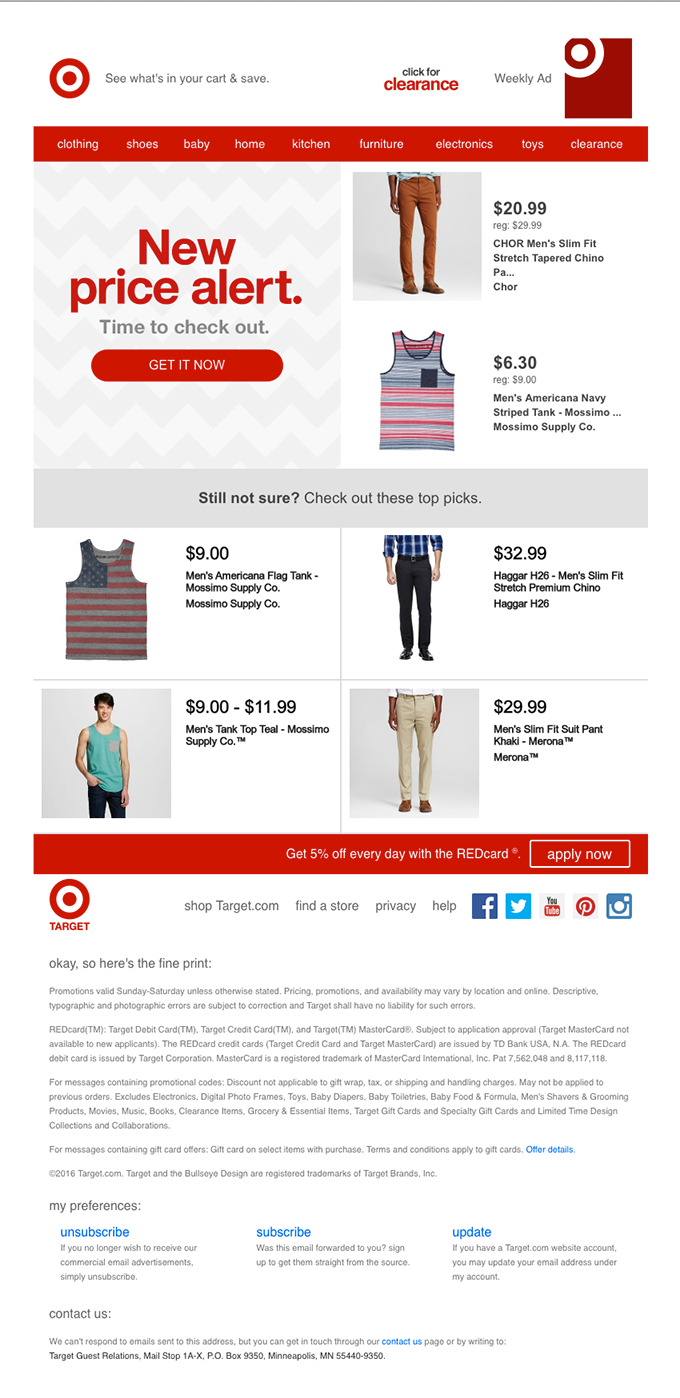 This email sends information about product availability and prices, which subscribers will see in real-time as soon as they open the email.
Customize templates to promote meaningful engagements with each personalized email
All these tools and tactics can put you in a great position to improve your engagement capabilities, boost conversions and sales, and ultimately garner customer loyalty.
A Final Word
With effective customer engagement, you can deliver tailored content and personalized experiences. This will empower you to retain more customers, build trust, develop long-term relationships, and increase Customer Lifetime Value (LTV). Salesforce Marketing Cloud is the world's #1 email marketing platform. Leverage its powerful tools, intuitive interfaces, and advanced analytics capabilities to engage with customers with personalized, memorable emails.
If you need help to get started with SFMC and email marketing, reach out to the Email Uplers team today.