In the classic film 2001: A Space Odyssey, a supercomputer called HAL 9000 starts killing off people with a view to destroying Earth. The movie's goal is to remind the audience that if Artificial Intelligence takes over our world, its consequences could be disturbing and even catastrophic.
Fortunately, real life has a much more welcoming and positive view of AI. In recent years, AI technology has progressed by leaps and bounds to deliver tangible benefits in areas as varied as education, agriculture, financial services, automobiles, and even life management and personal productivity. AI is also making a hugely positive impact in marketing. Many businesses are leveraging AI to guide their marketing strategies, engage with customers, and ultimately boost customer retention. And for this, they are turning to AI-powered CRM solutions like Salesforce Marketing Cloud (SFMC).
Let's look at some of the ways SFMC and its AI capabilities can help you boost customer engagement and retention.
Einstein Engagement Scoring: Segment your target audience for 1×1 customer engagement
To engage with each customer and make them feel seen, heard, and valued, you need to segment your broader audience. Only then can you ensure that your email messages reach the right customer at the right time, which will play a part in retaining their long-term interest and loyalty.
With SFMC and Einstein AI, you can identify and target the right audience based on how likely they are to engage with your messages. Einstein Engagement Scoring analyzes customer data and assigns a persona to each subscriber, depending on their likelihood to open your emails, click on links, and stay subscribed. These personas are:
| | |
| --- | --- |
| Persona | What it means |
| Loyalists | Subscribers with high open rates and click engagements |
| Window shoppers | Subscribers with high open rates and low click engagements |
| Selective subscribers | Subscribers with low open rates but high click engagements |
| Dormant | Subscribers with both low open rates and click engagements |
Use these personas to refine your customer journeys and improve customer engagement.
Use Einstein Engagement Scoring and SFMC Email Studio together to maximize subscriber engagement and boost conversions. You can also use SFMC Journey Builder's Persona Split option to segment subscribers into logical customer journeys and personalize the content for each subscriber segment and campaign.
Einstein Messaging Insights: Assess campaign performance to improve engagement and boost retention
Einstein Messaging Insights can also help you improve subscriber engagement and customer retention with email. The AI engine continually monitors your email opens, clicks, and unsubscribes. This includes one-off campaigns, as well as batch sends and journey sends. When it finds an anomalous result compared to the expected values, it generates an insight detailing the anomaly and its context.
The notifications badge at the top right corner of your SFMC account alerts you to this anomaly so you can assess the performance of your email campaigns and journeys.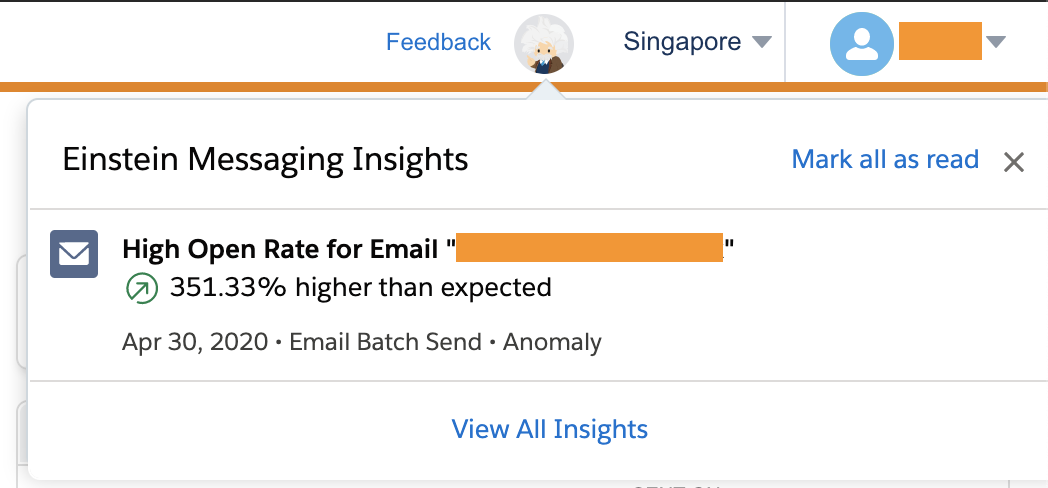 The Einstein Messaging Insights dashboard clearly shows data about sends and identified anomalies. It also evaluates each subscriber journey to produce insights. Navigate to the insights hub to better understand the anomaly and quantify your results. Then take data-driven decisions to improve campaign performance and increase subscriber engagement with your messaging.
Einstein Engagement Frequency: Analyze email engagement with existing subscribers to optimize send frequency
According to a report, email marketing has average open and click-through rates of 22.86% and 3.71%, respectively. Consumers love email and believe that it is the best channel to receive brand marketing. In fact, most prefer email marketing 2X as much as any other channel. Another 65% want to receive discounts and offers that are relevant and personalized to them.
Clearly, you have many great opportunities to impress your audience with email marketing. But first, you need to understand the pulse of this audience by analyzing how engaged they already are with your messaging. And SFMC provides a great means to do so with Einstein Engagement Frequency (EEF).
With EEF, you can quantify whether your subscribers are burned out from receiving too many emails from your brand. Equally important, you can understand whether they are undersaturated, i.e., receiving too few emails from you. Either way, you can optimize your campaign send frequency to match subscribers' requirements and thus boost your engagement and retention rates.
EEF calculates the optimum number of email messages to send and provides frequency suggestions based on your existing send activity. By following these suggestions, you can engage your subscribers with the right number of messages for each person.
According to a recent report by Litmus, mobile accounts for 41.6% of email opens. SFMC also provides an AI feature to help you optimize subscriber engagement via mobile messaging. Einstein Engagement Scores for Mobile evaluates each subscriber's engagement data and assigns scores about their probability to interact with your email messages on mobile devices. Use these forecasted engagement scores to better understand mobile subscribers and take action to improve your mobile messaging from an engagement and retention perspective.
Einstein Copy Insights: Uncover language insights from email subject lines to improve personalization
One frequently-cited report found that personalized email marketing can:
Increase open rates by 82%
Increase click-through rates by 75%
Decrease unsubscribe rates by 40%
Ultimately, personalized messages can increase customer satisfaction by 58%, which can go a long way towards increasing their loyalty and retaining them.
Einstein Copy Insights is an effective way to analyze your email subject lines and make them more personalized. This AI-powered feature analyzes your subject lines' copy and reveals data-driven insights so you can find the right word-phrase combinations to tweak your subject lines and drive stronger engagement. With its performance tester, you can compare campaign subject lines with past subject lines and their engagement rates. Also, test the performance of a single message to assess how it may affect its engagement rate.
You can also use SFMC Einstein Content Selection to create personalized content that each subscriber will see when they open your messages. It automatically evaluates winning, personalized content with the assets most likely to resonate with each subscriber. It thus helps optimize open and click-through rates – both crucial indicators of how well customers are engaging with your brand and how likely they are to stay with you.
Use Einstein Content Tags with Einstein Content Selection to understand which content types your audience engages with the most. By correlating tags with selections and clicks, you can see which content aspects are most meaningful to your audience and, therefore, most likely to garner their long-term interest and loyalty.
Einstein Send Time Optimization: Determine the best time to email each subscriber to increase opens, engagement, and retention
Einstein Send Time Optimization (STO) uses AI, Machine Learning, and data analytics to "predict" optimal send times for each email and subscriber. Its goal is to help you determine the best time to send a message so that a user is most likely to engage with it. Use STO with SFMC Journey Builder to send messages at a time when the probability of engagement is high for each contact.
The STO dashboard displays analytics that predicts future message engagement. You can easily visualize the optimal predicted send times by the day or hour for all email addresses in your subscriber list. Then you can choose the best time for batch sends and increase the chances that more of your subscribers will open your emails and engage with your content. This way, you can determine whether subscribers will stay with your brand and look forward to your emails or click on the "unsubscribe" or "mark as spam" links.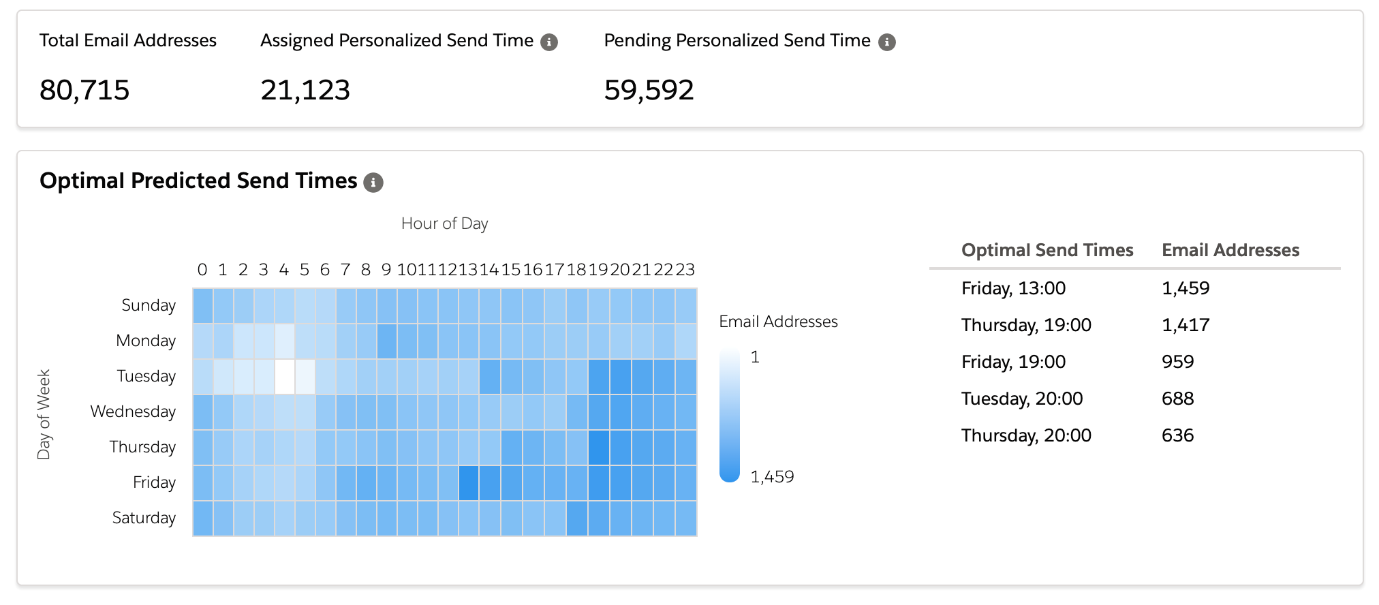 You can preview when Einstein STO sends messages to subscribers in any data extension and also get insights about the engagement data that Einstein uses to predict optimal send times for your campaigns.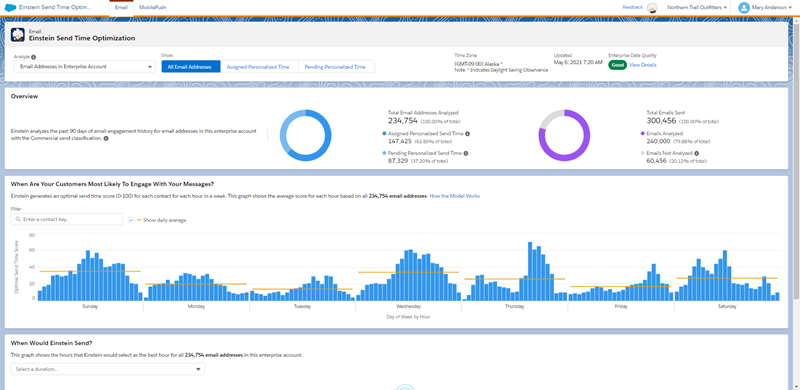 Wrap-up
In Salesforce Marketing Cloud, the Einstein AI engine provides many powerful and effective ways to understand your subscribers and use these insights to enhance customer engagement and retention. So if your brand's primary email marketing goal is increased engagement and retention, look no further than SFMC and Einstein.
Need more information about Einstein AI and how to make it work for your email marketing program? Contact the Email Uplers team, and we'll get you started in no time!