How many times has your heart skipped a beat on finding out the number of cart-abandonments on your website? It is a serious problem faced by every online business.
Thankfully cart abandonment emails can help you get back some, if not all, prospects to complete the purchase. 50% of cart abandonment emails are opened, and abandoners intend to return to the cart. Moreover, we know that interactivity in email increases engagement, and to make the most of it for your cart-abandonment emails, we've been experimenting with many options- Live Shopping Cart is one of them.
One of our clients was struggling with a huge number of people abandoning their carts mid-purchase and not returning even though they were using cart abandonment email series.
That's where we suggested them to try a Live Shopping Cart blended with few offers that appeal to recipients who prefer discounted shopping. Diving deep into their data, we found that it was not just discount the subscribers were looking for but options. They could not find the right product with the right option on the client's website. Making big changes on the website was difficult at that stage, as they were expecting quick results.
A live shopping cart played an important role here in helping them achieve the short-term outcome they were seeking.
Live Shopping Cart in Cart Abandonment Email – The Concept
A Live Shopping Cart is created by blending two interactive elements viz. Slider & Hover, and it is so engaging that the subscriber is tempted to buy the product/s they left in the cart. It also helps you showcase multiple options of that particular product they left in cart.
You can display options of the abandoned product- various colors or patterns available or maybe products by the same seller. Also, on hovering, you can showcase two images of the same product taken from two different angles to provide a great UX. Alternatively, what we did for the client was that we gave them multiple color options, showcasing on hover. This helps subscribers take a quick decision by checking out the option they were looking for.
The slider works on user interaction and the testimonials can be read by the recipient. While showcasing testimonials using dynamic content in emails gives a fresh feeling, the recent testimonials for the same product increase confidence among your subscribers.
Check out this template created by Uplers :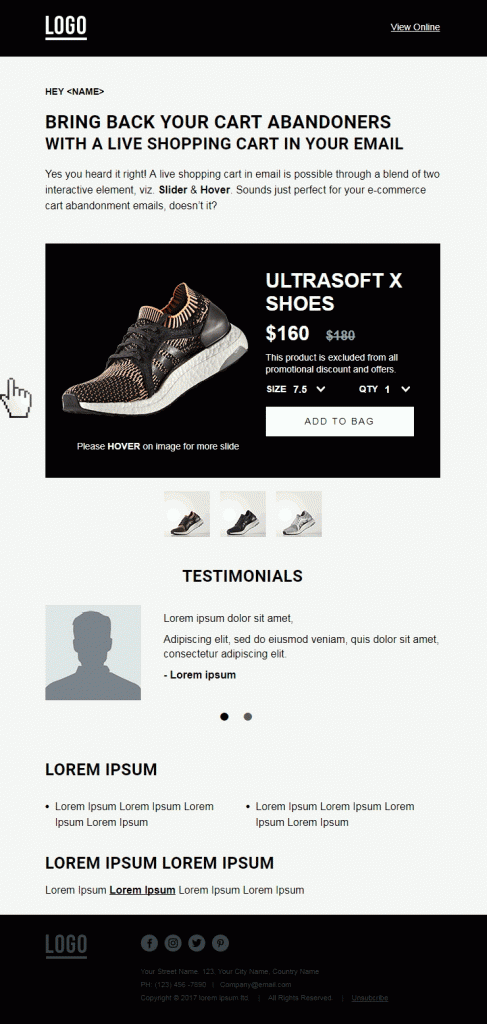 Would Like to Try it in your Next Campaign?
Well, Uplers have got your back. And guess what! You can customize it according to your branding.
Why Businesses Should Use Live Shopping Cart in Cart Abandonment Emails
Live shopping cart brings life to your cart abandonment emails.
Interactivity in the email enhances engagement, increasing chances of conversion.
It helps to accommodate more content in less space.
You can display multiple color options of the abandoned product through a slider.
2 different images of a particular option can be displayed on hover.
Subscriber can take action within the email, without having to surf the website.
Email Client Support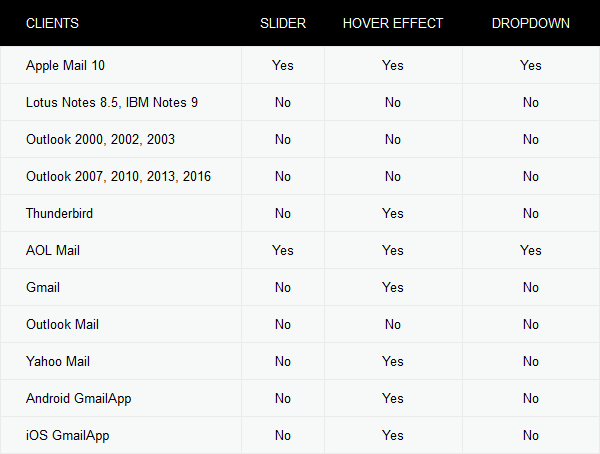 ESP Compatibility
Live Shopping Cart is compatible in Campaign Monitor, Exact Target, Bronto, Marketo, and Dotmailer.
In Mailchimp, the slider will not function and the testimonials will get stacked up, one below the other. What you will see is: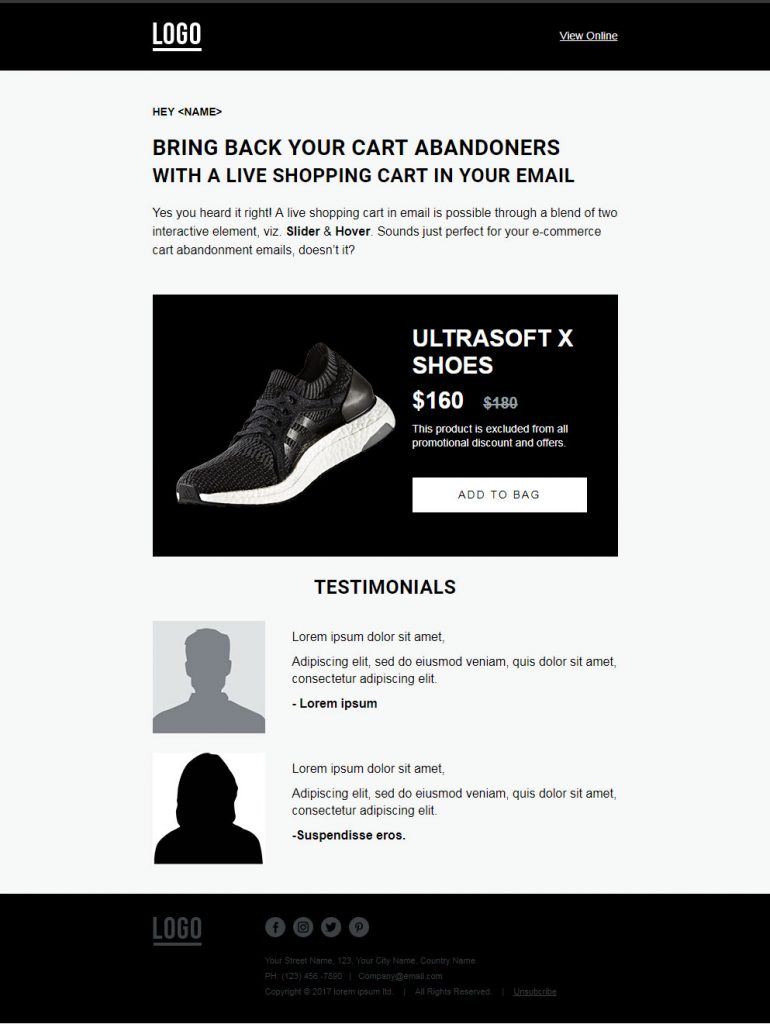 Editor's Note: Why it's Important to Create Engaging Cart Abandonment Emails
A report states that merchandise worth $4 trillion is abandoned each year with companies losing $18 billion in sales revenue. And what's alarming is that the rate is ever increasing, significantly. In Q2 2017, a total of 76.9% online orders were abandoned. But live shopping cart is like a silver lining to this black cloud.
If you need help in getting your emails designed and coded for your next email, get in touch with us.