Making Email vivacious than never before is gainsay! That said, designing immaculate emails that arrest clickthroughs and opens is becoming imperative and inevitable.
Something that marketers play often with is the subject line characters and word counts that lead to either a positive or negative response rate!
Email Uplers could come up with amazing insights on subject lines while reviewing the Adestra Subject Line Study Report, July 2012 which did a research with: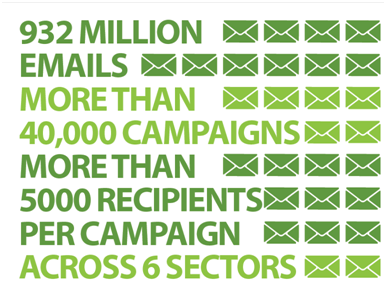 1. 932 million emails were sent over a six month period and a rigorous research was undertaken by Adestra that provided staggering stats on the subject lines. Subject lines with less than 49 characters attracted more than 12.5% open rate compared to those with 50 or more characters. Also, subject lines with more than 60 characters weren't able to find success and in fact marked into the dead zone.
2. Subject lines can vary from one industry to another. E-commerce, Charity, Events, Publishing, B2B and B2C each of them have a different subject line best practice. For B2B subject line with a word count above 16 does wonders while the same exceeds over 20 characters for B2C. Likewise each sector dominates subject line differently.
3. Surprisingly, the report delineates the significance of longer subject lines. Subject lines which are longer drive more opens once the message is landed in the mailbox. Ideally because longer subject lines allow you to shout more about the benefits of opening an email communication. You can view the details in the below graph.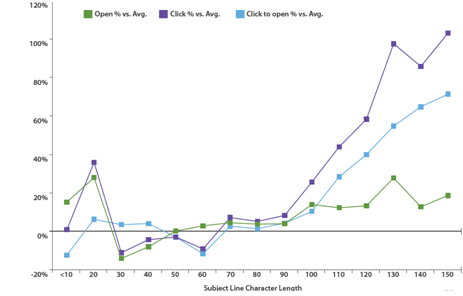 4. One another finding that report comes up with is about email objectives. Response rate had gone up but open rate plunged and vice versa, testing the different character counts for over 6 industries. This means that your aim and objective should be clear while launching a campaign otherwise you will be baffled with the final result unable to make out whether it is worth an investment or not.
5. So, what's an ideal subject line word count? The report very meticulously describes the importance of longer word counts like the longer character counts as that again allows you to showcase the benefits clearly from opening an email. This excellent graph gives a detail idea about the word count!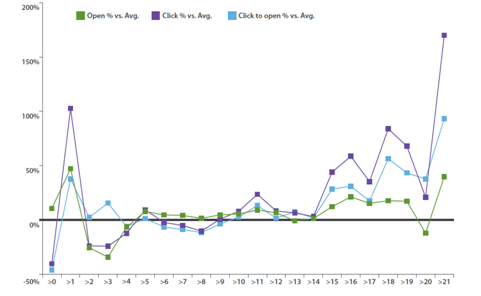 From sixteen words on, the results increase both in terms of opens and clicks.
6. There are certain informative and awareness led emails for which a B2B business can use 6-10 word subject lines as they deliver high opens but low clicks whereas 20 word subject lines deliver a massive uplift in response for the B2C sector.
7. In the E-commerce sector, using "% off" and "sale" in the subject line increases open and Click to open rates. Some other words that worked well with those 932,000,000 emails were: Announcement Video, Last Chance, Newsletter, Appeal Offer etc. Unambigious offers get a poor response rate so if you are promoting an offer, be clear about what it is.
8. In the Events Sector, the words "conference", "seminar" and "webinar" have much less impact than selling the benefits in the subject line. The trend is changing and while we restricted the use of symbols in our email design best practices infographic, the spam filtering rules have changes which means mentioning price, discounts or using currency symbols can create a big uplift.
9. Using "exclusive" in the subject line can have a positive impact on opens and clicks for publishing sector. Likewise using the word "Give" increases the response for charities sector. For the B2B emails, using the word "B2B" leads to a negative response! Teasers work best for the B2C sector.
10. You can split the test up to 11 subject lines per campaign and measure the success rate!
Takeaway:
Trending high in the email world is using a blend of symbols, terms, word counts and character counts within the subject line to make it real godly. Test well to determine the best that will work for your sector, once you have the aims and objectives of the campaign ready as the measuring rod emulate the same and launch the campaign.