Do you remember that breathtaking scene from "Harry Potter & the Chamber of Secrets", where Harry aboard his Nimbus 2000, is pitted against Malfoy to win the game of Quidditch? Email marketing is the Nimbus 2000, and you are the captain of this game of Quidditch i.e. your business.
Winning the game and getting an edge over your competition is important if you want to increase business profitability. So, who would your Harry Potter be- an outsourced company or in-house developers?
Making the right choice at the start can help you win the game of email marketing, and convert better. Both choices have their set of advantages but, what you choose entirely depends on the goals and needs of your business.
What do You Want – Control or Flexibility?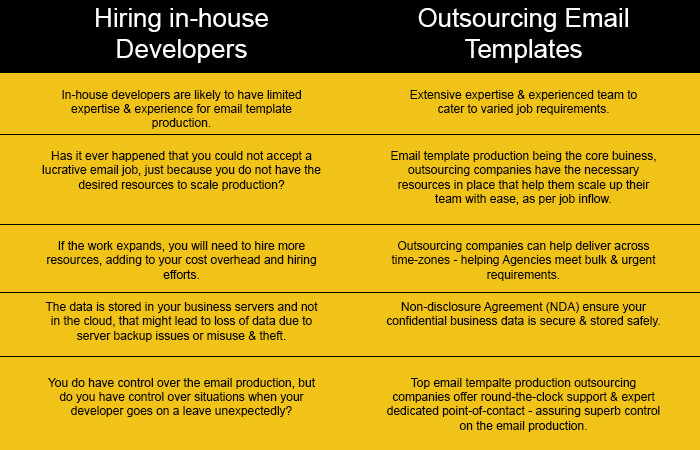 The Cost of Ownership
45% of the email marketers are concerned with cost of application and services, according to a survey conducted by The Relevancy Group.
An in-house developer may seem like a cost-effective option at first. All you need is someone who can take care of email template production, right from the ideation stage. Wish it were truly as simple as it sounds.
Apart from the developer, you need to invest in an email service provider, relevant hardware and a database marketer for effective implementation of your email marketing strategies. You will add not just hiring costs but also maintenance costs for both the resources and the infrastructure
On the other hand, when you outsource your email template production, you simply pay the price for the template. The company you have outsourced to will have their email template production set-up, thus saving you the unnecessary costs.

How You can Win with Dedicated Developer
Most businesses prefer in-house because they have a developer dedicated to their business. If you have a similar reason for going in-house despite the costs, here's something you should know:
A lot of outsourcing companies offer dedicated developers for your business, similar to your in-house developers.
When you outsource to an email template production company, you can be rest assured that all production requirements can be taken care of, besides facilitating quick and hassle-free execution
A dedicated Accounts Manager should ideally be your single point-of-contact in the outsourcing company, who will manage all your template needs.
Dedicated developers working remotely also saves you the hassles of recruitment, infrastructure costs, retention, perks and liabilities – while off
ering sophisticated quality service.
Why Choose Uplers as your Outsourcing Partner?
Cost-effective: Hiring a dedicated developer at Uplers will offer you a cost advantage as you are saved from hiring and retaining costs. We offer coding services starting at as low as $49!
White labelled services: We maintain a strict NDA policy with our developers as well. This keeps your information and database secure and safe.
Help meet deadlines: With our quick service as low as 8 hour TAT, we help you meet your specific deadlines with our resources and infrastructure, without compromising on the quality.
Scaling made easy: If there has been an increase in the demand for resources, our team ensures quick response. Our dedicated developer model will quickly scale the team to help meet your new needs.
One-point contact: A dedicated Account Manager who will be your single point-of-contact so as to facilitate easy and effective communication.
If you are facing resource crunch, with your developers going off on their much required summer holidays, or encountering template production overflow during the upcoming Holiday season, YOU CAN COUNT ON Uplers.
Just get in touch with our team of experts. We assure we will get back to you within 1 business day!