Update: This post was originally published on 20th April 2016. It has been updated on 17th Jan 2022.
Email marketers have been striving hard to grow their email list organically. Multiple strategies to capture the email addresses are put into effect in order to grow this list. However, a study by Hubspot states that email databases decay naturally by around 22.5% every year. Now, this raises some attention-grabbing queries- What strategies do email marketers take into consideration to clean the degraded list? Well, the most common answer to this is- email list cleaning, done manually will sort the issue of list decay, and ultimately bolster email deliverability.
So, when email list cleaning is done manually, only the bounce addresses, i.e. the email addresses to which bounced emails were sent, and email addresses that have unsubscribed from the mailing list are removed. But what about the email addresses that are inactive? Inactive subscribers don't even open your emails for a long period of time, ultimately affecting your ROI.
Well, for such email addresses, the best practice is to send a list cleaning email asking your email subscribers if they are willing to continue receiving the emails from your company. If they are interested they will set their preferences, if not, be bold enough to remove them from your list, they are not active anyway.
But how do you design such emails? Well, Uplers presents to you some divine list cleaning email templates examples of various companies that decided to take a step ahead to maintain a clean email list and prioritize their email deliverability.
1) Boulevard
With a wonderful copy and an attention-grabbing CTA, Boulevard brewing company has designed this email well. The email clearly asks the subscriber if he is further interested to receive an email from Boulevard or wants to opt out. Anyone looking to improve email deliverability must pick up a trick or two from this example.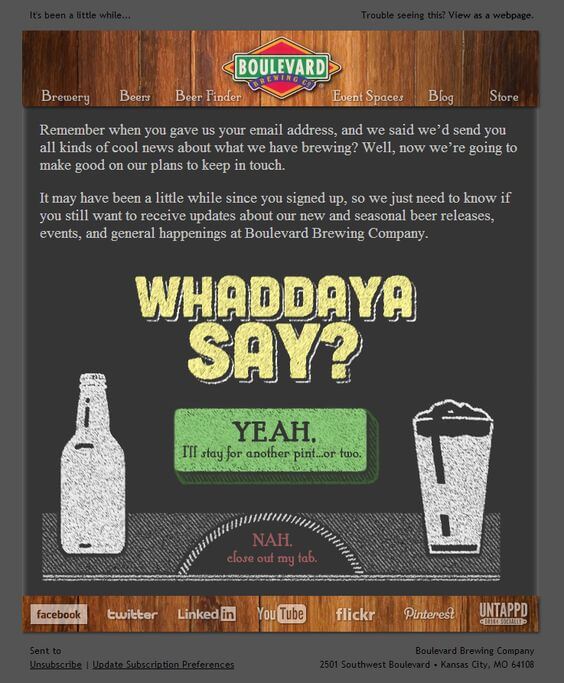 2) Teespring
This is hands down the most adorable list-cleaning template on this list. But the super cute hero image isn't the only thing worth noting in this template; the copy demands attention too. Presenting the readers with a statistical overview of what they have achieved via their Teespring campaigns, this is as effective a re-engagement pitch as any you'd find out there.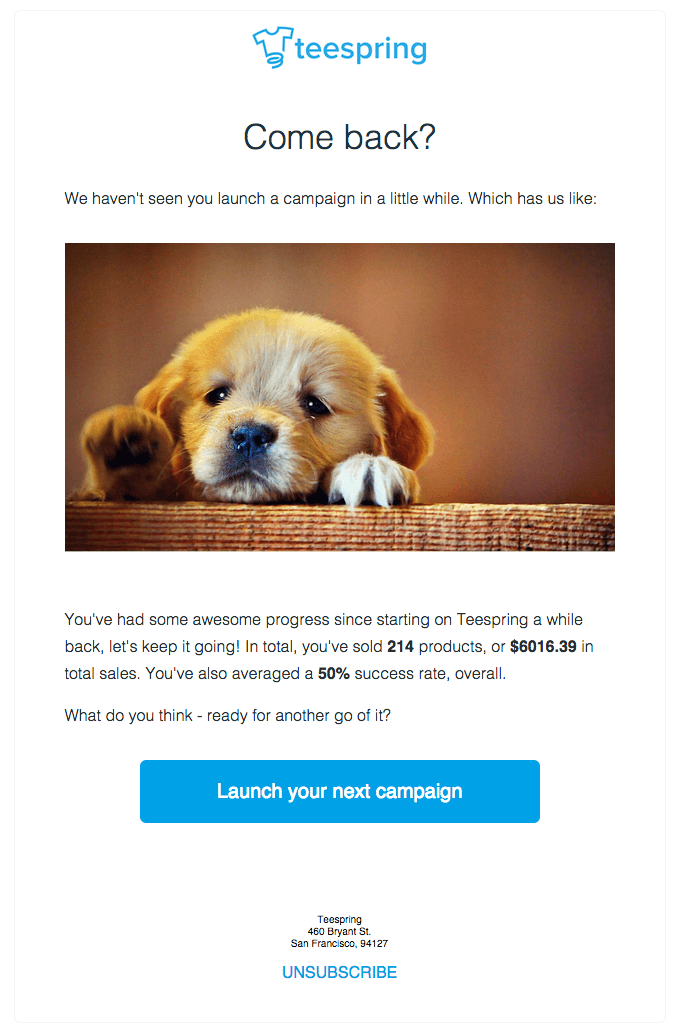 3) Free People
The email design by Free people is crisp and to the point. The preview text in the email has been drafted wonderfully to influence the recipients to open the email. The CTAs are bold and shouts louder what to do.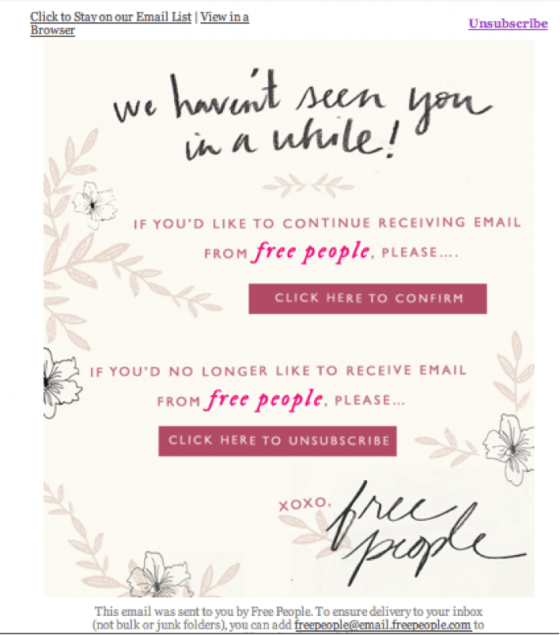 4) Animoto
Many a time subscribers disengage with a brand's communication simply because they get overwhelmed by the frequency of emails they receive. Animoto has taken that into account and given the reader the choice of updating their email preferences in this email over here.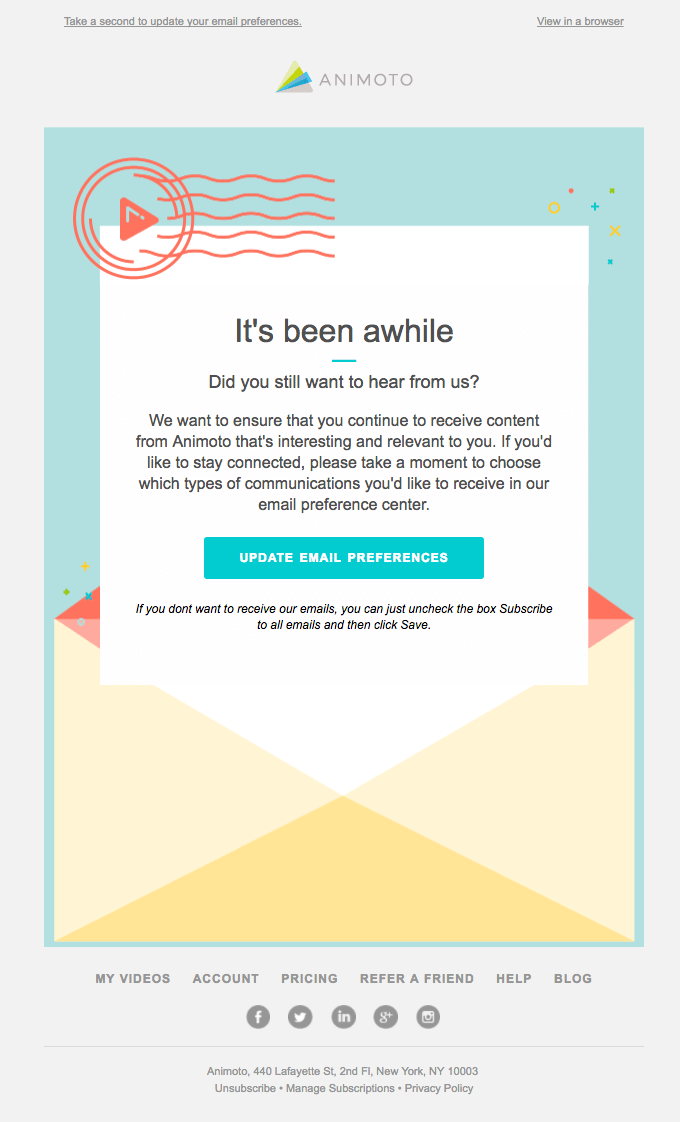 5) JetBlue
The email by JetBlue has all the elements of a perfect list cleaning email. The hero image with bandage on a broken heart conveys the message to perfection. They 3 text based CTAs providing different options for the email subscribers sets an example of how to send an email to get a clean email list for other brands.

6) Return Path
A subtle email design with a relevant copy by ModCloth containing the right message makes this list-clean email an absolute standout. The use of illustrations along with the CTA buttons is a pretty nice touch too.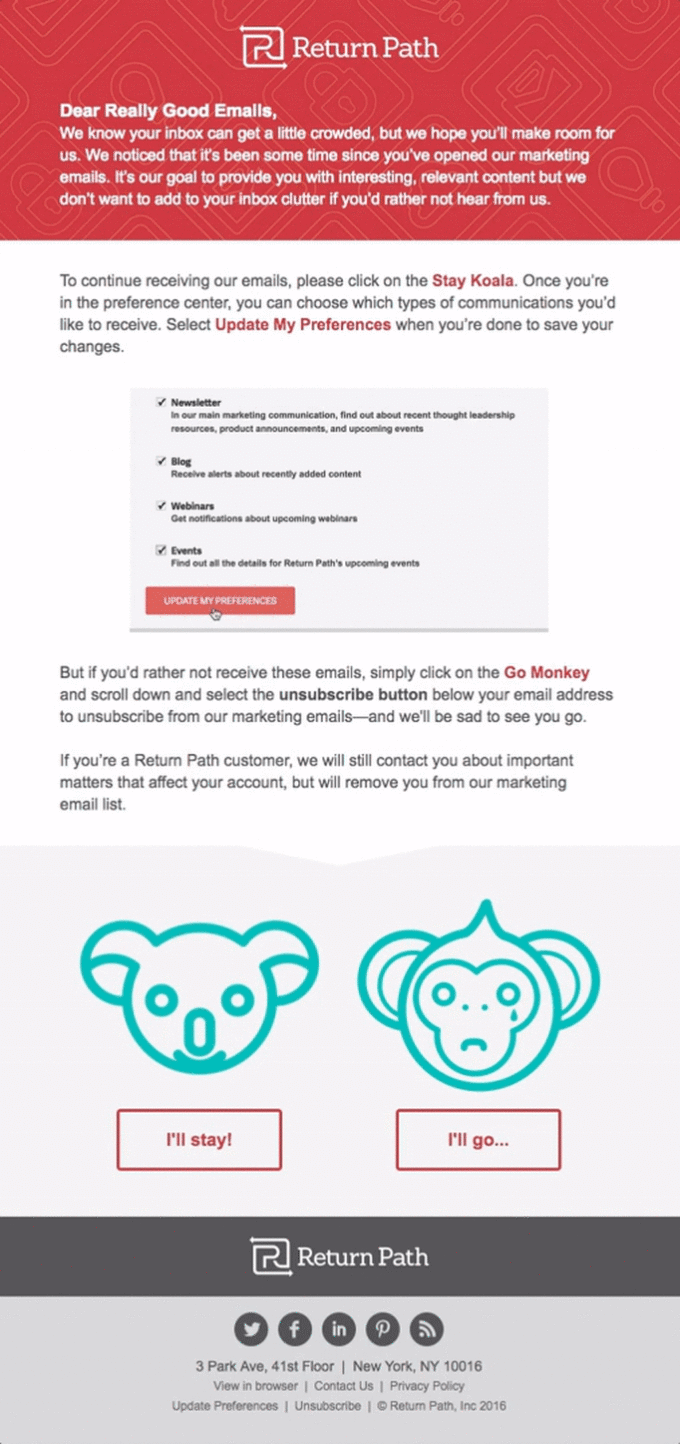 7) Nintendo
The use of Nintendo's famous game character Mario in the email makes catches the eyeballs of subscribers instantly. A simple creative can grab the attention without any hassle.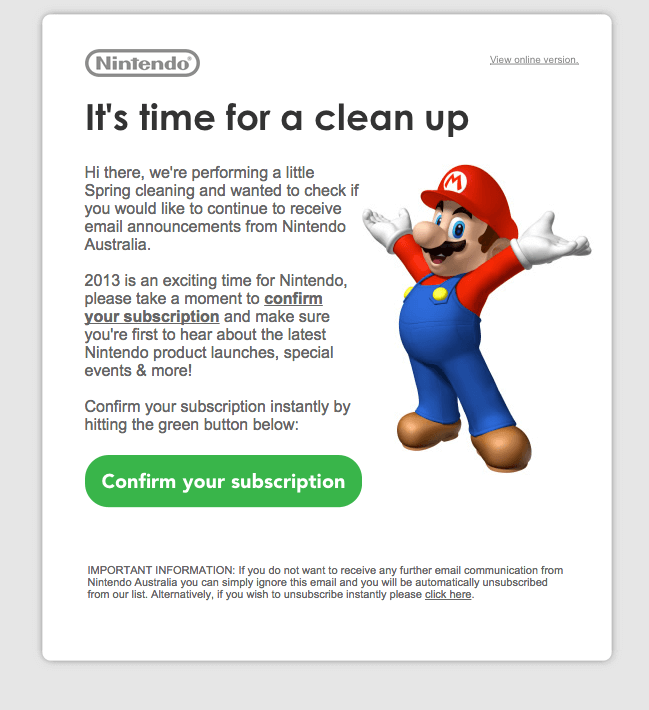 8) Framebridge
What makes this list-clean email from Framebridge special is its sheer minimalism. The copy is succinct and gets straight to the point and a straight-forward CTA has been provided for the recipients to click if they wish to continue with the email subscription.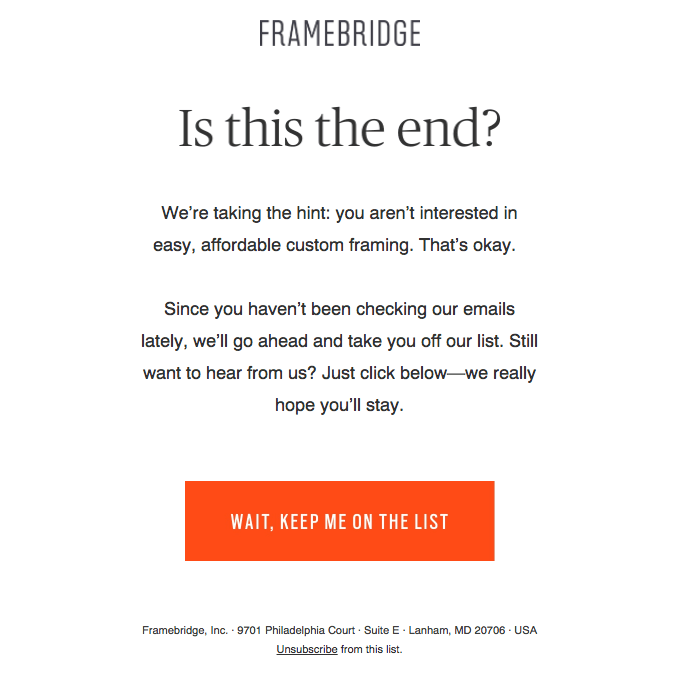 9) Sidekick
Sidekick took a very smart approach in its email here. They sent this email during the holiday season and offered to unsubscribe the recipient as a holiday gift. The CTA used in email is crisp and self-explanatory.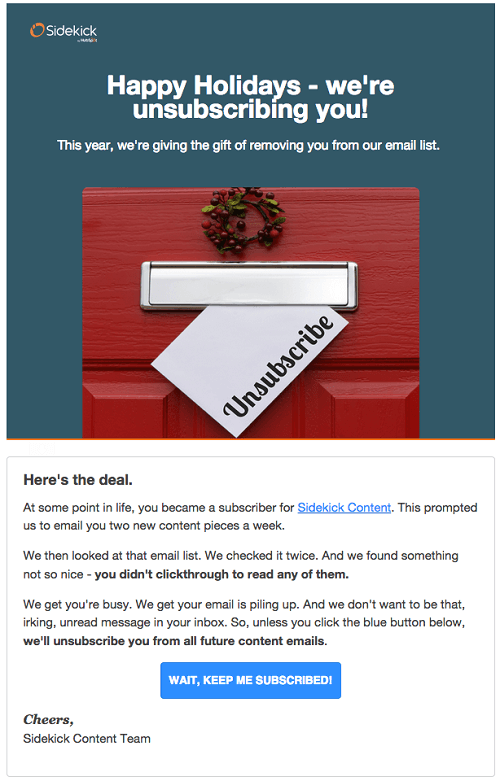 10) Email Uplers
We use bold typography to convey the message in the hero section of our email. We've kept the copy brief and followed it up with a neat value proposition section to strengthen our re-engagement appeal.

Wrapping It Up
If you too are struggling with cleaning your degraded email list, Uplers can take you through by providing some awesome list cleaning emails within 8 hours of placing the order and help you increase your email deliverability. Contact us now and let our email champions propel your campaigns to dizzying heights of success