Email signature or sig line is the much-loved-to flaunt part of an email. While in general, it is just information tagged at the end of your email to let the recipient know a little more about you; for marketers, it can be the prized real estate space to showcase your business to the world.
According to the Email Stats Report, an employee on average sends out 38 emails every day either to the company's customers, prospects, partners, or investors. If there are 50 employees who send out such emails for 250 business days, there will be 475,000 annual sends.
Just imagine the brand visibility all those personal and professional business email signatures can help you get, besides driving traffic to your website and creating awareness about your company's initiatives. In short, when you create an HTML Email signature template you are not just making a powerful, online business card, but also a low-cost and high-return marketing tool. However, it is also the most overlooked one.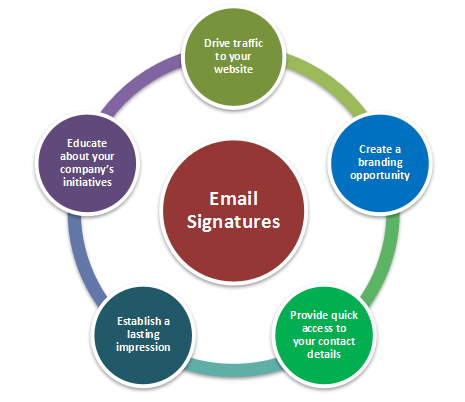 Here are the Dos and Don'ts about how to make professional business email signature templates and take your email signature marketing to the next level!
Dos Of Email Signature Marketing- Email Signature Best Practices
1. Lay out a good email signature design
A maximum of 7 lines – that's the ideal professional business email signature format. All effective email signature templates generally contain your key contact details, social media icons, and advertising message. However, one of the most important things to consider is the design and layout of your HTML email signature template; make sure it goes well with the type of industry you are in. You can let your creative juices flow here but bear in mind professionalism is the key. The ideal signature block examples are those that align perfectly with the brand aesthetic and look.
Your key contact details should always be in the color of the email body text for consistency.
Links can be in different colors.
Maintain a fixed font type and size throughout the mail. You can experiment with the font but it's better to stick to the web-safe fonts, so as to ensure it is legible across devices and email clients.
Here is one of the best professional email signatures examples: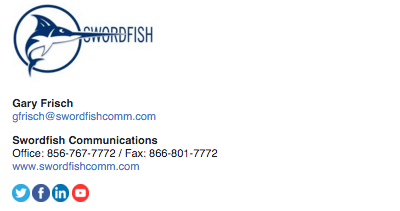 2. Link Email Recipients to Your Website and Blog
Every email sent from your company should have a professional email signature accompanied by a link to your website. Surprisingly enough, very few companies stick to this basic rule. You need to take advantage of the fact that your recipients are already online.
Therefore, by providing a link to your website in your email signature templates, you are giving them an option to re-engage and stay connected with you. Links can be of two types: Text links and Image links. You could just give a link to the blog home page or create a direct link to your latest blog post. Take a look at a few signature block examples, such as the ones highlighted above, to get a better idea.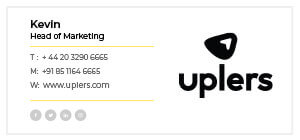 Fig. For business email signatures, image links (could be the logo) are a lot more effective.
Fig: Make the link text more appealing using color or underlining it.
You could also link to your app on the App Store or Google Play Store from the signature. Create a QR Code for shortening the path to downloading an app from desktop to mobile.
3. Connect with them through social media
Social media is everywhere, and so it should be on your professional email signatures too. The best HTML email signature template designs include links to social media pages on which you post regular updates – Facebook, Twitter, LinkedIn, Instagram, Pinterest, etc. to keep your subscribers hooked to your brand.
4. Inform them of Upcoming Events
Is there a conference at which you are invited as a speaker? Are you coming up with a trade show? You can tweak your professional email signature templates to reflect the happenings in your company. Create a simple banner, with a link to a landing page describing the details of the event, and place it below your main email signature. The best signature block examples incorporate these tips in the most optimal manner. For instance, take a look at this one.
5. Promote Recent Content
Email signature marketing gives you abundant scope for promoting a white paper, eBook, or industry report you just published. You can create an attractive banner or just add a plain-text link. Here is one of the most perfect professional email signature examples:
6. The Word 'Free' is a Magnet!
As always, the word 'free' can be strategically used in email signature marketing to generate interest and attract leads for your products/services. This technique can be observed across both professional as well as personal email signature examples. Offer a free tool, maybe an online calculator or an educational game or a free software download along with your email signature template; trust us, this technique never fails to grab their interest.
Fig: A 'free trial' link on your email signature can help drive downloads.
7. New Offers on the Block
Informing your subscribers about new campaigns and new offers through your email signature can work tremendously in your favor. Tell them about your new catalog, promotions, or upcoming product launches. Track the performance of your offers and push the best performers to boost your ROI. You'll be hard-pressed to come across any email signature best practices resource that would have omitted this tip; only goes to show how vital it is.
8. Promote Yourself
Don't shy away from promoting your success stories. A testimonial from reputed clientele highlighting the exceptional result achieved using your product/service will add a feather in your cap. A closer look at multiple professional and personal email signature examples will guide you towards leveraging this technique effectively in your own signature.
9. Ensure Your Signature Complies With The Law
Now, this might sound very obvious, but you'd be surprised to find out how many look past it. Different countries have different laws. So depending on where you run your business, it is mandatory to add a few details about your company in your email signature. For instance, as per the laws of the Netherlands, you have to include details like your company name, registration number, registry location, registered office, etc. Thereby, it is best to consult your legal representative to find out more. Believe us, skipping this step and landing in legal soup is absolutely not worth it.
So the next time you create a professional Gmail signature, or one on Outlook, or any email client of your choice, you'd do well to keep the above email signature best practices in mind.
7 Don'ts Of Email Signature Marketing
1. Do not Go Overboard
You need not go overboard by including every single detail and contact information in your HTML signature. The worst personal email signature examples are those that contain a surplus of irrelevant content in them. Only add contact information that is necessary and regularly used. Adding multiple phone numbers, email addresses, websites, and social media networks, might not only sound confusing but desperate as well. The most creative email signatures out there have simplicity at their cores. Here is an HTML email example showing what you should never do in your signature.
2. Avoid Multiple Fonts
Although you can experiment with colors and fonts, avoid using more than 2-3 different ones if you really want your professional or personal email signature to look stylish. The fonts, colors, and design – all put together in the following HTML email signature should be strictly avoided for it can end up in your signature looking visually jarring.
3. Avoid Using Images for Signature
Using an image as your signature in an HTML email is a big NO. With many devices and email clients having default settings that block images, an email signature that is in an image format will not be visible to all. Also, not hosting images in your signature on a web server can turn against you. It is good to have ALT-TEXT as a fallback option.
4. Avoid Personal Quotes
Personal quotes in a business email signature can be a turn-off. Avoid them unless you are a writer or you have a mighty good reason to do so. In most cases, they can tend to rob you off your credibility. Besides, tooting your own horn isn't very professional, is it?
5. Irrelevant Links
Irrelevant links in an email signature can be catastrophic. Even though you might want to add a link to your blog, make sure the blog is not too old and the content is relevant to the person receiving it. Remember that an email signature is a place where you're telling your recipients about yourself and your brand or business. You need not overpopulate that space by including links to blogs or other resources; that is something you should ideally keep for your newsletters and other communications.
6. Minimal Use of Images
Signatures with more than two primary images are not going to take you anywhere. Your email recipient might get miffed because the download is costing him money. So, stick to a maximum of two images (if at all you have to use images), ideally with a length and width of 250px.
7. Disclaimers
Doing away with long disclaimers is one of the most fundamental best practices to keep in mind when you sit down to create HTML signatures. Just add a few lines and then, if the need be, and include a link to a detailed version. The disclaimer in the image below is an apt sized one:
Now, before you sit down to create your professional gmail signature, or one on any email client of your choice, ensure that you've gone through this list of don'ts at least twice to avoid courting any trouble, intentionally or otherwise.
Wrapping Up
It is very important to tap the potential of email signature marketing, as emails are the most used communication medium in businesses. The most creative email signatures help in brand awareness and also have the power to enhance your visibility, ultimately driving greater traffic to your website. Just make sure you are doing it right! We hope the email design best practices listed above help you in making the correct decisions.
Need support in designing and coding an email? Email Uplers can help you deliver beautifully designed emails in just 8 hours TAT.