We all love that warm welcome message we receive when we subscribe to emails from a brand, don't we? And those timely and brilliant emails we get when we add products to the cart but don't checkout? I'm an out-and-out fan of these creative emails. All these are transactional emails.
Transactional emails, as the name suggests, are sent in response to any 'transaction' done by the customer with your brand.
Let's take a look at some of the activities that can be referred to as 'transactions':
When a customer makes a purchase
When someone registers for a webinar
When a prospect attends an event or conference
When a client downloads a resource from your website
When a visitor signs up for your emails
When a customer browses through some products or adds it to the cart
When a customer completes your survey and offers feedback
Additionally, companies send transactional emails whenever an order is confirmed, or shipped, or out for delivery or the delivery is delayed due to some reasons.
Here are some inspiring email examples of transactional emails straight from our inbox and some Internet sources.
1. Email verification email (Double opt-in email)
Double opt-in email is the key to maintaining a healthy email list. It helps to ensure that your list contains valid email addresses of people who are genuinely interested in hearing from you.
Here's how Chipotle nails the verification email with a catchy headline, clear CTA, navigation links, and social sharing icons at the end.
2. Password reset email
To be honest, forgetting the password is the most common phenomenon in a person's life. The password reset email by Wistia caught special attention in our inbox because of its witty subject line – "Out with the old (Wistia password), in with the new". Interesting, isn't it?
3. Welcome email
Welcome email is one of the emails that is sure to get opened. Just like people expect a smile or Hello when you meet them, your subscribers expect a welcome email when they sign up on your website.
Moe's Southwest Grill sends out a short and sweet email to welcome the new subscribers and nudge them to introduce themselves for a personalized customer experience.
Once you introduce yourself, they add you to their rewards program and send a welcome email that incentivizes you with a free cup of their famous Queso.
4. Event registration email
Acknowledging a registrant is an important aspect of event email marketing. It makes them keener to attend the event.
Here's how Litmus does it for virtual Litmus Live registrants. The email not only lets them know about the kind of information that the sessions will include but also invites them to share their comments or questions. The user can easily add the event to their calendar that would work as a reminder so that they do not miss out on attending it. Use event registration software to help with collecting information from your attendees.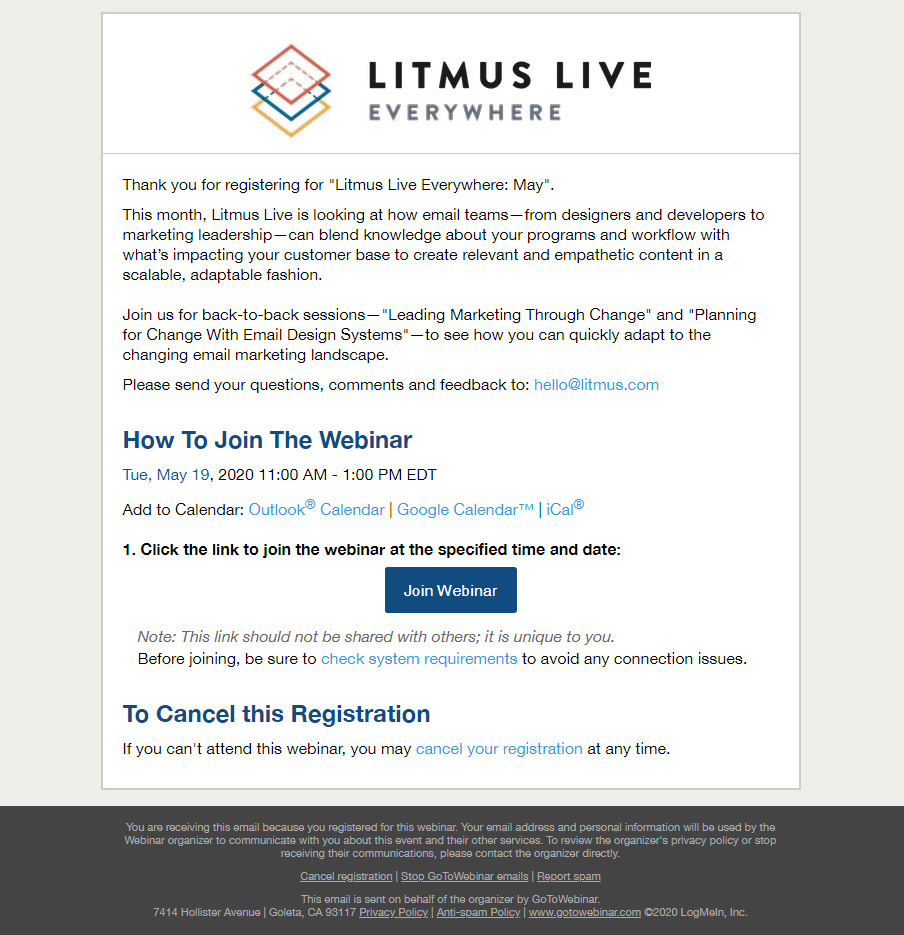 5. Order acknowledgment email
Letting your customer know that you have received the order is an email marketing best practice for every online shopping platform.
allbirds sends out one of the cutest order acknowledgment emails with a cute hero image and all the order details that the customer might be looking for.
6. Order confirmed email
After placing an order, a user would be eager to know whether their order is confirmed and what will be its expected delivery date. Order confirmation emails assure the shopper that they would receive their order in some days.
The order confirmation email by Firebox is a great example of transactional email as it kinda flatters the subscriber with cheesy lines and also summarizes the order details.

7. Item shipped email
It is poetry to the ears of every online shopper that the product is shipped.
Here's how you can use these emails to the maximum potential.
Fitbit uses engaging vocabulary and metaphor in their order shipped email and lets the subscriber know that they do not need to camp out by the mailbox. Rather than sending a drab plain text email to share the order status, they have used interesting imagery and copy to take the customer experience to the next level.
8. Out for delivery email
The happiest day after placing an order is when it is out for delivery. Out for delivery emails are, therefore, most loved emails among all the transactional emails.
Doordash, a food delivery platform, draws the subscriber's attention through the headline that says "Your order is on the way". The user can also track the order and check the list of the items he or she has ordered.
9. Order delivered email
Order delivered emails give you the best opportunity to ask for the customer's feedback or recommend related products based on the past purchases.
Myntra uses a visually attractive email to let the subscriber know that their order has been delivered.
The next section of the email asks the recipient for the feedback, followed by the order details. The email ends with a banner advertising Myntra Insider that would encourage the customer to purchase more often and avail the benefits of this program.

Some other transactional emails
10. Coinbase notifies the subscriber about the increase in the card limit and prompts them to take the next action of making a purchase. It also harnesses the power of referral email marketing and gives the subscriber an offer to earn free bitcoins by inviting their friends.
11. Trainline has designed a nice reminder email that nudges the reader to pack their tickets along with other journey details. It is a great idea to engage people and build better brand credibility by establishing goodwill.
12. Rover informs the user that Ana has accepted the stay request for Tycho. The user can either confirm the request, cancel it, or send a message by just clicking-through the CTAs in the email. Furthermore, it emphasizes the perks of referring a friend.
13. Quite often, you might have to return an order because of some reason. Peak Design sends out a return acknowledgment email and directs the subscriber with the next action that he or she must take. It also includes the email address to their support team in case the user needs further assistance.
14. The worst news for any shopper is that their delivery has been canceled. Postmates breaks this news to the subscriber with an apologetic email and shares the link to their help center so that they can get in touch with their customer experience executive.
15. NordVPN notifies the subscriber about the expiry of the VPN account and warns them about the vulnerability to cyber crimes, thereby convincing them to renew the account.
Wrapping Up
Transactional emails need not be boring and just focused on sharing the information or reminders, especially when your transactional emails have an open rate of 80-85%. They can be made more interesting by the use of persuasive words, interesting visuals, animations, and of course fun subject lines.
We hope these examples have given you some stunning ideas to create your transactional emails and earn a pat on your back from your subscribers.
Do share with us some awesome transactional email examples on hello@uplers.com.
We would love to check them out and may even feature them in this blog.