The International Women's Day provides a unique opportunity to celebrate the achievements of women and reinforce the thought of gender equality. It has become an important day for marketers to recognize the women out there and make them feel special. Whether it is hoardings, television advertisements, or social media posts, they come up with interesting ideas to convey their appreciation for the ladies. Even email marketers are not behind in sending out exciting offers to attract more sales and win over their female subscribers.
Are you an email marketer who is yet to plan out the Women's Day email marketing campaign? If yes, we just have the right thing for you. We have curated 11 of the most inspiring email templates to help you with your Women's Day campaign.
1. Make the ladies feel special
Your International Women's Day email must empower the female subscribers and let them know that they are amazing the way they are. Adelyn Rae has sent out a brilliant email to appreciate women. Their pretty hero image matches the vibe of the occasion. They have subtly promoted 20% discount on their website while wishing their subscribers. The typography in the hero image as well as the copy are thoughtfully chosen to match the vibe of the occasion. The CTA is easily noticeable to get a better click-through rate. Overall, it is a minimalistic monochromatic design that easily conveys the purpose of the email.
Subject line: Happy International Women's Day to you beautiful Girl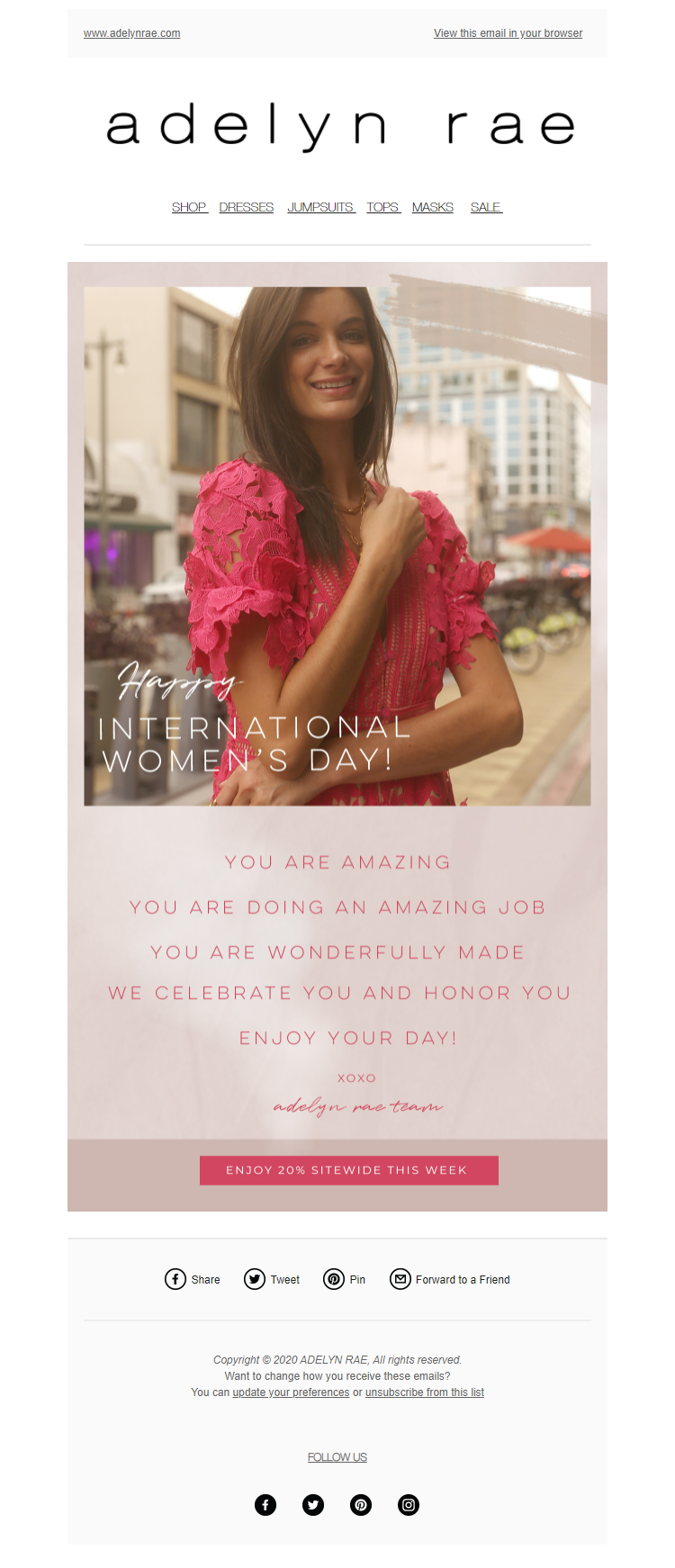 2. Promote an attractive offer
Make the most of this occasion by promoting an offer that the subscriber cannot refuse. Go beyond discounts and contribute something to the society. cupcakes and cashmere has gone an extra mile and promised to donate 20% of their profits while offering 20% off to the customers. Such a philanthropic move would surely help to garner more conversions. Moreover, it will also build your reputation as a thoughtful brand. The GIF animation in the first fold displays their delicate jewelry to entice the buyers. In the second fold, they have let the user know about the huge range of their products.
Subject line: LAST HOURS: 20% off all woman-founded brands

3. Pen down a heartfelt wish
Of course, you can promote your discount offers for Women's Day but you must not miss out on wishing your subscribers Happy Women's Day. See how Myrah Penaloza has sent a plain text email just to wish their subscribers and share an interesting aspect of the Pisces New Moon happening on March 13th. (Note: This is an email on Women's Day 2021.)
The engaging copy will compel the reader to scroll through to the next fold in which they have tried to gain Instagram followers and get opt-ins for their text messaging. They have even offered an incentive of 15% off to the people who opt in.
Subject line: International Women's Day and Monday Musings.

4. Take this opportunity to onboard more female customers
Investing in bitcoin is a field dominated mostly by men. Bitcoin IRA sends out a persuasive email on the occasion of Women's Day to attract female subscribers and encourage them to finish their account. If you belong to a similar business, you can use Women's Day emails to convince women to engage with your brand.
Such a plain text email works wonders to communicate an important message as it is easily accessible to everyone. The figures stated in the copy will get the subscriber hooked and make them take action. This email is the perfect example of "Minimum investment, maximum returns" as it hardly takes time to design but brings a high conversion rate.
Subject line: More women are investing in crypto
5. Try to build your presence on social media
Women's Day celebration mail can help you gain organic followers on social media. An effective way to do so is by sharing a hashtag and getting people to post about you on their social media. WineSociety has sent a visually attractive email to encourage people to support women-owned brands. They have also highlighted their hashtag and invited the subscribers to follow them on Instagram by displaying three pretty images. The email design is separated in different sections to talk about the different ways in which women can buy from them and gift their loved ones. It gives the subscriber enough options to choose from and increases the likelihood of conversions.
Subject line: Celebrate Women – #buywomenowned!


6. Stand out from your competitors
Almost every brand is in the race of sending good looking emails for Women's Day. You must think out of the box to stand out in the competition and make people open and click-through your email.
Take a look at this Women's Day email template by Strawberrynet CJ in which they have tapped on the inquisitive nature of their subscribers to make them spin the wheel. They have also displayed few of the products on sale to drive higher click-through rates. Overall, the email presents a brilliant Women's Day feel with the colors, typography, copy, and imagery.
Subject line: Celebrate with the Wheel of Mystery🎁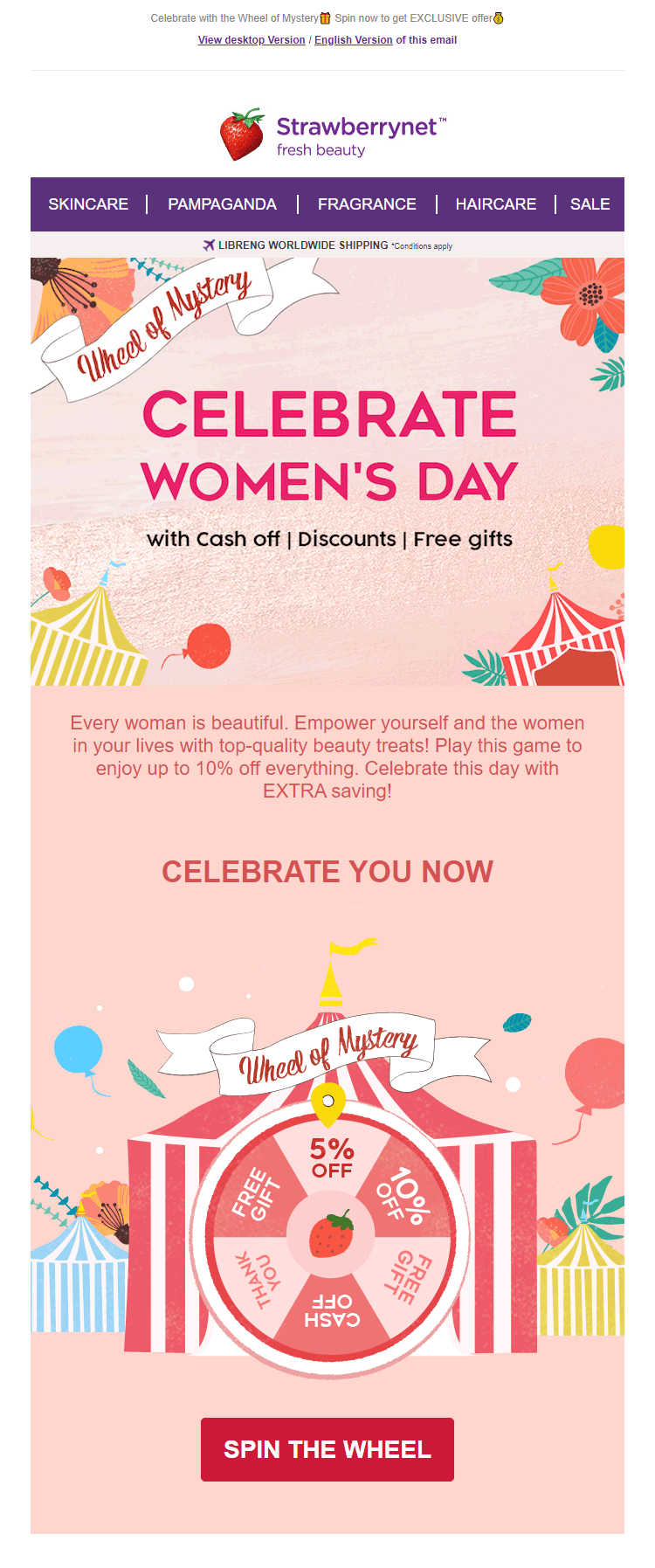 7. Earn instant bucks by creating urgency
The primary objective of your email for Women's Day must be to generate conversions before your competitors do. Your subscriber must not choose your competitor brand over you. Therefore, you must create a sense of urgency and fear of missing out among your customers. UniWigs has displayed a countdown timer in the first fold of the email to earn instant conversions. They have even tried to drive more conversions by promising free surprise gifts to the buyers.
The images used in the email design will give the subscribers an idea of the kind of wigs, hair extensions, and hair accessories they can buy. The only downside is that it can be too lengthy for the reader to scroll through. If the user has a slow Internet connection, it can be slow to load.
Subject line: UP 40% OFF + FREE WOMENS DAY GIFTS


8. Leave it to the visuals
Holiday emails ought to be aesthetically appealing and Women's Day emails are no different. Use rich media elements like vibrant images and GIF animations to make the subscribers click on the CTA. In the Women's Day email by Realisation Par, they have displayed a GIF of happy women flaunting off their products. It is a good idea to thank the women and appreciate their support. The CTA "Go to website" is also simple, actionable, and clearly visible.
Subject line: Women's Day, Every day!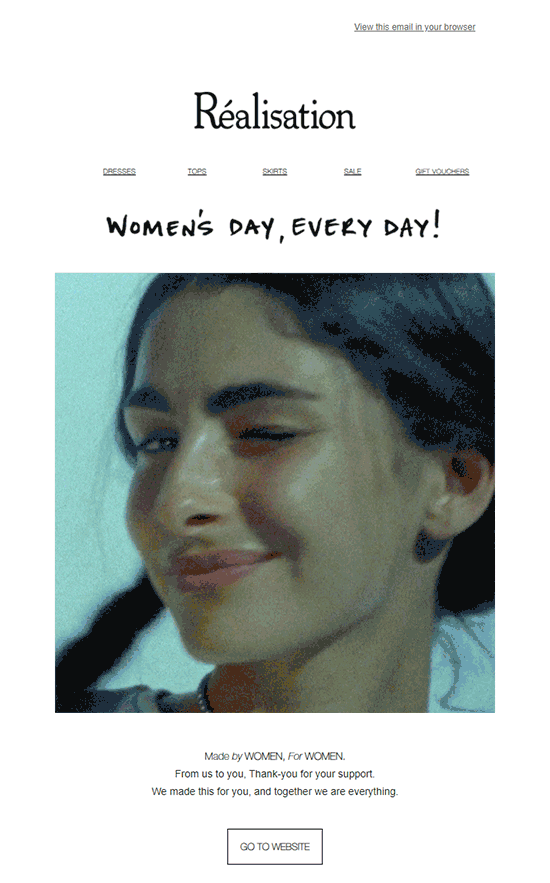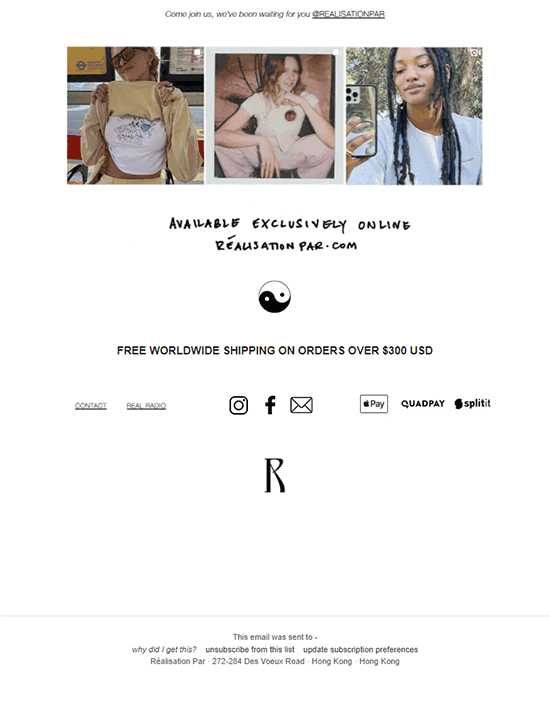 9. Share an inspiring story to celebrate women
Each day is Women's Day if we consider their achievements and little wins in life. (That could sound like a biased opinion from a lady penning this down, but that's how it is, haha!)
However, the International Women's Day is a good occasion to give them the credit they deserve and empower their existence. You can have a Q&A with your female founder and send it in your Women's Day email template. Alternatively, you can do something like Ranch Road Boots has done. In the first two folds, they have wished the female subscribers and promoted their Women's Day offer. The next fold shares a motivating quote by Maya Angelou and an inspiring story of their founder.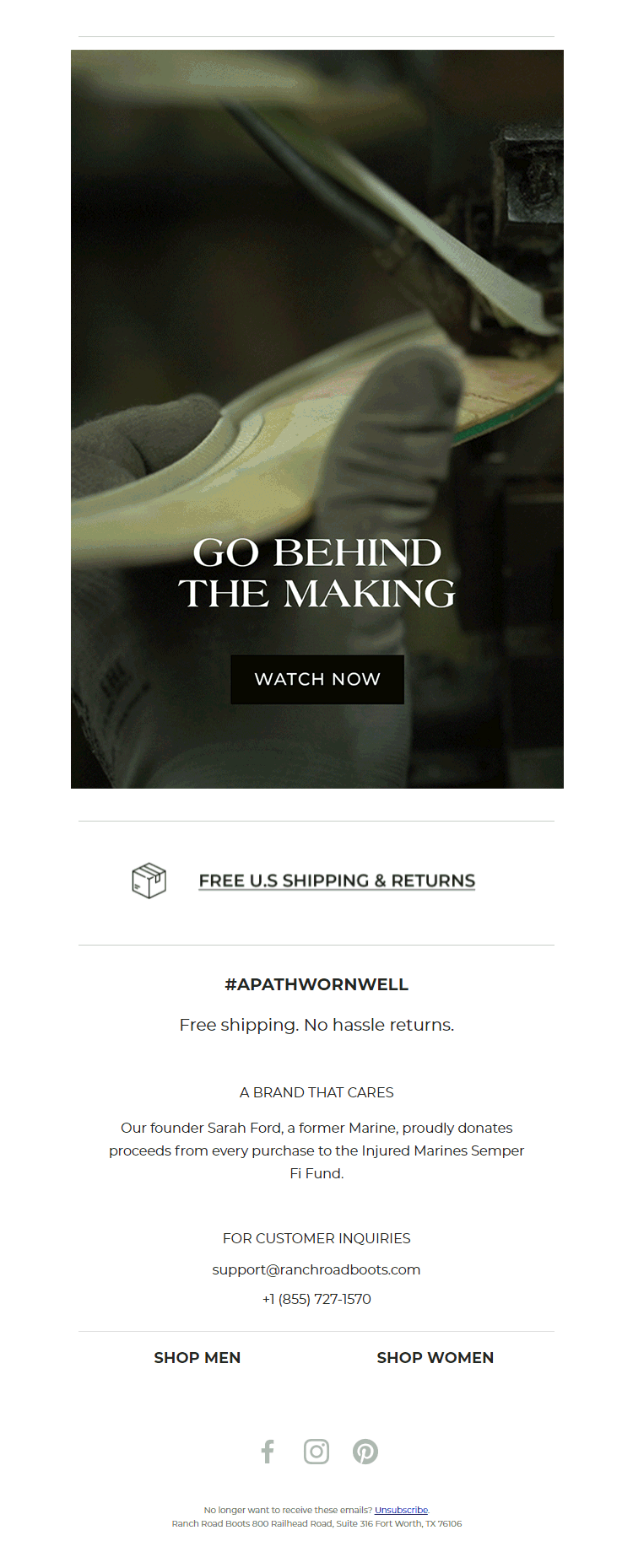 Another example is that of Bliss Lau in which the founder has recognized the personality of her grandmother, Popo. It is a profound email that would surely touch the hearts of the readers and make them go to their website.

10. Let women applaud your brand
8th March is the perfect day to share testimonials by women and let them know that their opinion matters. The Women's Day email by Chili Sleep is an excellent example of how to do it. Everything in the email is so well thought out and strategically placed. Whether it is the GIF as the hero image, the copy, or the CTA, it is sure to make the subscribers click through. The images in the testimonial section reflect the comfort that their product brings in the life of women.
Subject line: Happy International Women's Day!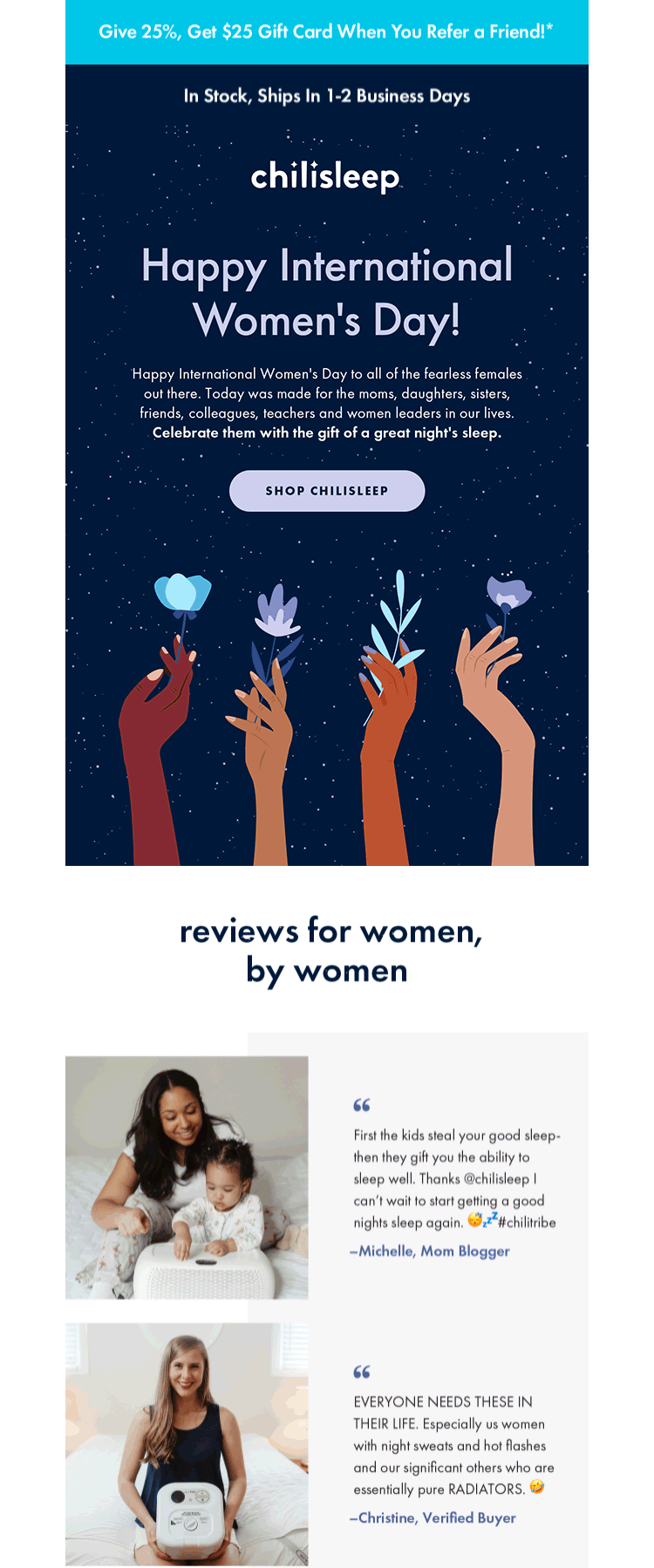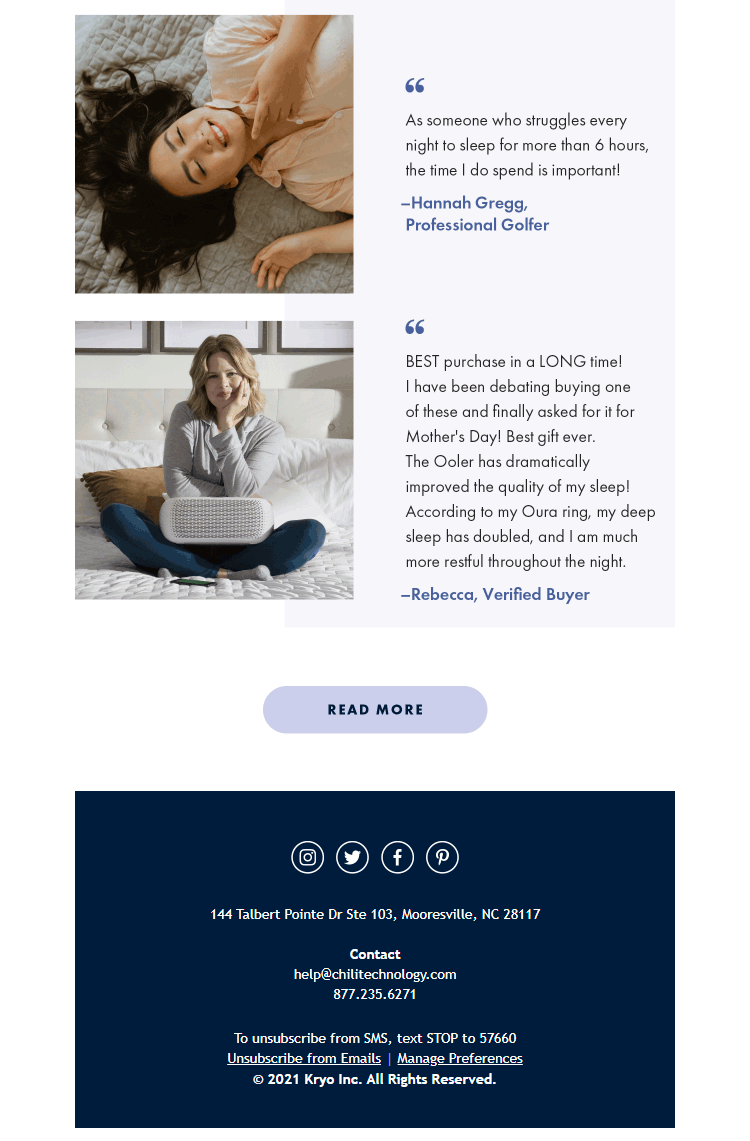 Wrapping Up
Planning in advance is the key to create remarkable email designs for effective promotion during the Holidays. If you have not yet worked on anything for Women's Day, these examples could give you a Eureka moment for your email campaign.
If not, you can always rely on Email Uplers and share your brief with us. Our experts will deliver a flawless pixel perfect email just in time for the occasion.