[This blog was originally posted on Jan 25, 2021 and has been updated to showcase new examples]
At least 99% of consumers check their email on a daily basis.
Email is a powerful communication medium and a highly effective marketing strategy for businesses.
In fact, email marketing offers a powerful means to nurture leads, boost online sales, and earn customer loyalty in an appealing, empathetic, and non-invasive way. With proper planning and flawless execution, it can also deliver many other benefits:
Help you connect with and engage with customers and prospects in meaningful ways
Drive traffic to your website, blog, and eCommerce store
Leverage personalization data to show the right products to each customer and thus increase online sales
Reduce customers' "overwhelm" with relevant, personalized, and timely information
If all these benefits are not enough, email marketing can also lower your marketing costs while generating a very high ROI of up to 4400%. This is higher than any other medium, including social media!
But you can realize these advantages only if your brand's email campaigns perform the way they should. And to gauge whether this is actually happening, you must define your specific goals and Key Performance Indicators (KPIs). By setting the right KPIs before a campaign launch, measuring campaign performance after launch, and then comparing the what-is against the what-should-be, you will know whether your campaign is a success – or not.
One of the most vital KPIs to consider is how many people open your emails in order to read and engage with them. This is also known as the email open rate.
So what is email open rate (or average email open rate)?
How is it measured?
Why is it important to measure it?
What is a "good" email open rate?
Are there differences in email open rate by industry? Is there an industry average email open rate?
How can you increase email open rate for your brand's campaigns?
This detailed guide will provide the answers to all these questions and more.
Let's get started!
Table Of Contents
What is email open rate? How is it calculated?
In an effective email marketing campaign, metrics like click-through, unsubscribes, spam complaints, and forwards are all important. However, these stats don't matter at all if your emails are not being opened in the first place. This is why your email open rate is one of the most important performance metrics you can – and should – track.
Most leading Email Service Providers (ESP) like Salesforce Marketing Cloud, HubSpot, Mailchimp, etc. will automatically calculate your email open rates, so you don't have to do it manually. You can see this metric on the main reporting page for specific email campaigns, so you can decide what, if any actions, you need to take to improve performance. Still, it's important to understand where the number actually comes from.
Email open rate (also known as average email open rate) is a measure of how many recipients open your email compared to the total number of emails delivered.
In simple terms, it refers to the percentage of people who opened your email.
Here's how it is calculated:
Open Rate = Unique Opens / (Number of Emails Sent – Number of Bounces)
So, if you sent 1000 emails, 900 of them made it through to your readers, and 75 were opened, the open rate for the campaign will be calculated as:
75/(1000-900) = 7.5%
What is a "good" email open rate?
In addition to showing you how well your campaign is performing against its KPIs, the average open rates for email can also tell you how you stack up against the competition. Benchmark data can show you how your results compare to the average email open rates in your industry: is your open rate above, below, or on par with the industry average? This can provide some indication of the direction you need to take to improve your future results.
According to Campaign Monitor, average email open rates for specific industries (2021) were: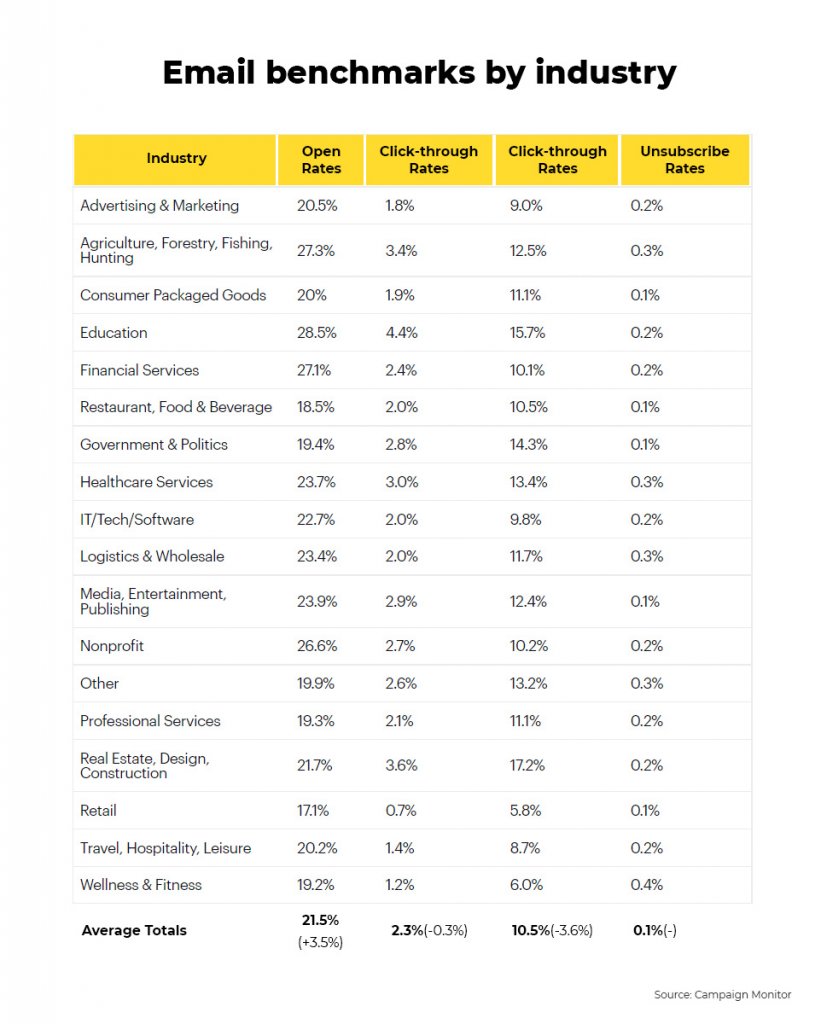 An average email open rate of 15%-25% generally indicates campaign success. In 2020, the average open rate across all industries was 18%. It increased to 21.5% in the year 2021.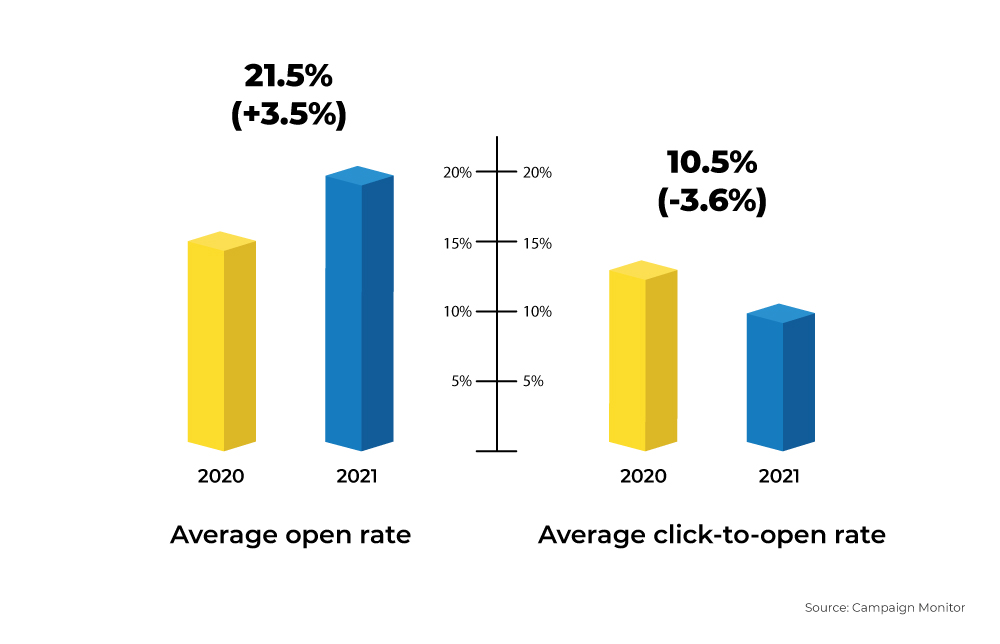 There's a reason for this increase. It can be attributed to Apple's MPP. Because of this feature, users can hide their location and IP address. Also, the tracking pixels get downloaded even if the users do not open the email. As a result, accurate open rate tracking becomes impossible.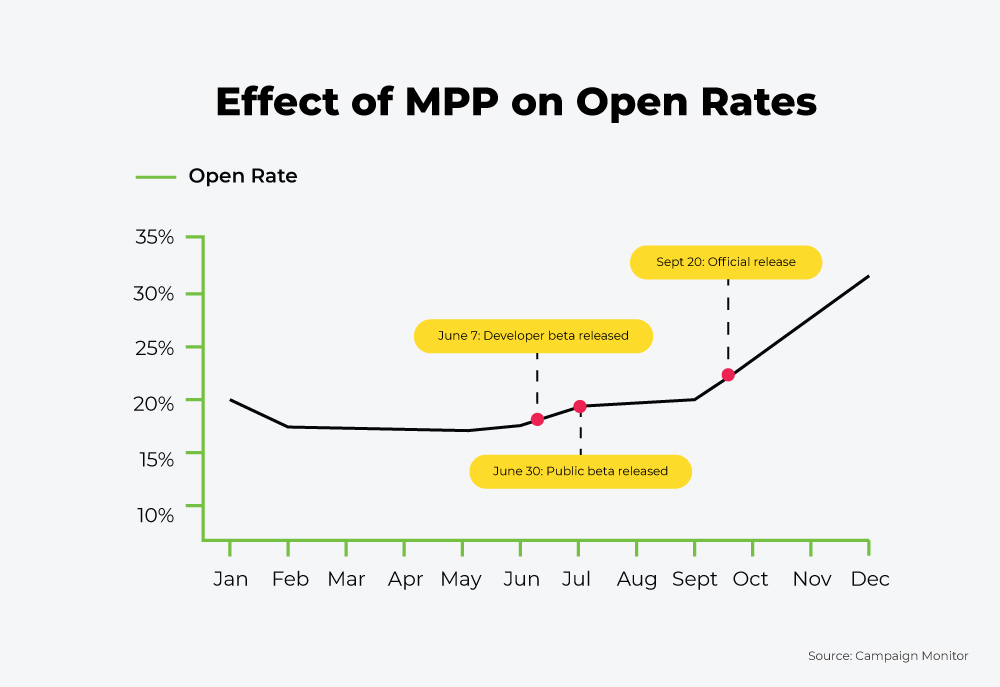 Despite all these variances, there are some broad trends in open rates that endure across all industries:
As the subscriber list size increases, the open rate usually falls
Organizations that focus on enthusiasts and supporters (e.g. sports teams) usually see good email open rates
Emails on more specific niche topics have higher open rates than emails on broader topics
Depending on your industry, it can be helpful to compare your average email open rate to these benchmarks so you can understand what works best with your audience, identify gaps in your email strategy, and make the necessary modifications to your segmentation tactics, template design, copy, frequency, send times, etc.
Note that when compared to B2C, B2B email open rate is somewhat lower. But the good news is that their click-through rate is higher than B2C.
And here's something else to think about. Knowing the average open rate for your industry may not completely help you set a truly realistic goal for your email open rates. For this, you also need to benchmark your own current and past results. This process is covered in the next section.
A 5-Step Process to Benchmark Your Own Average Email Open Rate
Step 1: Chart your email open rates for the last few campaigns
Look at every email you have sent over the past 3-12 months. Go back further if you want to analyze emails over a longer period. Chart open rates for every email over this period.
Step 2: Calculate the average open rate for each quarter
Add all individual open rates and divide by the total number of emails sent during that period. This is your baseline.
Step 3: Identify "outlier" emails
Look at specific dips and rises over the calculation period. Did a particular email perform really well or really poorly? Try to find out why.
Step 4: Look for patterns
Now look at groups of emails and see if you can identify key patterns that stand out. For instance, did a particular topic do well? A certain type of email? What about emails sent at a certain time or on a certain day? Did particular subject lines perform better or worse?
This information will be very useful to help you improve your future campaigns.
Step 5: Set goals for future campaigns
Now that you have solid data on how past campaigns have performed, you can use this information (and your industry's benchmark data) to initiate improvements for future campaigns.
Set a SMART (Specific, Measurable, Achievable, Relevant and Time-based) goal. To start, answer this question: By how much would you like to improve your email open rate over the baseline?
7 Time-tested Strategies to Improve Email Open Rates For Your Campaigns
If your email open rates are low, it generally indicates one or more of these issues:
Your recipients find your subject line irrelevant or not-interesting
Your audience has a wide variety of subscribers and a majority of them are not interested in your emails
Your email send frequency is not right (you are either sending too many or too few emails)
Regardless of whether your average email open rates are falling below your internal KPI or external industry benchmarks, or whether you simply want to reach the next level in your email marketing, these strategies can definitely help.
1. Work on your subject lines
A great subject line, whether it's intriguing, creative, funny, or succinct, can encourage readers to open your emails. Since a subject line is the first thing a subscriber will see, it can make all the difference between "I want to read more!" and "This looks like crap. Delete!"
Subject lines that are commonplace or filled with spammy words will be ignored, and so will subject lines that fail to connect with readers on an emotional level.
To encourage readers to open your emails, invest time in crafting a unique and interesting subject line. Infuse it with emotion or humor, and choose your copy carefully.
Personalize it for each reader because emails with personalized subject lines are 26% more likely to be opened.
Address the reader by their first name, mention or their company or someone they know, or refer to a personal detail about them. People like to know they matter, and subject line personalization is an effective way to get this message across.
Keep the length limited to 70 characters or less. Communicate value to the reader with a phrase or piece of information ("what's in it for me") almost immediately. Make sure they know what to expect when they open the email.

Go ahead and experiment with emojis, especially if the email theme is fun or light-hearted.
Other time-tested best practices for subject lines that can boost email open rates:
Use a friendly and conversational tone
Use no more than 3 punctuation marks
Never use all caps or overuse exclamation points (unless you want to hurt your credibility and trustworthiness!)
Also, avoid words like "IMPORTANT!!!" or "Sale! Sale! Sale". Such phrases will make you seem desperate (and shady!)
Incentives are also a useful addition to subject lines in order to improve email open rates:
"Receive a free customized mug with purchases over $300"
"Free shipping on orders of $100 and above"
"Buy three and get 30% off on your fourth purchase"
Improving email open rates with incentivized subject lines is a good strategy, but it's also important not to overwhelm readers with such emails. Too many incentives will only confuse and annoy them, and thus have the opposite effect on open rates. Also, make sure that all incentivized savings-, offers- or product-related emails include a warm, human-sounding copy in the email body.
Finally, pre-set the preview text, i.e. the first few lines of text from your email body alongside the subject line. If this text provides a concise, to-the-point synopsis of what you're offering, your email is more likely to be opened.
2. Segment your audience
Are you sending the same email to a homogenous group of recipients?
Do you know if they even want to see your emails?
Are your emails relevant, interesting, or timely for them?
If you answered "Yes" to Q1, and "I'm not sure" or "No" to Q2 and Q3, you shouldn't be surprised if your email open rates are abysmally low.
Segmenting your email list based on interests, purchase history, location, etc. will help you create strong email campaigns with tailored messages that meet the specific needs of a specific group of subscribers. And these are the emails that are most likely to be opened.
Segmented email campaigns get 14.31% more opens than non-segmented campaigns.
Segmentation can also increase your conversion rates, and over time, build trustworthy and meaningful connections with your audience.
If you don't segment your audience first, you risk alienating a large proportion of them who will be frustrated by irrelevant content and stop opening your emails.
Useful tips for audience segmentation (that boosts email open rates):
Focus on a few groups and a smaller market with a defined need, but don't go for micro-segmentation
Keep your segments broad enough to encompass a relatively broad range of potential subscribers. Otherwise, you'll end up wasting time creating different emails for too many audiences
Set specific and measurable goals by first defining what you'd like to achieve with each segmented campaign, and then analyzing its performance to see if it succeeded
Aim for constant improvement and tweak segments as necessary
Reach out to customers on different channels (e.g. social media, video, blog posts, etc.) to generate more interest in your email content (and thus more opens)
3. Do not buy email addresses; create and own an opt-in email list instead
It can be tempting to buy a readymade list of email addresses in order to quickly kickstart a campaign, and get maximum eyeballs in minimum time and at minimum cost. However, buying an email list can never improve your average open rates for email. Here's why:
People on a purchased or rented list are "unqualified subscribers" who don't actually know you or your brand. Therefore, it's unlikely that they care about you, or want to receive your email messages. This increases the chances that when your emails arrive in their inboxes, they will either delete them or mark you as "spam" to prevent receiving future emails. Also, in all probability, bought email addresses have already been highly-spammed. Moreover, they are likely already deemed non-responsive or unqualified for marketing outreach. In all these cases, your open rates will be very low. You will also be wasting your marketing resources and achieve minimal ROI by emailing these addresses.
Reputed ESPs don't let you send emails to recipients from bought email lists. And if you use a non-reputable ESP to get around this issue – especially one on shared IP addresses – you will suffer poor deliverability. This is because one company's purchased email list can poison the deliverability of other companies using the same IP address. As a result, the number of your emails that land in your subscribers' inboxes will go down, which will lead to poor average email open rates. Moreover, emails sent to purchased lists are often caught in spam traps, which will again result in poor deliverability and low open rates. It will also lower your Sender Score, and adversely affect the reputation of your IP address and company.
Instead, you can organically grow an "opt-in" email list which can increase your average email open rates over time. It also provides opportunities to build genuine relationships with customers, enables you to comply with legal regulations, and also protects your reputation. Try these ideas:
Create useful gated assets like ebooks, white papers, templates, etc. so people have a reason to provide their email address (and then to open your emails)
Promote these assets on your website or business blog with a CTA that encourages people to sign up for your emails
Include CTAs and sharing buttons that make it easy for readers to share these assets
You should also scrub your email list regularly to make sure you're only emailing people who actually want to read your messages. Exclude recipients who have not opened a certain amount of emails in a certain amount of time. This way, your emails' open rates will reflect an engaged email list filled with quality leads and the most interested readers.
Another way to clean up your list is to run a re-engagement campaign so you can weed out disinterested readers who end up lowering your average email open rates.
If they don't re-engage, either unsubscribe them completely or move them to another subscriber list (if you have one) that you only email occasionally.
A final note about purchasing email lists: if you do this, you violate the rules of consent under Europe's GDPR law, and possibly other national/international data privacy/anti-spam laws, which can get you into trouble. Which brings us to…
4. Abide by all email marketing laws related to user and data privacy
To ensure high email open rates, you must abide by CAN-SPAM rules (U.S.) and ensure that your opt-in process complies with GDPR (Europe).
For CAN-SPAM compliance, follow these rules at all times:
Provide a clear and obvious way to unsubscribe from every email
Use "From," "To," and "Reply to" addresses
Avoid sender names like "no-reply" or "company.com"
Never sell or transfer email addresses to another list
Include a valid physical postal address in every email
Check out the FTC's website for extensive advice on this subject.
If (some of) your email recipients live in Europe, you can comply with GDPR and increase your email open rates by following one key guideline: include an opt-in checkbox that is not already checked in. Give them the clear option to opt into your emails themselves. Never make the decision for them with a pre-checked box. Doing this will limit your subscriber list to just those who specifically asked to join, which will ensure that only interested people receive your messages. This can improve both your email open and click-through rates.
To avoid getting into trouble with the law and to ensure that your open rates remain high, you must also keep your emails safe from spam filters and improve their deliverability. To this end, one of the most vital strategies is to use a reputed ESP (see #3 above). Here are some more proven tips to keep your emails out of subscribers' spam folders:
Make sure all recipients have opted-in to receive your emails
Send every email through a verified domain, and from a reputed and reliable IP address that's not been used by a known spammer in the past
Always send using custom authentication
Keep your email template code clean
Avoid using URL shorteners
Personalize the "To:" field with merge tags
Explicitly ask subscribers to whitelist your emails
Never use deceptive subject lines. A reader may be fooled by a "bait-and-switch" tactic once. But try it more times, and you will fall into spam hell!
5. Optimize all elements related to email design and copy
A long-winded email without clear takeaways or unambiguous Calls to Action (CTAs) is a sure-fire path to low email open rates. People generally like short, concise emails that have an obvious focus, and look as though they have been crafted specifically for them. If they see personalized content and can scan through the email faster, they are more likely to open it and take the action recommended by the CTA link or button. Too much copy is also a red flag for spam filters, which will affect deliverability and open rates.
Here's a great example of a concise email:
Personalized emails deliver 6X higher conversion rates compared to generic messages.
To create personalized copy, you must really know your buyer persona, as well as their needs, values, pain points, likes, and dislikes. Address them by their first names, include tailored offers based on their purchase history or demographics, and create bespoke copy that addresses their particular challenge or includes a value proposition that's unique to them. Another great way to boost email open rates is to include real-time content with personalized product recommendations, bundles, or limited-time promotions.
Adding alt text to CTA images and all other images can also boost open rates. It helps readers understand what they're reading even if the HTML doesn't render properly, or if their email client blocks images by default. They can also understand where to click and take the desired action. Without ALT text, they will simply see a blank space where a button or image is supposed to be. They will get confused and frustrated, and not open your emails.
In addition to your main CTAs and images, include a few noticeable text links. This increases the opportunity for opens and engagement. Another way to make your emails more open- and click- friendly is to place one or more clickable elements (e.g. CTA buttons, text links, clickable images, etc.) above the fold and near the beginning of the email. This is especially useful for boosting open rates in a mobile environment.
Also very important – create mobile-optimized versions of every email.
Studies have found that 69% of mobile users delete emails that aren't optimized for their device.
So if your email campaigns are not mobile-optimized, you're missing out on a huge opportunity for greater conversions, engagement, and even sales.
Invest in responsive email templates; reduce your images' file sizes; ensure all CTA buttons and links are larger than 45-57 pixels. Also test all links, images, and buttons to make sure they are not broken or missing. Finally, use short subject lines, insert preheader text, and make sure the copy shows up in well-organized text blocks.
(iPhone X)
Next, create text versions of your emails for those subscribers whose clients don't support HTML-rich emails or those who choose to only view messages in plain text. You should also optimize the plain-text version of your emails, otherwise, readers will see a garbled mess, which they won't want to open, much less read. Cut out the extra text, replace long tracking URLs with shortened ones, and keep the body simple. However, don't change the actual copy too much, or your email may get caught in spam filters.
Follow these additional copy and design strategies to boost email open rates:
Write email copy like you were talking to someone in real life (e.g. a friend)
If your email copy has to be long, break it up into multiple sections to provide visual breaks
Include at least one clear and easy-to-spot CTA per email. More than one CTA is fine, as long as you don't overwhelm or confuse the reader
Place the CTA where it's easily visible, e.g. above the fold
Add social sharing buttons to increase the number of people who could potentially open your email
6. Get your timing right
The timing and frequency of your emails can affect whether or not your subscribers open them. These factors also affect other results like clickthroughs and conversion rates, so you should think carefully about these aspects.
So now the question is, is there a "best" day to send marketing emails?
Different studies say different things. For example, a study by Campaign Monitor found that Fridays have the highest email open rate (2020) at 18.9%, while Saturdays have the lowest rate of 17.3%. But GetResponse found that Tuesdays have the highest open rates.
What about the best time?
According to GetResponse, the best hour to send emails is 4 AM. Globally, this time results in open rates of 22.05%. In the U.S., 4 AM delivery results in open rates of 32.2%.
But does this mean that you should send your emails this early in the morning? Not necessarily. If your audience is likely to read your messages at 4 AM, then by all means, schedule your emails for this time. But if they are not, this so-called "best" send time is anything but the best for you or them.
The fact is, there is no one best time or day to send emails to everyone. Many factors may affect the optimal day or time for your email campaigns (and these may vary further by each campaign). These include:
Your industry
Time of year or special occasions (e.g. holiday season)
Special events or current happenings
Your target audience and buyer personas, and their needs, demographics, and locations are also important considerations. Ask yourself: what does the average day look like for my readers? What do they do in the morning, afternoon, and evening? What kind of content do they most engage with on different days, or at different times of a particular day? Based on all these factors, find the best (or most optimal) time for each subscriber and email them accordingly.
If your ESP has built-in intelligent AI, it may predict when each contact is most likely to engage with your email within a particular period, say, the next 24 hours. It will then automatically determine the best time to email that subscriber, and accordingly schedule email sends to the entire list.
You may also be able to spread out email sends if the ESP includes a "send throttle" feature. This will ensure that you don't send a greater number of emails than the throttle limit during the specified time period. This is an effective way of ensuring that subscribers are not overwhelmed by emails, because if they are, your email open rates will definitely go down.
7. Preview and test all emails before final send; also test after final send
Before sending any email campaign, test it on a small group within your target audience using A/B testing. This allows you to make any necessary changes before finalizing your message, and thus increase your chances of a high average email open rate.
Most ESPs allow you to A/B test multiple elements of your campaign. These include:
Subject line
From name
Content areas
Images/visuals
Personalization
CTA text
Send time
Pre-header
Here are a few tips to run a successful A/B test:
Choose the largest sample you can
Choose the same sample sizes for both versions
Test as early as possible
Test only one variable at a time. To test multiple variables, use multivariate testing
Wait at least 24 hours before declaring a version as the "winner"
Also, preview what your emails look like in different email clients and devices that are popular with your audience.
You should also monitor each email's performance after send. For instance, if you find that two weeks after a campaign launch, you find that two messages have higher open rates than the other four, analyze them. What is different about the campaigns with good email open rates? Imagery? Subject lines? Copy? Interactive elements? Maybe you have more than one audience segment and one of them just isn't as interested in your current email content. Analyze the performance data to identify disinterested or disengaged segments (or individual subscribers) to understand what your audience really wants out of your emails, and to tap into the trends that can improve your email open rates.
The Impact of COVID-19 on average email open rates
The Coronavirus crisis has created new challenges for businesses all over the world. Face-to-face interactions with customers are at an all-time low, economic turmoil has led to unpredictable consumer behaviors, and buyers are demanding purchase experiences through non-traditional, "digitalized" channels. To keep up with these changes, businesses need better ways to connect and engage with customers.
Enter email marketing!
Even in pre-COVID times, at least 61% of consumers preferred to hear from organizations via email rather than other channels.
And in the post-COVID world, email marketing is perfectly placed to meet the challenges posed by shifting consumer needs, behaviors, and expectations. According to Mailchimp, open rates in March and April 2020 were higher than they were throughout all of 2019. Moreover, almost all industries saw an increase in engagement compared to their previous year's average.
As consumers increasingly turn to online shopping, they rely on trusted brand emails for both sales updates and product discovery. This increases email open rates. With the global shift from "want-based" shopping to "need-based" shopping, customers often move on if a brand's email doesn't meet their needs. But if a brand does meet their needs, they tend to open and click on other emails from them, increasing conversion rates and profits for the brand.
In general, subscribers also overwhelmingly seem to prefer frequent campaigns, especially those sent a week apart. In other words, people want to hear from businesses they're engaged with on a weekly basis.
OmniSend also found that there was a 31% lift in YoY email open rates in 2020, particularly in the post-COVID period (March to April 2020). This trend may be attributed to increasing demand for need-based products like homeschooling accessories, leading to consumers increasingly opening such emails.
Thus, going by the high open rates, it's clear that the supposed "death" of email marketing has not come to pass. In fact, in the post-pandemic "new normal", email has proven to be an effective tool for businesses to communicate their unique message to their audience, and build a fan base of loyal, highly-engaged subscribers.
To take your email open rates into the stratosphere, here are some best practices to keep in mind:
Consider backing off from your previous hard-sell, "salesy" approach and focus more on connecting with your audience. Be authentic
Think about how to deepen ties within your community with relevant content that resonates with them emotionally
Humor is good but it can be tricky to get it right, especially now. Avoid wisecracking and off-color jokes about COVID-19
Let your readers know you feel their pain and want to provide steady support
Provide practical solutions to real-world problems. Remember – people over profits
Present specific information to simplify their online purchase process
Wrap Up
There are many reasons why email marketers obsess about the open rates of their campaigns. After all, if an email doesn't get opened, there is little chance a subscriber will click on anything inside it. In other words, the average open rate is a potential precursor for some pretty amazing results for email marketing campaigns.
If you have not really thought about email open rates in the past, now is a great time to start. Of course, if something is already working well for you, keep doing more of it. But if not, use open rates as a starting point to think about new strategies and to re-align your email marketing approach. Doing so will enable you to better reach your audience and keep them engaged for longer.
Do bookmark this guide and use it as a ready reckoner to increase email open rates for your campaigns. But if you're not sure how to get started, get in touch with Email Uplers. We can help you create awesome email campaigns that your audience would want to open and engage with!