We hope you are still not despairing of cart abandonments by customers – that stumbling block for every good marketer? It's unavoidable and sometimes seems beyond your control; according to SalesCycle, approximately 75.6% of carts were abandoned in 2018. Chances are, by now you have figured out the fail-proof way of bringing wayward shoppers back into the fold with a few apt and persuasive emails. If you have this reactive email campaign set up (proactively) as part of your marketing BAU, all the better. The biggest plus of abandoned cart email workflows: the built-in automation.
One small step for marketing, a giant leap in sales recovery
Cart abandonment email automation is a ubiquitous need in this age of crowded ecommerce marketplaces and short attention spans. Paused purchases and cart dumps / deletions are a dime a dozen these days. About three (out of every four) of your customers will resist clicking the checkout button one or more times before making that purchase (if they do at all) for various reasons. Some common causes for cart abandonments are a paucity of time, challenges with the sign-up or payment process, a need to reconsider the buy, higher-than-expected shipping costs, and technical issues, among many others. But, the good news is a perfectly crafted email can get at least 10% of this floating population of browsers back on your page and buying in.
Research shows that a well-targeted email automation strategy can work miracles for cart retention and conversions: of all emails fighting cart abandonments, a whopping 45% are opened and over half are clicked through. Best of all – 50% of your subscriber base who are reeled in by your emails turn purchasers. It's as simple as setting up the system once. A good email automation software can take over your sales conversion efforts, leaving you to focus on other equally critical parts of your marketing plan.
5 Things An Abandoned Cart Email Workflow Takes Cares Of
An automated email campaign to bring back customers to their carts (and potentially back to your site on repeat) is a successful marketing strategy in microcosm. It takes care of a few key factors and concerns of marketing.


Quantum of communication
It's important to hit the sweet spot with the magnitude of messaging. Too many emails or too much information, and you might just drive your customers away completely. Too little, and the cart may stay abandoned. With an automated workflow in place, you can choose to send out a single email or go all-out with your persuasive tactics. The below example by Dot & Bo definitely packs a punch, trying to sell more than one marketing trick. It also covers an entire gamut of elements: a snappy subject line, crisp and informative introduction, cross-selling / product recommendations, and an offer. But, a drip campaign is the prevalent weapon of choice against cart abandonments these days. Sent out sequentially and with incremental incentives, these emails work wonders to bring back customers.
Source:Reallygoodemails.com
Sequence of send-outs
An automated drip campaign is essentially a series of emails sent out to reverse cart abandonments. The first of them is typically sent out by the software within one hour of a cart abandonment and is intended as a gentle nudge. The second missive should be sent out a day later and should be a more persuasive reminder. It can target those customers who haven't taken the bait of the first email or taken the leap of purchase yet. The third email, sent out after a week or later, can offer an attractive incentive to those who are still on the fence: a discount or rebate on shipping, a promise to hold products for a limited duration, or other substantial offers. Though a three-mail series is the thumb-rule for abandoned cart email workflows, brands like home-goods store Wayfair are ramping it up with a more extended, comprehensive series.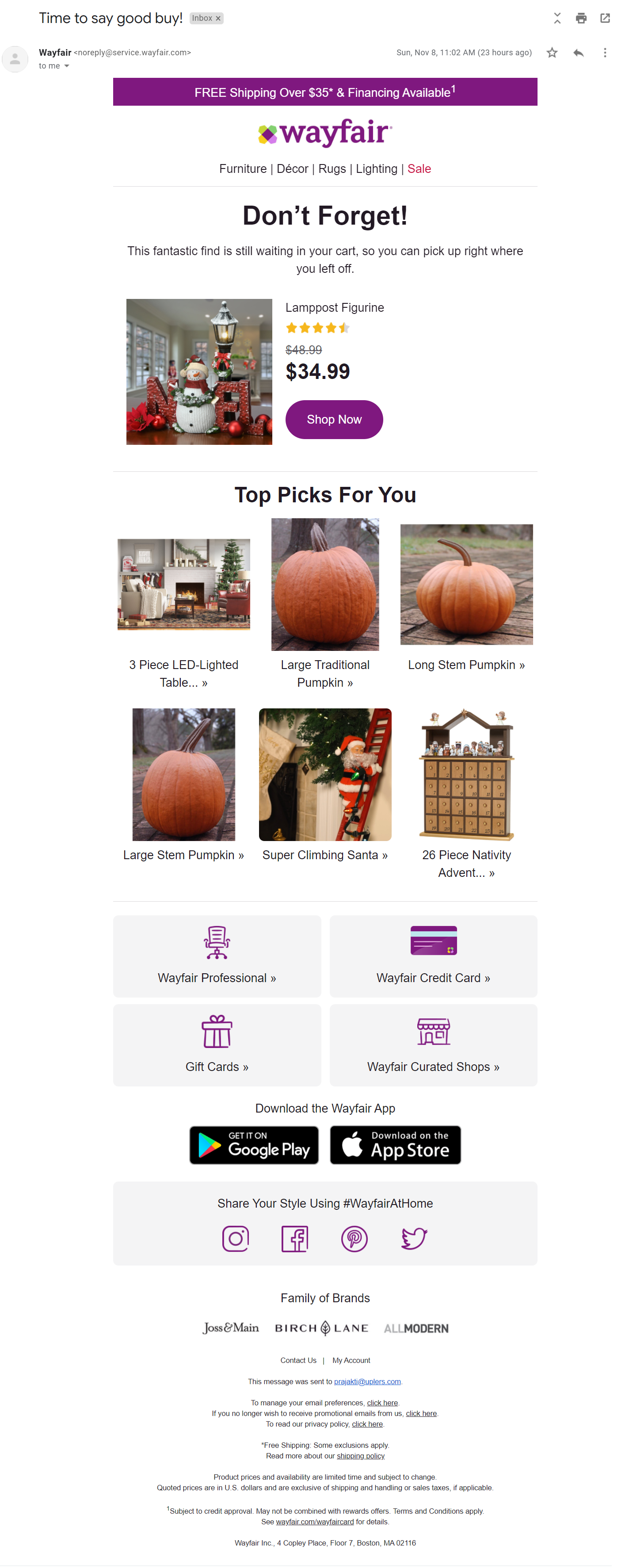 Standardizing for savings
With a well-planned abandoned cart email campaign and an apt software, your entire workflow can be templatized to cut back on time and efforts. This will also serve to build on CTRs and conversions. You just have to make sure to feed in all the elements that will sing out to the customer and get them to check out. A good hook of a subject line, conversational, empathetic content, captivating product images that serve to remind, a persuasive CTA with a standout button – all these are essential elements. A new-gen marketing tool that can also be included in your template: brand-amplifying social proofs. These can take the form of:
Customer reviews and celebrity endorsements
Incentivized and linked social shares
Prompts for relevant surveys (for e.g., reasons for cart abandonment)
Trigger to shoot out
An automated cart abandonment email workflow covers every base of a customer retention campaign. The starting point of the workflow is the trigger of an abandoned cart. With a drip email campaign, defining the triggers or trackers becomes all the more important. Automation comes into play here, too. Based on the stage of conversion from buying intent to purchase, you can feed in the different triggers that will continue or halt a drip campaign, as the need may be. These triggers can be cart creation, sign-out or no activity for one hour, cart deletion, purchase completion, etc. The automation software can then take over to ensure a paced campaign taken to fruition or pulled back when necessary.
Tracking to tweak and correct
The right email automation software for your abandoned cart workflow can also take care of that all-important marketing need: stats and insights. Plug-ins can case out customer behavior and relevant metrics on emails like CTRs, open rates, conversion rates, etc. Such a data-driven approach to your workflow will enable you to course correct periodically. For instance, you can assess which of your emails have the best success rates. Also, you can set up your automated workflow with differentiated text and image segments to track comparable click-throughs. This will help you optimize every element of your email workflow's content, starting with the subject line.
A few bonus tips
Try to convert wishlist items: Businesses are increasingly looking to augment sales rates by sending out cleverly crafted messages with a wishlist reminder add-on. These can be perfectly targeted towards repeat customers who are likely to move their saved items to the cart and make a purchase.
Aim to upsell: A single email or a drip campaign targeting cart retention can also include details of relevant products (in the first or third email for the drip campaign). These recommendations should be personalized based on products added to the cart or the customer's purchase history.
Milk the benefits of multi-channel: When possible, and targetting certain customer groups based on research, you can support your abandoned cart email workflow with other marketing avenues, such as SMS. Businesses can also consider retargeting on Facebook and Instagram and targeted display advertising, among other modes, to remind customers of left-behind carts.
Wrapping Up
So, there you have it – the blueprint of an effective automated email workflow for abandoned carts, which will ensure your customers never forget or skip on your products. Though most shoppers will always pick up from where they left off and come back to their carts, you can take control and simplify and speed up the purchase process for them with some effective messaging. Remember, content and timing are key, and both these elements can be standardized with an automated workflow. Set the wheels in motion on your cart retention and recovery email campaigns, today, and see your sales rate soar.
Need help with setting up workflows for cart abandonment emails or all your marketing emails? We can help.