Email marketing, if not kept engaging enough with your subscribers may hit a stale spot, and that calls for extra effort than the usual practices you follow in email campaign management.
It's stated that roughly 60% subscribers in an emailing list are inactive at any given time. Re-engaging them helps you bring them out of inactivity (owing to whatever reason), back into sales funnel and eventually contributing to the revenue generation.

Understanding the Reasons: Why email subscribers become inactive
If someone subscribes to your brand, they must have a strong reason/expectation inspiring them to be kept updated about the brand. With time, the interest and expectations diminish, and the subscriber may be in any one of the situations:
The subscriber will become inactive i.e. they'll continue receiving your emails but do not open, nor unsubscribe
The subscriber will unsubscribe
Till the subscriber has not unsubscribed, it is not the end of the world. By analyzing your data, generating insight, figuring out what they want either by running a survey or feedback, you get to know what they want and have a chance to bring back. Unfortunately, before you start your efforts to winning back your subscribers, it is important to understand what the reason for inactivity may be.
Cluttered inbox: The email is lost in the flood of other subscribed email and the subscriber is unknown about it.
Change in preferences: The subscribers' preferences and requirements have changed but they are lazy to unsubscribe.
Freeload on information: The subscriber just wises to connect with the brand & competitors but is not interested in making a purchase.
Save it for later: The subscriber has put your email on the snooze list and plans to read your emails on a later date.
Too high sending frequency: You may not have clearly specified your sending frequency during the sign-up process and now the subscriber is overwhelmed by the sudden influx of the emails.
Weak or non-actionable subject lines: Most subscribers open the email based on the effectiveness of the subject line.
Signed up for one time offer: The subscriber was lured by the lucrative discount you offered during sign up process, but they stopped engaging after that.
Change of circumstances like job or relocation: This mostly happens in the B2B industry but possible in situations where the subscriber used their business email address to subscribe and owing to change in their job may not receive your emails. (Such inactive are a dead end and cannot be brought back, better to remove from the list)
Bad Experience: The subscriber had a bad experience and stopped opening your emails. The experience might be based on a broken email design or a bad online experience. While working with our 5000+ client base, we ensure that every email template built are compatible and render perfectly in 40+ email clients. For this, we have some rigorous QA in place too, and that's what make our customers trust us when they have the need for a perfect PSD to email template.
Tap into our expertise and get your first email template coded for NO COST – Experience the magic!!!
As you can observe, the reasons for inactivity can be different and so will the strategy to win them back. The message, the frequency, the offers, the design, the CTA will change in each case. Let's understand why it's important to revive the inactive email subscribers.
Why re-engaging inactives is as important as bringing new customers
Calculation shows that it costs 5x to acquire new customers as compared to retaining an existing customer. And 81% of marketers agree that email is the most reliable channel for customer retention. Even if you don't consider it from the revenue point of view, having inactive subscribers in your mailing list is like cutting the branch on which you are sitting.
Your subscribers not opening your email leads to a drop in the engagement for your email, directly translating into poor sender reputation and in turn poor deliverability. In fact, ISPs take note of inactive email addresses and after a pre-set duration of inactivity, convert these email address into SPAM traps.
Moreover, by sending emails that you know your inactive subscribers won't open, you are wasting precious resources on them. This is especially applicable when your ESP charges you based on the monthly send volume.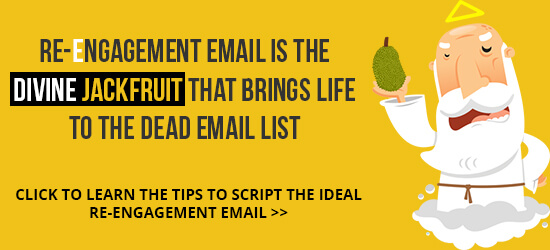 How to plan your win-back email campaigns before winning back your subscribers
Having a re-engagement automation set-up is an important step in email campaign management workflow. The success of an email marketer depends on how well they can monitor the progress of a customer in the sales funnel and enhance their experience by modifying the emails as needed.
The efforts for winning back your inactive subscriber begins much before you plan your re-engagement emails. It begins with
Understanding what factors qualify as inactivity,
What triggered the inactivity,
Identifying the objective behind re-engaging the inactive subscribers,
Preparing the incentives to win back and finally,
How to keep your customers engaged.
What qualifies as an inactive email subscriber
Defining inactivity in your email campaign strategy is very important as your approach will change depending on your win-back being customer-centric or subscriber-centric based.
A customer-centric approach will focus on those inactive subscribers who are opening your emails, may or may not be clicking on the CTA but haven't purchased anything for long. The end goal of a customer-centric approach will be to motivate the subscriber to make the purchase.
A subscriber-centric approach will focus on those inactive subscribers who are not opening your emails. The end goal of a subscriber-centric approach will be to motivate the subscriber to open the emails, change their preferences or (last straw) unsubscribe.
Next comes the duration of no activity to be qualified as an inactive. This depends on your sending frequency (for subscriber-centric) / last order (for customer-centric) and varies from industry to industry.
"For a brand sending bi-weekly emails, inactivity period might be 3 months and for a brand with monthly email sending schedule, the inactivity period might be 6 months or a year. "

Ways to tackle different levels of inactivity
Now that you have a clear understanding of which of your inactive subscribers are worth winning back.
For a subscriber-centric approach, those inactive subscribers who have not opened previous 5-10 emails are a prime target for re-targeting.
For a customer-centric approach, the baseline condition is based on the order value. If someone made high-order purchases in past and gone inactive, they are more relevant to return compared to those who made only a couple of purchases in past.
Winning back your inactive subscribers is a step-by-step process where you need to implement a strategy that starts with your inactive subscribers opening your emails at the very least. Once they open the email, the copy needs to solve the reason for inactivity and prompt them to click the CTA. Let's move to resolve the issues in each stage one at a time.
Stage:1 – Prompt inactive to open emails
Subject lines and pre-header text are your biggest bet to create successful winback campaigns. The winback email subject lines need to be actionable words such as "Come back, we miss you" or "Is this over?" to motivate your subscribers to take note. Research suggests that using a shorter subject line is more effective in customer winback email examples. Research from Return Path showed that using the words "miss you" in a subject line achieved a 13 % read rate, and messages with the words "come back" in their subject lines achieved a 12.7 % read rate.
Stage:2 – Improving email copy
Congratulations! If they open your winback email campaigns based on the subject line; this means that a ray of hope still exists, and it is time for your email copy to shine through. You can either try to win them back with an incentive or tell them to update their preferences to receive better-tailored emails. Ask them if they are still interested in being part of your list.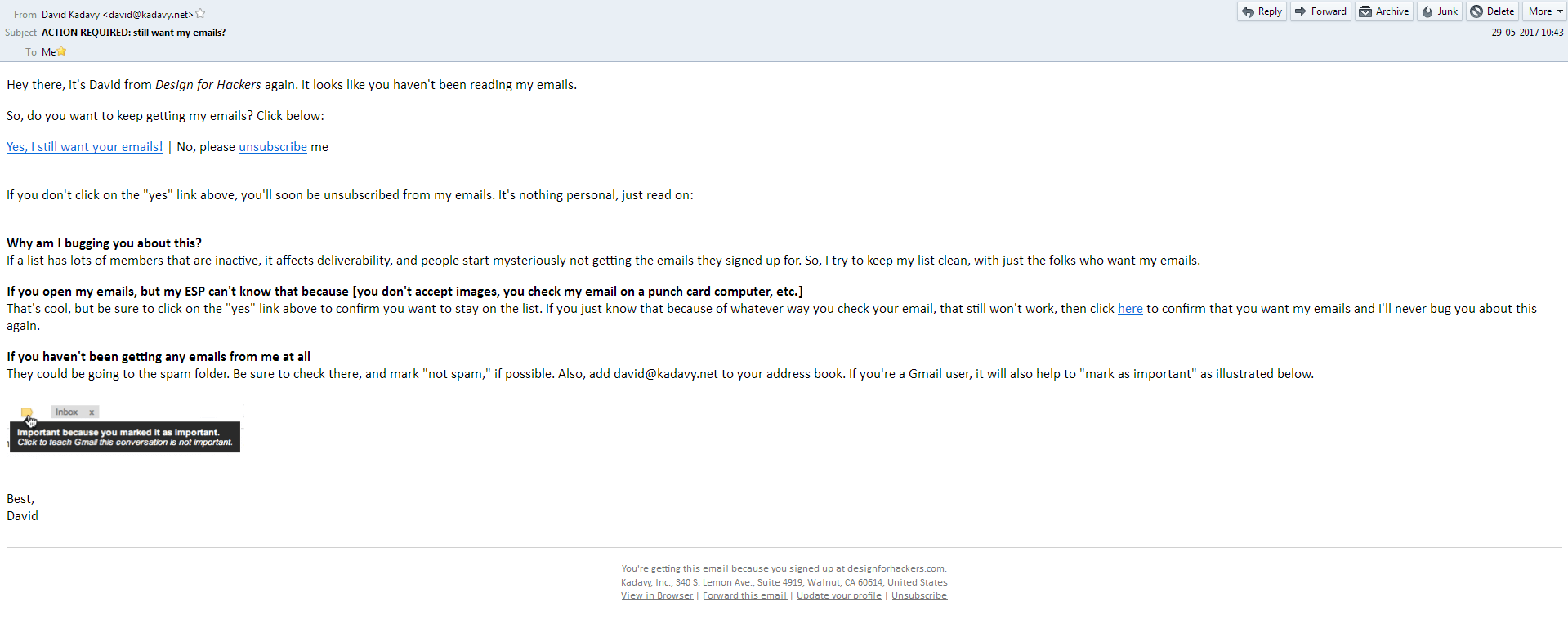 In the above example, the sender has introduced himself and then proceeds to ask the important question. The subscriber has the choice to either be subscribed or be left alone with two different links.
If the subscriber was active in the past, use the data to send them personalized email content. Personalized emails deliver six times higher transaction rates, so it's worth tailoring content to subscribers – even inactive ones. Teespring has created one of the most effective winback email examples with a cute puppy face as the hero image.

Stage:3 – Calling them to action
The effectiveness of your winback email campaign examples is measured on the clicks on the CTA button of your win-back email. Those who are inactive are not going to readily check out all products that you got to provide, as soon as you send a re-engagement email. So, one golden rule for CTA in customer winback emails is 'ONLY ONE CTA'. Following brands have not only featured a single CTA button, they have managed to innovate it.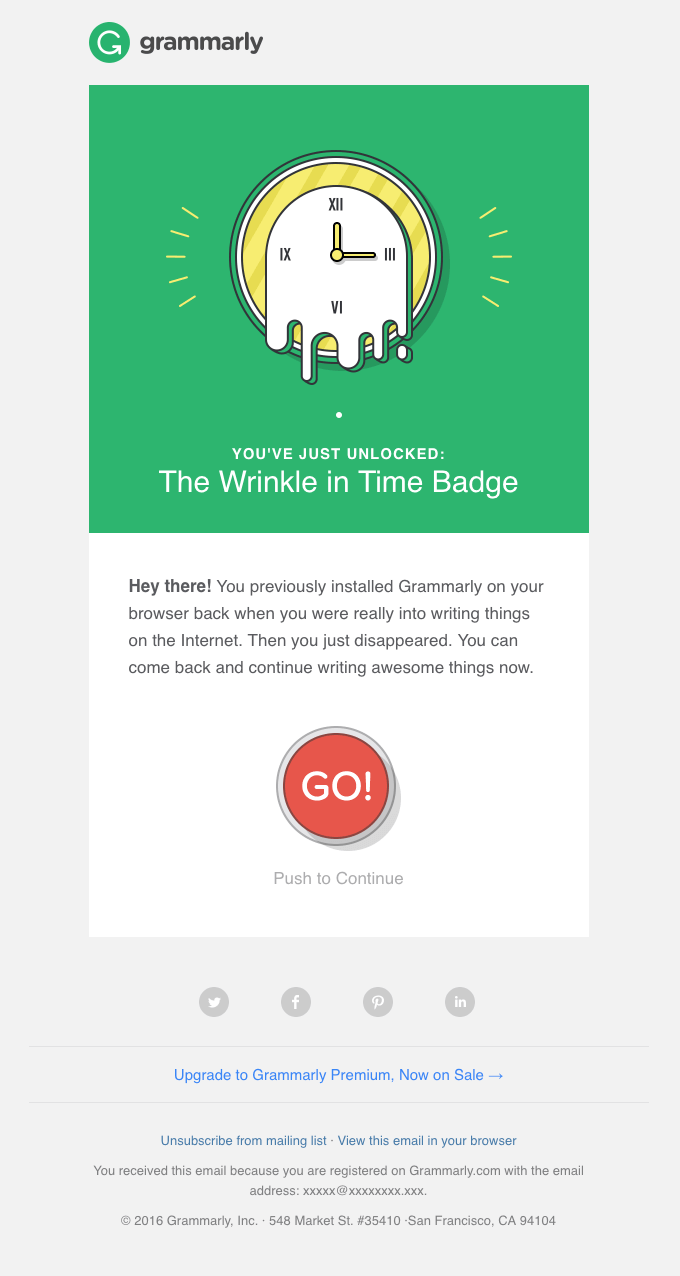 Grammarly has a giant red button in their mobile responsive email template. Even those who didn't read the email copy will be tempted to push it. (We were too)

Puma has incentivized the dormant subscribers with a 15% discount offer to encourage them to take action. Also, they have made it a limited-time offer to create FOMO and drive instant conversions.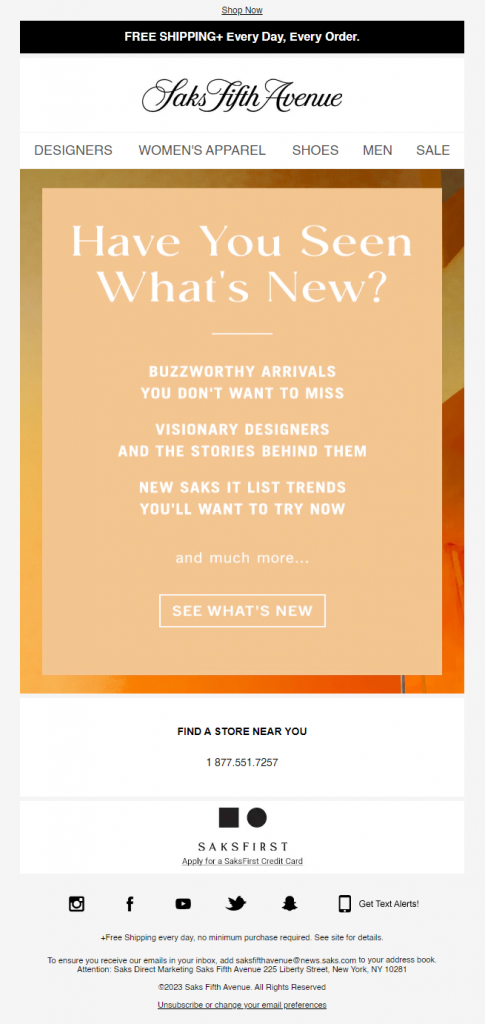 It is a good idea to let your subscribers know what they missed while they were away or inactive. That's exactly what Saks Fifth Avenue has done. They have shared the latest updates about their online store and prompted the readers to "see what's new".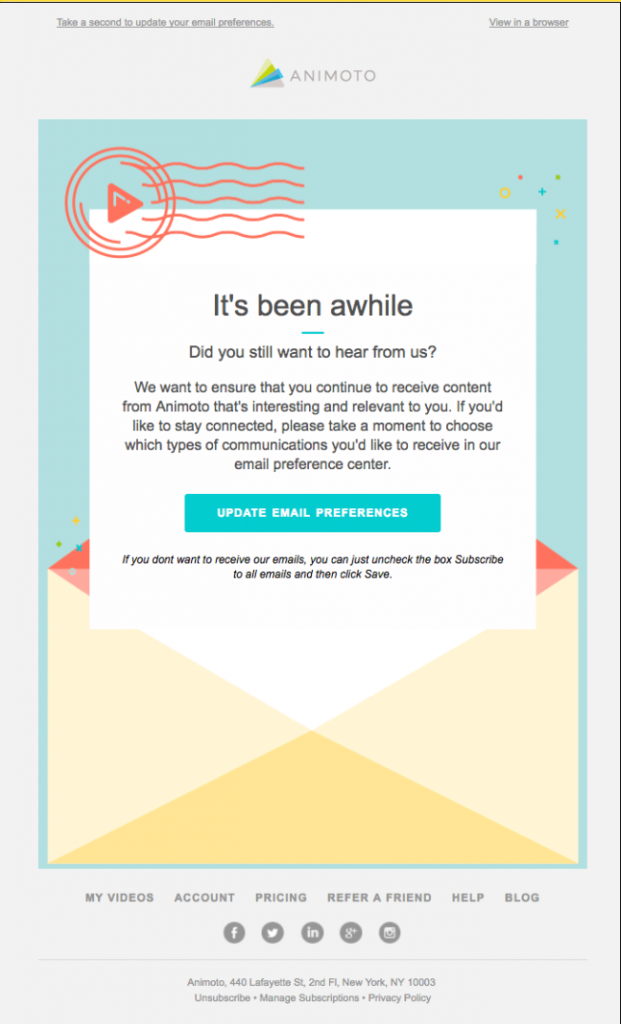 Animoto has used Dean Jackson's nine-word template in their re-engagement email. It taps on the FOMO instinct of the readers by asking if they still wish to hear from the brand or are looking for something. For example: Do you still want to hear from us or are you still looking for a hotel in Hong Kong.
Stage:4 – Making them pay… for their products
Great! They are back in your sales funnel. Now you need to make sure that they are not going inactive in a while. In case they do, it is an indication that your regular content is not engaging enough and needs improvement.
Key Takeaways
There are quite a few things that make winback email examples impressive. All you need to do is follow the winback email best practices:
Tell subscribers what they have missed since they were away
Propose an exclusive offer
Give a collection of offers that makes it difficult to say NO!
Add a pinch of emotions to lure subscribers
Provide other ways to connect- social media
Send them a compilation of missed notifications
Use humor to grab eyeballs
Play the guilt card
Remind subscribers why they are part of your list
Politely make them take a decision- Re-engage or Part Ways
How We can Help
Nobody wants to send a failed email campaign. Are you struggling with your re-engagement email conversion and looking for email campaign management services? Our campaign management experts can help you build a high converting subscriber win-back strategy. Chat with our experts today>>