Valentine's Day is celebrated in style and it continues to be a craze around the world. Whether it is shopping for chocolates or stylish rings to propose their loved one or flower bouquets, customers love splurging over this Holiday. You can cash in on this opportunity with Valentine email marketing campaigns. Based on a report, Valentine's Day spending is expected to be $21.8 billion in 2022. So, you cannot miss this chance of driving conversions, more so because people continue to shop online given the pandemic situation.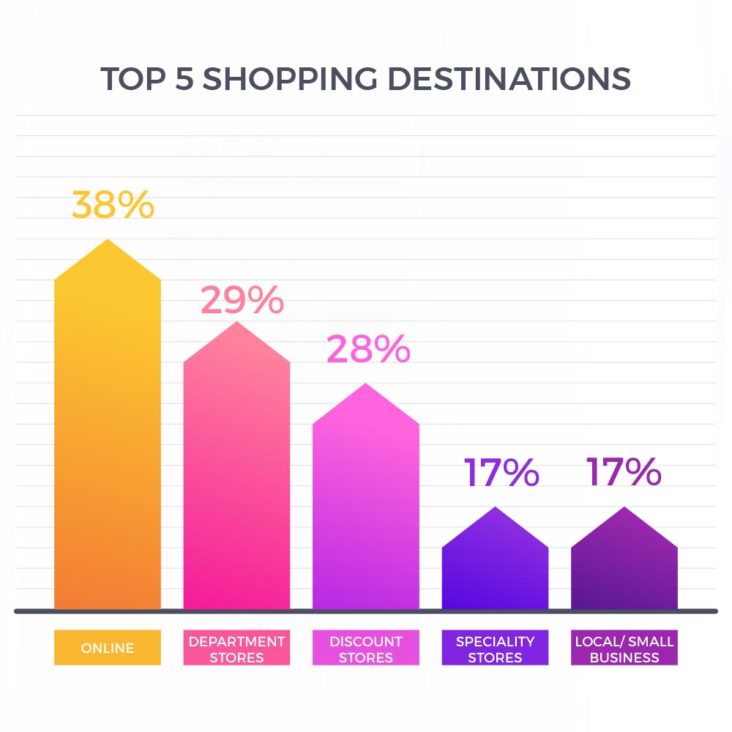 It is almost time that you plan your marketing with pre, during, and post Valentine's Day email campaigns. This will allow you to target different types of subscribers – the early shoppers, the just-in-time buyers, and the latecomers.
To make things easy for you, we are here with the best Valentine's emails and tips that will help you take full advantage of this Holiday.
Tips to Create Winning Valentine's Day Email Templates
1. Follow the design trends
Have you sifted through the email design trends 2022 suggested by the geeks at Email Uplers? If yes, you must be aware of the popularity of illustrations in emails. Harry's has designed a nice Valentine's Day email with an animated illustration and a compelling copy. It is short, sweet, and actionable for the readers.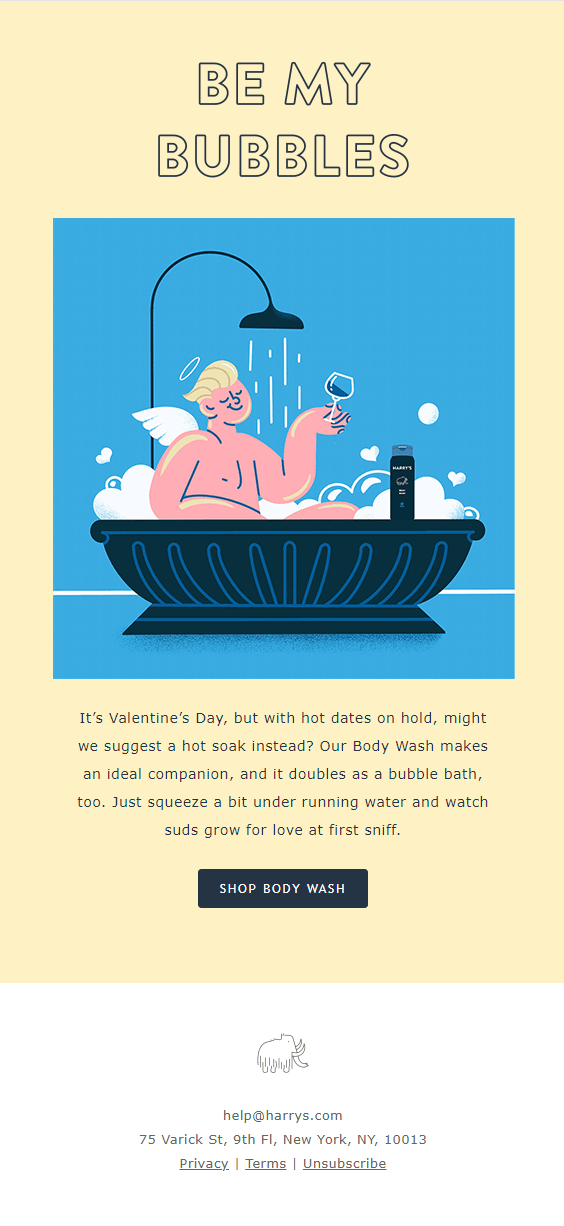 Along with the email design, your Valentine's Day subject lines are equally important. The subject line Body Wash + your tub = 💘 4ever will surely compel the users to open the email.
Use emojis, personalization, and experiment with innovative ideas to make your Valentine's subject lines click-worthy.
2. Launch your offer well in advance
Your subscribers are busy people, sometimes forgetful too. Remind them about the upcoming Holiday of love well in advance. This will not only help them set their alarms but also contribute to your sales.
Here's how Slumberkins has sent a series of emails to launch their Valentine's Day collection almost a month before the D-day. While the first email just talks about their Valentine's Day release, the second email showcases their products with relevant copy to encourage people to make the purchase. It will also work as a Valentine's Day marketing guide to help the subscribers buy the right gifts.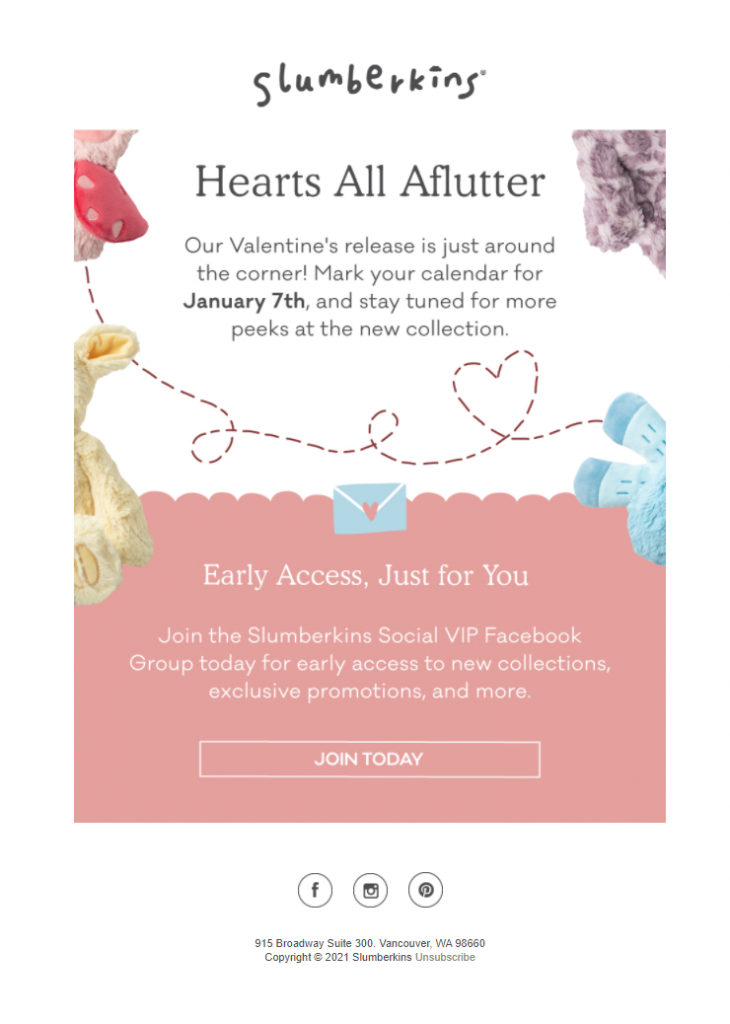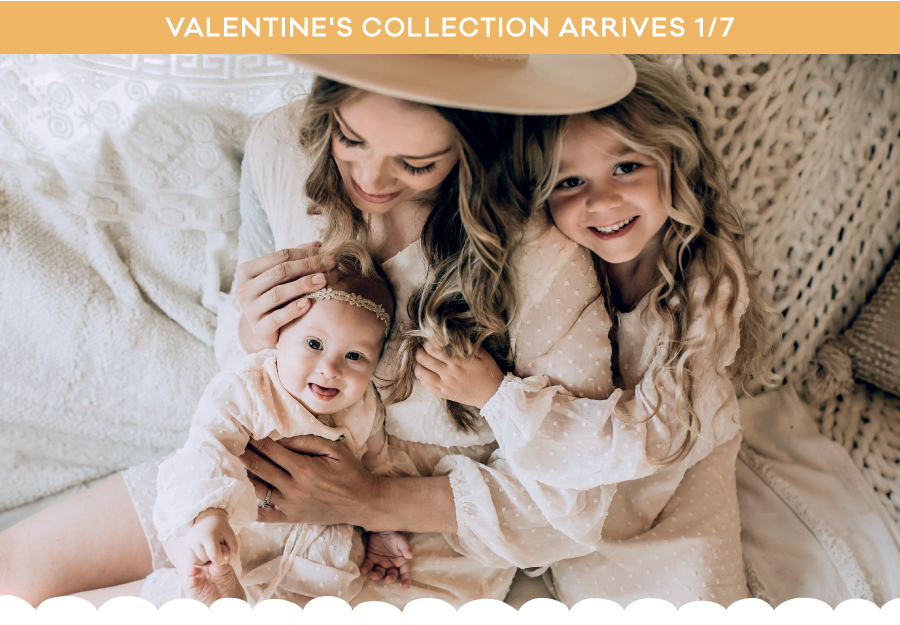 Sending a series of Valentine Day emails works wonders to maximize conversions on this important gift-giving occasion.
3. Get visual
Your subscribers are more likely to make the purchase if they like what they see. Use the right visuals to take your email marketing game to the next level. Holidays can get pretty competitive and if you do not flaunt off your products, you will be left behind.
Sugarfina has done a great job with their Valentine's Day email by including tempting images of their sweets. Also, they have promoted their rewards system to boost their Valentine's Day business.

4. Let your customers personalize their gifts
Your customers love personalized presents. So, how about letting them know that they can customize their V-Day gifts? Halcyon Days has perfectly imbibed this strategy in their marketing email for Cupid's Day. They have added pretty images and suitable copy based on the products displayed. The CTAs are cleverly placed in each section so that the users do not need to search through the entire website.

5. Send industry-related newsletters for the Holiday
If you are into content marketing, you can send news and trends related to Valentine's Day to enhance your readership.
For example: Fire Mountain Gems has sent out an interesting newsletter for jewelry-makers. It throws light on convertible jewelry that can make Valentine's Day even more exciting for the users. In the email, they have shared informative content pieces with the users. They have also allowed the readers to read the answers by expert professionals in the industry. Such lesser-known facts are sure to grab the attention of your readers and make them look forward to more.

6. Tap on the inquisitive instinct of the subscribers
How to increase subscriber engagement for your 14th February emails amidst all the digital noise? The answer is: Pique on their curiosity to get opens and click-throughs. Kasamba has sent an interesting email with the headline: "Find out if your soulmate is coming" followed by three different cupid images.
It will create a sense of curiosity and get the subscribers to click-through the email. It will in turn boost your engagement rate, thereby improving your deliverability too.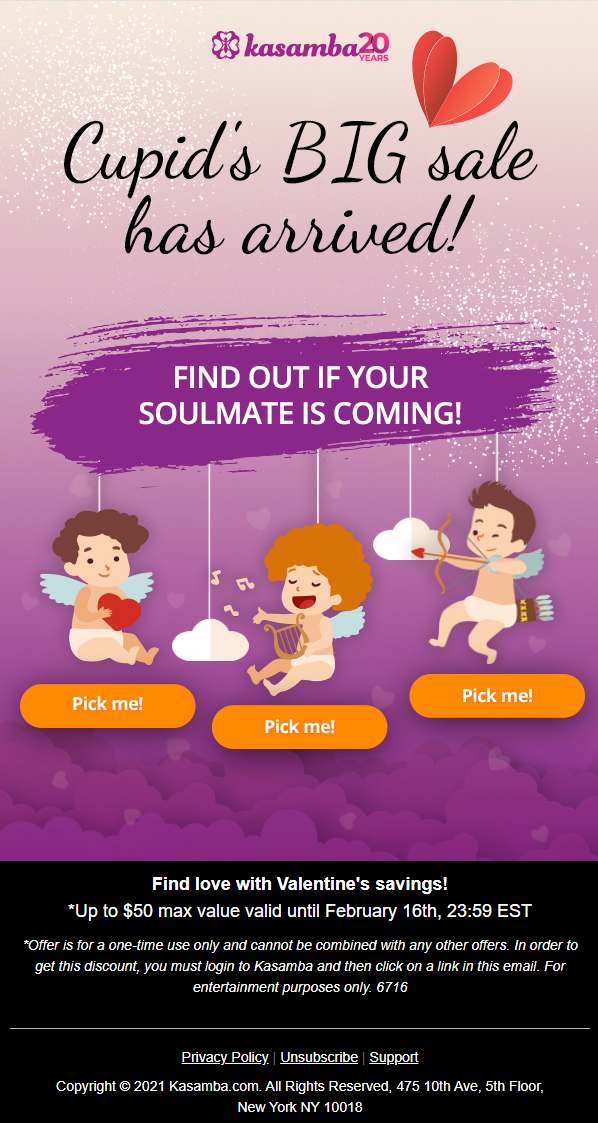 On clicking one of the cupids, the user will be redirected to the respective landing page. If you want to get innovative, you can use the hover effect and reveal the offer in the email itself.
Need help with creating such technologically advanced email templates?
Get in touch with the experts at Email Uplers.
7. Drive instant sales with a countdown timer
Businesses have built huge and successful empires by tapping on Fear of Missing Out. Limited edition products, offer ending soon, and items running out of stock can give a considerable boost to your sales. Macy's has sent out a Valentine's Day email to promote extra 20% off along with a coupon code. The countdown timer in the first fold will create urgency and bring in instant sales.


8. Think beyond lovers
Valentine's Day is not just about romance between lovers. It is also about making your kids, grandparents, and furry friends feel special. Build-A-Bear has done exactly the same through their email. In addition, they have also let the subscribers know that they can build their own bear online, personalize gifts with sound, and shop for affordable gifts under $25.

Alternatively, you can also do something for the singles out there like Boombod has done. This Valentine's Day email template will certainly bring a smile on the face of singles out there and make their day special.

9. Give a chance to the late shoppers
Often, it so happens that instead of "I love you", your subscribers have to impress their loved one with an apology. For all those forgetful customers, you can send an extended sale offer or I am sorry gifts.
Here's how The Only Roses has given a ray of hope to people who forgot about 14th February.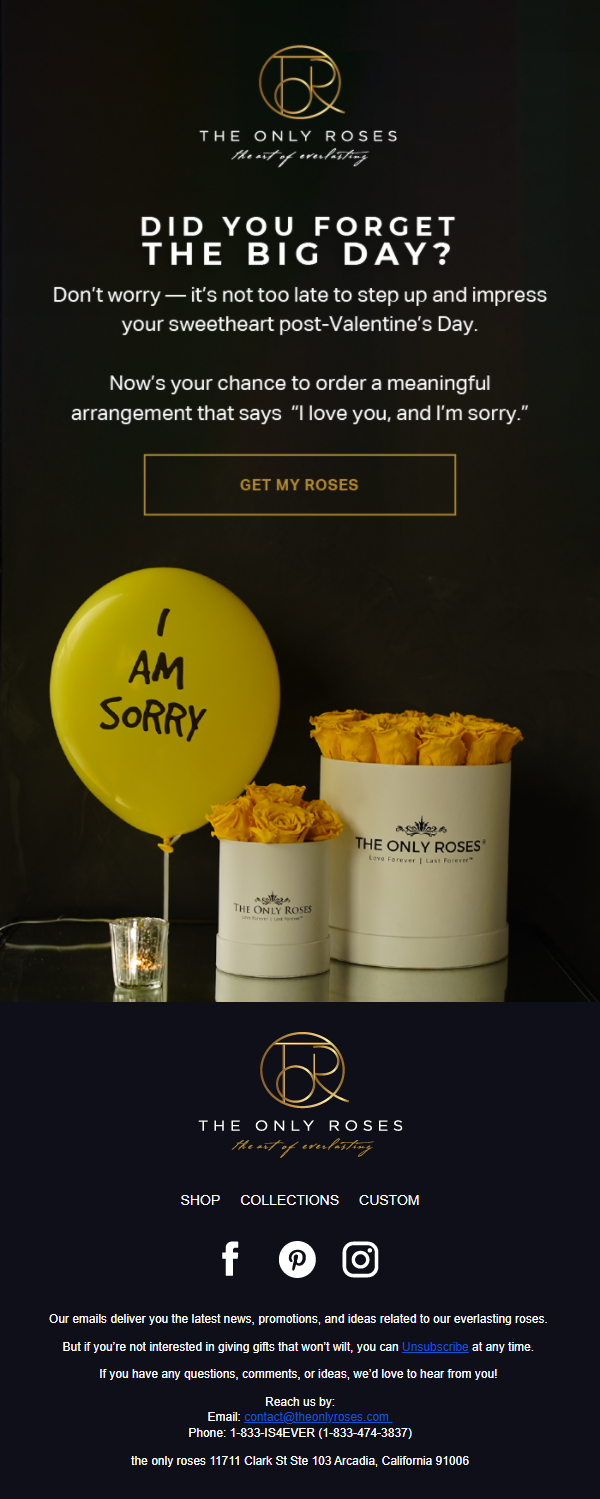 On the other hand, Laura Geller has tried to win over their customers with a last chance to avail the discount offer. The countdown timer does the trick to generate conversions.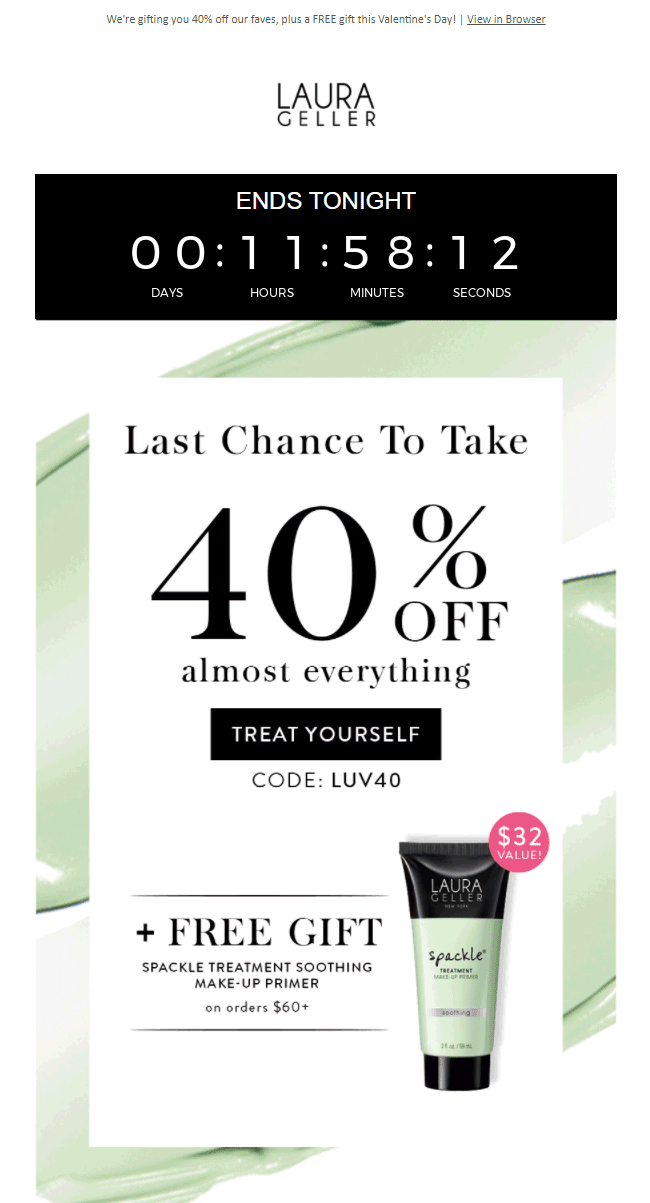 10. Think out of the box
Like I said at the outset, you must follow the current email design trends while designing your Valentine's Day email templates. However, creativity is also important. Serve something new to your subscribers in their inbox.
OD International Inc has tried to bring freshness in their email by animating the testimonial section and footer icons.

You can get your creative juices flowing and think of something similar for your Cupid's Day emails.
Cupid's Day Email Inspirations Roundup
Let me sum up the post with eight takeaways for Valentines emails.
Your Valentine's Day email subject lines and headlines must steal the show.
Create emails that are in line with the trends, while also being innovative.
Valentine's Day email campaigns are incomplete without images that match the vibe.
Get instant conversions with countdown timers and phrases that create urgency.
Give equal chance to all the shoppers, irrespective of the time they choose to make the purchase.
Not everyone out there has a lover. Offer something to the singles too.
Personalized gifts are a rage among your users.
Last but not the least, start thinking about your Valentine's Day email soon after you come back from the Winter Break.