No sooner the tinsel décor of Christmas and New Year comes down than it's time to paint the town red with hues of love. With people seeking to express their love and gratitude to their significant others and loved ones through gifts and special gestures, Valentine's Day presents a mega retail opportunity. According to the National Retail Federation, Valentine's Day spending in the year 2020 touched the $27.4 billion mark, coming a close second to Black Friday shopping!
Of course, this is a seize-the-day kind of a break for businesses across the board. Yes, Valentine's day gift-giving has long surpassed the stereotype of cards, flowers, and chocolates. Today, anyone from retail businesses to B2Bs and even nonprofits have ample scope to cash in on the spirit of love.
But with nearly every business in every industry vertical trying to woo customers, how do you say 'will you be mine?' in a way that your buyers won't be able to say no to? Well, leveraging the hottest email marketing trends to craft promotional messages that tug at your audience's heartstrings is certainly an approach you can bank on.
10 Ways to Create Inspired Valentine's Day Campaigns
Any occasion centered on gift-exchange is a great business opportunity for retail businesses, be it eCommerce or brick and mortar. Valentine's Day is no exception to that norm. The effectiveness of email marketing in driving up sales during such times cannot be overstated with its personalized nature, wide outreach, and high ROI.
But not all emails are created equal. To make your subscriber's heart skip a beat with your offers, you have to nail the messaging, visuals, and CTAs, all at once. Here are 10 ideas that will help you create Valentine's Day campaigns that inspire engagement:
1.Catch 'em early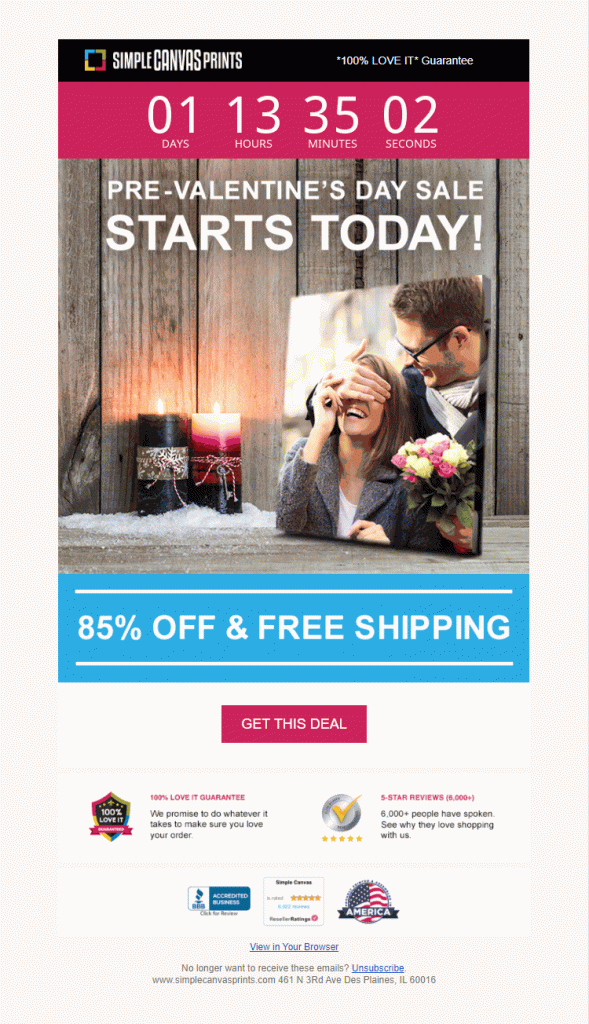 A report suggests that unlike birthdays or Christmas, people don't plan their Valentine's Day shopping much in advance. A sizeable 46% of buyers begin their shopping process in early February. Naturally then, most businesses time their V-Day email campaigns to coincide with this timeframe.
You can beat your competitors to the punch by launching a pre-Valentine's Day sale, just like the one launched by Simple Canvas Prints, and give your sales some momentum by catching some early birds who like to plan ahead. Some lucrative discounts and special offers that are thrown into the mix along with a countdown timer, will give your subscribers just the right nudge to explore your products and make a purchase. 
2. Personalize it

Personalization has emerged as a key factor driving customer experience in the present times. From personalized services to customized products, a touch that makes buyers feel that a brand is speaking solely and exclusively to them can prove to be a driving force for engagement. Even more so on an occasion where people want to make their loved ones feel special and appreciated.
That's why crafting personalized Valentine's Day subject lines and pitching customized gift items is a surefire way of making your subscribers sit up and take notice of your offerings. Uncommon Goods nails that brief in this Valentine's Day email with a quirky headline and a handpicked selection of some of their best-customized gifts.





3. Craft a story

MilkBook, a brand that customizes photo books and albums, has taken a rather offbeat path to pitch their services to their subscribers for Valentine's Day. Rather than just promote products, the focus here is to strike a chord with the reader by talking about a shared experience – that of the Coronavirus pandemic that disrupted all of our lives in some way or the other.
They've astutely woven into the narrative how the brand helped create smiles and happy memories even during this tough time, followed by a soft nudge to place Valentine's Day orders well in time with a simple yet impactful line – 'Our handcrafted photo books & albums take time to create.' By making their products seem aspirational and instilling in the reader some real FOMO, this brand sets an example for clever email marketing.
4. It's okay to not paint the inboxes red

Hearts, red monochromes, roses, and all things symbolizing love become so ubiquitous around this time of the year that breaking away from these tried-and-tested visuals may well be your best chance at getting noticed.
Take this Valentine's Day recommendations email from Hulu, for instance. Instead of going all red and mushy on their readers, they have taken a less beaten path to capitalize the trending dark mode to create their promotional email. With a GIF of a bright fluorescent green heart throbbing in the center, this  Valentine's Day email template has immense potential of getting noticed and driving engagement. It does so by simply standing out in a sea of red hues.
5. Illustrations are endearing

Custom illustrations have remained a raging trend in the world of email marketing from 2019 through 2020, and it's likely to remain that way in 2021 as well. The reason why this visual element has become so popular is that these stick figures have an endearing, almost heart-melting, quality. So why not leverage these when appealing to your customers' hearts is what you're aiming for.
Restaurant recommendation app, Resy, shows us how illustrations can be used simply yet impactfully to create engaging emails. This promotional Valentine's Day email template has a clean, clutter-free design meant to celebrate the one focal visual element – the illustration of a date.
6. Get GIF-FY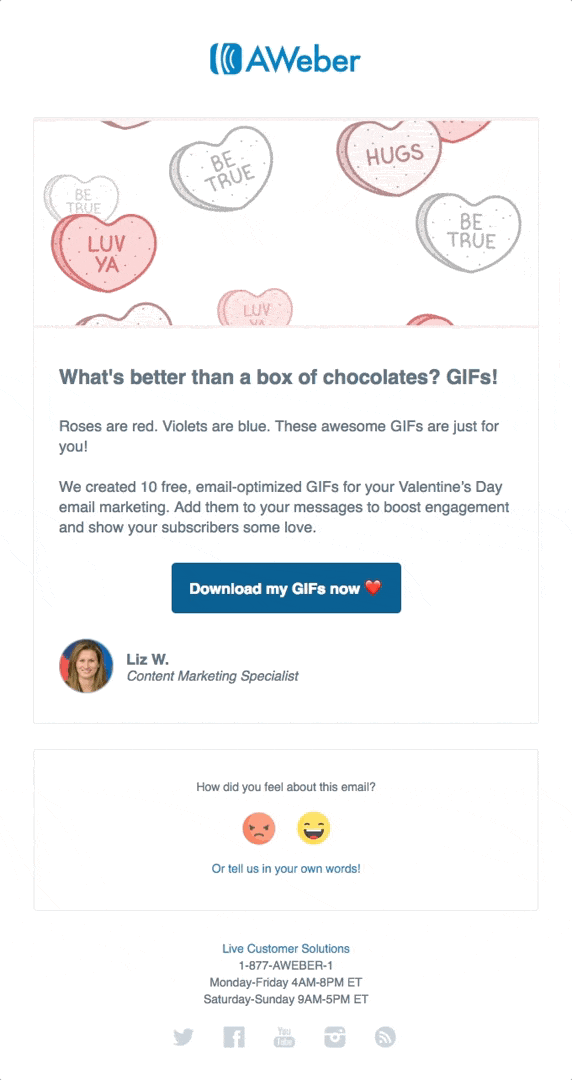 Speaking on email trends that contribute to crafting stellar messaging time after time, the impactful GIFs just cannot be left out. This email by marketing agency AWeber is proof that holidays like Valentine's Day aren't just a gold mine of sales opportunities for retail businesses but also B2B operators.
Notice how smartly they've used an eye-catching, 'hearty' GIF to pitch their GIFs for businesses to use in their Valentine's Day emails. The crisp and pointed message also makes it easier to process and engage with the email.
7. Don't forget the singles

Valentine's Day may be a celebration of love but there are a lot of singles out there too. It'd be a mistake to miss out on this sizable population of singles or those nursing a freshly broken heart in your email marketing campaign. So, use those data insights from your CRM to good use to segment your user base based on their relationship status, and create a separate email campaign for the unattached.
This email from the meditation app, Calm, making a case for self-love and care is a fitting example of how you can connect with this segment of your user base or target audience to optimize engagement this Valentine's Day.
8. Look beyond romantic love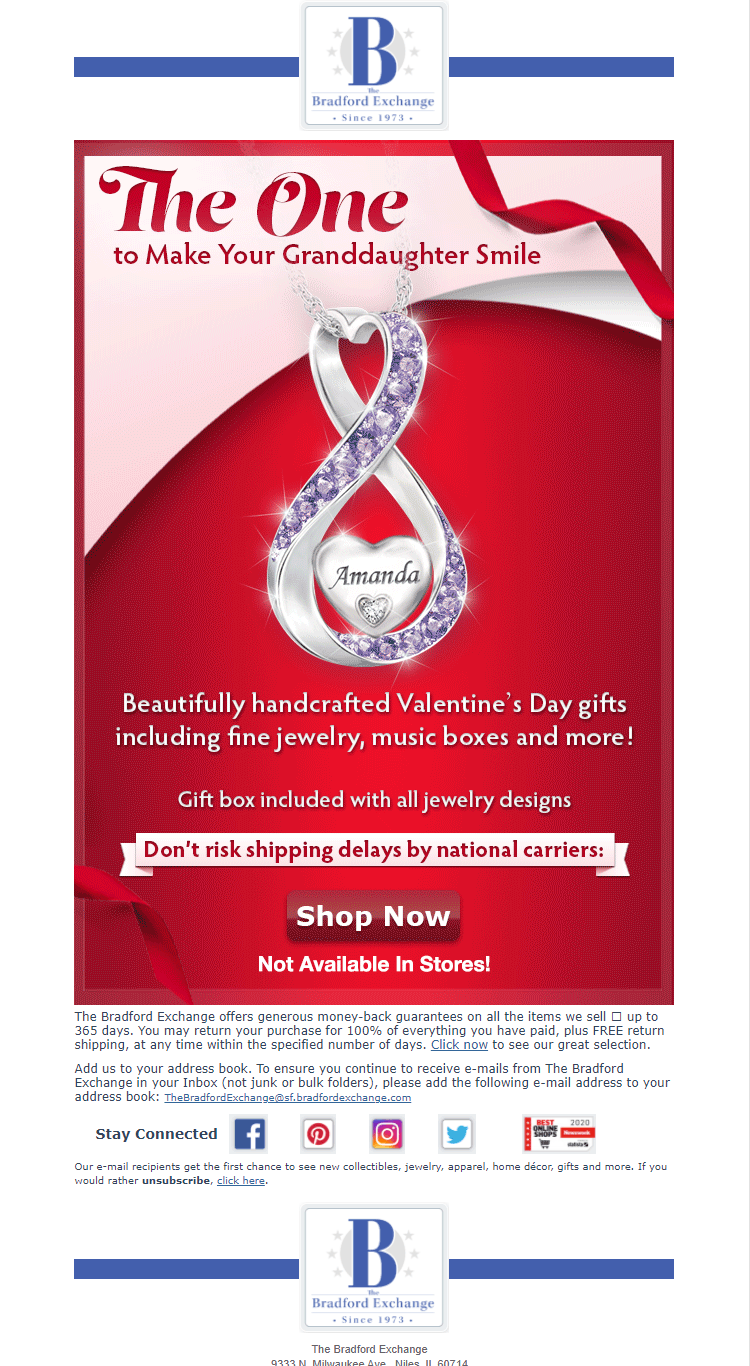 Even though pop culture may make it appear so, Valentine's Day is not just a celebration of romantic love. Statistics indicate that people also tend to buy gifts for their family members, co-workers, friends, and pets as an expression of their love and gratitude. It'd be an oversight to not factor in these shopping needs in your email marketing campaigns. If you're a jewelry brand, for instance, you may want to curate pointed emails pitching products for a potential buyer's mother, sister, friend, daughter, granddaughter, besides their wife or girlfriend. Case in point: this email by The Bradford Exchange pitching handcrafted jewelry for granddaughters.
9. Pepper your subject lines with love

Your Valentine's Day email subject lines are the gateway to the success of your email campaigns. After all, you cannot hope to drive leads and conversion from unopened emails. While there is no magic formula to create subject lines that will motivate people to open your Valentine's Day emails, you can surely improve your odds by focusing on grabbing eyeballs long enough to garner intrigue.
Creating targeted Valentine's Day subject lines convey the context yet evoke curiosity is a reliable way of crafting subject lines that generate more hits than misses. Take, for example, this subject line by Paper Source – Love Is in the Air ? (Shop New Arrivals!) – which captures that mood of the season and tells the recipient what's on offer in a single glance.
10. Court growth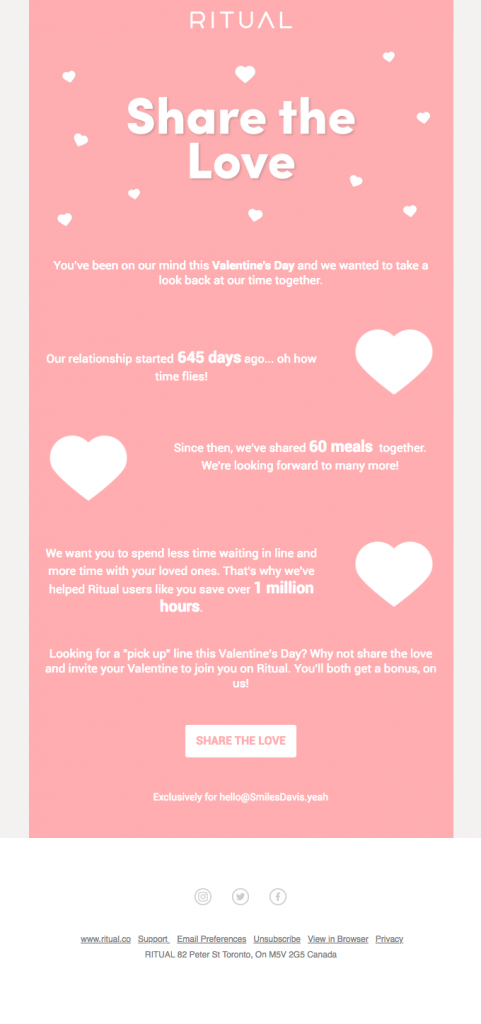 To expand the outreach of your email marketing campaign, you have to press the pedal on your acquisition initiatives. This Valentine's Day, readjust your focus from what you can offer your customers to what they can offer you – referrals and signups! Your email outreach can grow exponentially if your subscribers share your newsletter with their contacts.
So, why not give them an incentive to do so and make it a win-win. You can draw inspiration from this personalized campaign created by Ritual where they take their subscribers on a trip down memory lane before asking them for referrals. And of course, sweetening the deal with a bonus offer.
The Takeaway
Understanding and preempting your target audience's needs can give your email marketing initiatives a competitive edge. To create campaigns that drive better engagement and higher conversions, you need to address your users' needs in a manner that resonates with them. The choice of email templates, color palettes, visuals, and interactive elements all play a crucial role in making your Valentine's Day emails stand out from the crowd and leave a mark on the readers' minds. From GIFs that your subscribers will remember you for to engaging interactive elements, our experts can cherry-pick the best-suited elements to help you with designing and coding stunning Valentine's Day email templates.