Has this ever happened to you? You have your car keys right inside your pocket and you are searching for them everywhere except your pocket. Same way, we tend to look for answers to most of the hurdles or snags in our email marketing setup everywhere but in the huge chunk of valuable data that we already possess.
According to a study, companies that use data to send smarter campaigns perform 85% better than their competitors when it comes to sales growth.
However, it's also important to know how exactly this data should be used so that it helps to further strengthen our email campaigns and ultimately generate better ROI. Let's explore 6 ways in which you can make the most of the data to send more personalized, relevant and timely emails.
1. Put a preference center in place to value your subscribers' preferences
You have just got a new subscriber. Hurray! Now, just like you want to know the subscriber better, the subscriber too is interested in knowing more about you before they trust you. To build this trust, you need some demographic 'data' about this newbie- what is their age, their gender, birthday, location, and so on. Your preference center is the starting point of data collection. You can always ask more questions like what kind of content they would want to receive from you and how often. By giving the reins in their hands, you are actually nurturing them to ultimately convert. Make sure there is a link to your preference center in each of your emails.
Check out this preference center by Kronos. While they begin with a really nice message that they care about the subscriber's preferences, they go on to ask in detail about what kind of content is the subscriber expecting from Kronos.
2. Segment your subscribers for better engagement
The time spent by the subscriber on an email indicates how relevant your email is to them. More relevant the email more will be the time they spend checking it out. Segmenting your email list based on demographic factors, user behavior (past purchase, browsing history, buying frequency, etc) and their preferences can go a long way in creating relevant emails.
According to a study, segmented campaigns perform far better that non-segmented ones.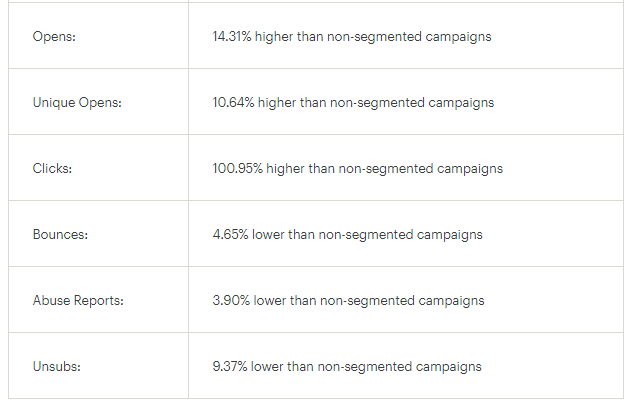 3. Personalize because that's never going out of fashion
It has been said a million times over the years that personalization has worked and will always work for marketers. You can do something as simple as first name personalization (yes it still works!) to subject line personalization to content personalization. Here's what Mailchimp found about name personalization: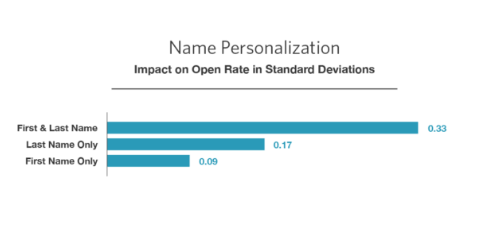 Source: Mailchimp
Here is a personalized email from Beardbrand. It is a cart abandonment email sent to a subscriber who added a certain product in their cart but did not proceed to buy. It has name as well as content personalization.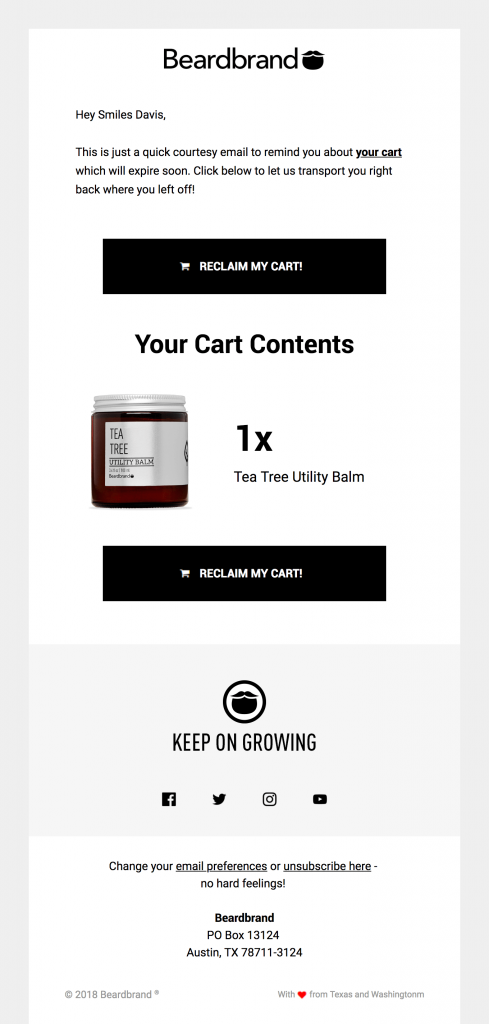 Source: Really Good Emails
So, you would ask, do we need to create two different emails (design and content included) to impress the male and female subscriber segments on your list? Well, not really. When it's about just changing certain aspects of your email, dynamic content comes across as a savior. For example, through dynamic content you can just change the offers you send to your male and female subscribers, keeping the rest of the design unchanged.
4. Figure out the best time to send emails
Isn't it difficult to know when your subscriber is ready to or in the mood to open and check your email? But you can find out the ideal time through the data you collect on testing the send time. So, as you begin an email relationship with a new subscriber, you need to send emails on different days and different times of the day to check when they open and engage with your email. It will take a few campaigns to figure out, but it's worth the time.
Time zone customization is also a vital aspect. If you have a subscriber based in a time zone different from where you are placed, make sure you figure out the preferred time for receiving an email according to their time zone.
5. A/B Test to uncover the best options
Nurturing a lead is an important part of the sales cycle and it takes much more than timing your email correctly. You might be sending relevant content and personalizing, but are the subscribers engaging with your email? What if they are expecting a more formal tone or maybe more images? That is where A/B testing your campaigns can help. Testing one aspect at a time is the best way to go about it. Test your subject lines, content, tone of content, design elements, CTA placement in the email and anything else that can be optimized. We bet you will have more effective campaigns after a few rounds of testing.
6. Leverage the benefit of sending emails on special days
How we all love it when someone wishes us on our birthday or treats us with an ice cream on their birthday! The same can be applied to your business emails. Emails that you send to your subscribers on special day be it their special occasion or yours, help to build a strong bond. You have been smart enough to collect the birth date of your subscribers; now is the time to use the data. Sending personalized wishes along with a small discount for them on their birthday is a great gesture.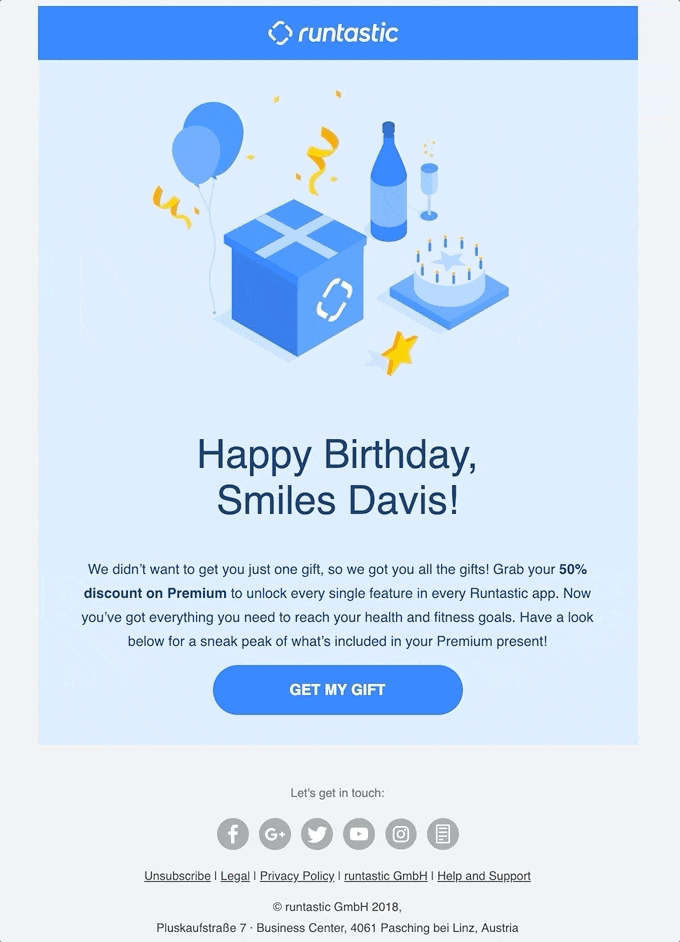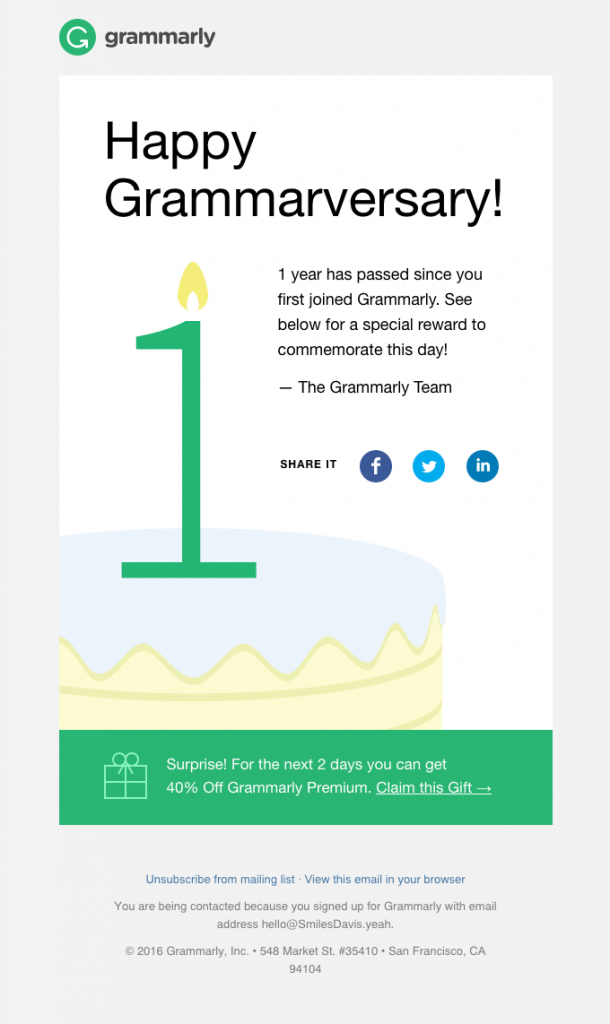 Source: Really Good Emails
The two emails above are special occasion emails. The one from Runtastic has been sent to their subscriber wishing them on their birthday, also offering a discount. The second one is from Grammarly. This email celebrates the first anniversary of the subscriber with the platform, making them feel included. Here too, a special reward has been offered.
Wrap up
Email marketing has evolved through the years and is no longer about blasting messages to every contact on your list. Its success depends upon how well you collect and measure data. It's about collecting as much data as you can (without being creepy) to learn more about your email subscribers and offering them more personalized experiences. It's all about using the data to tailor the perfect email that works for your business.