As an email marketer, you must be striving to gain the most out of your email campaigns. With the best design and content, you try to get your subscribers and customers to read and engage with the emails you send. But, are you sending your emails to the right people?
An e-commerce business has diverse customers and subscribers with varied demographics, interests, and behavior. It is, therefore, necessary to create emails that are as relevant to each individual as possible.
Segmentation is an inevitable part of email marketing for e-commerce businesses. Email list segmentation is one of the most effective tactics for 51% marketers, according to DMA. A statistics report by MailChimp shows that segmented campaigns have 14.31% higher open rates and 100.95% higher click-through rates than non-segmented campaigns.
Email segmentation is one bullet-proof solution that will help any e-commerce business to gain maximum engagement and conversions from their subscribers.
In this article, we take you through the various ways in which you can segment your e-commerce email campaigns and e-commerce email marketing best practices to get best outcomes for your business.
Demographics
The most basic way of segmenting your email lists is by demographics, which includes characteristics such as the subscribers' gender, age, income level, company position, etc. When the user opts into your email list, ask them a certain set of questions or make them fill a form to set their preferences. The questions can be rather basic like "How old are you?" or "What are your hobbies and interests?".
Before you start segmenting, decide what all information you need from your subscribers. A good way to collect the data can be through a welcome email that is common for all.
Look at this example from Bespoke Post. The first email they send is common to all their subscribers and they ask them to set preferences to receive tailored emails.

Source: Really Good Emails
When the user clicks on the "Your Preferences" link in the email, it takes them to a landing page where they are asked to answer a set of questions. The questions are simple with a single click answer. The easier it is for your subscribers to answer, the more likely they are to respond to the questions.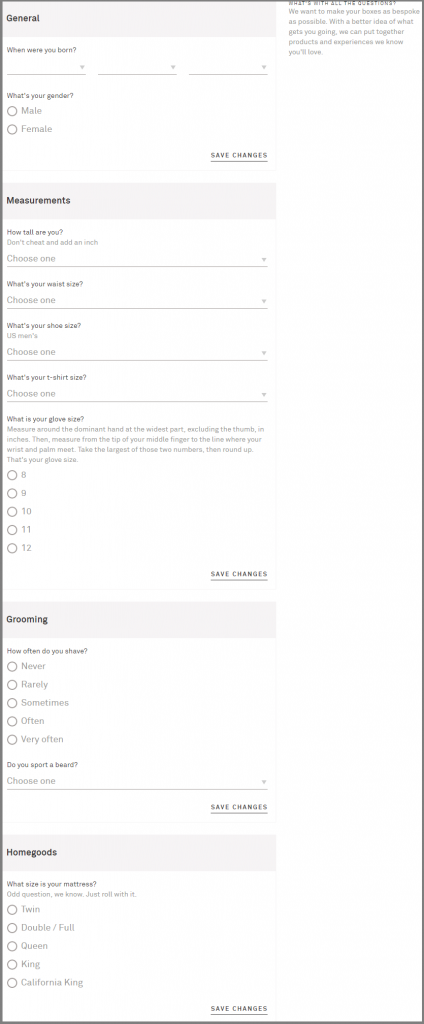 Source: Bespoke Post
This way you can create buyer personas and know what emails to send to each subscriber with the same gender, age group, and behavior. This will help your brand in sending only relevant emails that your subscribers asked for.
Interests and Preferences
Once your subscribers engage with your brand or purchase something, you can figure out what their areas of interest are. This can be also determined by asking them about their hobbies and interests while signing up. If you get to know your subscribers' interests, you will be able to divide them into relevant segments and send them highly targeted email campaigns.
Check out this email from BirchboxMan. The email has product options as per the subscriber's preferences and based on the response to this email, they will be able to figure out the most preferred products of the subscribers. Sending relevant emails will increase the likelihood of them purchasing from your website.

Source: Kurated Email Design
By giving your subscribers relevant options to shop from, you will get to know about the products or categories that interest them. Hence, by sending such emails, you will be able to target your subscribers better and improve engagement.
Location
Once the subscriber buys from your website, you will get to know their actual address. This will help you in sending time-based email messages by segmenting them as per their geographic time zones. For example, the customers from different locations will receive the emails at the respective times when they are most likely to open the email. Also, if your brand is organizing an event at a particular location say the UK, only those customers residing in the UK will be notified of the event.

Source: Milled
Moreover, targeting a particular geolocation also lets you send relevant weather-based emails to the subscribers. This email from Lou & Grey is one such location-based email. This email is sent to those customers who would want to view or purchase from their winter sweatshirts and sweatpants collection.
By sending emails that are relevant to the weather and viewing time, you will be able to speak directly to a particular group of customers from a particular location.
Browsing history
Keeping a track on how your subscribers engage with your e-commerce website will give you insights about how to approach them and what kinds of emails to send to them. For example, you have an online store for electronic goods and a subscriber browses your store for a music system. The subscriber does not make any purchases, but his frequent searches on your website show that he is interested in buying that product.
In such cases, giving the subscriber discount offers on the product that he is interested to buy, or showing accessories related to that product will aid in moving him a step closer to making the purchase.

Source: Really Good Emails
Uncommongoods extracts cookies from subscribers' shopping activity on their website and sends them a list of products that they might be interested in.
Segmenting your users based on their browsing behavior and sending relevant emails will drive them towards making the purchase from your website instead of going to your competitors. This will also help you as a brand in building strong relationships with your subscribers and prospects.
Purchase history
Looking at what products your subscribers have purchased from you in the past and sending them offers and recommendations related to that product will encourage them to make another purchase. Ask for a feedback on their recent purchases or send them recommendations to buy accessories or supporting products for the recently bought product to keep them engaged with your brand.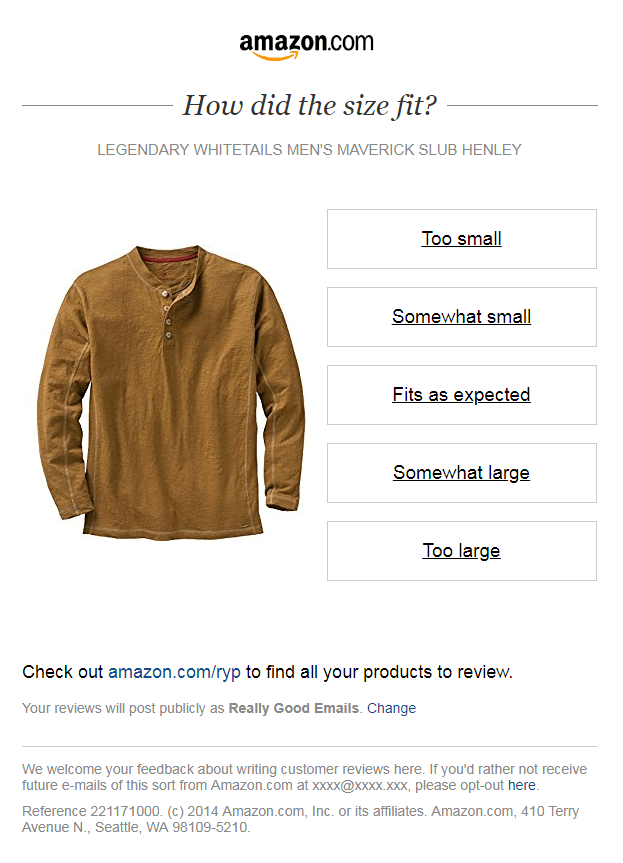 Source: Really Good Emails
Amazon sends post-purchase emails to their subscribers asking for their feedback on their recent purchases. This is one such email.
Grouping subscribers who frequently buy from you and asking them for their review or feedback will help you in building sustainable relationships with them.
Cart abandonment
Cart abandonment rates have gone really high. According to Marketing Land, companies lose a whopping $18 billion of sales revenue due to online shopping cart abandonment each year. It is, therefore, necessary that you segment your cart abandoners separately and create email campaigns to bring them back to your shop to complete the purchase.

Source: Really Good Emails
Take a look at this email from MCM. The email shows the images and details of the abandoned products with the total price. It also cross-sells similar products and accessories that the customer might be interested in buying.
Try to find out why your subscribers have left the product halfway in the cart. This will help you in determining what kind of emails you need to send to them. Sending abandoned cart emails with relevant product details and recommendations without forcing them too much will keep them interested in your brand's products.
Inactive Subscribers
If your customers haven't bought from you in a long while, you need to group them differently and send them emails that would encourage them to buy from you again. Try to figure out their reason for inactivity and build relevant re-engagement campaigns.
Check-out this re-engagement email from Missguided. The brand gives a discount offer to induce the customer to shop again. It also gives the users ways to chat with them on other platforms in case of any confusion or issue. Giving social links is a great tactic to increase the chances of re-engaging the subscribers with their brand.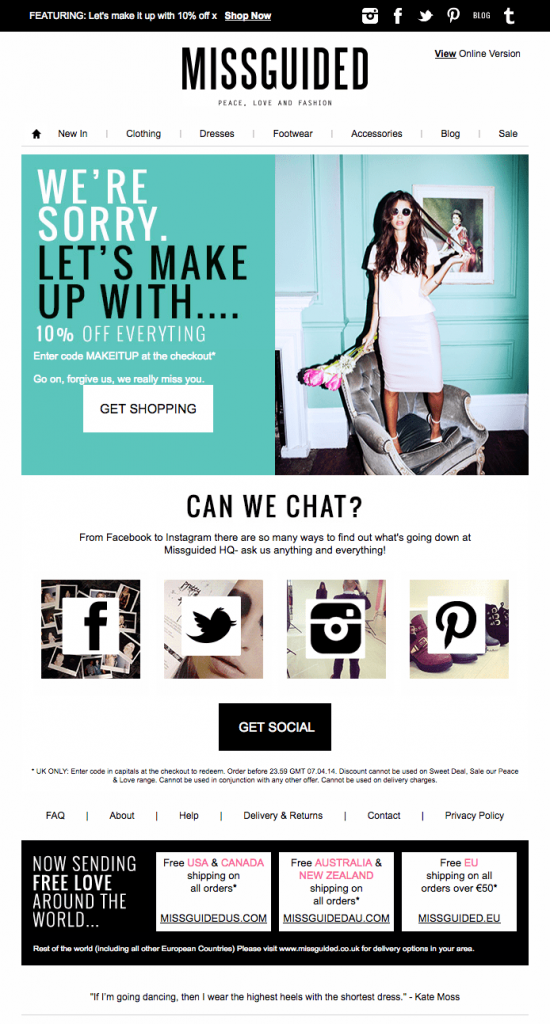 Source: Kurated Email Design
The success of a re-engagement campaign depends on the copy and timing of the email. Send a series of emails trying different offers and copies to re-engage the inactive subscribers. If they still do not open your emails or view your website, remove them from your email list and add them to a retention campaign.
Wrapping Up
By using the right segmentation strategies, testing them time and again and using the ones that perform will help you in engaging more prospects and customers with your e-commerce business. Email segmentation if done right will fetch your business great results!