Did you know that the number of global email users will be over 4.1 billion by the end of 2021? What does this stat mean for email marketers? It means that as a sender it's time for you to stand out and get your subscribers to react to your messages rather than just focusing on increasing the volume of emails delivered in the inboxes.
A recent report states that almost half of the users have to recognize the sender of the email before even opening it or the email could be ignored.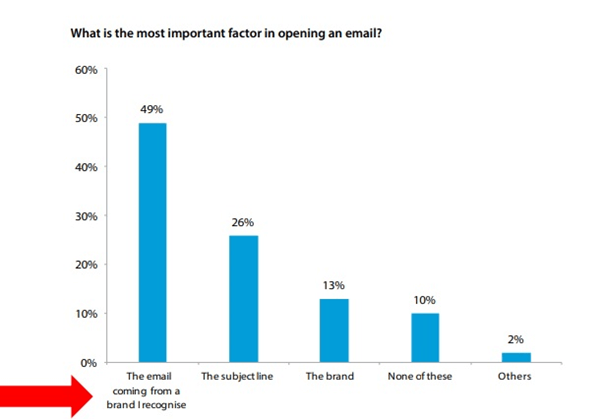 Source: DMA Consumer Tracking Email Report 2017
So, what can be done to enhance brand recognition? Besides traditional methods like having the brand's name in the email preheaders or subject line, there's also a modern approach called Brand Indicators for Message Identification commonly known as BIMI.
It helps subscribers to recognize your brand by the logo and gives marketers an opportunity to put their brands before their subscribers for free.Thinking about what is BIMI? Well, in this post we'll talk about BIMI and all that you need to know about it.
What is BIMI?
BIMI is a new standard that facilitates your brand to exhibit its logo alongside your message in the inbox. Your logo's image may appear in the place of initial letters or users profile photo that usually several email clients exhibit beside your from address.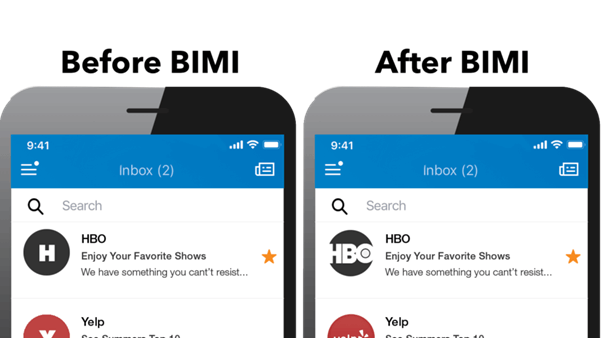 Source: Valimail
BIMI is notable because it's the first email identification method, that is visible to your end users. It helps subscribers to decide which emails are real and which are fraudulent by authenticating the identity of the sender. It gives marketers the power to choose a specific logo that will appear beside their message in a trustworthy and secured manner.
Being a new approach, currently it is driven by one of the biggest mailbox providers 'Yahoo'. However, by early 2020, Google is working to support BIMI to battle email security problems.
If that's not enough to get your marketers electrified about BIMI, we have more reasons to electrify them:
BIMI boosts your visibility.
It increases authenticity.
It builds trust.
It protects your brand from fraudulent emails.
It may also aid in enhancing your email conversion rates.
Now that you know the good it does to your brand, it's time to understand how it works.
How does BIMI Work?
BIMI is a type of text record. It offers the opportunity to display your brand's logo, enhance visibility and battle with issues like deceitful emails and deliverability problems.
The text file exists on your sending servers and adheres to a particular format. Once the message is delivered, the recipient's email service looks up the BIMI text file and from where it's hosted to make sure that the message can be verified.
When verified, the BIMI file notifies the email service where to detect the sender's logo and the email service extracts that logo into the inbox.
A few things to follow while setting-up BIMI for your brand:
For BIMI to work, you need additional authentication records apart from DKIM, SPF and DMARC.
To set up a new BIMI DNS entry, you must have access to your domain name servers.
Your logo must be in an SVG file format.
How to implement BIMI?
To implement BIMI firstly, you need to ensure that all the messages you send are validated properly through the three major methods of email authentication: SPF, DKIM and DMARC with a perfect strategy in place.
Secondly, recognize the desired logo of your brand and the sending domains associated with it. Lastly, issue a BIMI Assertion Record through a change to your public Domain Name System (DNS) area for either one or more (not more than five) chief brand-related domain names. Your BIMI Assertion Record should include a reference to an SVG representation to your desired brand logo.
BIMI implementation requires brands to have good deliverability. How do you get that? Well, for this you require a good domain and IP reputation followed by good subscriber engagement.
Senders usually focus on IP addresses as the only source to build a reputation and don't contemplate on the domain. It's not possible for a brand to have good reputation without a good domain.
A good reputation is like constructing a new building. It takes time to build and is not a task that can be accomplished overnight. And to achieve this, the sender needs to ensure a healthy list of engaged subscribers. Over here, engagement is about opening an email and not about clicking through. Healthy email open rates mean that your addressees trust and know you as the sender.
Can BIMI assure 100% Deliverability?
The answer is no, but yes it can help your brand to accomplish higher rate of deliverability. Because of an additional layer of security, it reduces the peril of an email getting into a spam folder.
Other reasons:
Low adoption of BIMI
Subscribers can customize their spam folder
You may have good domain, IP reputation, healthy engagement and everything set up right but there is no way out to certainly bypass an individual's custom spam settings.
What are its Benefits?
BIMI is a standard that assists you to display your brand's identity in marketing emails as long as the messages have been verified using the DMARC procedure.
For brands this has certain key benefits such as:
1. Optimized Brand Presence
With BIMI, email messages are emphasized with their brand logo in a specific showcase space controlled by the mailbox provider. Usually, it appears beside the subject line of the email in the recipient's inbox and in the upper left corner spot of the message itself on the outer side of the email body.
This aids in enhancing brand impressions. The logo itself is validated by both the email systems (sender and recipient) so that it can't be forged.
2. Maximized Brand Protection
BIMI may help in reducing the number of fraudulent messages from being opened or read. It serves as a great way to safeguard your brand's image and your subscribers from many phishing and spoofing scams
BIMI links your brand's logo to your Domain Name System to make sure that only you can showcase your brand's logo for your legitimate messages. This keeps spammers away from using your logo in any deceitful messages that emulate the sender as you.
By adding a BIMI script to DMARC and visual indicator offered by BIMI, consumers begin to trust you and believe that your organization is taking serious steps to secure their information.
3. Enhanced Email Performance
DMARC helps to increase email deliverability by making sure that email messages are not blocked by receiving systems on doubts of fraud. Moreover DMARC has increased the success of email marketing campaigns.
By offering a visual sign to verify a message's legitimacy, a BIMI facilitated brand logo can assist in reinforcing customer engagement which can possibly boost the email marketing conversion rates.
Why should you care?
The success of email marketing lies on the trust factor. BIMI offers a standard layer of security that will allow inboxes to showcase sender- elected logo.
With the help of BIMI, marketers will now be able to make sure that their subscribers know that the email is coming from their brand. This helps subscribers to understand which emails are authentic and which are fraudulent.
Wrapping Up
Considering BIMI's influence on email security and brand recognition, this approach is sure to become an essential practice in the near future.
This is the right time for you to adopt this approach and evaluate your brand's sending rhythm, deliverability and blacklists so that you are ready to plunge into the game when BIMI implementation is fully matured.