[This post was originally published on 25th Oct 2021. It has been updated on 16th Aug 2022.]
Deloitte's retail and consumer products practice expects that holiday sales will total USD 1.45 to USD 1.47 trillion during the November to January timeframe. According to eMarketer and InsiderIntelligence.com, US retail eCommerce holiday season sales is projected to reach almost USD 236 billion.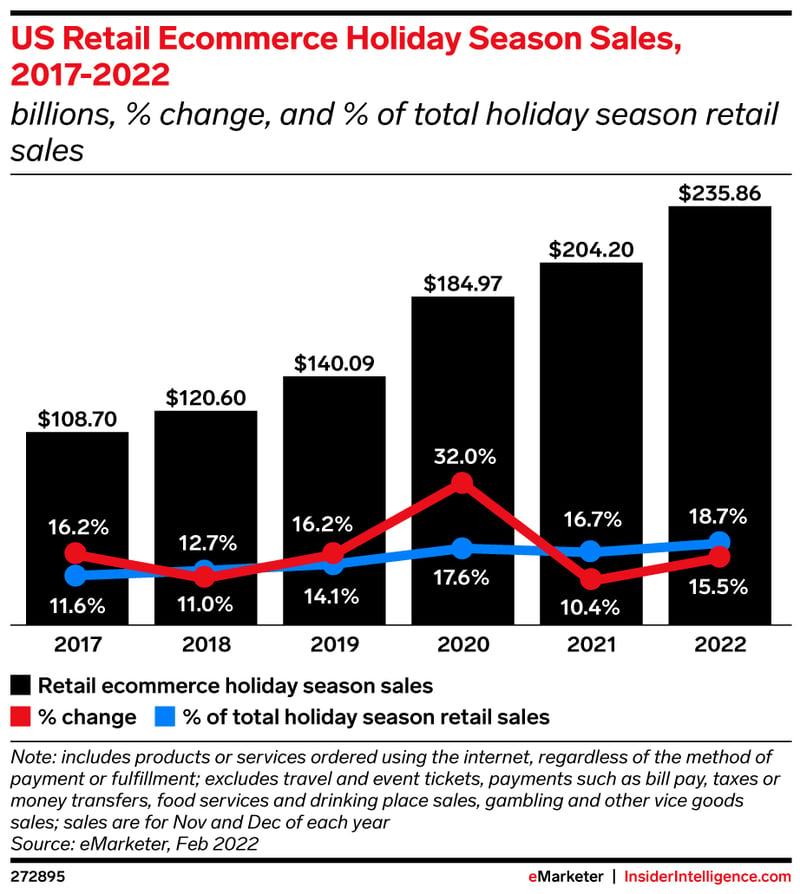 So how can eCommerce retailers make the most of the upcoming 2022 holiday season?
With email marketing and Salesforce Marketing Cloud (SFMC)!
With SFMC, you can create memorable holiday email campaigns that bring joy to your customers – and your cash registers. Reach out to them with warm, personalized holiday messaging when they're most receptive to branded content; and also most likely to open their hearts and wallets.
Here are 4 ways to design memorable eCommerce email marketing campaigns for the upcoming holiday season with SFMC.
#1. Create Personalized, Meaningful Content with a Clear Benefit
Email exhaustion is a real issue during the holidays. Before the season even starts, brands start bombarding consumers with emails, so holiday email marketing success can feel like a pipe dream.
That's why it's crucial to:
Simplify your messaging with clear benefits and calls to action (CTA)
Create personalized content that talks to each recipient's emotions
Use attractive, on-holiday creatives
This Christmas email features a creative image with a ship captain looking at the sky – and presumably into the future. The copy supports the image with a message of hope and joy – plus a cleverly-worded top headline.
Optimize content for mobile
AirBnB's email renders perfectly on all kinds of devices, including Android and iOS phones, so subscribers can clearly see the value they can get from the brand.
SFMC can help you create personalized holiday email campaigns that grab customers' attention. Use Email Studio and Content Builder to:
Create campaigns quickly with reusable content blocks and customizable templates
Create high-quality copy that impresses and converts
Remove spammy words before email sends with Content Detective
Craft unique, personalized content based on local weather conditions with Live Weather Content Block
Create dynamic content for different subscribers based on locations, shopping history, etc.
Personalize multiple elements, including subject lines, greetings, offers, and even delivery times
SFMC also includes a powerful AI engine (Einstein) to further improve your holiday email content. Leverage key Einstein features, such as:
Engagement Scoring: Historical data can show you how different subscribers have reacted to your emails in the past. Use this data to understand their personas and create personalized holiday messaging
Content Selection: Uncover new personas to expand your subscriber pool
Copy Insights: Analyze previous subject lines to uncover language insights and craft new subject lines that drive stronger engagement over the holidays
Email Recommendations: Observe customer behavior, build preference profiles, and deliver recommended content or products to match consumer needs
#2. Entice Them with Offers, Discounts, Contests, and Freebies
Customers tend to remember special holiday giveaways such as gift guides and always appreciate special offers, sales, and discounts. By emphasizing these offers in your holiday emails, you can increase the average order value.
Swiss Chalet's Christmas-themed email includes enticing offers to get shoppers to spend more.
Pair the order with a holiday design and special festive themes and colors. Select one of the many holiday templates available in SFMC Email Studio, and customize it to match your brand's esthetics.
AirBnB's email has no overt CTA except to connect with subscribers in a warm and human way and spread holiday cheer.
Create special gift guides to help customers select gifts. Use a friendly, warm copy and high-quality photos to encourage them to shop more.
A gift guide like this can be easily customized with Christmas imagery and messaging to remind subscribers to get shopping and gifting.
Build greater awareness of popular holiday products with limited-time or special savings deals. Emphasize the urgency of holiday sales with key-words in the subject line, headline, or CTA, such as: "Buy Now", "Limited-time Christmas Sale", "Expires on New Year's Eve".
A holiday-themed contest is also a great way to engage with holiday shoppers and get them to buy more. Review your audience segments, assess their previous shopping history, and set up exciting contests that communicate your brand's personality and get them to shop and spend more.
Also, create campaigns for early-bird shoppers with messaging, discounts, and discount codes that reference the coming holidays and encourage them to take advantage of early deals.
This Christmas email gets right to the point – save 20% on our product. It grabs attention quickly and includes a CTA button in the first scroll to move the subscriber to the shopping page.
One great way to connect with shoppers with the best possible deals is to create customer journeys in SFMC Journey Builder. Create different personas, visualize the brand journey for each persona, and then build email campaigns to match these personas and journeys, and ultimately increase your holiday conversions and sales.
#3. Schedule Your Campaigns in Advance
One common mistake that eCommerce retailers make is that they leave holiday email campaign planning for too late. Start early so you can get all the elements together and send out emails at the right time.
Leave yourself enough time to:
Segment your audience based on interaction history, previous purchases, location, or abandoned carts
Design special offers and holiday freebies for each segment
Select and customize holiday templates and content blocks
Craft engaging copy, subject lines, and CTAs
Finalize designs and creatives
A/B test campaigns before sends
Set up relevant metrics to measure campaign performance in SFMC
SMFC includes many powerful tools to simplify all these tasks, but it's still important to start planning campaigns as early as possible.
Although there's no "best" time to send out holiday campaigns, you can still optimize send times and increase the chances that more subscribers will see, open and click on your emails. The trick is to leverage Einstein Send Time Optimization (STO) in SFMC Journey Builder.
STO looks at 90 days of customer email engagement history and accordingly determines the best time to email each subscriber on your list. Analyze and predict the optimal engagement time for each subscriber, and deliver messages accordingly, thus increasing conversions over the holiday season. You can also optimize batch sends by reviewing the STO dashboard and calculating the optimal predicted send times by the day or hour for all contacts.

#4. Bring Back the Cart Abandoners and the Disengaged Subscribers
Cart abandonment emails can increase the likelihood that shoppers will complete their purchase and increase your sales. With SFMC Email Studio, Content Builder, and Einstein, you can easily create different types of cart abandonment emails to target different audience segments. A good way to convert cart abandoners into paying customers is to offer discounts on the product or shipping or both.
You can also leverage the SFMC Personalization Builder and the Commerce to Marketing Connector to monitor eCommerce customers, capture data about abandoned carts, create audience segments, and set up abandoned cart journeys like:
If a shopper doesn't complete a purchase, send an email with descriptions and photos of products they added to their cart
Send emails with a purchase incentive or limited-time offer
If they click on a link in the incentive email, send an email with similar, recommended products to increase cross-sells or upsells
If they click on the link but don't make a purchase within a predefined wait period, send another email with a different incentive
Include different types of messaging in each abandoned cart email to encourage shoppers to complete a purchase without seeming pushy. Include discount codes, special offers, or abandonment surveys. Always include a CTA button to make shopping easier and guide them towards purchase. Also, make sure to:
Include pricing information (with any discounts) with the abandoned items
Include visual reminders with photos
Make all images clickable with links to the checkout page
Add a 'Rebuild Cart' cart button to take shoppers directly back to their cart
Set up triggers in SFMC Email Studio to send out abandoned cart emails quickly – ideally, within 1-2 days of cart abandonment
Add holiday context to each email
Wrap Up
Leverage the power of email marketing to increase sales during the busy holiday season. Salesforce Marketing Cloud includes numerous tools such as Email Studio, Content Builder, Content Detective, Journey Builder and Einstein AI to quickly craft holiday-themed email campaigns that your customers will remember for years.
Take advantage of these 4 strategies and SFMC's drag-and-drop workflows, in-built templates and content blocks, audience segmentation, A/B testing capabilities and, visual dashboards to craft email messages that create a powerful connection and lock in higher holiday sales.
Need more guidance to up your email marketing game this coming holiday season? Contact the email ninjas at Email Uplers.