We're nearing the end of the year, and if you are an ecommerce brand, you could be busy thinking about ways to prep your sales channels for better engagement and revenue.
Naturally, you look to your email marketing plan because everyone tells you that email has some of the best ROI. But, in your case, you know it could perform better.
You've been doing everything right. You send regular emails.
You let your subscribers know about promotions. You've even spent time planning and writing your emails ahead of time to make sure you're never behind.
This is all good, but what can you do to make your email work even better?
In my experience?
Automated email funnels.
These bundles of email joy are designed to help open rate, conversions, and all the other good stuff we want out of email — like more revenue.
Now, there are quite a few of this type of funnels out there. But if you're just getting started, then there are five eCommerce email funnels that you should definitely have in your email strategy.
I've tested and used these myself and they've helped me to grow a couple of multi-million-dollar companies.
Having been the guy who's tested millions of emails, I can confidently say these are some of the best email funnels around.
The five most important email funnels you should definitely automate, like now:
1. Welcome email
I can't stress enough the importance of having a welcome email.
They can set the whole tone of your relationship with your subscribers and help humanize your brand. Welcome emails have an average open rate of 57.8% so people really do want to hear from you after they sign up.
So, if you don't have one automated email to go out with each sign up you get, take this as your cue to jump on that ASAP.
Thankfully, this isn't that hard to do. Most email marketing service providers, like Sendlane, make creating an automated welcome email a snap.
What a welcome email looks like
You don't need to overthink this. You can say something really simple in the subject line, like "Welcome to [insert brand name]!"
The Sill uses this template for their welcome email subject line, but the copy within the email is where they let their unique personality and offering stand out.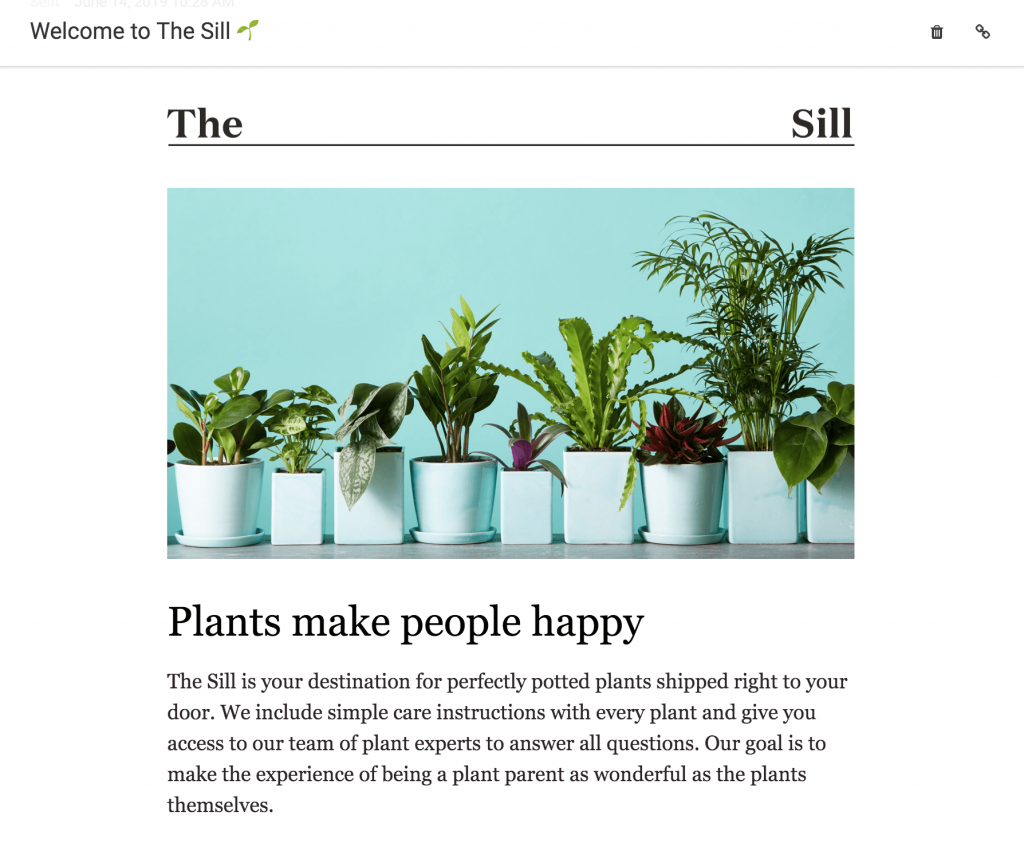 Or you can take a more playful approach like how TOMS shoes does with their headline.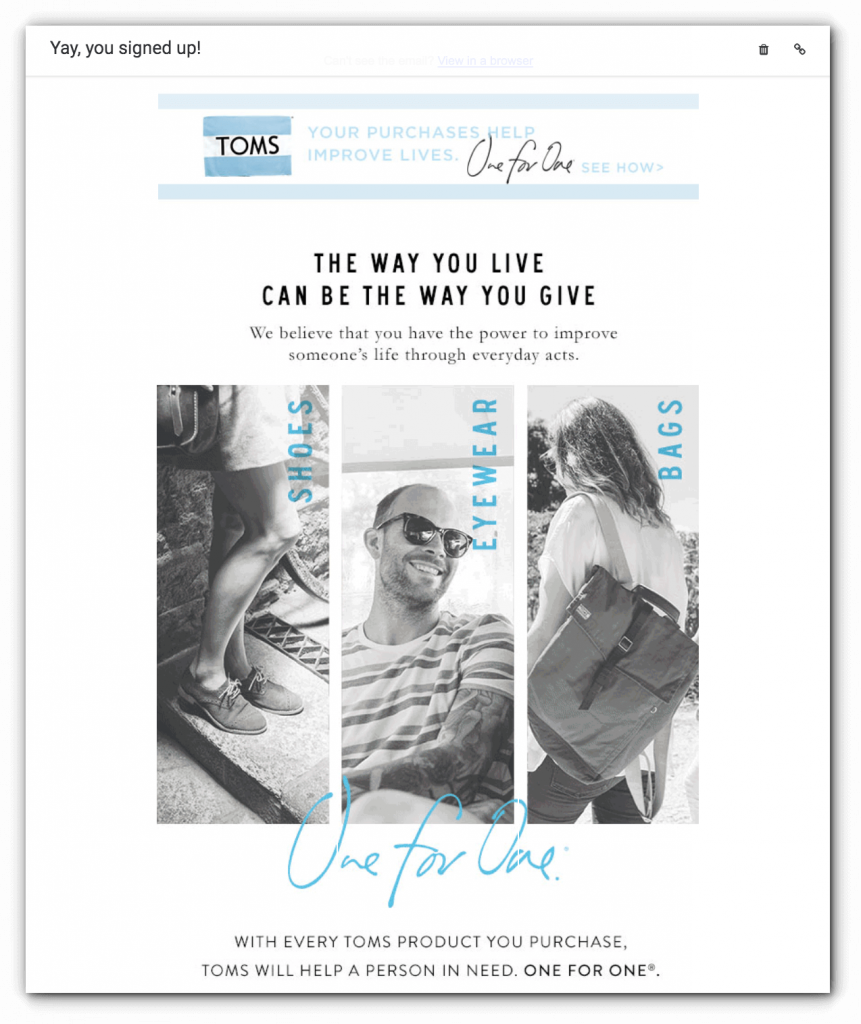 The tone is more playful, which keeps in step with TOMS' demographic. Take note in the difference in style between this example and the one above.
TOMS branding is well-established and shines through in their welcome email. Everything from typography and fonts to photo styling is centered around highlighting their company product verticals and the One For One movement.
So while welcome emails are something every brand should have, they can and should be unique to your brand. In my experience, the important thing is just to start.
This funnel can have a single email or more, if needed. I usually recommend starting with three.
The content of your emails can do a few things:
Introduce a subscriber to your brand's values
Show off your team who are behind the scenes and ready to help the subscriber
Give direction for any next steps needed to help them
Offer a discount as a thank you for signing up
And the first email should trigger to send right after they sign up.
There are many ways to write effective welcome emails, but what you want this to say and do is up to you. After you have this set in place, you'll always have an email ready to greet people at the door, so to speak.
2. Abandoned cart
When we go shopping at the store, my toddler has the habit of grabbing things she wants and dropping them in our shopping cart.
But come checkout time, most of what she grabbed has been sneakily left in the cart by myself or her mom who has no intention of buying the toys and candy she wanted.
Oddly enough, the online shopping behavior of people like you and I are pretty similar. We get on a website and fill our cart with things we like and want. But come checkout time, we place those items off to the side for one reason or another.
A shocking 60%-80% of people abandon their online carts before making a purchase.
If 60%-80% of your online traffic never completes a purchase, then you could be looking at shutting the doors of your eCommerce store.
Nobody wants that. So, what do you do?
You make an effort to get people to come back and purchase the stuff they saved in their cart by sending them an abandoned cart or cart reminder email.
While this really only works if someone is on your email list and signed into their account while viewing, automating this to trigger when someone fills their cart and then leaves can help recoup lost revenue.
Peak Design, automated their abandoned cart emails and were able to increase revenue from this one email by 12%.
So I'm not just blowing smoke here. These emails really work.
Once you create this email, you can trigger it to send when the user's cart has timed out or when they've been inactive on the site after some time.
Usually sending one out within the first hour is a good rule of thumb. If you have two in your funnel (which I highly recommend you do), send the second one the next day.
Each email provider has varying options for what you can do with these triggers, but most of the eCommerce focused ESPs will make automating this email pretty easy.
What abandon cart emails looks like
There are a lot of simple and playful ways for you to do this. TOMS shoes send two emails that trigger when it looks like you've left a cart. Here is a basic overview of what they're made up of.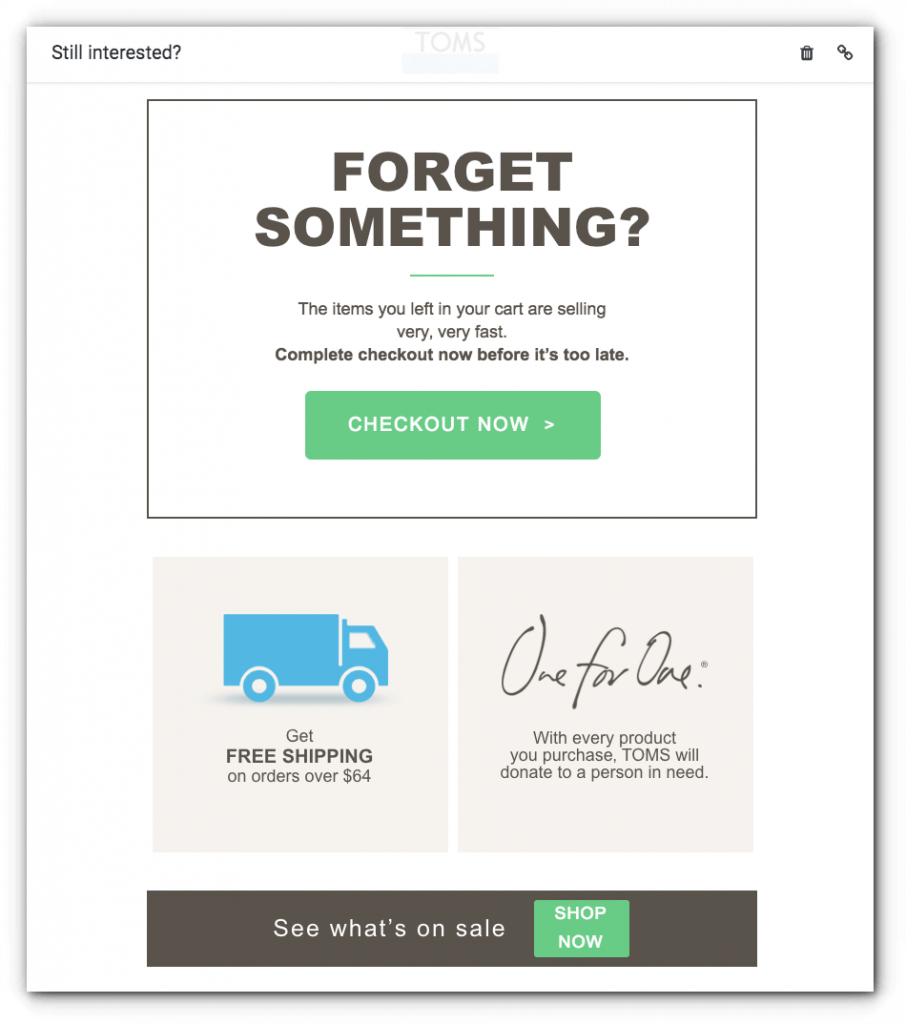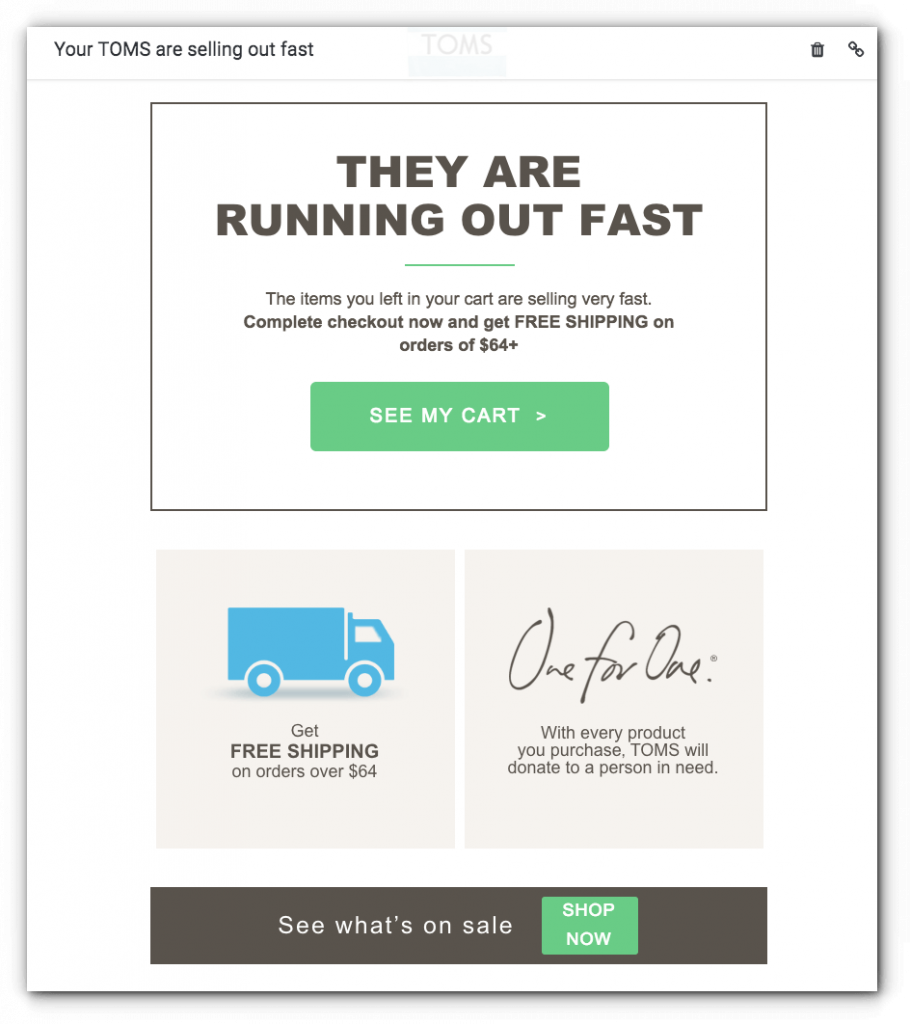 Email #1
Subject line: Still interested?
Heading: Forgot something?
CTA: Checkout Now
Email #2
Subject line: Your TOMS are selling out fast
Heading: They are running out fast.
Incentive: Free Shipping
CTA: See my Cart
The design between these two are the same but the content changes. Notice how the second email emphasizes the fear of missing out and incentivizes the user by highlighting the free shipping offer.
While one email could be enough, two emails help to make sure you're really capturing lost revenue. Peak Design, the company mentioned earlier, also has two automated abandoned cart emails.
If a user doesn't click-through the first email and makes a purchase, a second email is triggered that offers the user a small discount.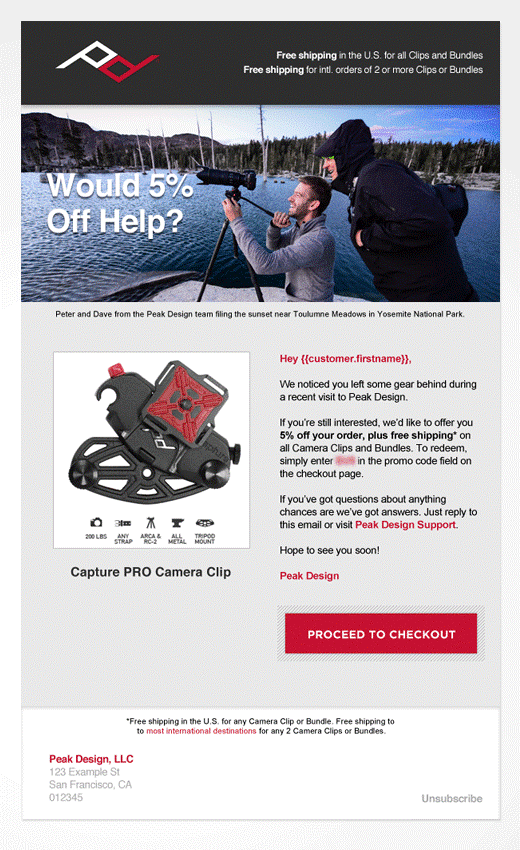 While you don't want to undercut yourself too much by offering a discount, giving someone a few bucks off is better than losing out on a purchase altogether.
You can calculate your current ROI from email using a calculator like this one. After you've started testing this type of email funnel, you can test your new numbers against your benchmark to measure how well it's performing.
A little bit of simple math can go a long way to helping you tweak and perfect this email so that you're getting the most out of it.
3. Personalized product recommendations
Your repeat customers are some of the most valuable people for your business. These are the people who not only keep coming back for more but usually act as loyal brand advocates who sing your praises.
According to Stitch Labs, return customers make up nearly ¼ of all revenue.
That's some serious brand love right there!
You can use email to help turn buyers into loyal repeat customers by sending them specific automated, retention-based emails personalized to them using product recommendation emails.
Why do this? Well, personalized recommendation emails have helped others increase conversions by 150% and bump up the average order value by 50% too.
Sendlane has a feature that tracks user behavior and then automates product recommendation emails based on their browsing and purchase history to make sending the right email to the right person as easy as humanly possible.
What personalized product recommendations look like
These emails are pretty much what you'd expect them to be:
An email showing items that the customer might be interested in. Wayfair does this pretty well and it's clear they track user data to send these emails.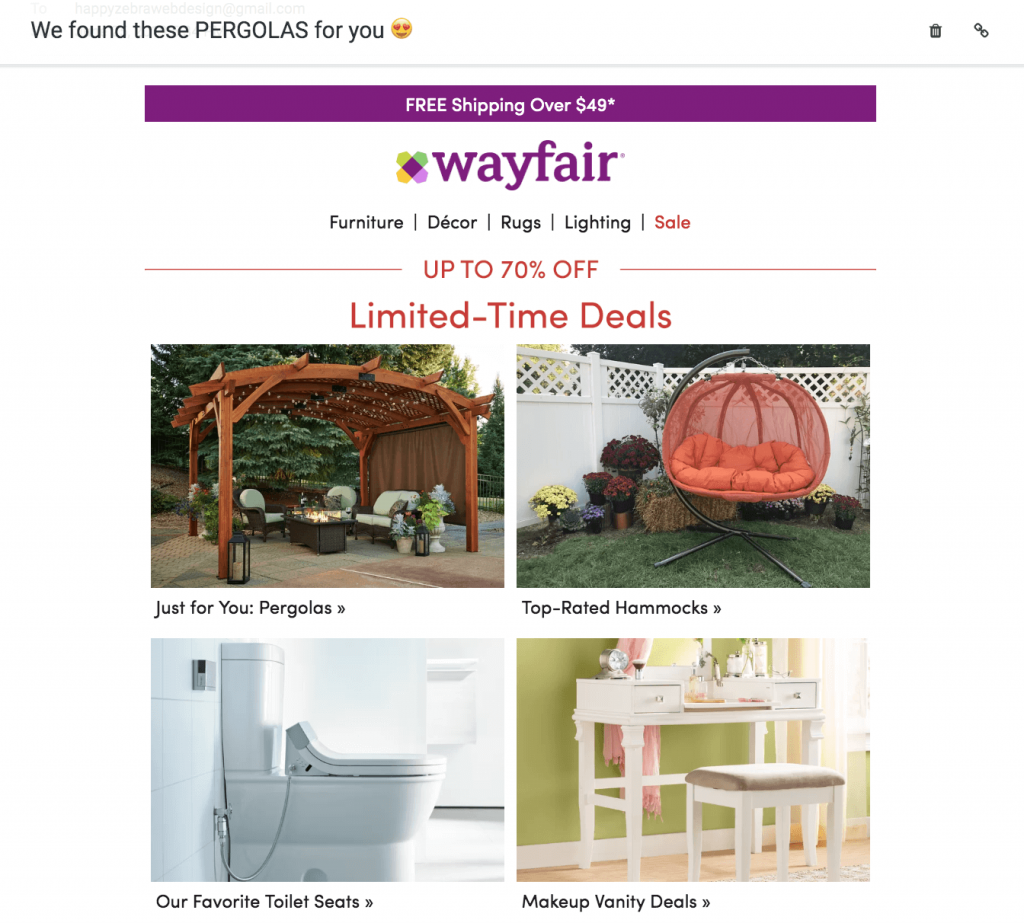 I spent a considerable amount of time this Spring trying to find a Pergola for my back deck. I checked out Wayfair (yes, I buy quite a bit from them) to see what might be available.
I didn't add anything to my cart, but I still got this very personalized email from them the next day. Also look at the number of images they use. The images are the most noticeable, which is an important part of product recommendation emails.
Target offers another example of product recommendations using browsing behavior.
The interesting thing about this email is that they even though the title says, "Just for you," this gift card-based email is actually part of a larger campaign that goes out to everyone.
The part that really makes this email feel personalized is what you see in the image above. There is an entire section in this email that shows something I've viewed before is now on sale.
(And full disclosure here, for weeks I had my eye on a specific kids table and ended up buying it from this recommendation email.)
Another type of product recommendation emails to consider automating are "Stock Replenishment" emails. You start with these by placing an option on your product pages allowing users to sign up via email to alert them when a product is back in stock.
These ones are then highly segmented by their interest and automated to send when you restock your product.
Both email type work, and if you have the right email marketing tool, then sending these income-generating email funnels can be rather easy.
You can trigger them to send after a user is browsing on your site or during a certain time of year (holidays, birthdays, etc.) and let autopilot take over from there. If your ESP tracks user behavior, it can segment and automate product recommendations for you, which just makes everything run smoother.
4. Post-purchase emails
Follow up emails are often underutilized, but they're not something you should ignore.
These are a great way to both continue the conversation and give your customers some important information about their purchase.
Many of these emails contain important information such as
Order confirmation
Order receipts
Shipping confirmation
Delivery confirmation
Review request
All of these emails give a lot of timely information, but they do something else. Communicate with your customer each step of the way, and that shows just how much you care about their experience.
And from personal experience, these emails are some of the most opened emails ever sent.
What Post-Purchase emails look like
As you can see from the list above, there are a few types of emails you can put into this funnel and each one has a different purpose so the designs can be different.
This example from TOMS not only shows the confirmation number but also highlights how a purchase helps others in need.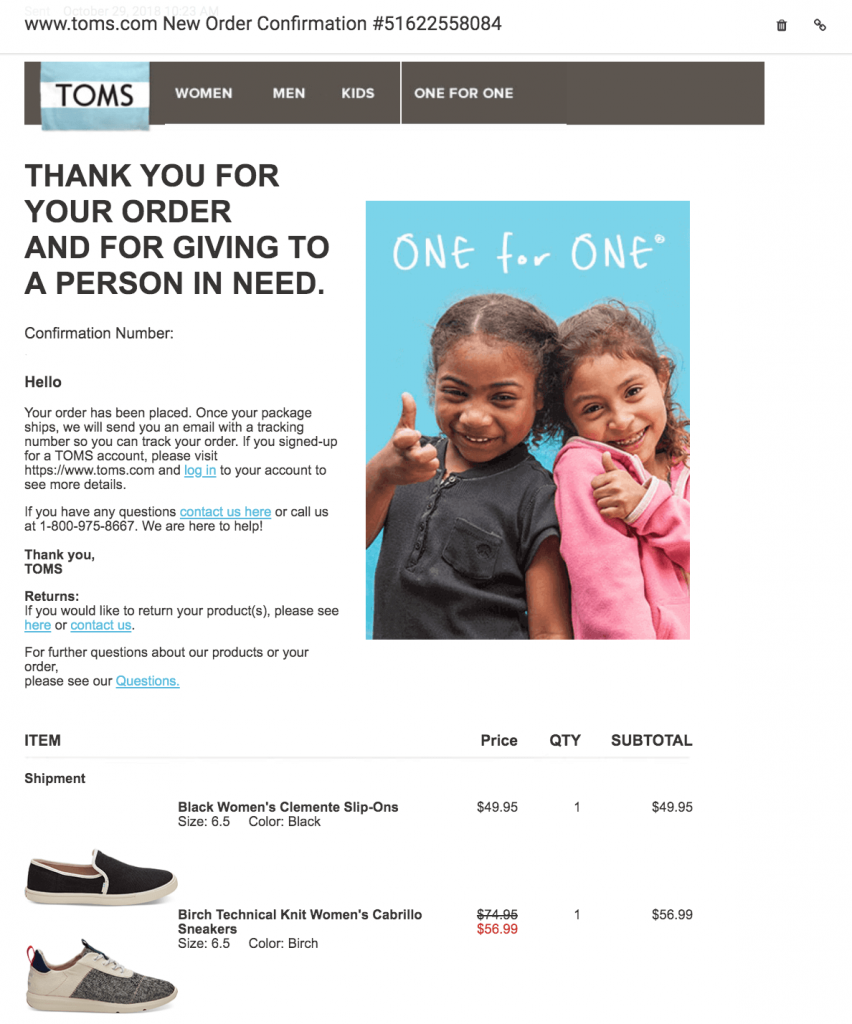 There is a lot of information here like links to contact customer service and the items purchased. This is good to have in this type of email because it gives the customer a go-to place in case they need answers about their order.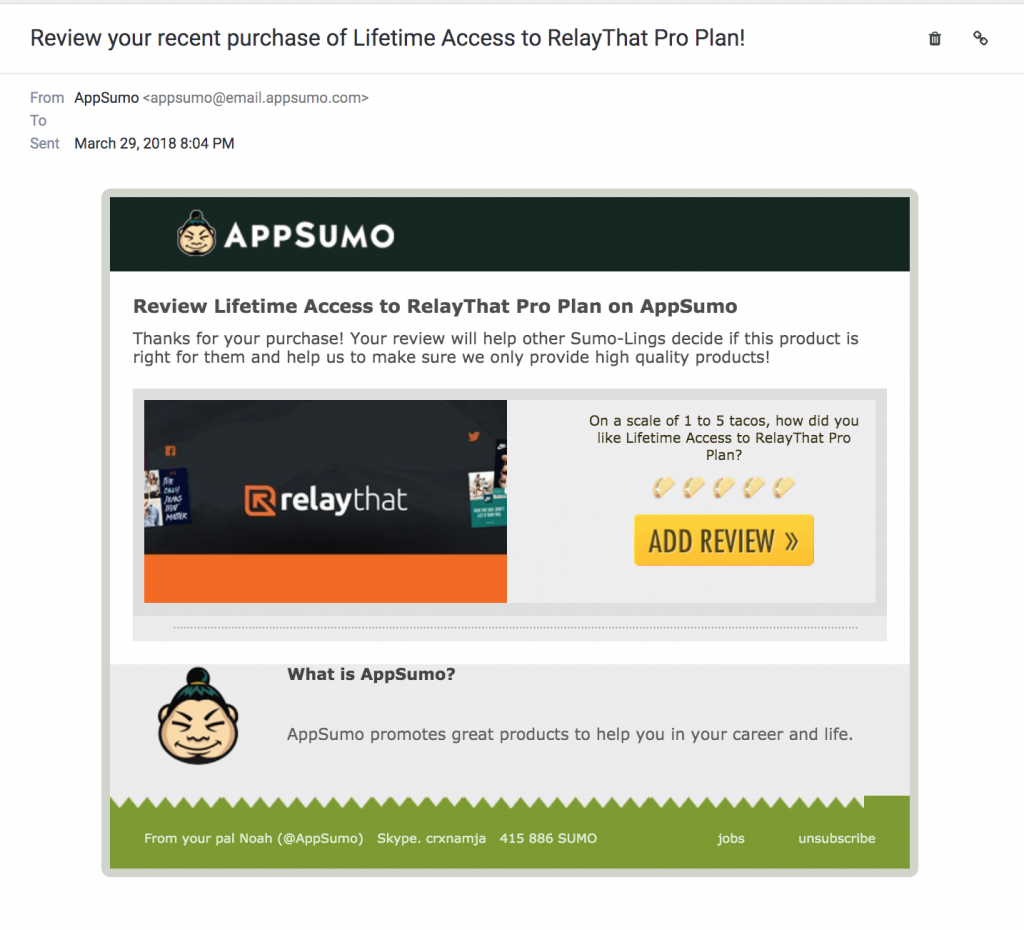 Appsumo sends a post-purchase email asking for reviews on the products they're selling. This email is focused solely on getting that review. The subject line, the copy and the CTA all point to the user writing a review.
Note that both emails are heavy on the branding. This is a good idea to keep in mind because you want your customer to recognize you so they're not confused if they open the email a day or so later.
Even simply adding your logo is enough.
As far as timing, order confirmations and receipts should be sent as soon as the purchase happens, or the order is completed. And review requests can trigger to go out after a week and the user has had enough time to use your product.
These are just a couple examples of what emails in their funnel can look like. No doubt a quick look through your own inbox will unveil quite a few examples too.
5. Reactivation emails
Sometimes, love fades.
That's as true in life as it is with email subscribers. A lot of things can factor into a once active email subscriber starts to seemingly ghost your emails or stop buying from you.
Whatever the case may be, the last thing you want to assume is that they don't like you and remove them from your email list. After all, you worked really hard to get them as a subscriber, so don't be so quick to scrub your list of them at the first sign of disinterest.
I've seen so many brands that jump at the gun to wipe inactive ones from their list, and I cringe. Yes, email deliverability is affected by inactive subscribers, but there's a better way to manage things.
My advice?
Set up a reactivation email campaign.
These are designed to spark up that lovely relationship once again.
And yeah, it's true that only 1 in 4 of your inactive subscribers will actually open and read these emails. But considering it is 5-25% more expensive to get a new customer than it is to keep an existing one, I'd say it's worth the effort.
What Reactivation emails look like
If you want to reignite some interest, then look at this email as a way to start a conversation around the issue.
They know they've been inactive; you know they've been inactive — so don't dance around the topic. A great example of this is with the reactivation emails from GoPro.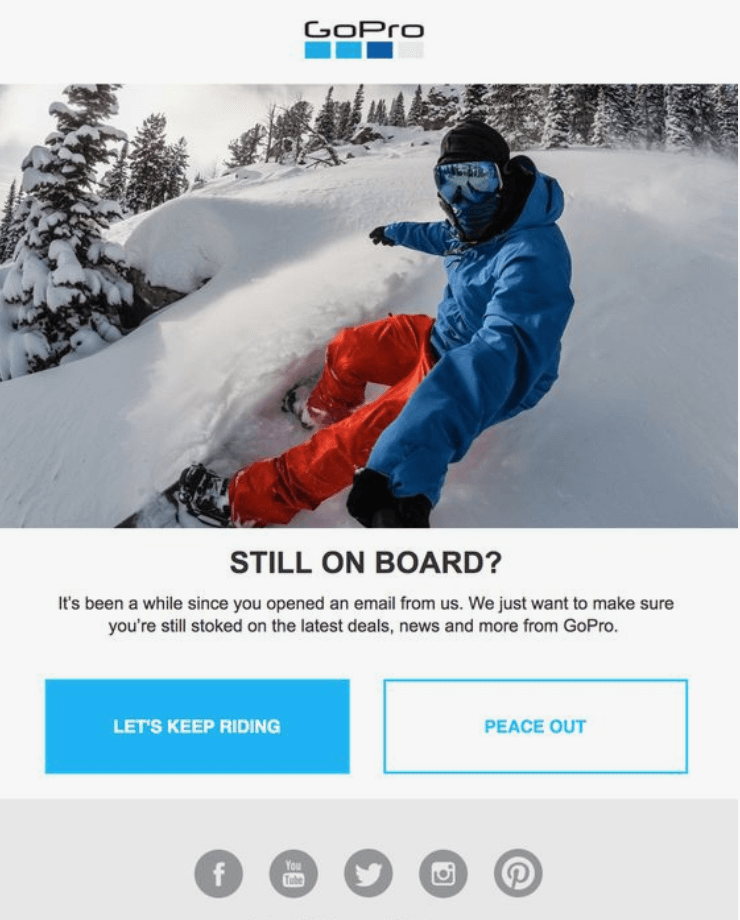 They bring up that it's been a while since the user opened their email. Then, it gives two options:
Stay on the email list
Unsubscribe from the list
This gives users the chance to filter their interest for you. If they stick around, you know they're still interested in your brand.
The email from the Gap is another good example of what this email type can contain.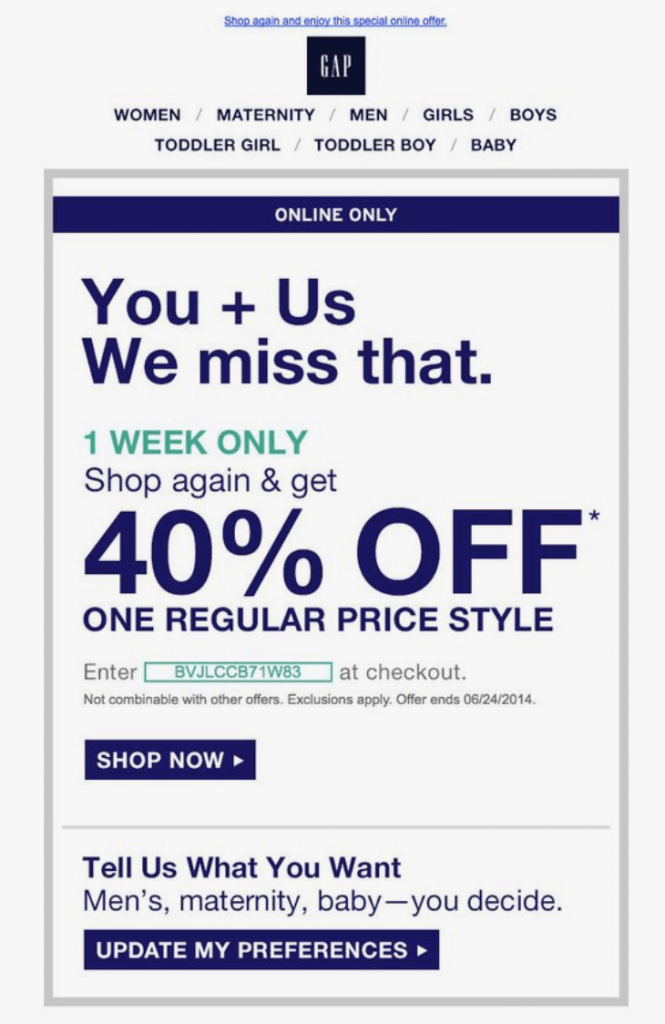 With this email, they address the issue of inactivity by offering a discount as an incentive to win their customers back. Sometimes, something that simple is all that needs to happen.
You can set this funnel up to send when you notice inactivity in email over a certain period of time. How much time?
It depends, but I like to set things at six months which is plenty of time to give someone before triggering the email funnel.
Offering a discount could be a good incentive, but you may not need to do that, so be sure to test different types of emails to see which ones yield the best results.
Email works. Automation makes it work better
No matter the size of your business, using email to generate revenue works amazingly well. By automating emails funnels like these, you can help take out some of the legwork for your email while still getting the most out of your list.
Continue to test, benchmark, tweak and test your emails again to find the sweet spot for your particular audience.
It takes a bit of work to get these funnels created and setup. But once you do, you will start to see the fruits of your labor in the form of dollar signs.