Copywriting is an art, and just like every other art, writing an awesome copy also works on some secret tricks and formula. You have to be creative enough to be a copywriter, but there are certain frameworks that can help you draft more effective emails that convert. To learn more about email copywriting, we got in touch with Joshua Earl, who is an email marketing specialist with extensive knowledge on writing entertaining, educational emails loved by subscribers.
Let's assimilate the insights into copywriting formulae to write better emails from the expert himself.
What are the different formats of email copywriting?
There are basically three different formats or formulas that can be used for emails and they can be used differently depending on the type of campaign.
1. The first one is the story lesson pitch. It typically means that the email opens with a story. It could be a movie reference or a recent personal incident.
Let me give you an example of a story that I used recently. The client's target audience comprised of loan officers—who write mortgages to people. They hated a certain real estate company because it had found a way to twist their arms and make them pay money (upto USD 4000 per month) for customer leads that they used to get for free. This was a huge pain point. So, I interviewed a guy who narrated his story. The target audience knows the story already and understand what that real estate company did. But by reiterating this story and forcing them to relive it, they get furious all over again. That's the kind of emotional impact it leaves on the readers. The story could be funny, sad or about anything that could trigger some kind of emotion in the reader.
Writing engaging stories
Research is the key to writing good stories. It also depends on how accessible your customers are. If the people you're writing for, are not tech savvy, you can interview them to know more about them. On the other hand, if your market hangs out on Facebook or Twitter or on different forums you can go and learn about their interests and challenges. These forums even allow you to sort by the thread count and display the longest threads to get information about the hot buttons. You can go to the industry sites and go through the popular articles. Look for recurring themes in the types of articles they publish. Another story I wrote for loan officers was taken from the movie – Pirates of the Caribbean. I talked about how sites like bankrate.com will pirate your leads.
I talked about Captain Jack Sparrow and then put forward my point in the form of a lesson. It might be one liner or a couple of short paragraphs where you can pull out the "WHY" of the story. The pitch is usually just a pretty straightforward call to action that connects the lesson to something that you are offering. You can find fragments of stories in your everyday life and then build a connection in your email.
A positive angle for a story could be talking about a guy who gets two leads a month and then he executed a couple of strategies. And now he's getting 10 leads. It shows new opportunities to the reader. The really nice thing about email is that you can come back over and over and hit from different angles all the time and you never know which is going to be the one that unlocks the door for a particular person.
Since stories always have a tinge of entertainment to it, they work the best for content email where you want to keep the reader engaged and make them look forward to the next email.
2. The next copywriting formula is the Problem Agitation Solution (PAS) formula. It is the one in which you start by calling out some specific problem and then dig in. You twist a knife and unpack the problem and show them all the different ramifications of the problem and how it's worse than they even thought it was. At the end, it talks about a solution.
This formula works well when you have a specific offer to announce to your email subscribers. An example of this is an email written for interviewing products for software developers whose basic problem was whiteboard coding interviews where you have to get up there and they throw hard problems at you and you have to try to solve the problem on the spot. Two-thirds of the email could talk about the problem and unpack it, followed by relieving that stress. At the end, you could present your product and talk about how it solves the problem. These are longer emails as they mostly talk about your product in detail.
3. The last one comprises of the reminder emails that are sent after an offer.
They are about reminding them about some kind of deadline about the expiring offer and trying to stimulate that fear of missing out. They are most effective when the message fits on a single screen.
For example: If you are launching a product, the first email out of the gate will be problem-agitate-solve, and as mentioned previously it is going to be a longer email. It's similar to a condensed sales page, that hits on the main problem and provides its solution by showcasing your product. . The next step is to send a series of content emails to keep the offer in front of them without being too obnoxious. It's more about sharing a story rather than sending a sales pitch and coming off as a pushy salesperson.
This would make the subscriber read the emails even if they aren't interested in the product. Subsequently, you can send few short reminder emails at the end as the deadline's approaching. These shorter emails that reflect urgency bring in the maximum sales. In addition to having a deadline, you can even incentivize your prospect with a bonus or discount depending on the market.
Just make sure you do not stretch the offer too long as it might take urgency out of it.
Don't be afraid to send a good amount of emails. You can send one or two a day at a minimum for a few days, and then go on to three to five emails on the last day.
You can keep track of the email metrics like unsubscribes and if there's a huge spike, you can reconsider the tactic, but usually it doesn't get that far.
If you're developing a new product and you've got an existing audience, then it makes sense to talk about it as you're developing. That's prelaunch stuff worth trying out.
How to write lead nurture email copy?
The best approach to take while writing lead nurturing email copy is to share a story. It makes the email less salesy for the reader and more enjoyable. Many marketers believe that whenever someone signs up for their newsletter or sales funnel, they should continue to nurture the prospect for weeks together before making an offer. That's a big mistake.
If you have a group of potential customers who are ready to make a purchase, give them the opportunity to do that by highlighting an offer. Do that and then take the nurture mode again. You can periodically showcase the offer to see if the prospects are ready to buy.
Here's Chet Holmes pyramid that can help you understand the buyer readiness, according to which only 3% of your prospects are buying now, 6-7% are open to it, 30% are not even thinking about it. 30% don't think they are interested, and 30% know that they are not interested.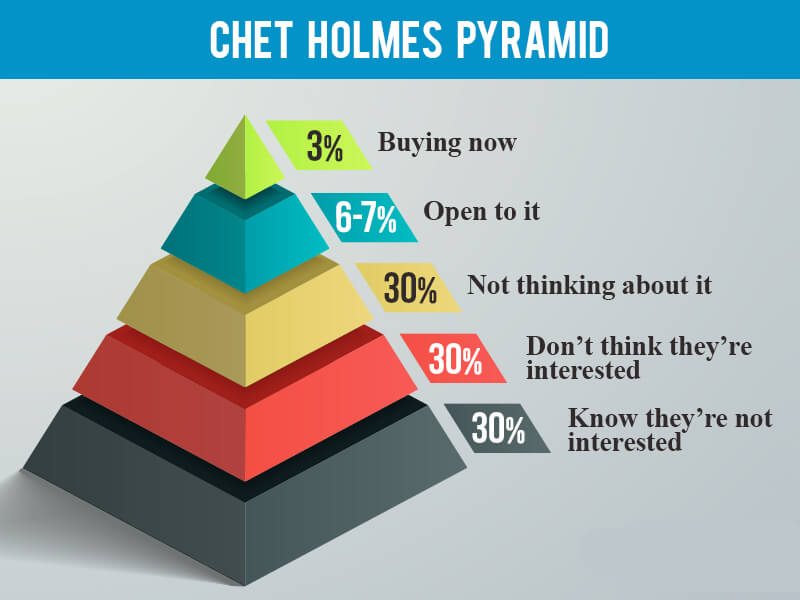 This means that the 10% prospects at the tip of the pyramid are most likely to purchase from you.
Lead nurturing emails provide a great scaffold to share stories that directly relate to the problems of the customers. You can even provide answers to the frequently asked questions and showcase customer testimonials or success stories. Testimonials work well because more often than not, the customer will say things about you that you might not say about yourself.
Your nurture emails should talk about the customers' questions and problems rather than bragging about yourself.
For example: Lead nurturing emails of an email marketing agency can be a story about a client who screwed up their template and ended up damaging their deliverability. Such emails can let the users know about your expertise and make the email an interesting story.
How many nurture emails should one send?
Dean Jackson did some really good research on the buying pattern of customers. He found that 5-10% will buy within the first 60 days, another 40 to 50% will buy within the next two years. Based on this research, it is quite clear that you cannot put a limit on the number of nurturing emails. Sending lead nurturing emails is a filtering process, which means that the prospects who are not interested in your offerings will unsubscribe… But you can always nurture the subscribers who are still on the list.
Can you share some tips on reengagement emails?
In every list, there's always a big chunk of people who never open a single email. To pull them out of dormancy, you can send a short reengagement campaign—a series of 3 emails with vague or alarming subject lines that talk about account deactivation or deletion. In addition to focusing on the most active people, you can pick up the inactive subscribers from the list and try to reactivate them with these emails every once in a while.
Dean Jackson shares a nine-word email template that can help you revive dead leads. It asks the subscriber whether they are still interested in topic.
Take a look at these examples:
Are you still looking for a house in Seattle?
Are you still interested in learning Zumba?
Are you still interested in going to Thailand?
Are you still running an Instagram ad?
You can even try something like: "Have you given up on this just yet".
What is the ideal length of an email?
Considering the purpose of the email, there are three different lengths you can choose.
A cold email or a reminder email has to be shorter in length with less than 100-150 words. It should be written in such a way that the reader can read the full content on a single screen even on an iPhone.
While sending a story lesson pitch, you should write 300-500 words. You can keep the email focused and tell an interesting story without cutting down too many details. Make sure, your emails do not come off as a rant.
The product launch or offer emails can reach up to 1000-1500 words, out of which 700 words can talk about the problem and agitating the problem. The second half could include bullet points that let the subscriber know about the offer and its deadline.
How should your email CTA be?
An effective CTA is more about the actual offer rather than the copy. You can even put a bare link as a CTA. Generally, CTAs should be placed at the bottom of the email unless it's a reminder email. It is important to realize that you are not selling a click, but a product. If your CTA (placed at the top) gets clicked but the product or offer is not engaging enough, you will have no conversion.
Summing it up
The bottom line of writing copy that works is to understand the pain points of your customers. Knowing the challenges of the customers and addressing the issues with your email will surely help you to draft a winning email copy that brings maximum conversions.