Ever entered the bookstore, and bought the first book you saw, not knowing anything about the book? Never! You have shown interest, just by picking up the book. Your first instinct is to check the plot. If there are testimonials from the top newspapers printed on the book cover, you tend to read them too. Next, you pull out your phone and check for reviews on Goodreads. Once you are satisfied, you make the purchase and walk out of the store happy.  That's how a lead nurturing campaign works. It gives your prospect a clear idea about the brand, thus helping them move from consideration to decision stage.
Nurtured leads make 47% larger purchases than those who buy immediately.
When someone visits your website, it is not always because they have made up their mind to buy from you. In fact, most of your leads lie in the top or middle of the sales funnel. They are either in the research phase, which means they would not want to know more about you or, they are in the consideration phase, which means they still need time to think before buying.
You need to work on an active inbound lead nurture email strategy that will help you convert your leads into customers.
How Lead Nurturing Helps
Companies that nurture their leads generate 50% more sales. Lead nurturing allows you to connect with your prospects, engage them, and gain their trust. Let's see how lead nurturing helps you as a business:
Immediate connect: You get to connect and respond to your leads immediately. The faster you answer, the higher your chances are of converting the lead into a customer.
Show your expertise: When they sign up for your newsletter, they are hardly aware of what you do, and why they should choose you. The nurture email campaign gives you a platform to showcase your expertise.
Understand the prospect: If you know what your prospect is interested in, you can get them to complete the purchase easily.
Identify the pain areas: This will help you offer relevant content. Depending on how they respond, you can communicate further, and convert it to sales.
Opportunities to segment: No two prospects will behave in the same way when they see an email from you. Lead nurturing helps you identify how your prospect is likely to behave and segment the email based on that.
How Email Automation Helps
Imagine sending out the nurturing emails to all your leads manually. That would not just cost you a lot of time, but also a lot of money. Automation helps you send out relevant emails at the right time to the right audience. When you build campaigns that connect with your audience's needs, chances of improving your conversion are high.
Targeted emails help you reach out to your audience at a time they are more likely to open it. If you use email automation, you will just need to create a campaign, and the job gets done. You can concentrate on your core business, while your leads are being targeted and persuaded to convert.
An email marketing campaign works only when you can monitor the open and engagement rates. Depending on the metrics, you can identify what the reader is interested in, and accordingly, send them content and information.
Segmentation is possible based on the metrics you have, to send a more targeted and personalized email.
Finally, your sales team can concentrate on conversion of quality leads that are nurtured by the email campaigns.
If the receiver has subscribed, without the intention of buying right away, your email campaigns can place your brand at the top of the mind, and work towards moving them along the sales funnel gradually.
Email Automation Workflows that Aid Nurturing
The idea of nurturing your leads is to understand their journey, offer them information that is relevant, and help them make the right decision.
To make sure you achieve your goals via automation, you need to define the workflow. With a workflow, you would read into the recipient's behavior, and send in information accordingly. You will know the buyer like the back of your hand and provide them with instances that help them in their journey.
There are three aspects of lead nurturing email automation:
Adding value to your content to nurture your relationship with the prospect.
Provide content that educates them about your brand and the services or products. Make sure you take this as slow as possible so that they don't feel you are hard selling.
Personalize your workflows by segmenting the audience. This will help you offer relevant content to the audience at the right time.
Here are 4 basic email automation workflows that help in nurturing the leads:
Welcome Emails
A welcome email is the first and the most important email of your automation series sent when a new subscriber opts into your email list. This email would be the first impression of your brand. Welcome emails help your brand in setting up a relationship with your new subscribers.
You can send a series of welcome emails, but the first and foremost email needs to be sent immediately after the subscriber signs up. Here's an example of a winning welcome email from the brand United by Blue.

Source: Really Good Emails
Cart Abandonment Emails
Cart abandonment emails are one of the most revenue-boosting and effective emails of your email automation cycle. This is because a lot of revenue is lost in abandoned shopping carts; and you can avoid this by well designed and timely cart abandoned emails. Your customers tend to leave the products unpurchased in your cart due to several reasons such as high pricing, shipping costs, fewer payment options, tedious checkout process, or other technical issues.
You need to understand the reason for abandonment and give the discounts and offers to make their purchase completion smooth. Use compelling subject lines, body copy and CTA to entice your subscribers to complete the purchase. Take a look at this cart abandonment email from Jack Wills.

Really Good Emails
Order Follow-up Emails
Sending follow up emails after a customer finishes a purchase is a crucial part of the lead nurture email automation process. The order follow-up emails can be in the form of simple thank you emails, order summary emails or reminder emails. These emails help in maintaining the relationship with the subscriber/customer.
This can be done by sending an invoice of the recent purchase made by them, giving them a discount for the next purchase, asking them to connect with your brand on other channels, recommending them products or cross-selling or upselling products, or simply saying thank you for making the purchase. Here's an example for a thank you email by Classic Specs.

Source: Really Good Emails
Re-engagement Emails
As much as improving your relationships with your existing customers, email automation can help you in reconnecting with your less engaged customers. A re-engagement email lets you bring back your less engaged or lost customers and win back some business. You can ask your subscribers to set preferences to get more refined emails or give them a chance to unsubscribe from your list.
It also aids in maintaining a clean email list. Set up a re-engagement campaign for those subscribers who do not interact with your emails anymore, and if they do not open your emails even after you try to re-engage, remove them from your list. Check out this re-engagement email from Return Path.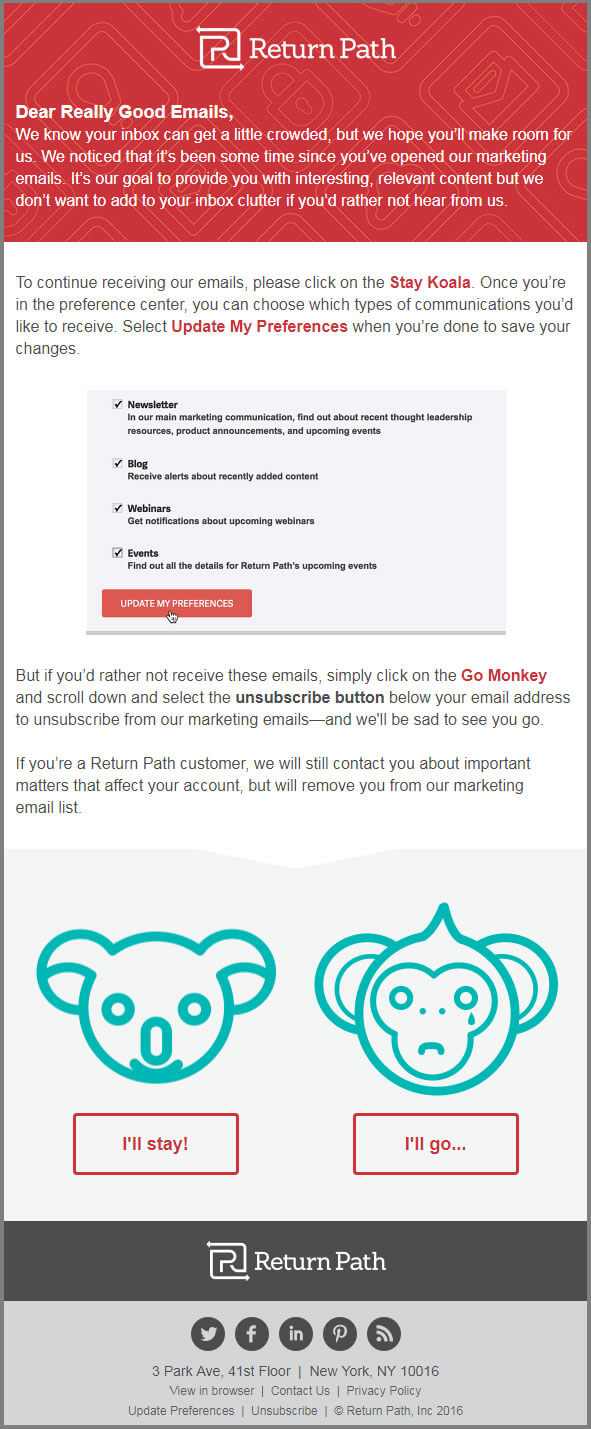 Source: Really Good Emails
Best Practices for Email Automation
If you want to nurture your leads with email automation, there are few things that you need to consider before planning the campaign.
Work on the goal: Your ultimate goal is to move the prospect to the next stage in the lifecycle by providing them relevant content. The goal could be getting the prospect to attend a webinar or visit the pages on the website, depending on the lifecycle stage. There will be a goal at every stage of the workflow, which if met, the prospect moves to the next stage. However, if the goal is not met, you make another attempt at achieving the goal.
Identify the personas: It is important to consider the persona when defining the workflow. The right personas inserted into the workflow will help you personalize the emails better and make it easier to move them towards the decision stage.
Frequency & type of emails: The total number of emails you should send in the series is defined by the type of emails you will need to send to the segmented audience. This depends on the lifecycle stage of the prospect. Plan the frequency as well. You don't want to overwhelm your prospects with too many emails within a short span of time.
Build agile campaigns: Each prospect will take a different route along the sales funnel. It is important for you to nurture them accordingly. Ideally, you should have different nurture campaigns based on how the prospect is engaging with your email. This will also help you spot the bottlenecks in the campaign, and help you convert them into opportunities.
Wrapping up
Email automation in a lead nurture campaign helps you respond to your prospects immediately. You can follow the buyer's journey and engage them at the right touch points, thus improving their experience. By monitoring and measuring the email campaigns, you would be aware of the prospect's lifecycle stage, and provide them with information that is likely to help them take the decision. It is patience and constant engagement that will get you the next customer from a lead.