With around 280 million emails being sent every day across the world, it is quite clear that emails are a global phenomenon. Moreover, with the number of email users worldwide expected to reach a whopping 4.3 billion by the year 2022, using email the right way on a global level can give any business a chance to boost their sales and grow their business.
However, the fact that the open rate of retail emails is a mere 19.36%, gives an idea about how businesses are failing to leverage email marketing globally despite having a huge database of global customers.
What's the reason behind it? The answer is simple – the marketers are not working towards giving their customers a localized email experience. With around 70% of internet users not speaking English, it becomes imperative to target them through their native language. In fact, 75% of customers already prefer buying products only when the information is given in their native language. Considering these statistics, it is very obvious that marketers should mold their email marketing strategies in a way which caters to the language, culture and customs of the global audience.
This is where email localization campaigns can come in handy. From language translation to streamlining cultural and time zone differences, it does it all. In fact, with every $1 invested on email localization, the ROI is a huge $25. So, if you wish to leave your mark in the international market and have an edge over competitors, focusing on email localization is the key. Here's how you can do it.
1. Overcome the language and cultural barrier
The first and foremost step towards engaging your global audience is overcoming the language barrier that comes in between. Though Google translator might seem an easy option for translation, it can't be a solution all the time. Instead, opting for multilingual copies of your email for your campaign can work wonders for you. You can do that by hiring a team of local writers based on the varied geographical locations that you are serving. Consider the following things when localizing your email copy through language translation.
● Messaging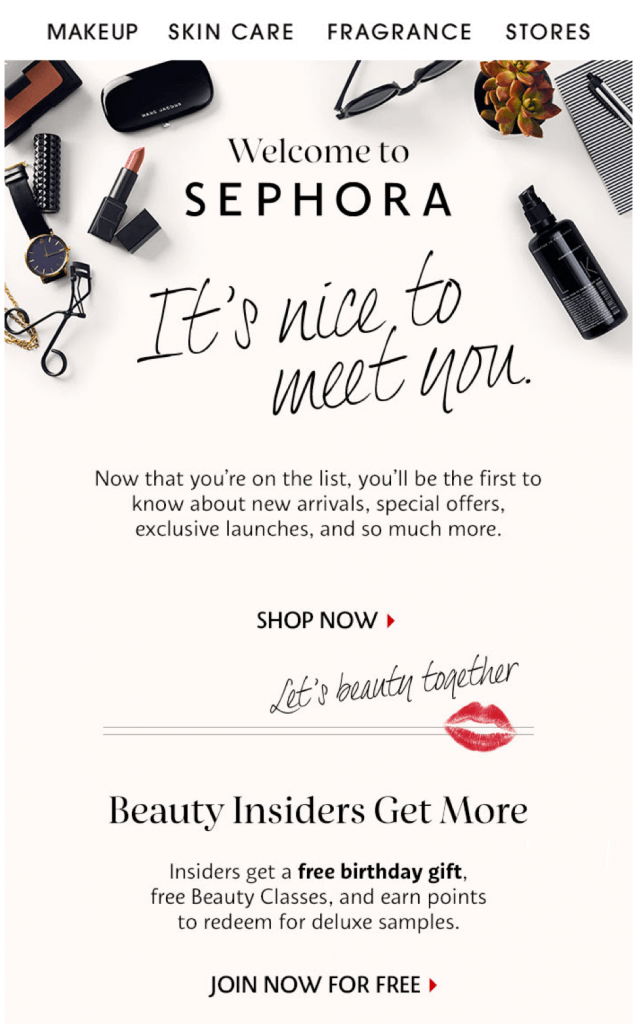 Prioritizing your language and tone is a critical aspect of creating a localized email copy. For example, western culture is all about being direct in conversations while clearly communicating and considering the difference in opinion. On the contrary, the same is not the case with African culture where clear expression of opinion and disagreement with an elder is considered an act of disrespect. Therefore, marketers need to consider the cultural and language differences. Take a look at Sephora's Newsletter in American version and Italian version. See how aptly it has overcome the language and cultural barrier. While the American version has been kept casual, the Italian version has a detailed information in it. In short, both the emails are doing the same work, i.e. welcoming a new subscriber but with a different language and tone.
---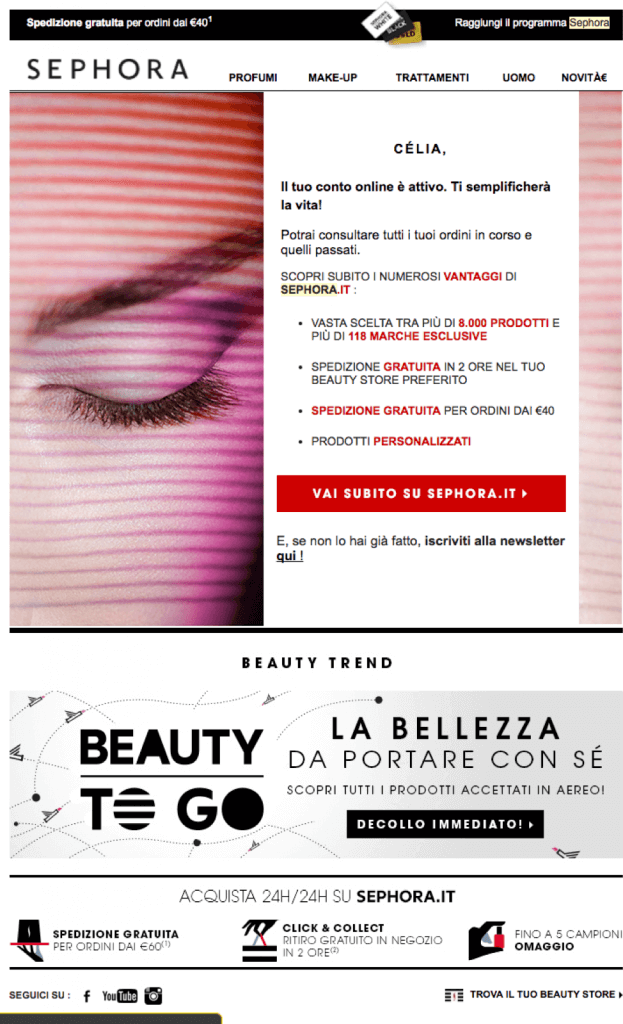 ● Opt for clear and precise subject lines.
Subject lines play a critical role when you pitch the target audience in their native language. Keeping your subject line short and relevant can do the needful for you. Remember, a subject line of 50 characters in English, when translated into another language can reach up to 80 characters. With 69% of emails being reported as spam based solely on the subject line, it becomes imperative to create a subject line that's not only relevant but resonates with each and every subscriber, irrespective of their language, customs and culture.
● Create relevant and appealing CTAs
CTAs just like subject lines become longer after translation. It can pose a problem from the perspective of design and creativity. Hence, as a marketer, you must research and use words which don't only have a global acceptance as CTAs but also fit in perfectly with the email aesthetics.
2. Focus on email aesthetics
Apart from the text, keeping a check on following points is necessary to deliver a seamless localized experience to your customers.
● Images
If you wish to get your message across as desired, opt for visuals that are culturally appropriate. Keep in mind that a small misconception in this context can stir controversies and confusion, which at times can damage your brand name too. People of different cultural backgrounds interpret things differently. For instance, while images with models on beaches will be considered fine with an American consumer, a customer from Middle East might find it offensive. Therefore, avoid visuals that might have a negative impact and go for more of a symbol-based images. You can even take help of localization experts and translators who can assist you in choosing the appropriate images for your localized email campaign.
● Color palette
It is another critical aspect of global email aesthetics. Different colors symbolize different messages across the globe. While white is a sign of purity and holy matrimony in US, the same symbolizes death in India. Here's a detailed look at it.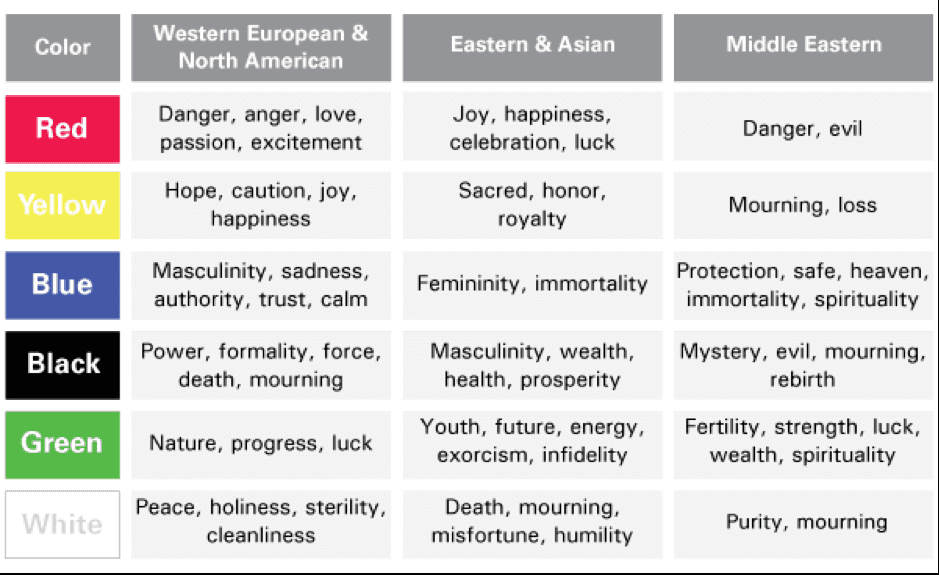 Therefore, creating your visual content around these color aspects is important for the global acceptance of your brand.
3. Pay attention to time zones
A successful email campaign is all about sending the right email at the right time. While there's no difference in the open rates on weekdays, sending emails on weekends might see a reduction in your open rates. However, these research around optimum send time and day aren't applicable worldwide. For instance, a typical workday in Spain is different from Australia and other European countries. So, you must streamline the optimal send time by keeping into account these criteria. Consequently, taking help of someone from your target customer's region can do the needful for you and improve your open rates considerably.
4. Choose a local translator
An experienced local translator can give you desired results in no time. They wouldn't only help you translate content in your industry but also update you about the various laws and compliance prevailing in your target country. All you need to do is give them a brief about the brand guidelines, email design and layout, deadlines, style and tone of writing etc. and see how they come up with effective copies for your localized email campaign.
Wrap up
All in all, email localization is all about creating content that resonates with customers based on their different demographic aspects. It is a great way of targeting your customer base in a way that best suits their needs. Remember, one size fits all approach doesn't work if you wish to cater to international customers. Unfortunately, 58% of businesses are still not localizing their email campaign for global reach. Don't be one of them. Just keep the above-mentioned points into consideration and see how your international email campaign gives you the desired ROI in no time while keeping your subscriber base happy too.