With worldwide email usage projected to reach 3 billion users in 2020, businesses today cannot afford to ignore email marketing.
However, email marketing is not as easy as drafting a message, hitting the "send" button, and then waiting for a response from somewhere in cyberspace.
It involves a lot of work!
But if done right, it can yield some great and enduring results for brands, empowering them to reach their audiences, engage with them in meaningful ways, build their brand, and boost conversions.
Here, we're going to dive into 20 tried-and-tested email marketing best practices to help you generate leads, impress your audience and grow your sales.
Ready to learn more about some email marketing best practices that actually drive results?
Let's get started!
3. Leverage the power of automation and triggered email marketing
5. Avoid using 'No reply' in the sender's email address
6. Start a conversation…tell a story
7. Craft intriguing subject lines
9. Make it easy to subscribe…and to unsubscribe
13. Focus on dis-engaged customers and cart abandoners
14. A/B test your email campaigns
16. Implement clear, unambiguous CTAs
18. Create mobile-optimized emails
19. Add ALT text to images and buttons
20. Track, Review, Analyze, Repeat
1. Segment your audience
Segmentation is a powerful tool in your email marketing arsenal. Unfortunately, it is seriously underused by most brands.
If you want to impress your audience, you need to understand them better and create campaigns that appeal to them personally.
This is because each subscriber is an individual and they want to be treated as such.
The below email is obviously meant for men. Do you think women will be pleased to receive it?
Source: Really Good Emails
If you don't segment your audience first, you risk alienating a large proportion of them. And these are the folks who often unsubscribe from marketing emails or even mark your emails as spam.
By properly segmenting your list, you can tailor your messages to meet the specific needs of a specific group of subscribers.
If you're not sure which segments to create in your ESP, here are a few to get you started (along with the type of emails you can send):
1. New Users: Welcome Emails
Source: Really Good Emails
2. Converted Users: Product upsells

Source: Really Good Emails
3. Loyal Customers: Special Offers and Referral Emails
Source: Really Good Emails
4. Active Customers: Abandoned Cart Emails and Limited Time Offers
Source: Really Good Emails

2. Personalize your campaigns
Personalized emails deliver 6X higher conversion rates compared to generic messages.
Connecting with subscribers at a more personal level is one of the most powerful email marketing best practices to improve audience engagement.
Some ways to include personalization in your email marketing campaigns:
Address them by their first name
Add their first name to the subject line
Provide user-specific data or a status report
Source: Really Good Emails
Include special offers or promotions that uniquely match their demographics (e.g. location), needs, or purchase history
Source: Really Good Emails
Create bespoke copy that addresses a challenge or includes a unique value proposition
Source: Really Good Emails
Provide real-time content with product recommendations or personalized product bundles
Source: Really Good Emails
Send birthday or anniversary emails to make them feel really special. If possible, include a special offer or "birthday boy/girl" gift
Source: Really Good Emails

3. Leverage the power of automation and triggered email marketing
Email marketing automation yields massive advantages by minimizing manual labor, saving time, and boosting efficiency.
You can create different kinds of automated campaigns for different purposes based on different behavioral "triggers":
A person who buys an item gets notified of future sales in that category
Someone who subscribes to your blog receives a welcome email or newsletter with a selection of popular articles or recommendations
Source: Really Good Emails
A shopper who abandons their cart receives a reminder to complete their purchase
But automation does not have to mean generic! You can still send automated emails that are personalized and memorable. Try these tips:
Once you understand and segment your target audience, build customer "personas" and design emails for each persona
Target customer-centric keywords and optimize content for those keywords
Nail your subject line and headline
Create compelling copy

4. Create drip campaigns
Automated drip campaigns can also be very successful – if done right.
The idea is to send a series of emails over a period of time without spamming subscribers.
For a new subscriber, a drip campaign might look like this:
1st (welcome) email: Send immediately on signing up
2nd email: Promote certain products
3rd email: Discount on selected products
4th email: Upsell other products
You can create drip campaigns for all kinds of goals. Keep these tips in mind:
Always start by segmenting your audience
Define user personas
Personalize copy, images, offers, subject lines, etc.
Adjust send frequencies
Set up automation
5. Avoid using 'No reply' in the sender's email address
The two things a person looks for when deciding whether – or not – to open an email are…
Subject line
and
From address
"No reply" in an email message (e.g. noreply@yourcompany.com) prevents recipients from responding to your emails. It also prevents them from opting out of further emails.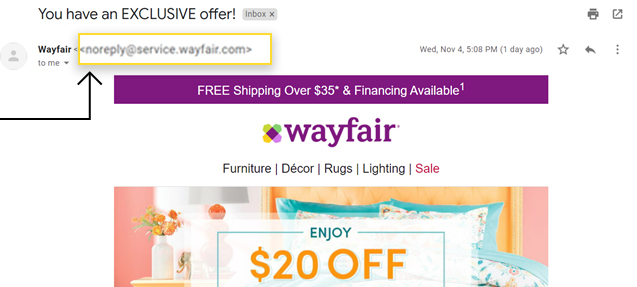 Not only is a non-branded sending address generic and impersonal (and super annoying), using No-reply also goes against CAN-SPAM – an important guideline for email marketers in the US. It protects the right of recipients to opt out of marketing emails.
Your subscribers are much more likely to open your emails if they know they were written by a human being for a human being.
6. Start a conversation…tell a story
Another way to "humanize" emails is to encourage conversations. A branded email address like john@greatcompany.com is one way to do this. Encourage your subscribers to reply. You can also ask for feedback to build trust.
Source: Really Good Emails
Another way is to weave storytelling into your emails. Stories can improve engagement, boost open and click-through rates, and even encourage more conversions.
The COVID-19 crisis has also opened opportunities for email marketers to show subscribers their "human" side and garner their trust. Here are some tips:
Use sensitive and empathetic "recognition" language that acknowledges the crisis
Avoid discount codes or promotional sales related to the crisis ("Special Corona discount!!")
Help your subscribers navigate through this difficult crisis with personalized messaging
Do reinforce the human connection with your audience. Don't overwhelm them with selfish-sounding brand messaging! For more tips on writing engaging emails, read here.
Source: Really Good Emails
7. Craft intriguing subject lines
Personalized copy is very important.
But subject lines are important too – and this is an element that a lot of brands get really, really wrong.
A great subject line can convince a subscriber your email is worth opening while a below-par subject line will be ignored.
Invest time in crafting an intriguing subject line. Make it interesting and unique. Limit the length to 70 characters or less. Don't be afraid to experiment with emojis, especially if the email theme is fun or light-hearted.
Research finds that using emojis in the subject line can increase open rates by 4.2%.
Incentives can increase open rates by as much as 50%.
You can also include incentives in your subject line to tempt subscribers to open your emails.
"Free shipping on orders of $50 and above"
"Receive a free Tee with purchases over $200"
"Buy in-store and get 20% off on your next purchase"
But be careful not to overwhelm your readers with savings-, offers- or product-related emails. And make sure that any incentives in the subject line are backed by warm, human-sounding copy in the email body.
Source: Really Good Emails
8. Experiment with send times
Is there a "best" time to send marketing emails? A particular time of the day (or a particular day of the week) when your emails are most likely to be opened?
If you Google this question, you'll probably find something like:
Tuesdays 10 AM
or
Thursdays 11.30 AM
The problem with such "prevailing advice" is that everyone takes it as gospel and follows it religiously. This means the crowd of email marketers all move to Tuesdays 10 AM or Thursdays 11.30 AM. And you are part of this crowd!
Every day, the average office worker receives about 120 emails.
How likely is it that yours will be one of the emails they actually read?
Fact: there's no one best time or day to send emails to everyone. Find the best (or most optimal) time for each subscriber and email them accordingly.
Some ESPs include features to help you optimize send times based on audience segments, or even based on individual subscribers. Some also provide a "throttle" functionality so you can spread out email sends, and ensure that subscribers are not overwhelmed by your messages.

9. Make it easy to subscribe…and to unsubscribe
Your audience is busy. So if you want them to connect with your emails and newsletters, you must make it easy for them to subscribe. It's also important to show them the value of subscribing by clarifying their question about "What's In It For Me" (WIIFM).
Ask yourself: what will my subscribers get out of my emails?
Useful content?
Relevant offers?
Solutions to certain problems?
A good laugh
There's no right or wrong answer here. The key is to focus on your audience, adjust your brand messaging, and design your emails accordingly.
Try these ideas to get more email signups:
Include (realistic) incentives
Give a sneak peak to interesting content, e.g. your company's blog
Add a newsletter sign-up link to each blog post
Add sign-up options to your social media accounts and eCommerce store checkout page
Run a contest or giveaway for first-time subscribers (or purchasers)
Source: Really Good Emails
Similarly, it's also important to make it easy to unsubscribe.
Wait..what?!
Of course, you don't want to lose subscribers, but if someone has made the decision to leave, making it harder for them will just annoy them even more. So, unsubscribe links in tiny fonts or low-contrast colors are not advisable because they can generate spam reports, which will affect your email deliverability.
Research shows that the best place to add your unsubscribe button is right next to your email address (which is not No-reply, remember?!). You can also add it at the end of your email.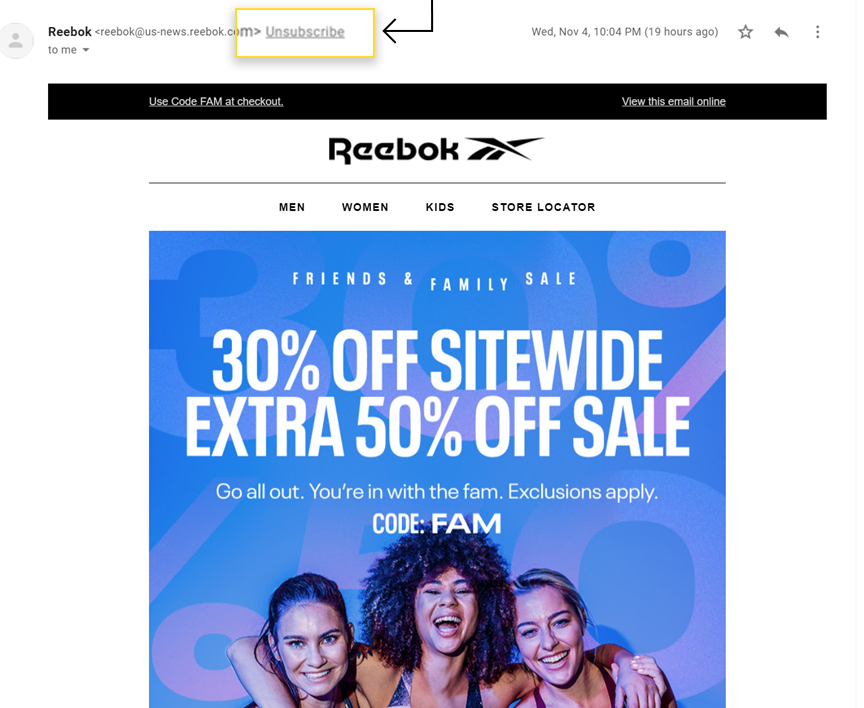 10. Use incentives wisely
Earlier, we spoke about adding incentives to subject lines to tempt subscribers to open your emails.
Incentives inside body copy are a great way to (gently) push subscribers down the sales funnel.
Email Best Practices to Use Incentives
Include a clear, unambiguous CTA. Make sure it shows above the fold
Use words like "limited offer" and "offer valid till…" to create urgency and guide the user towards a particular action (without seeming pushy)
Source: Milled
Include a 'countdown timer'
A countdown timer is an animated clock that counts down to an important deadline, such as the end of a promotion, time left to renew a subscription, etc. It helps build excitement and create a sense of urgency while encouraging the subscriber towards taking an action. The email messaging can be personalized based on the event, or for an individual subscriber.

Source: Really Good Emails
Incentives are also a powerful way to win back lapsed or disengaged customers, which we will cover later.
11. Use a double opt-in
This is why it's important to clearly communicate to recipients that they're subscribing to an email list. Provide opt-in checkboxes. You can also include a "double opt-in" so a person has to confirm their subscription in one email to receive further emails.
Most people hate unsolicited email, so adding them to your email list without their explicit consent or confirmation is a sure-fire path to unsubscribes and even spam complaints.
This extra step verifies your subscriber's email address and tells you that the person wants to receive emails from you.
Although the double opt-in will add an extra step to your subscriber's journey, it is still one of the safest email marketing best practices around!
Source: Really Good Emails
12. Maintain list hygiene
It's great to have a long list of email subscribers.
But if most of them never engage with your emails or take any actions, all they're doing is eating up your resources. They may even hurt your overall deliverability statistics.
Too many bounces and invalid email addresses can also hurt your campaign deliverability and overall success.
That's why it's essential to clean your subscriber list regularly. Here are some proven tips:
Remove all "hard" bounces caused by invalid, non-existent or closed email addresses.
Monitor "soft" bounces. A soft bounce can be caused by a full mailbox, an inactive account or a temporary domain failure, and is often temporary. But if you consistently get a soft bounce from an email address, remove it from your mailing list.
Your ESP may have a "review bounced emails" feature. Check these numbers and then decide what action to take next.
Another thing you can do to clean up your mailing list is to remove disengaged email addresses. This can be a tricky proposition. Shouldn't you give such subscribers another chance to "come back"? The next email best practice will address this very question. However, if a subscriber has not opened any of your emails for a year or more, you can assume that they're no longer interested in your emails, so you can remove them.
Adding a double opt-in to your emails (covered earlier) is also a good way to maintain list hygiene.
13. Focus on dis-engaged customers and cart abandoners
The bane of every email marketer – disengaged customers and cart abandoners!
What should you do about such people? Keep in mind that they are two different categories of people, so you should have different strategies to deal with them.
Disengaged customers are a big part of your email list. Working on this list can improve its quality, reduce subscriber churn, improve your domain health and even convert your email subscribers into leads. And that's why, you need to make an effort to re-engage them for as long as you can. Here's where "re-engagement emails" can really do the trick.
Once you identify inactive subscribers, here are 4 types of re-engagement emails you can send to bring them back on-board:
Polls and surveys: Ask them to complete a poll or survey, and send them a free gift or promo code when they do so
Competition: Use contests or giveaways to generate interest in your campaign
Coupon or promo code: Send a special promo code or coupon with a message reminding them that it's been a while since they engaged with your emails
New product recommendations: Include personalized product recommendations based on their purchase history or demographics
Source: Really Good Emails
In every email, make sure that you:
Remind them of the benefits of being a subscriber
Make the interaction personal
Humanize your brand
When designing your re-engagement email campaign, follow these strategies:
Address their spam complaints
If you're using SFMC, create an automated process with Process Builder to automatically to email inactive/dis-engaged subscribers
Use templates and tailor them to your needs (or type of re-engagement email)
Include personalized content
Optimize your emails for mobile
What about cart abandoners?
An abandoned cart represents a potential sale that didn't convert into an actual sale. In effect, it represents a wasted opportunity.
To minimize abandoned carts and convert them into completed purchases, you can send these almost-customers abandoned cart emails.
Abandoned cart emails generate the highest average revenue per click at $36.02. They also generate the second-highest revenue per open at $1.77.
Depending on who the customer is, and when they abandoned you (before cart checkout or during browse checkout), you can send abandoned cart emails with different kinds of messaging, such as:
Still thinking about it?
Need more time to decide?
Tell us how we can help
Here's what you're missing
We miss you. Come back!
….etc
You can also send different kinds of abandoned cart emails like:
Email with products they added to their cart (but didn't purchase)
Email with similar, recommended products
Abandonment surveys
Special (or limited time) offers
Contact form with or without callback button
Source: Really Good Emails
To reduce cart abandonment, here are some tricks you can try:
Send a series of messages instead of just one single email: 2-3 is a good number
Along with names, also include product pictures and recommendations
Add seasonal context to your emails, such as upcoming holidays, the shopper's birthday, anniversary, etc.
Create a sense of urgency with discounts, promo codes or limited time offers
Make sure your abandonment cart emails are triggered quickly – ideally 24 hours within abandonment
Source: Really Good Emails

14. A/B test your email campaigns
Before sending out an email, test it on a small group within your target audience. This will help you make any necessary changes before sending out the final version, and thus increase your chances of success.
Most ESPs, including Salesforce Marketing Cloud, allow you to A/B test multiple elements of your campaign. These include:
Subject line
From name
Content areas
Images/visuals
Personalization
CTA text
Send time
Pre-header
Here are a few tips to run a successful A/B test for your email campaign:
Define a hypothesis and goal. What do you hope to achieve with A/B testing?
For more accurate results, Choose the largest sample you can
Choose the same sample sizes for both versions
Test as early as possible and only one variable at a time
Wait at least 24 hours before declaring a version as the winner'
15. Reward loyal subscribers
Your loyal subscribers should be a focus area for your email marketing efforts.
They choose to stay subscribed to your mailing list. They may also buy from you and not from your competitor.
That's why rewarding them for their loyalty with special offers, discounts, or "freebies" is absolutely essential. This will not only reinforce their "specialness" but also make them feel valued. This means that they will stay with you and not go anywhere!
Bonus – your open and click rates could also increase!

16. Implement clear, unambiguous CTAs
Your email marketing strategy is perfect.
Your copy is personalized, human and compelling.
Your graphics are attractive.
You chose the right templates and optimized them for mobile.
What about a Call to Action (CTA)?
Here's where your email campaign stumbled. A CTA is either missing in your emails, or it's messaging is not clear.
Your email campaign has a specific goal and one way to meet it is to include clear CTA copy plus a button or link.
Research has proven that CTA text can increase conversions by pushing readers towards a specific action and by giving them the choice to do so.
Here are some useful tips to optimize your CTA text and button (or link):
Be specific with your CTA copy
Don't be ambiguous with the button
Customize the text according to the action you want the reader to take
Use contrasting colors for the button so it stands out, but stay within the parameters of your brand's colors and designs
Focus on the benefits to the reader
Optimize CTA for mobile
Source: Really Good Emails
17. Don't be a spammer!
Every brand wants more opt-ins, more subscribers, more conversions and more sales.
But bombarding people with multiple emails is not the way to go about achieving these goals.
In this case, more is not merrier.
When you send too many emails, your engagement rates will fall, and unsubscribe rates and spam complaints will likely go up.
But how can you find that tipping point between too many and too few?
As with "ideal send times", there is no "ideal number of emails".
Experimentation is the only way to arrive at an optimal number.
But there are other things you can also do to keep spam complaints down:
Make sure your content is relevant and as far as possible, personalized
Never buy an email list. Purchased lists tend to generate very high unsubscribe and spam rates
Add your brand's physical address somewhere in the email, say at the end
Give people an easy way to unsubscribe
Avoid using 'No reply' in the sender's email address
Break down your content into smaller, more easily consumable chunks, ideally each with its own headline and/or image to keep your email out of spam scanners
Source: Really Good Emails
It's also important to remove common spammy words from content. Examples include $$$, Earn $, hardcore, and make $. If you're using SFMC as your ESP, check out Content Detective in Email Studio to review and remove spammy words
18. Create mobile-optimized emails
In 2019, mobile was the most popular reading environment, accounting for 42% of all email opens.
Studies have found that 69% of mobile users delete emails that aren't optimized for their device.
If your email campaigns are not mobile-optimized, you're missing out on a huge opportunity for greater conversions, engagement and even sales.
Tips to create mobile-ready email templates:
Test the links. Broken links are a strict no-no
Make sure images load properly
Text should be readable and not cluttered; include white space
(Email on iPhone X)
Source: Really Good Emails
Scrolling and navigation should be easy; keep the length short
Stick to a single column layout
(Email on iPhone 8)
Source: Really Good Emails
Use short subject lines: 25-30 characters maximum
Use pre-header text to entice readers to open the email
Modify your copy to ensure that it fits well on a mobile device's screen
Show CTA text clearly and above the fold
Create browser-agnostic emails

19. Add ALT text to images and buttons
Adding ALT text to emails helps users understand what they're reading, even if the HTML doesn't render properly, or if their email client blocks images by default. They can take the action you want to take and understand where to click.
Without ALT text, they will simply see a blank space where a button or image is supposed to be.
Make sure you add ALT text to every image and button in every email. If you have created landing pages, hyperlink this text to these pages.
20. Track, Review, Analyze, Repeat
Email marketing is not a one-time-only, set-it-and-forget it effort. Once you send an email or finish a campaign, you should review its performance and compare it against your KPIs.
At the least, you should analyze these statistics for a campaign:
Open rates
Conversions
A/B test results
Bounces
Spam complaints
You can also analyze individual emails for a more granular view of their performance. For example, which CTA button performed better? Which content chunk was clicked on more? Did buttons do well or did text links?
This information can help you adjust your email marketing strategy, design, copy, or layout.
You should also compare the performance of your campaigns against industry benchmarks.
In particular, SFMC Email Studio provides a number of key metrics to help you track campaign performance. Use the tracking reports to dig deeper into the data, to identify the best- and worst-performing campaigns, and to improve audience segmentation.
Summary
Email marketing can be overwhelming for the under-prepared or under-informed. We've covered a lot of practical information in this guide to help you prepare and be better-informed. Now you have no reason not to design kick-ass email marketing campaigns that your audience will want to read!
Feel free to bookmark this email marketing best practices page or share it with someone who will find it useful.
For more help or support with your next email marketing campaign, get in touch with Email Uplers. We speak email.