Emails are evolving every day. By the time this blog is written, published, and read by you, the email marketing industry would have achieved another feat. Be it in the field of email content, email sending platforms, or email design, change is constant. Although each organization has an inclination or preference for a particular design type, trends apply to all. One such trend that is making some noise recently is the usage of geometric shapes in email design.
Your phone is a rectangle, the road sign you see on the roads is a triangle, and so on. These geometric shapes are a part of our day to day lives so much so that we take these routine shapes for granted but we certainly pay heed to the message they carry, since our brain gives us the signal that the message inside the shape is important.
This is precisely why geometric shapes can be used in emails to subtly deliver the context of the message to the viewer or subscriber and make it easier for you to fulfil the purpose of the communication. Let us see how to do it the right way.


Types of Geometric shapes to look out for
Let's look into some of the common geometric shapes and how they are generally perceived.
• Circles
All elliptical shapes denote the infinite or endless. These shapes do not have an end or a beginning, they can be used to represent a smooth harmonious flow of work. Order, eternity, universe, majestic, mystery are the few other meanings associated with this shape.
This email by Vivino is great for many reasons. One is the way they have handled circles, squares and rectangles all in one design without letting these overpower the white balance and text. Secondly, they have put illustrations in the circular shapes, established the CTA within the rectangles and the brand element in a square. A perfectly balanced design!
• Squares and rectangles
The straight lines and right angles in these two shapes give a sense of reliability and strength.
Courage, discipline, durability, and security are a few other meanings that squares and rectangles communicate.
Litmus has sent this newsletter regarding the success of their event, and they have used squares as frames to display the images of the event.This denotes their purpose of communicating the success of their event and displaying their strengths to win the trust of the viewer.
• Triangles
This is a powerful shape that denotes direction and stability when pointed upwards and symbolizes dangerous situations or a downfall when inverted. This shape denotes movement, speed, excitement, direction, balance, risk, and danger.
In this email by Strava, they have sent a report of the user's monthly statistics. Here, they have used triangles to display growth, eventually denoting the usage of the service.
• Polygons
Pentagons, Hexagons, and Octagons are a few examples of polygons that can be used in email designs. Although they individually do not represent anything, the many sides of this shape can be used to denote a long procedure in a much-simplified manner. These shapes when used in patterns, denote rigor, quality, and hard work.
Circle
Harmony
Order
Eternity
Universe
Majestic
Mystery

Triangle
Direction
Stability
Movement
Excitement
Risk
Danger

Square

Courage
Discipline
Durability
Security
Strength
Reliability

Harnessing The Power of Geometric shapes in Email Design
The success of any design depends on how the visual is perceived by the viewer and the subsequent emotions and corresponding actions. In email design, this is a major theory behind why some emails perform better than the others. Just like how a favorite character can tell about the person's traits, shapes can tell their current state of mind. When this strategy is applied in email design, where you use these shapes to deliver those emotions, your battle to leverage an impactful email is half won.
Just like how colors possess unspoken attributes, geometric shapes also have the power to communicate emotions. When used with complimenting colors and text, an email design with a balanced use of geometric shapes can enhance the performance of an email campaign.


• Visual representation
Each shape represents something, as we discussed earlier. Therefore, by using the right shape and the right color to back it up, one can enhance the content of the email and deliver the intended message.
• Directional cues
Shapes or a combination of shapes can create a sense of direction, like how an arrow works. Using shapes as a directional cue will not only create a subtle push to address the CTA, but also approach the viewer from a psychological perspective.
• Popping colors and meaning
Using the right combination of colors and geometric shapes will enhance the message of the email. This will ensure that the shapes compliment the colors and the context of the text.
Here, Thinkful has beautifully used a variety of shapes and popping colors in their welcome email. This suggests that their service has a lot to offer to a myriad of clients.
How to incorporate Geometric shapes in your Email Design
• Segment the email
Using shapes with lines is a great way to segment your email, highlight a section of the email, or set the hierarchy in an email. Let us look at these few email examples that have used shapes to divide and rule their email design.
• Lead them to the CTA
Shapes can be used as directional cues, leading readers to the most important part of the email, the CTA. This email by BBC does it with elegance.
• Create an eye-catchy CTA button
Shapes can be used to highlight the CTA buttons, either by using a different shape in place of the button or by using a contrasting shape in the background. This way, the important message of the CTA remains the center of attraction.
• Uncomplicate your design
It is important to understand that even though you have an out of the world email designer and you as a marketer have great ideas, you shouldn't display all your design expertise in one single email.
Avoiding clutter and leveraging an email with a balanced design will make an impact and avoid email noise. Adding too many shapes or elements to the design will make it look messy apart from making it design heavy. White space has equal contribution as a good design in accelerating the purchase decision.
This email by Postable has stepped up the game by including a GIF carousel of their products within a rectangle and giving the design a simple yet impactful look.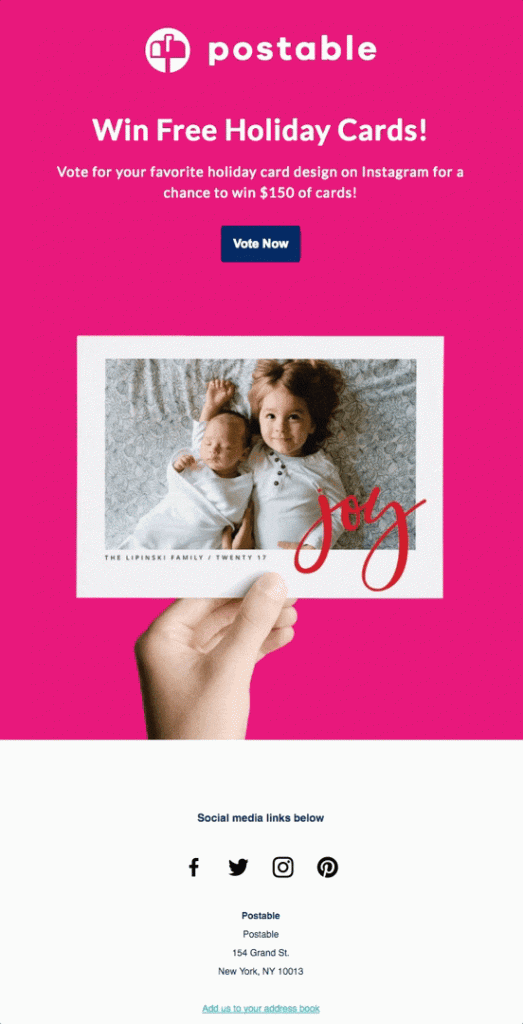 Wrap Up
So this is how geometric shapes can be used to enhance your email design. It is important to understand that shapes and colors impact us in ways we may little understand. While color psychology is often considered an important element in marketing, it's time we also include shapes in our email design to boost the email campaign performance. Have you used geometric shapes in your emails? Do share your email template in the comments below.