Modern customers don't just care about products and services. They also care – and in fact, they care more – about the experiences a company provides as they buy its products or services. A whopping 66% of customers expect companies to understand their unique needs and 52% expect to always receive personalized offers. Another 76% expect to have connected journeys with consistent interactions across departments.
So how can your brand deliver unique customized experiences and personalized interactions throughout a customer's journey? Salesforce Marketing Cloud (SFMC) and its Einstein AI engine can help.
Read on to learn more!
What is Einstein AI?
In SFMC, Einstein AI can help you customize every customer's journey and personalize every interaction. With its accurate predictive insights, you can understand customers better and determine what they are looking for and why. You can also create personalized content and recommendations and engage with subscribers at the right time and on the right medium. Einstein is data-ready since it doesn't require any data preparation as well as production-ready since it is built into the SFMC platform.
Optimize subscriber targeting and email marketing strategy personalization with Einstein Segmentation (DMP)
It's impossible to personalize email marketing messages and customer experiences without first understanding the subscriber you are targeting. Einstein Segmentation will help you consider the audience and create relevant segments so you can:
Build and deliver personalized experiences
Share personalized content that subscribers will want to see and consume
Send offers that are most likely to convert into a sale
Einstein Segmentation applies Machine Learning to subscriber data so you can discover customers and create targeted segments. It also generates insights to help you personalize email campaigns and engage with subscribers with a message that's just right for each of them.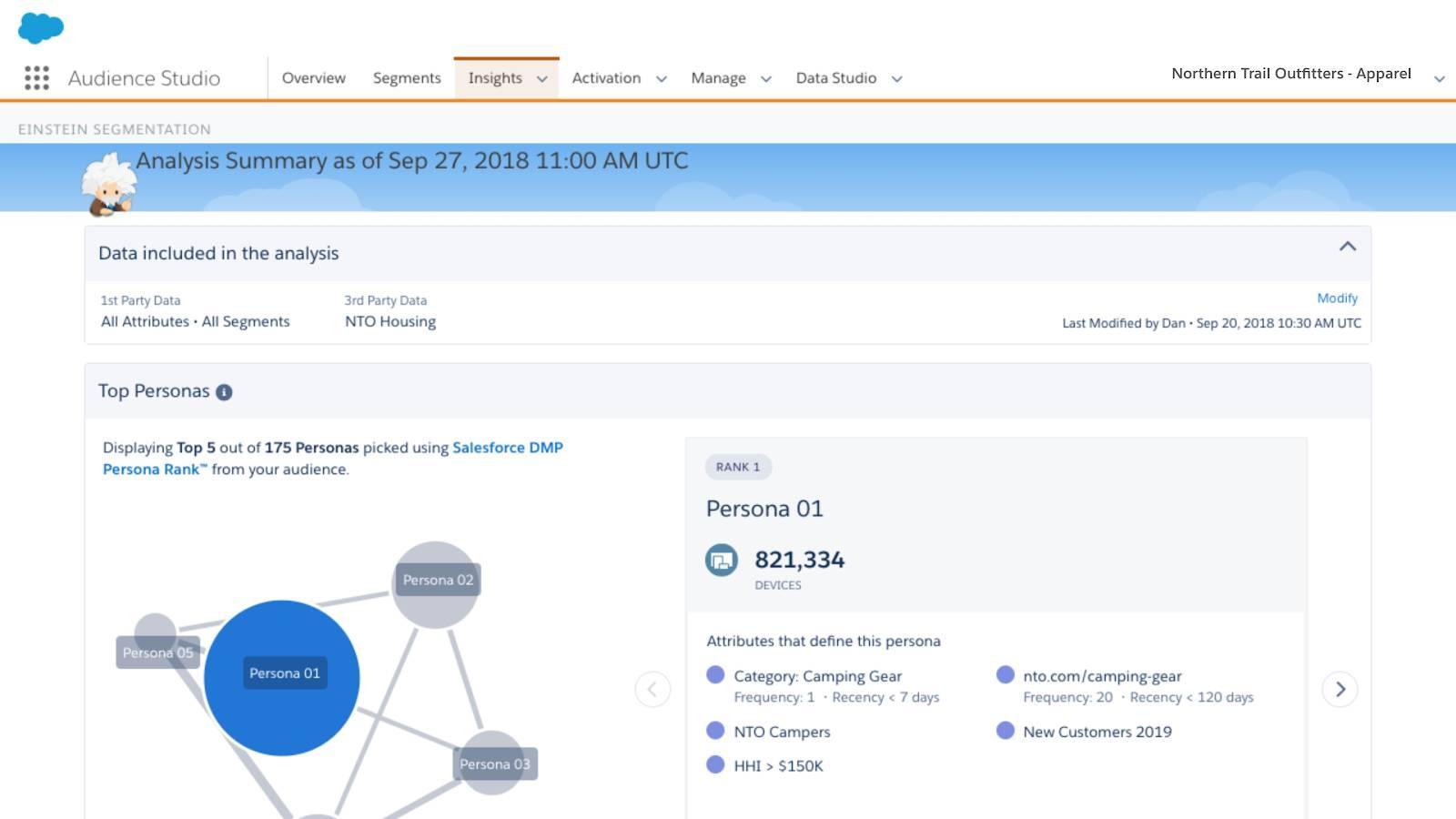 Suppose you are a women's clothing brand. Your email campaigns will obviously be targeted towards women and their needs. But you may not know that within your large target audience ("women") you have multiple segments, with each segment containing women with different needs. One segment may consist of stay-at-home Moms who prioritize comfort over style and are on limited clothing budgets.
Another may have professional women who appreciate style and quality and don't mind paying more for both. A third could consist of young college women who prefer sporty wear and only spend occasionally on formal outfits and accessories. Einstein Segmentation will help you adjust your email outreach strategy to each of these segments with different campaigns and personalized content.
Pique customers' interest in your brand with Einstein Engagement Scoring
How engaged are your existing subscribers with your brand's email campaigns?
Somewhat engaged?
Very engaged?
Not at all engaged?
More importantly, how engaged will they be in future?
With Einstein Engagement Scoring, you don't have to guess at these answers because you can actually predict subscriber engagement with solid data that will reveal their likelihood to:
Open your emails
Click on elements such as the Buy Now button
Unsubscribe from the subscriber list
Convert on your online store
Einstein Engagement Scoring will assign a score based on each subscriber's likelihood to take these actions. This information will help you monitor the health of your engaged subscriber list and target a specific audience. You can then use these predictions to tweak your campaigns and increase their interest and engagement.
Einstein will help you group subscribers into more recognizable personas so you can create a unique campaign to target and engage with each persona. For example, Loyalists are subscribers who are most likely to engage often with your brand. Create a personalized discount campaign to stay connected with them and retain their interest and loyalty.
Here's one such campaign from Famous Footwear that taps into the existing customer base to flatter them and to boost the brand's sales:

You can also create separate campaigns for Dormant/Winback subscribers and Selective Subscribers. The former includes subscribers who are unlikely to engage with the brand at all while the latter includes subscribers who open your emails infrequently but tend to click when they do.
For each of these customer personas, you can use Einstein Engagement Scoring to:
Customize and send special offers or cross-sell campaigns aligned with their known preferences
Send campaigns to win back dormant subscribers
Find new customers that look like your best ones
Convert more subscribers by sending personalized product recommendations with Einstein Recommendations
Einstein Recommendations collects information about subscriber behaviors from various channels, including web, email, and mobile. It creates a profile of each consumer with details about their preferences, likes, and needs, and then uses this profile to generate product recommendations, which is a powerful way to increase sales and subscriber engagement.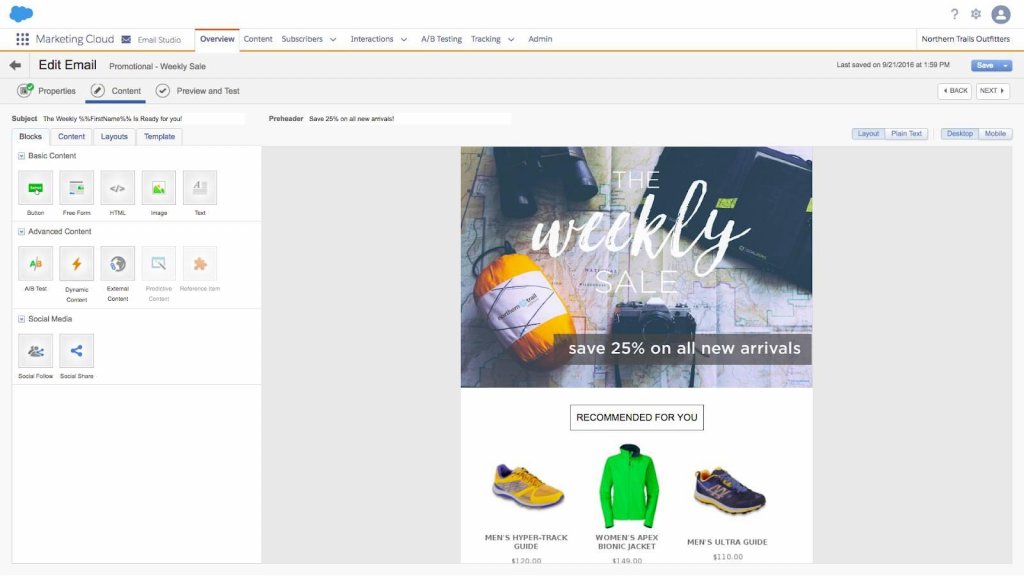 By recommending products to each subscriber, you can demonstrate that you see them as individuals and are willing to go the extra mile to personalize and enhance their experiences during their brand journey.
You can recommend products via email in many ways:
Items that complement their past purchases
Items that are personalized based on their browsing history
Cross-sell or upsell items to increase the size of the basket
Here's one personalized email that OpenTable sends based on the recipient's prior eating history:

You can also send recommendations for content that a subscriber might find interesting or valuable. You can recommend new blog posts or send a webinar invite. You can also recommend how-to articles or product guides to complement your product offerings.
Here's one email from EIQ that invites subscribers to a free event that a recipient is likely to find useful and bring them closer to the brand:

Monitor journey and batch email performance with Einstein Messaging Insights and identify the language that drives maximum engagement with Einstein Copy Insights
Einstein's "Insights" capabilities can help you understand where you stand with respect to personalization and customer engagement. More importantly, they will show you where you need to go to deliver better personalization at various points of a customer's journey.
Two such capabilities are:
Einstein Messaging Insights: Monitor the performance of journey and batch emails and act quickly to optimize under-performing areas
Einstein Copy Insights: Identify the copy and language that drives subject-line engagement
Einstein Messaging Insights will alert you on the performance of email batch sends and journey sends based on engagement rates (opens, clicks, and unsubscribes). Leverage these insights to understand the key underlying factors behind over- or under-performing emails, calibrate journeys or sends to ensure they perform at their peak, and decide the next steps to optimize underperforming areas.
Einstein Copy Insights is a great way to understand how your emails are doing from a personalization and subscriber engagement standpoint. With this AI feature, you can evaluate the best subject lines based on average open rate (more opens = better the subject line) and also discover which words and phrases tend to elicit the maximum positive responses.
Overall, you will get insights into the language factors in the subject line that are garnering the most opens and clicks, such as:
Brand name
CTA
Special characters
Emojis
Specific words
By understanding how these elements perform, you can craft subject lines that drive stronger engagement via emotion, humor, attraction, etc. You can also create different subject lines for different segments to boost personalization and make each subscriber feel unique and special.
Personalize each email message at scale with Einstein Content Selection
Einstein Content Selection helps you create real-time message personalization for any stage of a subscriber's journey, automatically and at scale. All personalization is driven from your content pool so you don't have to worry about not having data or programming expertise.
This no-code, open-time experimentation tool dynamically chooses the best content for your emails at open time from a pool of content in SFMC Content Builder. Create a single template and upload a list of different types of content to SFMC. Then let Einstein automatically select the most unique content for each subscriber, enhancing engagement and their experience with your brand.
You can also use Einstein Content Tagging to automatically and accurately tag thousands of images in a content library to speed up campaign design and execution. Upload a group of image assets, create an asset class, and assign the assets to it. Einstein Content Selection and Content Tagging will continually evaluate for winning content and match asset attributes to consumer profile information. They will personalize the images that appear to each subscriber corresponding to their interests or profile to ensure the highest click-through rate at open time.
Conclusion
One of the most important aspects of a successful email campaign is knowing whom to target with what kind of message and at what time. SFMC Einstein can help you with all these aspects. If you have not yet used SFMC Einstein, there's no better time than now to get started. Need help with making the most of SFMC and Einstein AI? Contact the Email Uplers team.