With close to 4 billion daily users and a staggering 4200% ROI, email is an overwhelming favorite when it comes to being employed as a marketing channel by businesses across the globe. And well, SaaS brands aren't any different. However, when it comes to shaping an email marketing strategy for a SaaS brand, one can't afford to rely on frameworks that extend to most conventional businesses out there.
This is because SaaS marketing belongs to a league of its own. Why? SaaS products have no physical presence. They mostly make sense to a handful of B2B companies and are constantly changing. Goes without saying, marketing such an entity is bound to pose a few problems even for the best out there. But, marketers are a resilient lot. Sure, SaaS email marketing is a complicated affair, but the code has been cracked nevertheless! And today, we are here to share our findings with you. Curious already? Dig in then!
Clearly Define the Objective of Your Email
As it is, SaaS products have a notorious reputation for being inaccessible to the common folk. So, the first thing you need to ensure in your emails is that it has a clear goal. What are you trying to achieve out of your recipient? Are you trying to nudge them towards opting for a free trial? Sharing the USPs of your product? Looking to convert free trial customers to paying users? Whatever might be the case, the objective needs to be stated as univocally as possible in your emails.
Once you're clear with the goal yourself, you'll have much better clarity regarding the kind of email that should be sent to accomplish it. For instance, if the objective is to nudge the recipients to sign up for a free trial, you need to engage them with promotional emails highlighting how your product can address their problem statements. On the other hand, if the goal is to convert free trial customers into paying users, send testimonials and success stories their way wherein satisfied customers have vouched for the merits of your premium model. Based on the content, each type of email will have its own CTA as well. In essence, establishing goals allows you to send relevant emails to every segment of your contact list rather than flooding all their inboxes with the same set of emails.
Take a look at this email from Elementor that is encouraging its recipients to upgrade to Pro.

The copy is well fleshed out and the messaging is absolutely clear. Moreover, the CTA phrase aligns perfectly with the content.
This email from Grammarly highlighting some effective ways to use its desktop app is another great example of a SaaS email that has a clear objective.

Use The Power of Automation
Email automation allows you to deal with your subscribers in a tactful and intelligent manner, thereby paving the path for greater engagement (opens and click-throughs) and conversions. Additionally, automation also takes a significant load off your marketing team's shoulders, maximizing their efficiency and productivity in the process. Automation in your SaaS emails can be implemented in various capacities.
For starters, consider email autoresponders. In their most basic form, they allow you to send quick, generic responses to common customer queries. More elaborate sequences involve engaging them with drip and triggered email campaigns. This automation lets you send your customers emails corresponding to their activities and behaviors. Welcome emails as soon as they onboard, a transactional email when they sign up for your free trial, periodic engagement emails in the days leading up to the end of the trial period, targeted emails based on their website browsing history- the scope of what you can achieve with automation is virtually limitless.
Automation, above anything else, enables you to craft responsive campaigns that cater to the ever-fluctuating needs of your prospective and existing customers. As a result, along with driving more conversions, you'll also be delivering an unmatched customer experience.
Take a look at this welcome email from Adobe.


This free-to-paid upselling email from Restream is a perfect example of the kind of engagement emails you should send your users during the free trial period.
Embrace Personalization
No other marketing channel lets you personalize at scale as much as email. And if you're not leveraging this feature in your SaaS emails, you're missing out big time. Because email marketing is extremely data-driven, the degree of personalization goes beyond simply addressing someone by their first name. Modern-day email personalization is driven by email list segmentation that divides subscribers into different segments on the basis of various parameters like age, gender, occupation, ethnicity, position in the sales funnel, past purchases, interests and preferences, and the like. Subsequently, you are able to intercept your customers with customized and highly relevant messages.
Further, SaaS companies also have the option of utilizing user session data and sending performance data, graphs, and other statistics to their users. They can use this data to show their customers what value their products add to their lives. Personalized messaging can't get any more compelling if you ask us.
Take a look at this example from Harvest.

This example from Framer illustrates the kind of personalized examples you can craft by using user data.

Run Referral Campaigns
In the Saas space, using your emails to run referral campaigns is an extremely effective engagement strategy. Do ensure to have appropriate incentives in place, however, if you really want these campaigns to take off. A successful referral campaign can bring an unprecedented windfall of new customers to your organization. But that's not all; referral campaigns also improve customer trust and loyalty by leaps and bounds thanks to the incentives involved. We know what's on your mind- what is the RIGHT incentive? Well, to be honest, this is extremely subjective and depends entirely on the nature of your service.
A few measures that we have observed to hold true across all brands are these:
Extending the duration of your free trial period
Unlocking a specific portion of your premium model
Providing beta access to your platform
Offering a hefty discount on your premium subscription
Here's how Flodesk's referral campaign looks like:

Webflow's referral incentive is fairly sweet too: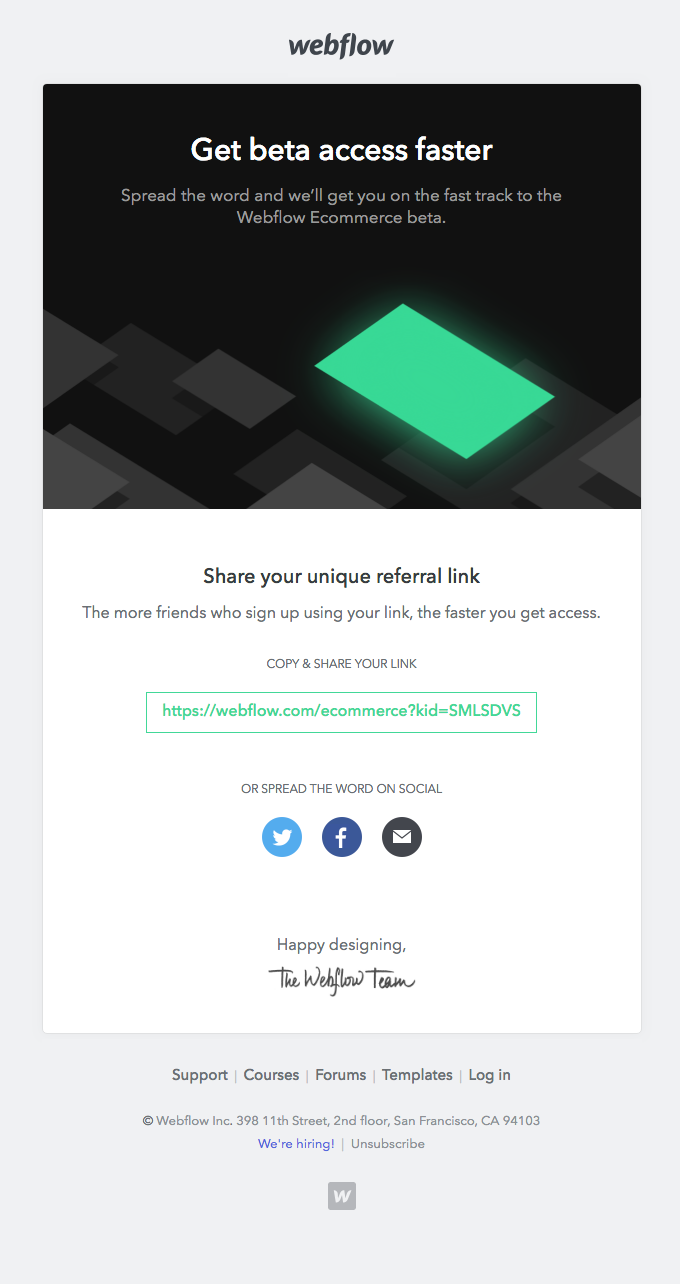 Collect Feedback
Feedback collection is important for two reasons-
It lets you gather valuable insights and optimize the performance of your product.
It tells your customers that you care about their opinions.
While the first point benefits you, the second one makes your users look forward to your feedback emails. That said, collecting feedback isn't all that easy; you've to be a little creative in your approach. Some brands choose to offer a reward in exchange for their users' feedback.
A few attempt to make their subscribers feel like they're part of an exclusive group, much like this example from Slack.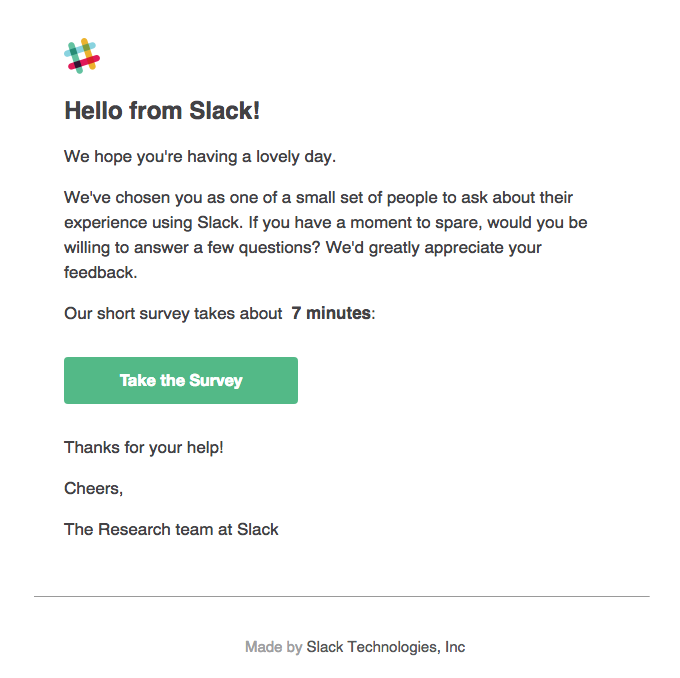 Wrapping It Up
Finding out what kind of email marketing strategy works best for your brand might take some time, but there's no looking back once you unearth it. In the meanwhile, feel free to try any (or all) of the strategies listed above! We're sure they'll propel your brand in the direction of increased visibility and revenue.