As marketers, we always look for growth-oriented ways to expand our marketing sphere. If that's what you aim to achieve, you have come to the right place. Here's an effective email marketing strategy that can turn prospects into sales if done the right way. Have u ever heard of email sequencing?
No?!
That's fine. If you stick with this article till the end, you will know how to build loyalty, engagement, and trust with your audience by sequencing your emails and re-engage with the email list that hasn't heard from you for a while.
In this article, we have lined up ten emails in a sequence to help you nurture your leads and make quicker conversions. Let's dive into them!
#1. Permission emails
As you may have guessed, authorized-based email, popularly known as permission-based email marketing, is exactly what it sounds like. It is a method for companies to obtain consent explicitly from the audience in order to send business emails to them. If you are a GDPR compliant, which is required if you need to send to an EU country, you will need clear confirmation from the user if they would like to receive marketing emails from your business.
According to statistics, 77% of users prefer to receive promotional messages by email, rather than direct mail, SMS, phone, or social media. As a marketer, you can send these emails by connecting your popular tools like a Mailchimp to Facebook Lead Ads app so that you can gather leads, trigger automated emails and put your email marketing on autopilot. So make sure you get permission before sending an email regardless of its context.
As an example, if you're hosting a webinar that has, what you consider, insanely helpful information for your customers/prospects, you still need permission to email them regardless of how important YOU think the message is. It doesn't matter if you know it'll be helpful, their permission is crucial.
If users have not chosen to communicate via email and you still send something to them, chances are they will mark your email as spam. In this case, a sufficient number of spam reports will filter the email and list the IP addresses. Of course, there is a way to prevent emails from being blacklisted. The best thing to do, however, is to make sure that everyone on your mailing list is willing to receive emails from your business. Besides, it would be wise to validate email addresses before sending any newsletters.
#2. Onboard emails
The user receives an onboarding/ welcome email as soon as they subscribe. They equip the recipient with everything they need to keep up with and use your offering.
Onboard emails, for example, can help users to book an appointment, start using items, or learn about the programs they tested.
The simple move of calling the recipient by their name allows a brand to show that it does not only think of an individual as a number.
Once you have sent the first onboard message, it is clever to send another one to fix potential doubts.
If a client is confused as to where help can be obtained or feels they cannot get assistance, they probably will not be long-term clients.
#3. Clout emails
Since we need to show our audience that we are somebody worth listening to, clout emails have a very significant role in making that happen. Primarily, there are two approaches to clout emails. The first one is to direct your audience to your own platform. It could be your YouTube channel, podcast, or blog. The second one is to feature your emails. These techniques demonstrate your expertise in your field and somebody your audience should hear from.
 #4. Training emails
In training emails, brands can share hacks to solve a problem or fill the gaps to change the perspective about something. Training emails are used to demonstrate a strategy on how to do tasks more conveniently and effectively. You can either send out an email full of instructions and training or you can send an email that will direct your audience to a tutorial. To take this to the next level, consider investing in tailored online courses. Using a learning management system to create courses for your audience will increase the chances of getting positive responses from them.
The purpose of a training email is to make your customers feel like you are concerned for their welfare and want the best for them.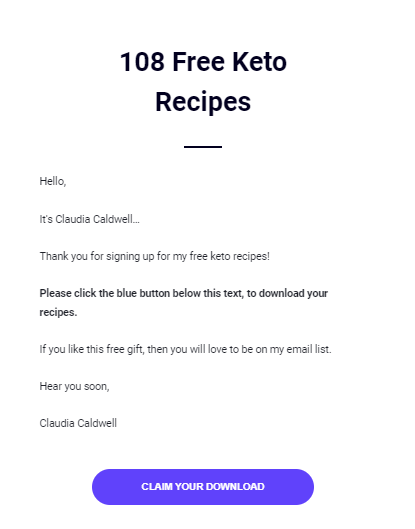 This email, no matter how convenient it seems to the customers and builds their trust for them, still is not the best way because there is a good chance your lead will claim their download and forget about it.
You need to make your audience get to know, like, and trust you and then take them to your sales pitch. Just like Neil does with his stories!

I absolutely love how Neil Scheffer delivers his lead magnet link in these emails.
You can do the same. This way you know your audience won't unsubscribe and come looking for your download everytime they need one.


 #5. Recommendation emails
Did you know that 50% of all buying decisions are influenced by email marketing? This means your email subscribers are interested in recommendation emails.
This email is the screenshot of ContentStudio's newsletter where they recommend different blogs that are not theirs. Similarly, you may recommend products that are not yours. It may be a gadget or a book that you love, and you would want your customers to have the same valuable experience that you have had. Recommendation emails not only create excitement but also make the audience feel like your purpose is not just to sell, but to add value in their lives.
 It is also a great way to utilize affiliate links. If your customers love your recommendations, they are going to associate the result with your brand, which in turn will strengthen the brand image.
#6. Ask emails 
As simple as this type is, brands are not sharing these emails very extensively. We agree that such mails may annoy us at some point, but it is important to send them out every once in a while. You simply have to ask your customers to buy your product or ask them what they recommend about the product. It is not a great strategy to always "do the talking". It is essential to allow your customers to interact with you. Give them a chance to interact with you, as much as you want to interact with them.

After all, You'll never know If you never ask.
Below is a great email example of eye-catching Ask Email from G2.
However, It can be an interactive email that can be made useful for content curation and to collect data that may come in handy in the future. Make sure that people do not start forgetting about your products and services. So to be on the top of your customer's mind, keep asking!
#7. Response emails
This is a follow-up email type of the above "ask email". Once you have inquired about your products, it's time to give them a response. Make sure the response email that you send is relevant, convincing, and most importantly solves the problem. It makes your audience feel like they have not been ignored and their concerns have been prioritized.
#8. Customer Service Emails
Converting a prospect into a customer can be a challenge. But, preventing that customer from churning can be a significant challenge in itself. Customers usually churn due to bad customer service. That's where you can use email as an essential channel to resolve your customer's problems & delight them.
To save time & effort, you can use a pre-defined customer service email template but remember, personalization is the key. No one wants to read that automated email that is prefixed with a few dynamic fields. 
#9. Conversion Email
The primary objective of a conversion email series is to make everyone on your mail list a highly converting lead.
Many businesses do this by providing something that can easily prevent a customer from feeling uninterested.
The way to get the most conversions is by rewarding your subscribers. You can do this by giving them a link to a useful case study or simply offering a gift! Have a look at how Stacked Marketer multiplied their subscribers by offering free gifts like T-shirts, full-membership to Lifetime Insights and even a trip to Vienna, Austria!

Who would want to unsubscribe now?
The second step is to create a Perfect CTA (call-to-action) to your conversion link that lands on an eye-catching and user-friendly landing page. 
But always make sure the email conversion is precise and links to what the receiver is interested in.
The way you interact depends on whether you want to get an individual to buy something, subscribe or join in another activity.
#10. Engagement emails
You can probably guess from the name that the purpose of engagement emails is to compel the recipient and not make it boring enough to eventually get ignored.
The content of such a template varies according to your objective.
However, the subject line is supposed to contain intriguing information or make it feel like people are missing unless they read the message.
A single image of how readers can take advantage of the sale and the duration of the discount is contained in the contents of an email.
Then Audible adjusts the subject line in the "Last Call:," following the subject line from the original email when people are not responding to the original email.
So it's vital to have something in your automation tool that recognizes if a receiver acts on the offer when using this kind of email answer series.
If recipients receive emails for offers after shopping, they get disturbed and can unsubscribe.
More time it takes, more emails can be spaced.
Some engagement emails have elements to encourage people to participate in the process to obtain additional benefits.
Then you could thank the initial recipient for showing interest in one of the emails in your engagement sequence and tell them how much they could benefit if friends had the fun.
The following email may include further tips for using a business or a device, plus an email or telephone number for the organization, and, if necessary, request assistance.
Like this Special offer email in ContentStudio's Newsletter to which I've subscribed.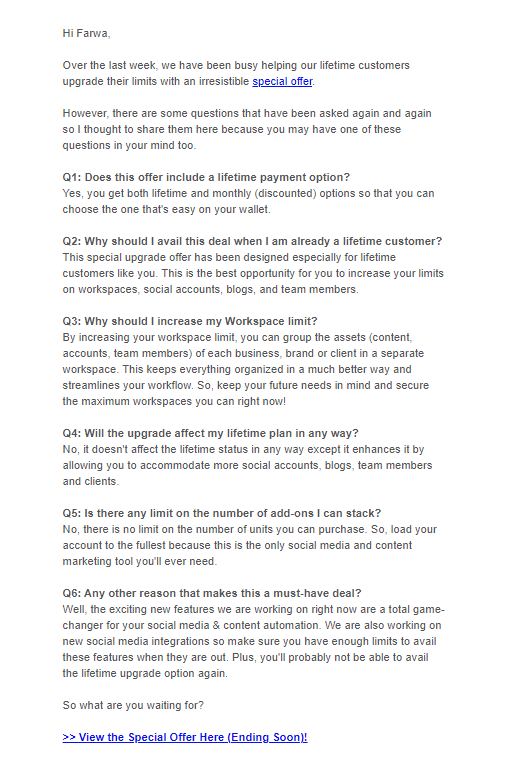 The FAQs in this email engage the user to read the email thoroughly and make up their mind into clicking the link for sure.
Email Nurture System:
A nurture email sequence is perfect for sending out your lead magnet, in the beginning, in case of engagement
The content may be a whitepaper, a checklist that can be downloaded, or an ebook.
The first email you send out to a person should deliver the material as promised after asking for the lead magnet.
It is ideal that you keep your messages branded as much as you can, as Trifecta did in their Nurture email when I subscribed to them to calculate my macros.
We can call these ten emails your permission sandwich because you really can repeat them over and over again in your email nurture system. You can take these six different templates and infuse them with:
Different kinds of training
Different kinds of features of your products
Different kinds of permissions
This strategy can assist you in good engagement and generate potential leads. It is a great cycle where you know what you need to write and in which order to nurture your email list.
You may come across an unwanted situation in which you have a good amount of people on your email list, but they are not engaging since you have not emailed them for a while. If it's that simple then just email them and tell them you have not been around much. Why? because you have been busy making a lot of changes in your business and they are going to get a lot from you. This is the appropriate way to approach your list in case there was a gap.
Conclusion:
The article is a guide to email marketers that overlook small prospects of email sequencing. It is a reminder that small things matter. These steps may be small but they should be kept in mind while writing an email, considering the impact it can create on your overall email marketing strategy.
Email marketing is an exciting component of the marketing subject. However, it is a friend of only a few. Marketers that have expertized in email marketing are leading the email game. We hope you get there as well!