Powering up email marketing campaigns with predictive analytics is nothing new. But the recent increase in its popularity is because predictive analysis has helped companies make swifter and smarter decisions that give results. Predictive analysis needs to be void of assumptions and is always backed by statistics. However, finding data is not the difficult part, the real challenge is putting the information to use in a way that will optimize your email performance and benefit your marketing campaign.
To deliver an email marketing campaign that converts, one should strategize the email campaign along the data provided through the analysis of previous emails and campaigns. Not just that, knowing the target audience and their pattern of email behavior is also an important aspect. With the right tools and methodology applied, you are bound to outperform your previous campaigns. Read on as we dive deeper.
Metrics to focus on
Open Rate
This is the most basic information that you can get from your email marketing campaign. Almost all email marketing platforms provide this data. Open rates directly reflect your email deliverability as the first step of an email is making the subscriber open your email. The most common way of optimizing this is by enhancing the first thing a subscriber sees in an email- the subject line.
Subject lines do play a vital role here, but a lesser-known fact is that when you work on improving the click-through rates, you automatically improve your open rates. Relying on open rates is a little tricky. Technically, an email is said to be opened only when the message and images in your email are delivered to the audience. With most of the email users disabling images, open rates are a little controversial and confusing. Although, open rates work best when used as a comparative metric, for example comparing the open rates of two weeks will give you a controlled variable that can be used for an average.
Click-Through Rate (CTR)
The ultimate goal of any email is to impact the viewer to click on the CTA and end up on your website. The CTR is the unit for measuring that action. By knowing how metrics play here you can get an insight into how many are interested in your offers or how many are willing to engage with your brand. As one good CTR can create a chain of positive results, recognize what works best for your majority audience and thus apply that aspect more in future campaigns.
For instance, if your brand sells cosmetics products, psychologically mild color palettes or extremely bold colors work well. Most of your customers are going to be women and depending on their location, you can easily structure your copy to the jargon of that place. Plus, by knowing the time zone where they reside, you can schedule emails optimized to the best opening time. These steps might seem trivial, but small elements like these will hold up your marketing campaign conversion rates.
Conversion rate
The comparative data of how many users clicked and how many users are contributing to sales is called the conversion rate. This is a little complicated as it has to deal with two different analytics systems. But if you know that a purchase or sale was initiated from an email, that lead is a valuable conversion. The conversion rate which relies on the CTA, is the metric that directly reflects the effectiveness of the email campaign. In the image provided below, the first email triggers a transaction made in the follow-up email.
Unsubscribe rate
When someone unsubscribes your emails, make sure you know the reason for their exit. Unsubscribe rates affect email deliverability. To ensure a low unsubscribe rate, allow your subscribers to communicate what bothers them in the email.
This welcome email by BBC tells the subscriber what to expect and also asks them to send in what their preferences are. This helps to decrease the rate of unsubscriptions.
GetApp conducted a survey in which over 500 US-based respondents from age 25 to 44 years participated. The results from that survey show how your email can trigger your audience to unsubscribe and eventually fail to be an effective email campaign.
Bounce Rate
Following bounce rates will save you in the long run from wasting your resources and being blacklisted. Soft bounces, which are a temporary glitch in the deliverability, are still doable, with a hope that it would be rectified. But hard bounces should be immediately removed from your list (in which the email is not delivered because the email is closed or removed). Internet service providers determine your email sender reputation on the basis of bounce rates, which can make or break your email marketing campaign.
Measuring the effectiveness of email campaigns
The process of measuring how successful your email campaign was with the right analytical tool can be made hassle-free. To know the amount of traffic generated from various sources and to identify the emails that drive leads, UTM parameters can be used. With UTM tracking you can not only check the journey of the traffic generated but you can also incorporate that data to improve your email marketing strategy.
You can use channels report tracking to compare your email performance with other traffic triggers like advertisements and searches. This report breaks down your incoming traffic channels and allows you to determine your most valuable source of traffic. If you want to compare the performance of entire campaigns and compare them with each other, you can opt for a campaign report on Google Analytics where they will give you the data on how many users and sessions your campaign has converted.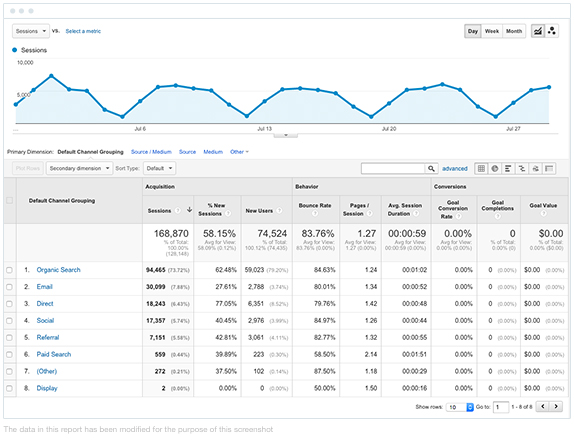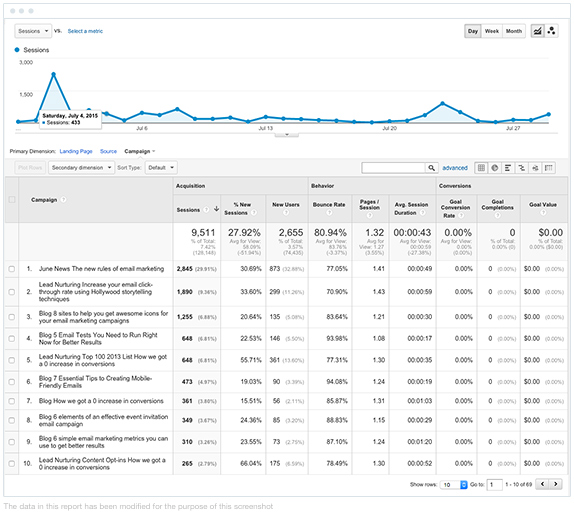 Wrap Up
Now you know how analytics can be used to define the success of your future email marketing campaign. With the data you obtain, you can not only improve your own performance but you can also use it to compare your position in the marketing industry. Gather important pieces of data and set time-bound goals and keep track of your progress.