"What is your mantra for success in business?" Ask this question to any email marketer and promptly comes the reply,

The work of an email marketer is not a simple one. Endless time and efforts are invested in strategizing an email marketing campaign.
As per 2016 Email Marketing Industry Census by eConsultancy, a major chunk of email marketers spent anywhere between 2-8 hours in designing & formulating content and only 2 hours for strategizing and researching the data.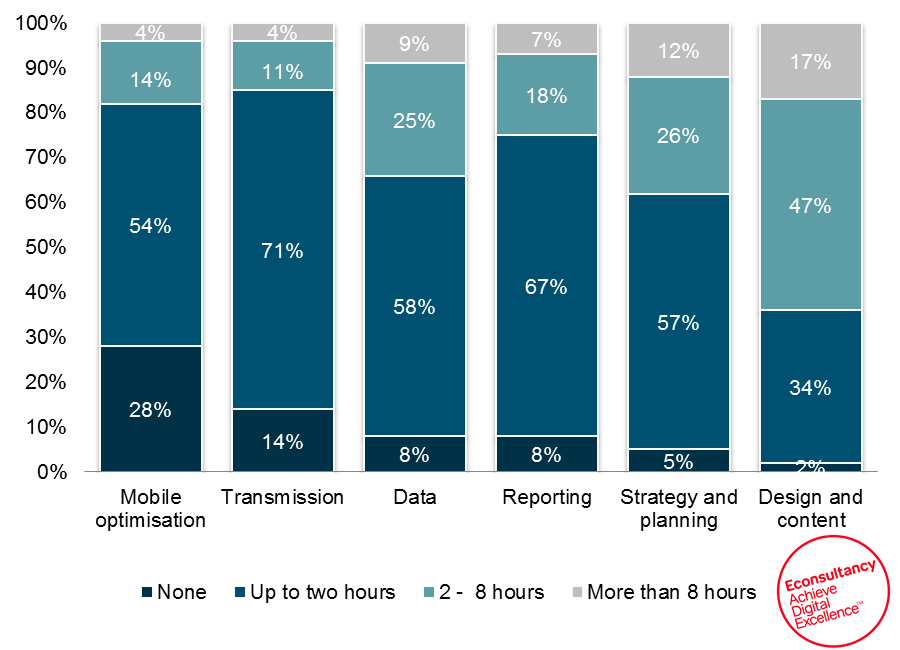 Moreover, email marketers list the following as the challenges that they regularly face:
My client needed this template yesterday – Last moment requirements
My ESP has good templates but I need more flexibility – Easy Editability
Can you please add this section in the email going in next one hour? – Urgency
Would the template work in Outlook & Gmail? – Template renderability
Find Eugene the email developer for adding a new section in the template – Dependency
Can this template be reused again? – Reusability
How would it cost me? – Costing
Dan the email designer never follows the branding guidelines – Design inconsistency
With the email marketing domain aggressively shifting to automation for lead generation, nurturing and converting leads in their sales funnel, the attention of an email marketer should focus on strategizing their approach. This means investing less time in tackling the above-stated challenges and more on testing different marketing strategies. Desperate times call for desperate measures. In such times, email marketers find it wise to invest in a modular email template.
Want to hire a dedicated email developer for your next Email campaign?
Difference between a Master Email Template and a Modular Email Template
Master email template is a skeleton key that can be used to create any type of email from a set of different content blocks within the specific ESP editor. This is particularly useful in scenarios wherein the branding is consistent and so header and footer sections shall remain constant. You can read about creating a master email template in our previous blog "Jailbreak your Master Template".
Modular email template is a subset of a master email template, but is useful for:
Email marketing agencies to send similar looking emails but for different brands.
Brands with different sub-brands that have different branding guidelines.
A great help on transactional emails (especially invoice, cart, abandoned cart, reminder, etc.)
Automated emails like Welcome series, Social following, Birthday emails, etc.
Steps to create Modular Email Templates
Understand the needs

: Identify the type of email that shall be sent using this template and also the type of content that shall go in the email. Normally, if you are associated well with the brand, it's easy to judge what sort of modules you will need to create different type of emails.

Select common sections

: Based on the type of email to be sent, identify common sections that shall be consistent.
In a welcome email– a header featuring the brand logo, social plugins, view online link, etc., a body with a hero image, a CAN-Spam compliant footer.
In an email newsletter– a header with a brand logo, view online link, an email body with one or two columns, a CTA button, unsubscribe link.
In a transactional email– a header with brand logo, email body with rows of text with space for the dynamic block that is replaced with the image of the products.

Visualize the template

: Once the common sections are finalized, it's time to get the template designed. For agencies dabbling with different brands, the final template may be plain looking, albeit any colors, owing to different branding guidelines.

Code it and Test

: This is the final step in the template production process. Once the template design is done, get it coded. Then test it for rendering, and you are done.
Even though the above steps are similar to the ones followed for any generic email template, the point of separation is in the selection of the common sections.
Wrapping Up
Just like a master email template, a modular email template only needs a significant time in the conceptualization stage and shall prove very helpful in the later stages. If you wish to create a modular email template get in touch with us and feel free to express your views in the comments below.