Salesforce Marketing Cloud (SFMC) regularly features in lists of the best Email Service Providers (ESPs) available today. Feature-rich and powered by Artificial Intelligence (AI) capabilities, SFMC offers numerous capabilities for email marketing automation, customer journey builds, post-campaign analytics, customer engagement, and much more.
A key reason for SFMC's popularity is that it is consistently upgraded with new releases every few months. In each release, new features and capabilities are added to help organizations improve their email marketing programs.
Here's the SFMC release cycle for 2022: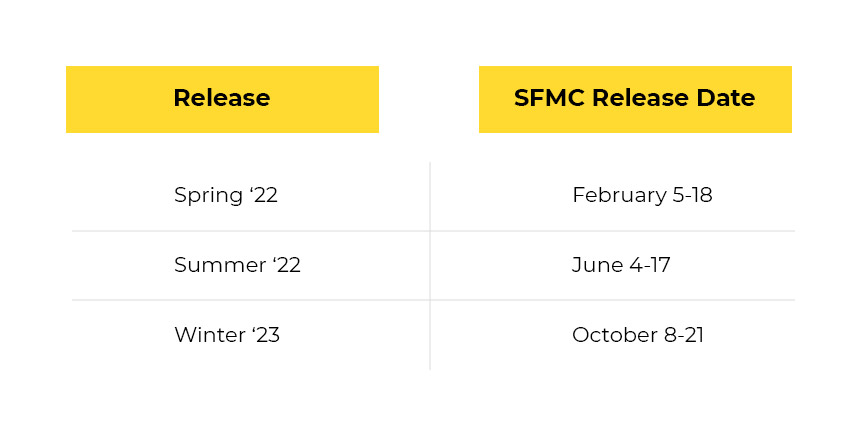 Does your org use SFMC to engage with customers and build brand equity through email marketing?
Here's what you should know about the Spring '22 release!
Feature #1: Datorama Reports: New Fields
USP: Optimize your email marketing program with new KPIs and report types
SFMC is such a popular ESP because it enables email marketing teams to do more than simply plan and deploy email campaigns. They can also assess the performance of each campaign, compare it against relevant KPIs and metrics, and take action to improve performance in many different ways like:
More opens
More clicks
More conversions/purchases
Fewer bounces
Fewer unsubscribes
Fewer spam reports
And now, with Datorama Reports in the Spring '22 release, you can further improve your email analytics with new KPIs and attributes. For instance, you can:
Analyze email and campaign performance by device, client, OS, and browser
Customize dashboards and create calculated measurements and dimensions (for users with Datorama Reports Advanced license only)
Compare open and click totals
Do a deep-dive performance analysis by:

Bounce type
Clicks by links
Total clicks and opens
Conversions
Unsubscribes
Spam complaints
Click event lag
Thus, you can dissect email send performance by numerous user device attributes. You can also create new types of breakdowns with the expanded list of email dimensions and measurements.
Feature #2: New Einstein Innovations
USP: Make informed decisions and send better messages to the right subscriber at the right time
According to Salesforce, marketers who send AI-powered messages can increase their engagement rates by 22%.
Einstein is SFMC's powerful AI engine. It provides useful insights and timely data that enables email marketers to:
Understand customers' engagement and behaviors.
Personalize every interaction by segmenting the audience and delivering tailored content.
Optimize the timing and frequency of every email campaign.
The Spring '22 release includes numerous innovations to Einstein for SFMC.
One crucial innovation relates to subscriber privacy. As users become more privacy-conscious, email client providers and hardware makers are incorporating new privacy rules to keep up. These changes could impact email open rate metrics, which means that opens will no longer be a reliable proxy for subscriber engagement.
That's why SFMC and Einstein are moving away from using only traditional open rate metrics. Instead, you can now use an engagement rate metric that blends open rate metrics with additional signals like clicks. The goal is to:
Ensure that marketing teams get accurate and reliable data, insights, and predictions into their campaigns.
Provide a more holistic view of subscriber engagement with email content.
Here's a quick lowdown on some of these new updates in SFMC Einstein: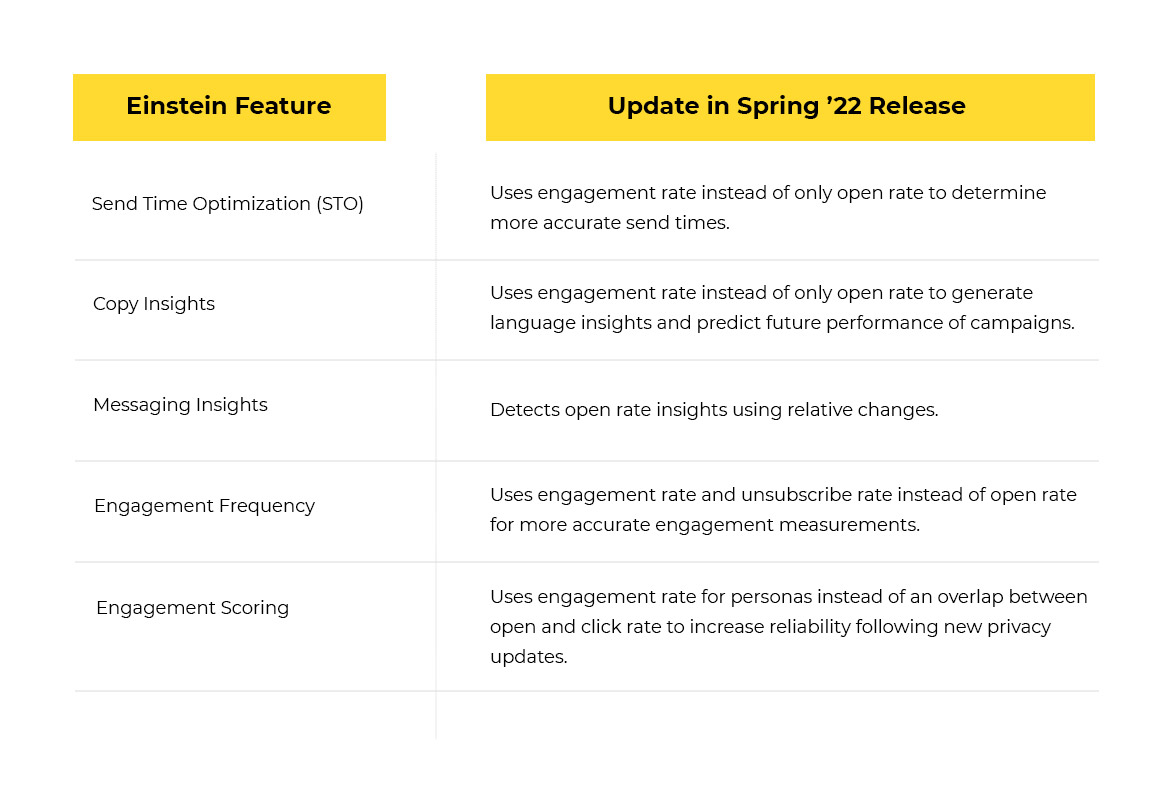 In addition, following this release, you can:
Get Einstein Messaging Insights directly in Slack.
Use Einstein STO in single send journeys.
Analyze subscriber personas over time, and see how your messages resonate with subscribers with momentum analytics in Einstein Engagement Scoring.
Use hierarchical "nested" tagging in Einstein Content Tagging.
Use a new API to create a daily report for Einstein Content Selection with a log of individual subscribers' asset selections and clicks.
Filter the options in an email's Einstein Content Selection content block to create more targeted campaigns.
Feature #3: Pardot Opens Activity Audit
USP: Identify open rate tracking to prepare for privacy protection rules, and update your marketing strategy
Previously, we explored how SFMC is updating its Einstein features in light of recent privacy protection rules. The Pardot Opens Activity Audit is another change in this area which will be available with the Spring '22 SFMC release.
With this new feature, you no longer have to rely on email opens to assess subscriber engagement. Instead, you can use email opens in Engagement Studio, Automation Rules and Dynamic Lists to plan, prioritize, and manage changes to your email marketing program.
Take advantage of this new update to prepare for privacy protection developments, such as Apple's Mail Privacy Protection – a new feature introduced with iOS 15 and iPad OS 15. This feature hides a subscriber's IP address, so as an email sender, you won't be able to determine their location, or track whether they opened/clicked on/viewed/forwarded your emails. You also won't be able to link their email habits to their other online activity.
Stay on top of such updates by auditing your email strategy, and identifying where you track email opens. You can track clicks, conversions, revenue generated, and other success metrics to update high-impact email programs. SFMC will also generate in-app banner alerts to update you on the latest industry news and changes.
Feature #4: Track real-time behavioral engagement for mobile apps
USP: Create customer journeys based on customer responses to mobile push and in-app notifications
SFMC is much more than an email marketing automation tool. With this comprehensive platform, you can also create customer journeys, and then design email campaigns to deliver personalized experiences at every step – and every channel – of an individual customer's journey. You can also connect the entire experience and align your messages across every channel – including email.
The Spring '22 release will help you orchestrate and enhance these journeys even further. Use information about how subscribers respond to push and in-app notifications to place every subscriber in the appropriate journey. By triggering targeted journeys, you can deliver meaningful engagement with every email message.
You can also react in real-time to create relevant email messages by:
Exiting a user from an existing journey.
Entering them in a new journey
Listening for open events in real-time
Dragging a new activity onto the Journey Builder canvas to quickly update journeys
With this release, you don't have to collect your own app data, use a data extension, or make an API call to enter or exit a user into a journey. If your team uses a Corporate or Enterprise Edition of SFMC, you can use this feature for free following this release.
Feature #5: Datorama enhancements for eCommerce
USP: Optimize customer experiences with email and eCommerce
Is eCommerce a part of your email program? With the Spring '22 release of SFMC, you can take advantage of several SFMC Datorama enhancements to align performance of your email program with eCommerce outcomes. These enhancements include:
Salesforce Order Management
Amazon Vendor Central Inventory
With these new features, your email and eCommerce teams can collaborate better. By working on one integrated platform, they can use harmonized data and key insights to drive greater efficiencies, higher sales, better ROI, and more personalized customer experiences.
A Final Word
In addition to the five world-class features explored above, the Spring '22 release will also provide Business Unit-aware integration between Salesforce Customer Data Platform (CDP) and Journey Builder. This feature is most useful in multi-brand or multi-geo setups, since it will help maintain brand and geographical boundaries when integrating CDP and SFMC.
If you need any help with making the most of SFMC, reach out to the Email Uplers team. We will show you how you can leverage these new features to power your brand's email marketing program.