An email preference center can help you improve your email strategy and unlock a wealth of subscriber data that will reveal their communication preferences. You can then leverage this information to:
Learn more about their email preferences
Build more complete subscriber profiles
Deliver personalized email experiences to boost engagement and ROI
Get subscriber consent to earn their trust and loyalty
Minimize inactive email addresses in your list and thus improve your email deliverability
An email preference center can also help you manage unsubscribes so you only have those subscribers who actually want to hear from you.
And that's not all. A preference center in Salesforce Marketing Cloud (SFMC) can also help you meet regulatory requirements. This is especially important in an era where privacy laws are becoming more stringent and you need to be careful about how you use individual data.
Need guidance about designing and optimizing your preference center in SFMC?
This article is for you!
What is a preference center in Salesforce Marketing Cloud?
A preference center is a page that enables subscribers to choose the type and frequency of email messages they want to receive from a brand. They can thus choose to "opt down" from certain emails rather than completely opting-out or unsubscribing.
With a well-designed preference center, you give subscribers control over what they receive from you and how often. This level of control – not to mention the two-way relationship you will build as a result – plays a big part in keeping them subscribed to your emails.
You will also be able to gather more first-party data and use it to match their preferences. This data could include their:
Name
Location
Age
Gender
Birthday
or anything else that can help your brand to understand them better in order to:
Send user-tailored content
Increase email opens and click-throughs
Improve user-brand engagement
Reduce unsubscribes
Build brand loyalty and trust
A preference center is not a legal requirement. However, considering its many benefits, it's well worth the time and effort to create one for your email marketing program. Read on to learn how you can make the most of preference centers in Salesforce Marketing Cloud.
What kind of preferences can you offer to subscribers?
A preference center doesn't have to be complicated. The simplest preference centers offer two preferences to subscribers: content type and messaging frequency. With this type of preference center, subscribers can choose from different types of email content and also control email frequency and timing. Examples include:
Weekly or monthly newsletters
Daily, weekly, or monthly news digests
One-off event invites
Regular product updates
Special occasion deals or discounts
Occasional surveys
Occasional referral emails
If you want to create a more comprehensive preference center, you can also provide preferences for interests or topics that appeal to each individual. This is a great way to capture first-party data and use it to segment your subscriber list, create personalized emails, and create dynamic email content.
You also provide specific days as a preference so subscribers can select the days they want to receive emails for their preferred topics.
Why you should create a custom preference center in Salesforce Marketing Cloud
SFMC offers both a profile center and subscription center. A profile center is a page where subscribers can enter or update their personal information. A preference center is where they update their subscription preferences.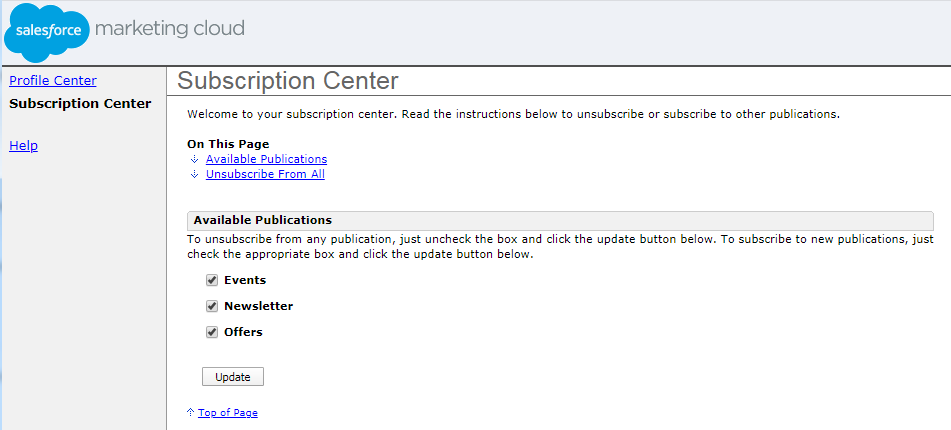 You can use the standard preference center in SFMC. However, this version does not include advanced functionalities like:
Custom branding
Custom domain
Trigger a post-unsubscribe survey
One-click unsubscribe
Unlimited custom fields
Add dynamic personalized content
You can leverage all these functionalities with a custom preference center. Customizing your SFMC preference center will help you:
Keep up with changing customer communication habits and preferences
Show subscribers that you respect their preferences, which is the key to maintaining a strong relationship with them
Set expectations and offer improved controls to build trust and increase retention
Centralize internal governance and improve your team's efficiency and timeliness
How to create a custom preference center in Salesforce Marketing Cloud
The first step to creating a custom preference center in SFMC is to create a Cloud Page in SFMC. Use the code view in Web Studio → Cloud Pages. All you have to do is to create a landing page which will be the preference center.
Also use the Cloud Page to create sub-pages for:
Subscription
Email address confirmation (double opt-in)
Updating existing subscriptions
Unsubscribes (opt-out)
To enable the Preference Center app in your SFMC Privacy Center configuration:
Go to Setup
In the Quick Find box, enter Profiles
Select the profile you want to assign to Preference Center
Under Apps, select Object Settings
Find Privacy Preference Center
Set Tab Settings to Default On
To see the preference center in your Privacy Center configuration, edit the profile of your users. To use the preference center, the "ManagePreferenceCenter" user permission is required.
After you enable the Preference Center in SFMC, you can access its dashboard to navigate to features like consent templates, preference forms, and access tokens. You can also publish, unpublish, edit, delete, and create multiple versions of your forms, and gather information on which forms are published, when they were last edited, and who modified them.
In SFMC, you can create self-service forms for your customers to define their communication preferences. And you can do this in two ways:
Create forms that work with Apex: Create an Apex class in the Preference Center namespace and then use Preference Builder to select form elements to populate onto a blank workspace
Create forms populated from customizable consent templates: Choose from three template types and build the template based on your data use purpose and required consent channel
For more detailed information about these methods, click here.
Best practices to make the most of your custom preference center in Salesforce Marketing Cloud
In this section, we explore some best practices to improve and optimize your SFMC preference center.
Always include the email frequency option
Give subscribers frequency options for each type of email. This gives them a clear idea of what they are signing up for and what they can expect. The option also allows them to update their subscription.
Make sure to keep your promise. If they opt for a monthly email, don't spam them with daily alerts or weekly newsletters!
Give the option to "snooze" emails
Giving subscribers a choice to snooze communications can help you retain more of them. They can take a break without completely unsubscribing. And when they are ready to come back, you can send a "welcome back" email to ease them into the regular email send journey. You can also allow them to set a "blackout window", i.e., a date/time range when they don't want to receive your messages.
Define a cap on monthly sends
It's a good idea to set a monthly cap on the number of emails you send, especially if you only send one or two types of commercial emails. The cap will reduce brand fatigue and increase the chances that subscribers will stay subscribed for longer.
Include tracking permission settings
You can show a subscriber's tracking permission settings on their preference center. This way, they can control whether they want you to track their activity or not.
Give a universal Unsubscribe option
A universal Unsubscribe option makes it easy for people to unsubscribe from all your emails if that's what they want. It will also help you stay compliant with laws like CAN-SPAM and GDPR.
Other good practices to keep in mind when designing your SFMC preference center:
Highlight your brand with the logo, brand name, social media links, etc.
Customize the page with the display language and welcome message
Keep it simple. Don't overwhelm subscribers but still give them enough choices to control what they get from you
Consider accessibility requirements
Make the Unsubscribe option clearly visible
Create a mobile-friendly version
Conclusion
We hope you enjoyed reading this guide as much as we enjoyed bringing it to you. A preference center in SFMC is a powerful way to keep your subscribers engaged, interested, and subscribed. So if you haven't thought about creating one before, we urge you to do so rightaway.
Need more tailored guidance to design your brand's preference center? Contact Email Uplers!