As the competition to STAND OUT in the inbox is soaring high with every passing day, creating noticeable emails has become imperative. There's a prominent shift from simple emails to those flaunting animation and interactivity, and there seems to be no substitute to creating spectacular designs and flawless codes to improve user experience.
The Uplers design and code beautiful emails so that our clients put their best foot forward and stay ahead of the pack, always.
In our new blog series, we let our clients speak about their journey with Uplers. And it's not about patting our own back but it's our wish to be of help to others facing similar problems.
Here's what Carolina Muncunill, Accounts & Project Director at Webpower had to share:
Can you provide us a quick overview about your Company?
CAROLINA: Webpower is one of Europe's leading email communication companies. Since 1999, we've been a system supplier and advisor to companies around the world. Webpower has offices in Holland (HQ), Sweden, Germany, China and Spain. At Webpower, we see email marketing as an important and efficient channel to communicate with existing and potential clients through transactional emails and more personalized one-to-one communication. With the help of advanced solutions and our knowledge acquired through experience, we help our clients to strengthen their direct marketing strategy.
What is your role in the organization and team?
CAROLINA: As the company´s Accounts & Projects Director at the Spanish office, I work on ensuring our clients' satisfaction and the quality of the projects delivered. I do liaise closely with key clients in order to enhance both the best multi-channel strategy for them and the best email practices.
How long have you been in the Email Marketing industry?
CAROLINA: I've been in the Email Marketing Industry for 3 years now, but my experience in marketing positions (online, offline, media) is of 6+ years. I truly believe that all channels/tools that compose the Marketing Environment, should work together to devise the most cost-effective campaigns & strategies.
What have been your major challenges pertaining to email templates during a campaign?
CAROLINA: Email templates and coding itself…it's another world! It's a field with its own rules and you need to have a lot of experience to be able to put all your knowledge together, and in addition, save time and resources. Maybe ensuring the best visualization on the most common ISPs and devices, has been the major challenge.
What kind of solutions were you looking for to beat the challenges?
CAROLINA: The main solution I was looking for was a professional advice on the coding field; a team able to give us support with our key clients in all coding issues and, at the same time, suggesting the best ways to optimize designs and communications. We also needed a professional team with technical knowledge, being capable of integrating all codes at Webpower tool.
How did you come to know about Uplers & Why did you choose Uplers for email template production?
CAROLINA: After an accurate search on the Internet and seeking advice from some colleagues working within the Industry, I came to know about Uplers and their services really convinced me: an extended experience with well-known companies and a more than reasonable Quality & Price & Time relationship.
How Uplers could help you beat your challenges? What difference has it made to your campaign performance?
CAROLINA:Uplers have helped us strengthen the relationship with our clients: we have been able to deliver excellent coding jobs within a short period of time. What's also remarkable is the flexibility ofUplers to make further changes/modifications once the job is done – ensuring the best client satisfaction.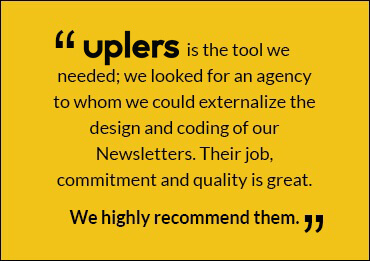 Tell us about a specific project where Uplers could help you find a remarkable solution – Challenges, Quality, TAT, Cost, etc.
CAROLINA: One of our key clients is a well-known Spanish supermarket chain – we've a strong relationship with them and their requirements on the email channel are very demanding: Many different communication typologies and as a consequence, a lot of templates.
Thanks to Uplers' support, we've been able to build excellent templates according to their needs, ensuring the best visualization and good practices. We've been able to dedicate less in-house resources to this client and be more cost-effective.
How has been your experience working with Uplers?
CAROLINA: Excellent – we've built a long-term relationship with their great team! They are always willing to help and make our job easy. Nowadays, I can't imagine working without their support.
What would be your recommendation for people looking out for similar solution?
CAROLINA: Work with Uplers, you won't regret it. Really, if you're looking for a faithful partner always willing to help you, this is your choice. Your company's cost-effectiveness in this field would really be improved.
Heartfelt thanks to Carolina for her kind words and confidence in Uplers' ability to deliver value.