In less than a decade, Salesforce Marketing Cloud (SFMC) has evolved as a leading tool for email marketing and marketing automation, with teams all over the world relying on it to plan, create and execute unique, on-brand email campaigns.
The platform is constantly evolving, with regular releases every year. Each new release includes new features that enable email marketing professionals to leverage new functionalities and boost their brand value through email.
SFMC 2021 Release Schedule
| | |
| --- | --- |
| Release | SFMC Release Date |
| January 2021 Release | January 30-February 6 |
| April 2021 Release | April 10-17 |
| June 2021 Release | June 5-12 |
| August 2021 Release | August 7-14 |
| October 2021 Release | October 16-23 |
Read on to know more about the highlights of the April 2021 release!
What: Marketing Cloud Package Manager
Why: Group together certain preconfigured assets to decrease time to value
Are you developing and testing in a separate business unit or instance?
Do you plan to do international rollouts for your brand in the next few months?
Then Marketing Cloud Package Manager will save you a lot of time, and simplify your life!
With Marketing Cloud Package Manager, you can group together certain preconfigured assets and then deploy them as a package to other business units. These include:
Data models
Journeys
Automations
Content
With this feature, you can deploy fully configured items that adhere to best practices from any SFMC instance to another for faster scalability and decreased time to value.
If the content assets include personalization strings, you can include prompts for the end user to input default values. If yours is a global enterprise, use Package Manager to share best practices across departments or geographies, and accelerate the onboarding of new business units.
Marketing Cloud Package Manager will be available free for all SFMC editions after April 19th, 2021.
To access Marketing Cloud Package Manager
Step 1: Select Package Manager from the Platform menu in SFMC.
Step 2: If you have SFMC administrator rights, you will see a list of journeys in the current business unit.
Step 3: Use the tabs to view other object types including automations, content, and data extensions.
Step 4: When you select a journey, all items including automations, content, data extensions, and attribute groups associated with that journey are also selected.
Step 5: (Optional) Package multiple journeys together
Step 6: To deploy:
Upload the package, enter required custom field values, and confirm the items in the package.
Deploy the package .zip file to your SFMC instance.
After deployment, items are ready to activate or send.
What: Customer 360 Connector with Tableau
Why: Discover new insights about customers
In today's demanding buyer's market, every brand is scrambling to achieve top-of-mind status with their customers. The best way to do this is to understand them better through key insights that promote timely and relevant action. In SFMC's April Release, the Customer 360 Connector with Tableau feature helps you do just that.
Discover key insights about your customers from your cross-CX engagement, behavioral, and transaction data. More importantly, take action on this data to improve your email marketing campaigns and enhance your brand's value.
Customer 360 Audiences (C360A) is Salesforce's "single-source of truth" platform that effortlessly unifies all your customer data across multiple channels and touchpoints, including:
Mobile
Web
Sales
Marketing
Service
Commerce
Use this vast dataset – available at your fingertips in Tableau – to extract meaningful behavioral insights scores (aka calculated insights), and create better audience segments for your campaigns. Cross-drill down to and from campaign, channel, or content to better understand your cross-channel engagement performances.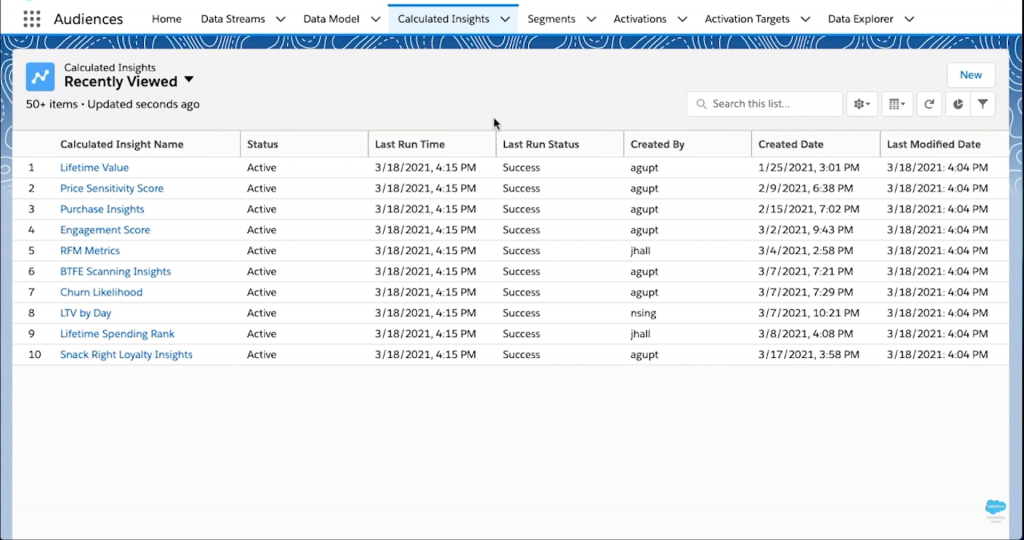 To access Customer 360 Connector with Tableau
The Customer 360 Audiences Tableau connector is available in Lightning Experience.
It provides two modes for interacting between products:
Live
Extract
Select your mode when setting up your connection by choosing either the Live or Extract radio buttons after dragging a table into the "Need More data?" section.
Find Customer 360 Audiences in Tableau's Extension Gallery. Explore data source objects, data model objects, unified profile, and calculated insights as tables to get insights with Tableau visualizations. All objects are accessible by querying the authorized tenant and exposing them to Tableau after authentication is complete.
What: Data Quality Metrics for SFMC's Einstein AI
Why: Optimize Einstein Send Time Optimization, Engagement Frequency, and Engagement Scoring
SFMC includes a powerful Artificial Intelligence (AI) engine called Einstein that enables email marketers to understand their customers better, optimize performance, work more productively, and create memorable email campaigns. Key Einstein features for email marketing include:
Journey Insights: Track all customer interactions across multiple touchpoints, and apply advanced attribution modeling to improve engagements and event sequences leading to specific goals, e.g. purchase.
Content Tagging: Add and update content tags and metadata automatically, every 24 hours so you can easily find the right asset for later reuse.
Send Time Optimization (STO): Calculate optimal send times to maximize the probability of subscribers opening your emails.
Engagement Frequency: Identify how many emails to send, and which subscribers are emailed too often (or too little) to improve engagement and preserve customer satisfaction.
Engagement Scoring Dashboard: View engagement predictions for emails, including likelihood to click and open, unsubscribes and web conversions. You can also group customers in recognizable personas: Loyalists, Selective Subscribers, Window Shoppers, Dormant/Winbacks.
Einstein is one of the key features of SFMC that sets it apart from other ESPs. Data quality metrics for Einstein STO, Engagement Frequency, and Engagement Scoring in the April 2021 release will help you understand the quality of the data that Einstein applications can use. Data quality impacts the analytics, insights, and predictions you receive from each Einstein feature, so these metrics will help you:
Track progress by viewing minimum performance threshold and comparing your performance against it
Identify improvement opportunities
Unpack key factors to understand the data in play
Identify and implement actionable changes
Optimize Einstein's predictions and insights to enhance your email campaigns
To access Data Quality Metrics for Einstein
Step 1: Go to Einstein Overview.
Step 2: Check your score at a glance in each app's card.
Step 3: To review which metrics matter for individual apps, click View Details.
Step 4: You can also review your data quality on the individual dashboards for Einstein STO, Engagement Frequency, and Engagement Scoring.
What: Datorama Multi-Touch Attribution App
Why: Identify efficiency optimizations in your first- party marketing
Most customers today use multiple channels to engage with and purchase from brands. Very few buy on their first visit to a website. Before they finalize their decision, they see some ads, read some blogs, talk to friends, etc. In general, every touchpoint between a customer and your brand can influence their decision to convert. And that's why you must identify both nascent and high-quality user acquisition channels to understand their role in creating new customers and contributing to revenue. This is where multi-channel attribution is critically important, which Datorama's Multi-Touch Attribution App in the April 2021 release can help with.
Consumers expect personalized moments in marketing. You can meet this imperative by investing in first party user-level data through the Multi-Touch Attribution App. This app, built on top of Datorama's Data Lakes, handles all your attribution needs from data ingestion, manipulation and analysis. Since it takes care of all the heavy lifting with its "all-clicks, no-code" approach, you can easily:
Get better control over your attribution analysis process
Choose from standard attribution models, or create your own logic based on specific business needs
Analyze touchpoint effectiveness and measure impact
Generate insights that everyone can understand and take action on
Optimize your email program towards efficiency
If you have Datorama's Data Lake, you can access the Datorama Multi-Touch Attribution App after April 17th, 2021.
To access Datorama Multi-Touch Attribution App
Step 1: The app lives inside Datorama's marketplace:
Step 2: Create a customer journey
Step 3: Add relevant tables, user IDs, timestamps, etc. for each attribution channel. Simply click on what you need and the app will take care of the rest.
Step 4: Add analytics conversions. E use the suggested breakdowns or create your own.
Step 5: Define what success looks like for this journey by updating your KPIs.
Step 6: Choose the attribution model (first touch, last touch, etc.) that's most relevant to your optimization effort. You can also create custom models.
Step 7: Choose the attribution model (first touch, last touch, etc.) that's most relevant to your optimization effort, or create custom models.
Wrap up
One good way to learn more about the Salesforce Release process and craft your brand's release strategy is to earn a Seasonal Release Strategies Trailhead badge. You can also sign up for SFMC's product release communications here. The other way is to subscribe to Email Uplers' blog. Want to know about previous releases and other email marketing gems of wisdom? Click here!