With Journey Builder in Salesforce Marketing Cloud (SFMC), you can visually automate multiple marketing channels in one place. Thus, instead of "siloed" campaigns in each channel, you can build a single, holistic, multi-channel journey to bring all your marketing communications into one module.
Want to create 1:1 personalized journeys for each prospect or customer?
With Journey Builder, you can!
You can also guide your prospects and customers as they progress through their journey along many touchpoints. In short, you can tell the story of each customer's experience to serve them better with every initiative.
Now, if you're an experienced email marketer or a Salesforce Marketing Cloud specialist, you're probably already familiar with Journey Builder.
But if you're new to Journey Builder, then this article is for you!
In this simple guide, you will find 5 effective best practices to help you unlock the value of Journey Builder to scale up your brand's email marketing efforts.
Let's go!
1. Before creating a journey, create a plan
Journey Builder is amazingly intuitive and user-friendly. But even with its simple interface and drag-and-drop functionality, it helps to not jump into journey creation without proper planning. Ask yourself:
What is the goal of this journey?
Who are my users/customers/prospects?
What are their preferred touchpoints and communication channels?
Then, create a simple journey plan and collect data to validate its effectiveness. For eg. Automating a welcome message after a user signs up on your site.

Next, add flow controls like decision splits or engagement splits.
Finally, start creating journeys for complex use cases and add more touchpoints to create an omni-channel experience for users.
2. Use Data Extensions or API Events as data sources
Journey Builder allows you to visually represent every interaction that a customer (or prospect) could potentially have with your brand along their buying journey. Marketing, Sales, Customer Service and other departments can share customer data to understand customer paths, chart customer personas and touchpoints, identify breaking points and gaps, and then use all this information to inform your email marketing efforts.
But before you create a data relationship in Marketing Cloud or start with customer journey mapping, you need a solid data strategy. Start by connecting your CRM with SFMC, and then extend it across data points to see a complete view of your customer interactions.
If Salesforce is your CRM, it is your best choice of "Entry Source". Otherwise, use a Data Extension or API Event.
The data extension entry source lets you choose a sendable data extension, then admit contacts in that data extension into a journey in a batch. You can configure a filter to control which contacts enter, or admit all contacts in the data extension as per a schedule that you set. Here, remember that Journey Builder is not an ETL or segmentation tool, so filters are best applied prior to entering a journey. You can use the data extension entry source for multiple email marketing journeys. But, if your data extension gets into the millions of rows, it may impact journey performance so create a pre-filtered copy of the Data Extension for each journey instead.
The API event in Journey Builder connects the journey canvas to an API used to admit contacts into a journey. When the API fires an event, the contacts entering the journey are stored in SFMC data extension of your choice. You can set a filter using SFMC data attributes to ensure that only intended customers enter the journey. A word of caution – numerous API calls to the same system objects can impact performance so be careful if your journeys have "update contact" activities reaching out to large, shared data extensions.
3. Use goals to measure journey performance
One way to gauge whether your Journeys are achieving your marketing objectives is to set Goals in Journey Builder. For example, if you set "coupon redemption" as a journey's goal, the customer exits the journey after they redeem the coupon. They don't receive subsequent messages in the journey.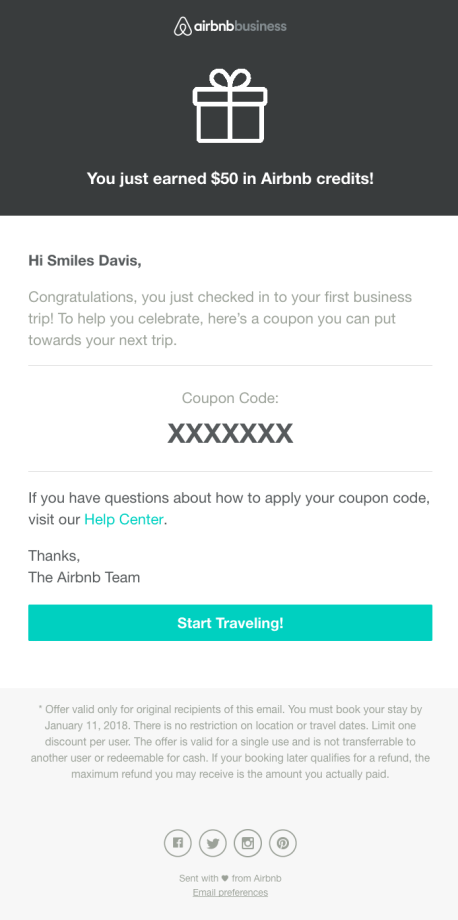 To set up a Goal click the trophy icon in the top right menu:
Then choose an Audience, either from a list or by "listening" to real-time consumer behaviors (e.g a purchase). Once you add a contact to any Journey, you can then connect with them on any channel, including email. You can also reach out to them to ask for feedback. Journey Builder will automate every interaction they have with the organization, including interactions via email marketing.
4. Use Exit Criteria to remove prospects as required
If a prospect becomes a customer, you might want to remove them from that journey. With Journey Builder, this is very easy to do.
To remove a contact from a journey before they complete it, set up Exit Criteria in Journey Builder. Click the icon next to the trophy icon in the top right menu.
As soon as a contact meets this criteria they will exit the Journey.
Exit criteria simply removes the contact. If a contact exits using the goal functionality (discussed above), the contact is tracked and measured against goal performance.
Exit scenario example
How to configure Exit Criteria for an abandoned cart campaign with a single email and 72-hour wait after the message:
The goal would track if customers bought an item out of their cart and exit them from the journey
If customers do not buy an item within 72 hours, they exit the journey and are not counted as part of goal achievement
Exit criteria could also be used to exit customers when they remove the items from their cart

You can also set "re-entry" settings to control whether contacts can enter a journey more than once:
No re-entry
Re-entry only after exiting
Re-entry anytime
5. Save time and optimize send speeds
Remember that it's not just about the data relationship in Marketing Cloud or the length of the journey in Journey Builder. The timing of data activities is as important as the time between each activity, because this can help you avoid unnecessary conflicts. So make sure you pay attention to timing! You should also ensure that you have all the right data for your journeys so you don't waste time later.
Another way to save time is to use the Copy Activity function for large or repetitive builds:
Here's how to do it:
Click the icon in the top right showing a circle on top of a square
Click the activities you want to copy
Click 'Copy Selection'
In the left-hand panel, you will see a section Copied Activities Clipboard
Click and drag the group of icons in this section on to the canvas where you'd like them to be
Remember to save your Journey as you build because Journey Builder does not autosave!
Other best practices to optimize send speeds:
To reduce resource contention and speed up processing, stagger journeys instead of scheduling multiple journeys to run at the same time
Limit the number of activities in a journey to 100 to avoid loading issues
Avoid overuse of AMPScript in messages, bring personalization data into the journey via the entry source
Do not add a Wait activity as the first step in a journey, and avoid using Waits under one hour
Journey Builder processes the decision paths top down so you have the path with the highest frequency first, second highest frequency second, etc.
A final word
In Salesforce Marketing Cloud, the Journey Builder module can help you take each customer on a journey that's personalized and relevant. It will help you understand them better, so you can engage with them consistently across their journey, no matter the specific stage or touchpoint. Journey Builder is so versatile that along with Salesforce templates, it can help you create different journeys for different email marketing campaigns.
Plan, personalize and optimize your campaigns for each customer based on who they are, what they like, where they are in the customer lifecycle, or how they respond to your brand's communications. And with the 5 strategies we have discussed here, you can start sooner rather than later!