[This post was published on 15th July 2016. It has been updated on 11th Feb 2022.]
The automotive industry is not just limited to design, development, manufacturing, and deployment of vehicles. A proper marketing approach holds equal importance along with this. Well, what can be better than email marketing that has the ability to add a personal and valuable touch to your subscriber's thoughts and emotions? From fresh and engaging, to pleasurably splendid, these automotive emails are sheer examples of excellence in automotive industry email design inspirations.
1. Volkswagen
This luxury cars cognoscente starts its email journey with "Welcome to the Volkswagen family". The welcome emails set the tone for relationship building with the subscriber thanking you for getting registered and expressing their gratitude for your association.
In addition to this, it assures the new members of the Volkswagen family how timely they'll be receiving e-newsletters regarding offers, events, contests, and everything along those lines. The modular themed automotive email template gives one a glimpse of what it feels like to be a part of Volkswagen.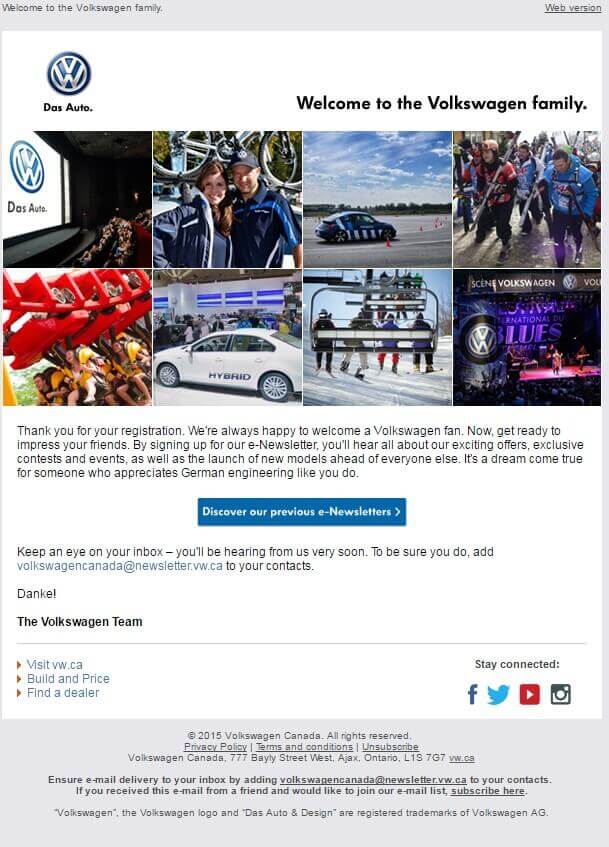 2. Waymo
This example from Waymo is easily among the best automotive emails out there. The email walks the readers through the various redeeming features of Waymo cards, illustrating how their benefits can truly enrichen the lives of their owners. From a design perspective, the layout has made generous use of white space, ensuring that the content is free of visual clutter and easy to consume.

3. BMW
When a current customer refers someone else and when that turns into profit for the business, it turns out to be a golden moment for the brand. BMW did not miss out a moment to heartily thank their old customer. What makes this rank among the best automotive emails is its simplicity. The message is simple, crisp, and to the point. The sweet manner with which they expressed their thankfulness can be seen in the below email: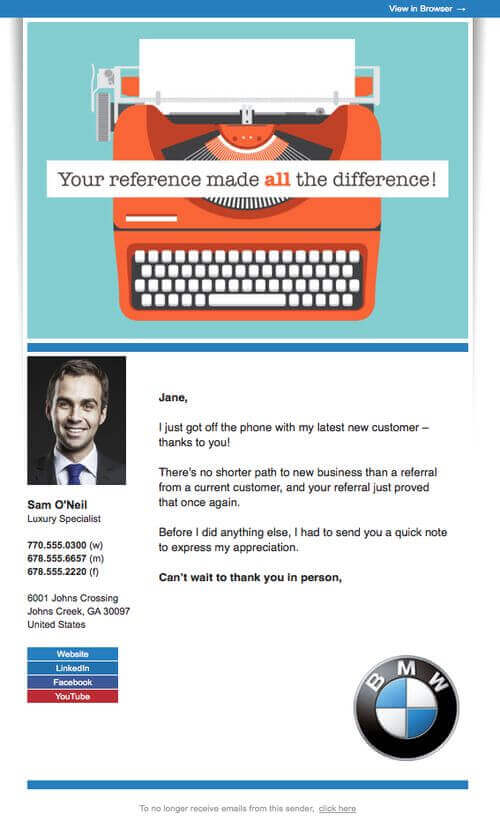 4. Honda
What's a better way of building car sales email templates than by filling them up with glowing reviews from a host of top-notch motoring journalists? Well, that's exactly what Honda has done over here. Further, the layout is exceptionally chic and showcases the company's Type R model in all its glory. It really is difficult to peel your eyes off this email, isn't it?

5. Toyota
With the use of minimal colors, Toyota designed a simple yet elegant car sales email template. In the following enquiry email, they responded back to their customer in crisp yet apt manner. Without missing out any information, it reverted back with all necessary information.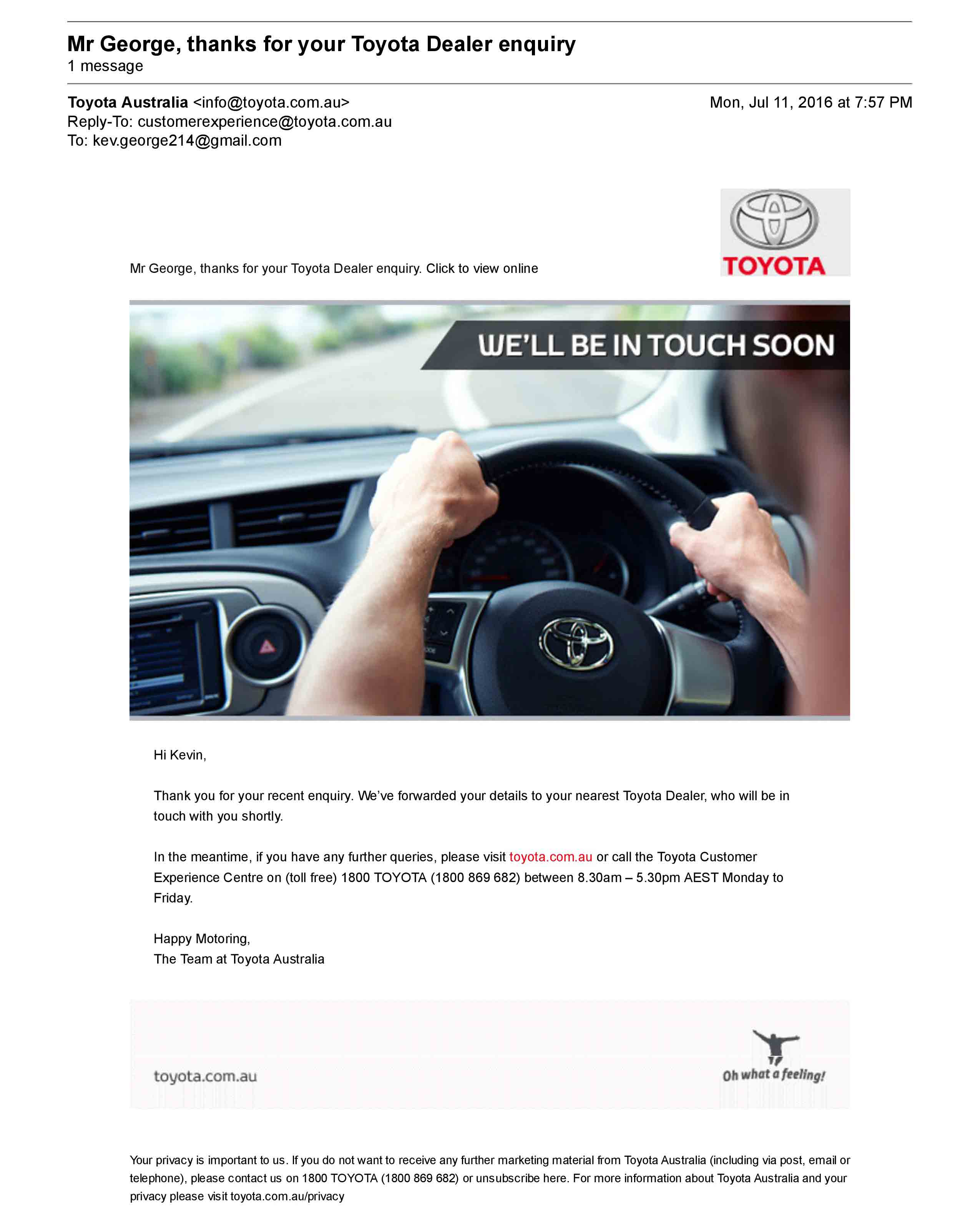 6. Tesla
The best part of email lies in how they have listed all the information regarding their model in a single mail. Without the use of any animation or extra images, it has unveiled all the aspects of the model. Moreover, it highlighted all the salient features without occupying any extra space or implementation of any technology.

7. Infiniti
When a luxury car brand like Infiniti decides to invite its customers to design the model of their choice, it is sure to attract some serious engagement. In this minimalistic automotive email marketing template, Infiniti has briefed their readers with an extremely concise copy and announced the cash bonus that is up for grabs. The content has been cleverly crafted to convey the essence of the campaign but not give away too much either, making sure that the readers click on the CTAs to find out more.

8. Lamborghini
A welcome email from the dream brand itself adds charm to your inbox. After getting registered to Lamborghini Newsletter, they send out a formal yet at the same time cordial revert with the usage of minimal colors to their subscribers.
An assurance about receiving timely updates regarding new initiatives, new models, and all that jazz is stated in the below-given email. Along with this, CTA to the company's official website is given at the end of the message so that their subscribers can acquire more information about the company.
A direct link to the company's social handles is given in order to establish a strong bond with subscribers through all possible mediums. Lastly, to enhance deliverability, they request subscribers to add them to the safe email list. Perfection at its best!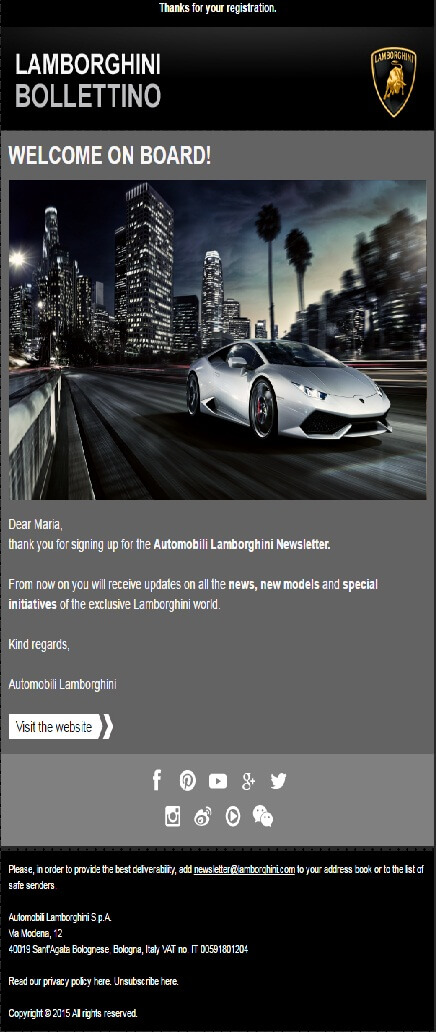 Wrapping It Up
These automotive email templates reflect the taste and nature of the companies. Some believe in promoting the models by means of emails while some emphasize on establishing customer relationships and satisfaction. Get a jump on 2016 with these amazing email designs for your automotive email marketing campaigns.
Have anything to add to this automotive email design inspiration? Jot it down below in the comment box! Let's have an engaging discussion.