Email is many things, but at the end of the day, it is, first and foremost, a mode of communication. And communication goes hand in hand with etiquette. What you are trying to convey, no matter how critical, will never be lapped up appreciably by your designated recipients if you don't pay attention to how you are conveying it. This extends, of course, to your email campaigns too.
If you want your emails to soar above the dozens and scores of others that drown your subscribers' inboxes on a daily basis, your email etiquette has to be absolutely on point. Comprising language, grammar, tone, and structure, email etiquette is a complex entity (not to forget that type of industry and generation act as variable factors), which is why many businesses struggle with wrapping their heads around it. Find yourself in the same boat? Don't worry, we've got you covered! Today, we talk at length about some common email etiquette mistakes that you should steer clear of at all costs. Curious to find out? Let's go!
Forgetting To Send A Welcome Email
The minute someone finishes filling out your sign-up form, they expect to receive a welcome email from you. By failing to send one, you won't just be quashing their expectations but also undermining your credibility. 91.43% and 26.9%– that's the average open rate and average click-through rate, respectively, of welcome emails. These lofty numbers can be attributed to the fact that subscriber curiosity regarding your brand is at its highest during this phase. Like we said, they actively look forward to getting welcome emails. That is why agencies offering email marketing campaign management services lay heavy emphasis on them.
Besides, welcome emails are an excellent means of casting a fabulous first impression on your audience (we all know how far that goes, don't we?). The right welcome email not only taps on the initial excitement a particular subscriber has regarding your business but also aptly sets the tone for all future communications. Essentially, it sows the seeds for long-lasting and fulfilling customer relationships. In a nutshell, welcome emails are valuable email marketing real estate that needs to be a part of your campaigns sans any debate.
Here's a lovely welcome email from Klaviyo.
Sending Emails Arbitrarily
In email marketing, as in life, timing is everything. Even if your content and design are absolutely top-tier, you will find it tough to drive the desired results should your timing be off. Getting your email timing right is critical to fostering a dialogue with your audience. Carefully analyze their buyer personas to narrow down on slots that are most suitable for them. That's how you can get them to participate in the conversation you are initiating. Email timing, of course, is a tough nut to crack. Any email marketing veteran will tell you this. This is largely because of its extremely subjective nature. Yes, you can go through multiple studies and conventions to understand what works best for a particular industry and audience demographic, but ultimately you will have to embrace the good ol' trial and error approach to figure out what works best for YOUR audience. That involves testing out different time slots, different days, different email types, and the whole shebang.
Not Having An Email Signature
For many businesses, email signature is an afterthought, and it is this sort of philosophy which makes it tough for them to stay ahead of the curve. You see, all of your interactive email templates must have a signature. Why?
They infuse professionalism into your emails. As a result, they do wonders for your brand perception.
They amplify the visibility of your emails. With hundreds and thousands of emails jostling for your attention on a daily basis, which ones are you most likely to remember- emails that are branded with an email signature or those without one?
Your email signature performs as your virtual business card, embodying a small portion of your brand personality. It is very much, then, a tangible representation of your organization's vision and values.
Besides containing contact information, your email signature also doubles up as a repository of a host of critical links such as website, referrals, application download links, social media handles, and the like. Essentially, it makes these links much more accessible to the readers.
Hence, the next time you send out an email, make sure to check it has an email signature.
Here's how Kevin's (head of marketing, Email Uplers) email signature looks like.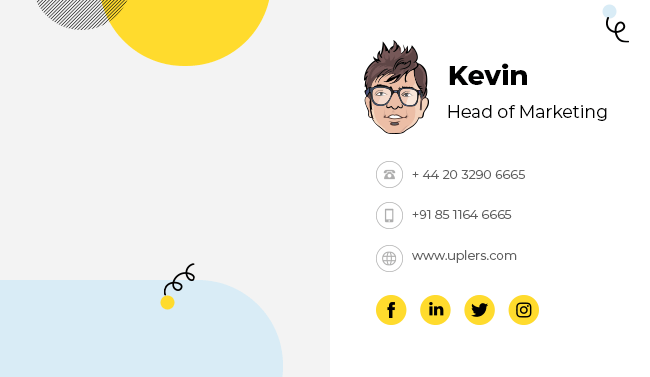 Sounding Extremely Promotional
No one likes a brand who toots its own horn. Remember, people subscribe to your newsletters with the intention of learning something new and to discover solutions to their problem statements. Instead, if they find you going on and on about the virtues of your offerings, well, you can imagine their next action, can't you?
See, no one has a problem with you marketing yourself. Every business does it. But, you have to be subtle and clever about it. Package your merit in a way such that it addresses your customer's pain points. That way, you will be able to grab their attention easily. Overly promotional messaging makes customers feel as if the only thing you care about is their wallets, and not solving their problems.
In 2023, customers are extremely intelligent and sensitive to their requirements. They already know the solutions they are looking for and the sheer array of businesses who are willing to provide it to them. However, they will only opt for those who are willing to engage with them in a holistic manner and offer them a memorable user experience.
This email from Four Sigmatic is an ideal representation of how one should go about promoting their product.
Not Curating Your Email Copy Mindfully
A substantial chunk of your email etiquette is determined by the quality of your email copy. Your email content, after all, is what eventually gets your message across, right? Let's take a look, then, at some email copy best practices you must abide by to ensure your email etiquette stands tall.
Assess your tone: Whatever may be your posturing, formal or informal, take care to not go overboard with either while writing your email copy. Become too formal, and you risk sounding like a strict taskmaster, and go too informal, and you will come across as someone who doesn't take themselves (or their audience) seriously. Therefore, moderation is the key while crafting your copy.
Thoroughly examine your punctuation and grammar: Grammatical errors and punctuation errors in your copy can greatly undermine you in your subscriber's eyes. Emails that have misspelt words, poor grammar, and inaccurate punctuation come across as spammy and will instantly be flagged by ESPs, sending you deliverability for a toss.
Be judicious with emojis: Now, if your brand has an informal tone, it is okay to make emojis a part of your copy. But, you'd still need to be careful with their usage. Emojis are a language of their own and you have no control over how they might be interpreted by their readers. A particular emoji might denote something for you and something entirely different for your audience; such a situation could lead to undesirable outcomes.
Capitalize only when necessary: While the temptation to emphasize an important segment in your email by using all caps can be pretty high, try not to yield to it. With capital letters, less is always more. It is okay to have a heading or subheading in all caps, but minimize capitalizing portions of your email body as much as possible; you risk considerably jarring the reading experience of your subscribers otherwise.
Provide clarity with your subject line: The merit of your subject line goes a long way towards determining whether subscribers will engage with your email or not. And you know what kind of subject line appeals most to readers? The one that offers them clarity. Even before your subscribers open your email, use your subject line to give them a definite idea of what awaits them. They will greatly appreciate you for it. Sounding witty and quirky is alright, but if your subject line lacks clarity, it will all be in vain.
Avoid inserting complete URLs: They just look messy, don't they? With links, the best course of action is to hyperlink them, whenever possible. If that's not a possibility, then shorten them, at the very least, before adding them to the email.
Wrapping It Up
Your adherence to email etiquettes reflects your commitment to professionalism. Hence, you should accord it immense gravity. We hope the tips and tricks shared above will help you craft your emails better going forward. And remember, once you're done crafting it, proofread! Always, proofread. Doesn't hurt to be doubly sure, you'd agree? If you have any email etiquette advice of your own, feel free to let us know in the comments. We are all ears!