Are your e-commerce email campaigns still not convincing your email subscribers to buy? If the answer is yes, you're not alone. Consumers are bombarded with e-commerce emails and it's hard to stand out in a full inbox, especially when your emails are nothing special. But don't worry, you have the power to create more dynamic emails that will resonate with your subscribers. Your subscribers might even think that you're reading their minds because your emails are so good.
What is this secret power? It's predictive analytics. You can actually create more effective email campaigns and start selling in a smarter way by using the data your email subscribers and website visitors are already providing to you.
Get ready to see your sales skyrocket. Before we get into how to use predictive analytics in your e-commerce email campaigns, let's find out what is predictive analytics.
What is predictive analytics?
First, what is predictive analytics? Predictive analytics is simply using data to identify customer behaviors and predict future behavior.
By studying this data that you can get from your email marketing service and from your website by using tools like Google Analytics, you can create smarter marketing campaigns that resonate in a better way with your audience and improve ROI (return on investment). Predictive analytics can show you exactly what your customers want so that you can send them emails that will get you the results you are looking for.
How to use predictive analytics in your e-commerce email campaigns
1. Discover their interests and encourage first purchase
Once someone has subscribed to your email list, your goal is to get them to make their first purchase. But you don't want to be too pushy right at the beginning of the new relationship so instead of asking a subscriber to buy right out of the gate, send them a welcome email first and use predictive analytics to discover exactly what they want. After all, how will you get a consumer to make a purchase without first knowing their interests?
For instance, take a look at this welcome email from REI Co-op. They have a section called "Help Us Get it Right" where email subscribers can choose the content they're interested. This is great because subscribers are segmenting themselves for you and you'll find out their interest areas. You can also use predictive analytics to track what interests the subscribers and which section of the email do they click, whether it's Camp + Hike, Cycle, or Paddle, so that you know exactly what they're looking for.

You can then use the data inferred from predictive analytics on the welcome email to send them a targeted email later on. For example, if a user clicks on the Camp + Hike section and browses around without buying, you can then send them an email with the latest tents for sale. Your email subscribers are more likely to make a purchase when you present them with exactly what they're looking for so use predictive analytics to find out what that is.
2. Upsell and cross-sell
Once you've converted an email subscriber into a customer, you can then use predictive analytics to more effectively upsell and cross-sell to those customers in order to increase your sales. By monitoring the purchases that your customers make, you can use that data to recommend items they're more likely to buy. Amazon does this well by displaying recommended products or their "Customers who bought this item also bought…" section right on their website. You can use this same tactic in your email marketing campaigns.
For instance, if you see that a customer purchased a pair of winter boots from your online store, you could then send them an email announcing a sale on winter coats or if the boots they bought were leather, you could recommend they buy a leather boot polish or leather repair kit. Using predictive analytics will help keep you one step ahead with regards to your customer needs so that you can provide them with what they want even before they think of it themselves.
3. Keep up with customer preferences
Making your customers happy is important in any business and you can use predictive analytics to delight your customers. Customers who are happy with your business and service are more likely to purchase from you often. In fact, as a group, millennials are willing to spend more (21% more) for better customer care. So, be sure to use predictive analytics to put your customers in the buying mood by keeping up with their preferences and tailoring your email campaigns towards them.
For example, if you notice that certain customers only make purchases during sale, don't waste your time or put them off by sending emails for full priced, expensive products. Instead, send them emails they'll love to receive that include your best deals. Predictive analytics can also take your customer care to the next level and beyond. For instance, say you look at your customer data and notice a trend of some customers who order the same skincare products around the same time each month. It's safe to assume they're ordering it at that time because they are running out of the product. Well, you can be one step ahead of them by sending an email campaign to remind them to restock on their favorite skincare product.
4. Keep customers on board
Losing customers is a big deal in e-commerce. We know that acquiring a new customer costs much more money than retaining the existing ones, 5 times as much in fact. But luckily, you can use predictive analytics to stop your customers in their tracks before they walk out on you. Build loyalty and make sure you don't lose any customers with win-back "we miss you" campaigns.
This tactic is very popular with apps and SaaS businesses, but the e-commerce industry can take advantage of this too. Using data, a company can see the last time a customer has used its product or visited the website and can then send them an email encouraging them to return, like Duolingo does in this example.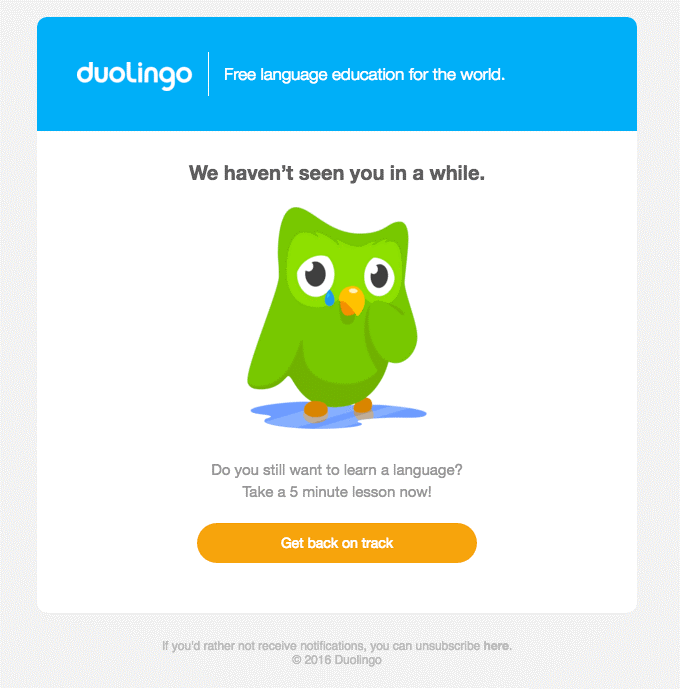 Source: Really Good Emails
As an e-commerce business, you can use predictive analytics to identify buying patterns in your customers. If you had a customer who bought from you every other week and then suddenly stopped, send them a "we miss you" email to keep them interested. You can even offer them a small discount if they return. On the other hand, you can also reward your most frequent buyers with VIP discounts to ensure they stick around.
Over to you
Don't ignore the precious data you already have that could be helping you dramatically boost your e-commerce sales. With these tips on how to use predictive analytics in your e-commerce email campaigns, you can impress your subscribers with your intuitiveness and turn them into lifelong customers.