"I've learned that people will forget what you said, people will forget what you did, but people will never forget how you made them feel."
—Maya Angelou
In today's hyper-connected, hyper-digitized, hyper-competitive world, customers expect truly extraordinary customer experiences. In fact, about 86% of customers are willing to pay more if a brand can deliver great experiences along their journey – whether it's online or in-store, via email or text messaging. As PwC says, "experience is everything".
And creating and delivering extraordinary customer experiences starts with creating customer journeys. Salesforce Marketing Cloud (SFMC) provides a powerful tool to create effective customer journey maps. This tool is called Journey Builder.
With Journey Builder, you can visually represent each interaction that a customer could (or does) have with your brand along their journey. With this "journey map", you can understand them better and leverage key insights about them to design personalized, automated email interactions at scale. The result: improved customer engagement at every step of the journey and customer experiences that garner support, loyalty, and even brand advocacy.
But to achieve these goals, it's crucial to create the best possible journey map in SFMC Journey Builder. And for this, testing each journey is vital. This brief guide shows you how to test journeys in SFMC Journey Builder to design and send memorable email campaigns with ease.
Why Journey Testing in SFMC Journey Builder
With SFMC Journey Builder, you can map customer journeys and recognize how they engage with your company over time. Put yourself in your customer's shoes; it will help you develop a keen sense of empathy and design email campaigns that address their needs. This will positively increase engagement that results in deeper relationships and greater brand loyalty.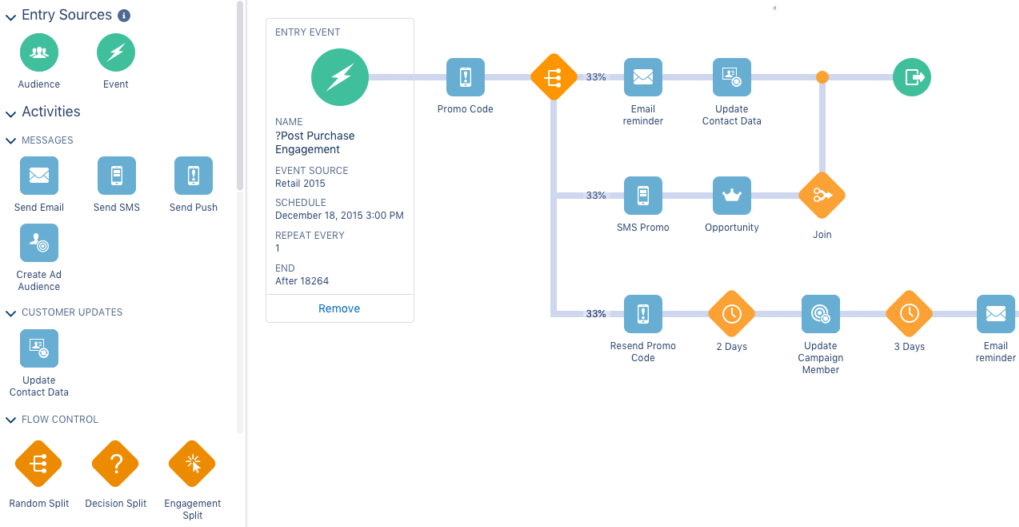 The above journey maps how the brand will engage with customers after purchase through promo codes and email reminders.
By testing each journey, you can confirm that it is behaving as expected and thus ensure that you're creating the right email campaign for each journey before investing time and resources into that campaign. To get the best possible results, create separate email journeys and campaigns for customer onboarding/welcome, abandoned cart, engagement/re-engagement, special occasions, etc.
With SFMC Journey Builder, you can test both simple and complex journeys ahead of time. This means you can always create and save a "draft" journey and make changes to it at any time. Do keep in mind that journey testing is not available for Single Send journeys.
Journey Testing with Sample Contacts
Before testing a journey, make sure you validate and save it in Journey Builder. By validating, you ensure that all elements of the journey's design are complete and ready to test.
After creating and validating a journey configuration, run the "test mode" in Journey Builder. Here's how to do it:
i) Create a list of 10 sample contacts from your SFMC instance to understand how they experience the journey.
ii) Choose the Send Type.
iii) Choose whether you will send them test messages during the test run.
iv) Go to the Test Behavior section in Journey Builder to view a summary of activities in test mode (see the section on test mode).
v) Activate the journey test. At this point, Journey Builder will run the test against your sample audience.
Once the test is complete, you will see how each sample contact interacts with the journey. Is this what you expected? If yes, you can activate the actual journey. If not, go back to the previous steps to make changes and rerun the test.
Ideally, start with a simple journey to test your approach and gather baseline metrics. Once done, you can iterate by adding more complexity to the journey as required.
Journey Testing with Data Extensions
In SFMC, data is stored in a table where the columns define the data that's stored in rows. This table is known as a data extension (DE). In the DE, a column is an attribute, and a row is a record.
Journey Builder allows you to test email marketing journeys with a DE as an entry source. In this case, you can configure a journey test using real SFMC contacts. Choose a sendable DE, and admit contacts into a journey in a batch.
You can use the same DE as the entry source for multiple journeys. However, if the DE contains too many rows, it may impact journey performance, so pre-filter the DE to speed up processing. If a single journey's data is stored in multiple DE, create a single entry source DE using a query. Finally, create a copy of the DE as sendable and testable, and use this copy as a test group of contacts.
To configure a test that simulates the journey of real contacts in your SFMC DE, follow these steps:
Click Test
Click Choose Contacts
Select up to 10 contacts from your DE
Click the Send Type tab
To send a test message, click Send Only Test Messages and enter an email address
To review the test settings, click Summary
Click Start Test
Journey Testing with Test Mode and Classic Test Mode
In Journey Builder, the test mode gives you an accurate view of how a journey works without the wait. You can view customers' simulated journey paths without sending them "live" messages. Once the test is complete, the journey canvas shows each contact's expected path. Click through each path to confirm that the contact progresses through the journey as you intend them to. If they don't, you can edit the journey as needed within the journey canvas. If you make any edits (either to the entry source or to any canvas activity), make sure to save and validate the journey and then test it again.
The classic test mode simulates random and decision split activities without sending messages but ignores wait times and contact entry settings.
To use this mode, click Test. Then fire a contact via API, use the Fire Event activity in SFMC Automation Studio, or use another method based on the journey's entry source. Once the test is complete, the results appear in the workspace. You can either accept the results or edit the journey and test it again until it performs the way you intended.
Optimize Journeys with Journey Builder Path Optimizer
Path Optimizer within SFMC Journey Builder is a great way to identify the most effective journey for each customer and make on-the-fly adjustments to meet your business goals.
Use Path Optimizer to configure branches with up to 10 paths (a sequence of events in a customer journey) with user-defined distributions. The winner is selected automatically (or manually) based on email engagement metrics. All losing paths shut off the flow of contacts.
For example, if you want to create and optimize a Welcome campaign in Journey Builder, you can experiment with multiple paths/emails as below:
Each welcome email is on the same journey but goes through a different path. With Path Optimizer, you can test these multiple paths simultaneously to determine which one performs better in terms of relevant metrics, such as:
Contacts
Open rates
Click rates
Unsubscribe rates
Path Optimizer then runs the test, and after a predetermined testing period, automatically selects the winner based on your chosen engagement metric(s). You can also select the winning path manually based on your own criteria. Either way, Path Optimizer makes it easy to select the "winning" path and thus get your welcome email campaign out quickly.
Benefits of Journey Testing in SFMC Journey Builder
Pre-testing journeys in Journey Builder increases the chances of creating the best possible journey for each customer and each email campaign. By using the test mode, you can quickly iterate your journeys and thus feel more confident before activating them.
You can choose (or tweak) the audience you want to test the journey on. Then, by sending test emails from the journey, you can confirm if you're sending the right kind of message to the right contact at the right time.
Journey tests run very quickly, so you have the freedom and flexibility to edit journeys quickly and test them multiple times until you get them right. Finally, the test mode doesn't affect tracking or reporting, so you can use it confidently without worrying about any impact on a live email campaign.
Conclusion
Customer journey mapping is a crucial starting point to customer experience management. SFMC Journey Builder is a great way to not only map customer journeys but also to test these journeys. Journey testing lets you confirm that a particular journey is behaving the way you expected before you invest resources in creating campaigns around that journey.
We hope you found this guide to journey testing in Journey Builder useful. If you need further information on journey testing, contact the SFMC email marketing experts at Email Uplers.