Table of Contents
Introduction email best practices
Introduction email: Don't do this
Professional email introduction emails
Inquiry about jobs and current vacancies
Proposing for a service (Sales purpose)
Introducing yourself at a new job
Introducing yourself as a new manager or group leader
Introducing a new point of contact to an existing customer
Introducing yourself as a new point of contact
Following up after an event or conference
An introductory welcome email by brands to new subscribers
Introduction
Emails, zoom calls, and Skype meetings have almost replaced in-person meetings nowadays. "It's a pleasure to meet you" has become "Happy to e-meet you". Therefore, your introduction email has become more important than ever.
As the name suggests, an introduction email is used to introduce yourself, a company, or a third party. There are different types of introduction email templates that you can choose from. The choice relies on the purpose of the introduction, whether it is a personal or professional setting.
Instances when you would need to write an introduction email:
1. Introduce yourself to a new client
2. Introduce a new employee to an existing client
3. Get in touch with a prospect
4. Follow up on a referral through a common contact
5. Follow up with someone after a conference
6. Launch a new product or service
Regardless of the reason for sending an introduction email, you must follow some best practices to leave an impact on the readers. After all, it will be the email that carries your first impression.
Introduction Email Best Practices
Focus on writing a crisp yet engaging subject line
It might be possible that your recipients will only get to see the subject line in the inbox. (in case they do not open the email) Hence, you must draft a self-explanatory subject line that compels the users to open your email. Unless it is April fools' day or Halloween, do not write any clickbait or misleading subject lines.
An example of short, relevant, and trustworthy subject lines are:
Hello from the new email manager at Email Uplers, Brad
This subject line instantly lets the recipient know what the email would be about. It addresses the recipient with his name so it does not come off as batch and blast email marketing.
Greet the recipient with a personalized address
There is a human at the other end of the screen. Address the recipient with a personalized greeting rather than saying "To whom it may concern". Carry out proper profiling of the one you are writing the email to. Use the title of the recipient, if possible.
For instance: Dear Dr. Watson
A less formal way of addressing people is: Good morning Dr. Watson.
"Hi!" is an informal way to open an email and works for personal communications.
Write in a conversational yet formal tone
Customize the content so that it looks like it is written exclusively for them. Bear in mind that you must keep the professional introduction formal and use a sophisticated language.
Rather than simply writing a bland email, it is a good idea to put a reference to your previous interaction. It would increase the likelihood of receiving a response.
For example:
It was a pleasure meeting you at the International Conference for Dermatologists at Las Vegas, last evening…
Add personal connections and referrals
I am sure you must have received a number of emails that say "XYZ asked me to get in touch with you". The recipient gets obliged to respond to such emails. So, this is a perfect idea if you want to receive an instant reply to your emails.
Maintain a polite approach
Like you, everyone else is busy too. Avoid writing long paragraphs of text in the email. Be as concise as possible but make sure your email does not sound irreverent to the readers. Open your email with something like "I hope you are doing well". It imparts a pleasant experience to the reader.
Provide value to the readers
Remember how your favorite brand welcomed you with 20% off on the first order? That's exactly how your introductory email should be. Offer something in return before you expect them to respond or take action. However, that does not mean you write a fake compliment copied and pasted from the Internet. Learn more about them from Google and then suggest a helpful tool or valuable article or send a free gift.
Let the reader know why you are reaching out
This point is most important for sales and marketing professionals. Once you have introduced yourself, let the prospect or customer know why you have reached out to them. You might have got in touch to book a sales call or to resolve a complaint someone raised on your live chat.
State the reason at the beginning of the email itself.
For example:
Hello Jane,
I am Angela, the customer support executive at Macy's.
I noticed you left a message on our live chat that you are unable to checkout due to a technical glitch.
I have checked it with my team and I am happy to inform you that we have resolved the bug.
You should be able to checkout without any issues now.
In case you have any further questions, just reply to this email.
I'll be happy to help.
Regards,
Angela
Customer Support Executive, Macy's
Wrap up the email professionally
End the email with a formal closing like Yours sincerely, Yours faithfully, or Yours truly. Sometimes, you can take a semi-formal approach and use Best regards or Kind regards to wrap up the email. If it is an introduction email to a peer, it is fine to end the email with "Cheers mate". Also, express gratitude for the reader's time when you sign off.
Proofread and check your email for errors
Spelling mistakes and grammatical errors are a huge turn off for the readers. An introduction email creates the first impression so you must be doubly sure that it is flawlessly written. If you are unsure about your language proficiency, you can use a tool like Grammarly.
Do not forget any attachments you have mentioned in the email.
Gmail does remind you about the forgotten attachments.

In case you are using any other email client that does not detect this error, you must make sure that you attach the required files, be it your proposal, resume, or any other relevant document. Before writing the email body, attach the file so that you do not miss out on it.
Add a call-to-action, if relevant
A call-to-action will let the recipient know what they are supposed to do after receiving the email. If you want to get on a call with them, write something like- "I would love to schedule a quick call to discuss my proposal further. I am available on Monday from 10 AM to 2 PM. Would that work for you?"
You can even send a Calendly link so that they can schedule an appropriate time that works for them.
Include a well-designed signature after the closing note
The email signature is a perfect place to promote yourself and build your personal brand. Add your social media profiles along with more than one contact information.
Take a look at this image to understand what I mean to say.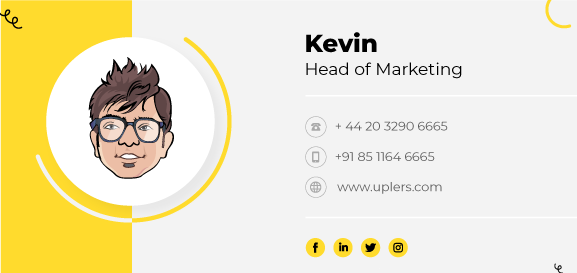 Schedule your email at the appropriate time
Monday mornings and Friday afternoons might not work well for your emails. Even if you are writing the email on Friday evening, you have an option to schedule it for later. Nowadays, you get that feature with your Gmail app too.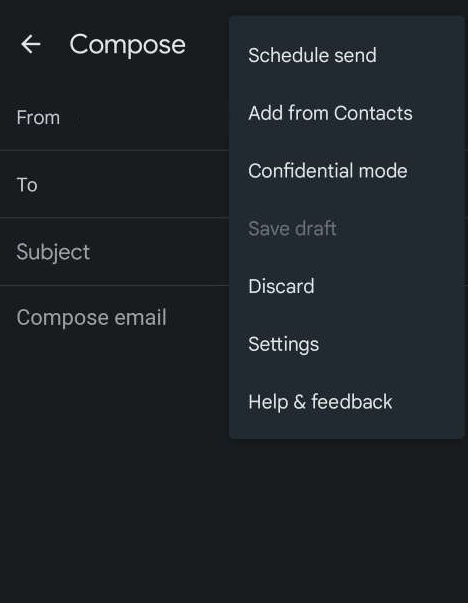 Carry out some research and see when the recipient is most likely to read your emails and schedule it accordingly. Furthermore, you must be mindful of the timezone barriers while scheduling the emails.
Now that you have an idea about the norms to follow for introduction emails, let's switch to some don'ts that you should keep in mind.
Introduction email: Don't do this…
1. Keep the subject link blank.
Emails with blank subject lines often end up in the spam folder or get deleted.
2. Send a mass email without using a suitable tool.
Using a tool will help personalize the emails and make them look professional.
3. Write wordy emails
Cover the salient points briefly and avoid adding any fluff to your emails.
4. Add emoticons 🙂
Now, this is a somewhat controversial topic but most of the professionals believe that you should avoid adding emoticons in the self introduction email. Maintain professionalism in your emails.
5. Address the email to the whole team or general email ID
You can easily retrieve individual email addresses. Therefore, send your email to the concerned individual rather than to a company email address.
Now, we shall move on to the specifics about introduction emails.
1. A casual introduction email
Writing a casual introduction email does not entail any strict rules like formal introduction email. Usually, people write such emails to colleagues. Unlike professional introduction emails, you can address the recipient without any premixes and conveniently use the informal tone. You can even send it to your team like the example below.
Hello everyone,
I am Kevin George, your marketing team lead. I have recently joined Uplers and it has been a wonderful experience so far.
Owing to the pandemic and lockdowns, we could not get a chance to interact and meet in person. So, I was wondering if we could meet for coffee at 4 PM on 13th May 2022, the coming Friday. I thought Friday evening would be a good time to catch up. What do you think?
Are you all available? RSVP to this email so that we can discuss the venue.
Looking forward to your responses and a meaningful yet enjoyable Friday evening.
Best regards,
Kevin
Such emails are also useful when you want to introduce and connect two people to each other.
For example:
Hi Disha,
How're you doing?
I hope you are having a nice time at the new apartment.
I would like to introduce you to Rohan, the freelance content writer we have hired recently. He would like to get an idea about the Inbound Marketing course by HubSpot that you completed last week.
I've copied him in this email. Please get in touch with him and brief him about the course.
Regards,
Kevin George
2. Professional email introduction emails
At the professional front, there are several instances when you need to introduce yourself. You might have to write an introduction email to your employer, a LinkedIn connection, a senior colleague at work, a prospective client, or a customer. We are here with some introduction email templates that will help you create impactful emails.
Inquiry about jobs and current vacancies
The most common type of introduction emails (after the sales emails, of course) is the one inquiring about job openings. In this type of introduction emails, you must let the reader know about your qualification and experience.
Take a look at this introduction email sample below:
Dear Mr. Jaymin,
I am Mary Parker, a content manager with over a decade of experience. I got your reference from Mr. Dawson, the associate director – brand marketing at Ensight.
I am writing to you to inquire about the job opportunities in the marketing team at Uplers. I would love to work under your mentorship.
I have attached my resume and portfolio for your kind perusal
I'll wait to hear from you.
Thank you,
Mary
Proposing for a service (Sales purpose)
The first thing you need to do to pitch your services is to introduce yourself and your company. Creating attractive introduction email samples will help you get more responses and conversions for your business.
Here's an example to help you out:
Dear Ms Jane,
I am David, the digital marketing manager at Uplers. I recently came across your Instagram handle. It's impressive how you create beautiful posts and stories consistently. I see immense potential to increase your viewers and followers. At Uplers, we offer you a dedicated social media marketing professional who can:
Increase your online engagement
Help with lead generation
Enhance the brand personality
To start with, I have attached a concise audit report and proposal that throws light on how our team will be able to help you drive maximum ROI through Instagram.
Schedule a 15-minute quick call to understand how we work>>
I'll wait to hear from you.
Thank you.
________________________________
Email Uplers can help you create attractive introduction emails with relevant visual elements according to your brief.
You can also opt for editable modular templates that would cater to all your email template production needs at affordable prices
Introducing yourself at a new job

Whenever you join a new company, it becomes inevitable to write a professional introduction email. Some people even prefer to be more casual in this email. You must summarize your job qualification and personality as briefly as possible. Explain the purpose and value you would bring to the organization. Moreover, your emails must reflect that you have an approachable and cooperative persona.
Take a look at this example:
Hello Prajakti,
I am Disha, the new content marketing executive at Ensight.
I will be responsible for the social media and email marketing for the organization.
I will be available from 10 AM to 7 PM IST and you can reach me at disha@en**********. My contact number is +91-91***********
Do let me know if you need anything from my end. I would love to help.
Kind Regards,
Disha
Introducing yourself as a new manager or group leader

The toughest part of corporate life is being a good manager who everyone can confide in. When you join a company as a new manager (or team leader), the introduction email paves the way for future communications. It will be the foundation stone for the kind of relationship you share with your team members and peers.
Make sure your introduction email radiates a sense of warmth and professionalism – all at once.
Let me share an example with you:
Dear Marketing Team,
Thank you very much for your warm welcome.
As this is my first email to you all, let me take the opportunity to introduce myself.

I am Christopher Jonas, the new marketing manager at Waywait. I prefer to be called Chris without any prefix or suffix.

I have over 8 years experience in the marketing industry. Throughout my tenure, I have worked as a marketing executive, marketing lead, and marketing manager. I worked hard on honing my skills and taking on a managerial role. I believe in leading by example and I am really excited to bring the maximum potential from my team.

I think working together is the key to building competent strategies and achieving business goals.

So, let's come together and give our best to the organization.
Do not hesitate to contact me at +91-76********* and chris@**********.

Looking forward to a great working experience with you all.
Regards,
Chris Jonas
Introducing a new point of contact to an existing customer

Your customers might have an aversion to changes. So, if you have to introduce a new project coordinator, you must do it tactfully. Write the email in such a way that it will relieve the client of any possible objections he or she might be having.

You can say something like the example below:
Dear Smith,
As we discussed on LinkedIn, we had some internal changes at our organization. In view of the same, we have assigned you a new account manager, Priya. Be rest assured; everything else remains the same.

I have copied her in this email and is available to chat from 9 AM PT to 7 PM PT. You can discuss the next steps with her and take it from there.

To give a brief background about Priya, she has been in the industry for 5 years. You can rely on her without any second thoughts.

In case you have any questions, do let me know.
Cheers,
Kevin
Introducing yourself as a new point of contact
If you have to introduce yourself as a new point of contact, your email tone should echo trustworthiness. You must try to remove any friction that can arise due to the change.
Let's understand with the help of a business introduction email example:
Hi Smith,
I am Priya and I will be your new point of contact at Email Uplers, wef 24th April 2022. I have been working here since 2013 and I am perfectly familiar with all the nitty-gritties of our operations and core processes.
I would like to schedule a call with you to answer any questions and discuss the further steps. We can create an action plan to streamline the next action plan.
Here's my calendly link to schedule a time for the meeting.
<LINK>
You can reach me on priya@********.com and +91-**********.
I shall wait to hear from you.
Kind Regards,
Priya Jain
Following up after an event or conference
Event email marketing has a huge potential if you use the right kind of strategy. As soon as you come back from an event or conference, you must reconnect with the prospects and try to build your relationship further. Write a follow-up business introduction email and reintroduce yourself. The timing of this email is a critical part of getting a response. Like a famous quote goes, You don't have to swing hard to hit a home run. If you got the timing, it'll go.
You must send the introduction email within 24 to 48 hours. Also, consider their timezone while scheduling this email. As an instance, a sales manager would be checking their email quite often during the day. Therefore, it is a good idea to send them an email in the morning.
Take a look at this personalized introduction email example:
Dear Mary,
I am Kevin George, the marketing manager at Email Uplers. It was great meeting you at the Email Summit 2021. I hope you had a nice time at the event.
I would like to continue our discussion about the dedicated developer model that we talked about.
Like our conversation at the event, the certified professionals at Email Uplers can be your extended team and take care of your entire email campaign management.
Let me know if you are available for a meeting in the next week so that we can take it from there.
I am looking forward to our call.
Talk soon,
Kevin George, Marketing Manager
Email Uplers
kevin@uplers.biz
www.email.uplers.com
You can automate your event email marketing campaigns through the ESP you are using.
3. An introductory welcome email by brands to new subscribers
The welcome email by brands to their new subscribers forms a huge chunk of business introduction email templates. Through these emails, brands can introduce themselves and throw light on their products and services.
Your introductory welcome email should not just confirm the signup. It should capitalize on the user's high level of intent and try to drive a purchase.
Here are 5 norms that brands must follow while sending your introductory welcome email (besides the ones shared at the outset of this article).
1. Treat it as an event-triggered email
We live in a fast-paced world where we need instant validation for everything. The same applies to users who sign up for your emails. Send the welcome email immediately after they sign up. In case they do not receive the email within seconds after they register, they might presume that they goofed up with the signup process. Therefore, treat the welcome email as an event-triggered entity and set an automation workflow that includes a series of these emails.
2. Abide by the five-step strategy for your introduction emails
Your series of introductory welcome emails should follow the five-step communication strategy as discussed below:
1. Introduction (Education)
The first email should focus on letting the user know more about what you are and what you do. Talk about your mission and vision statement. Also, let the user know your journey, values you abide by, and philanthropic perspective. If there are any social causes you are involved with, mention it without fail in this email. It will leave a profound impact on the readers, especially millennials and Generation Z. For instance: If you are an environment-friendly cosmetic brand, inform the readers how you contribute to making the Earth a better place.
See how Lightroom has introduced themselves as a safe, inclusive, and supportive community in their welcome email.

In addition, you must also let the users know about the frequency of your emails and allow them to adjust their preferences.
Take a look at another introduction email sample by Pitch in which they have shed light on how to use their product and create stunning decks in record time.

2. Profiling
Once you have introduced yourself, you must subtly ask the readers to introduce themselves and share their preferences. Request for the information that is most relevant to your business. For instance: If you deal with baby products, ask the user for the age and gender of the baby, and the kind of products they are most interested in.
See how Office asks for the user's birth date to send birthday offers and employ their hyper-personalization strategy.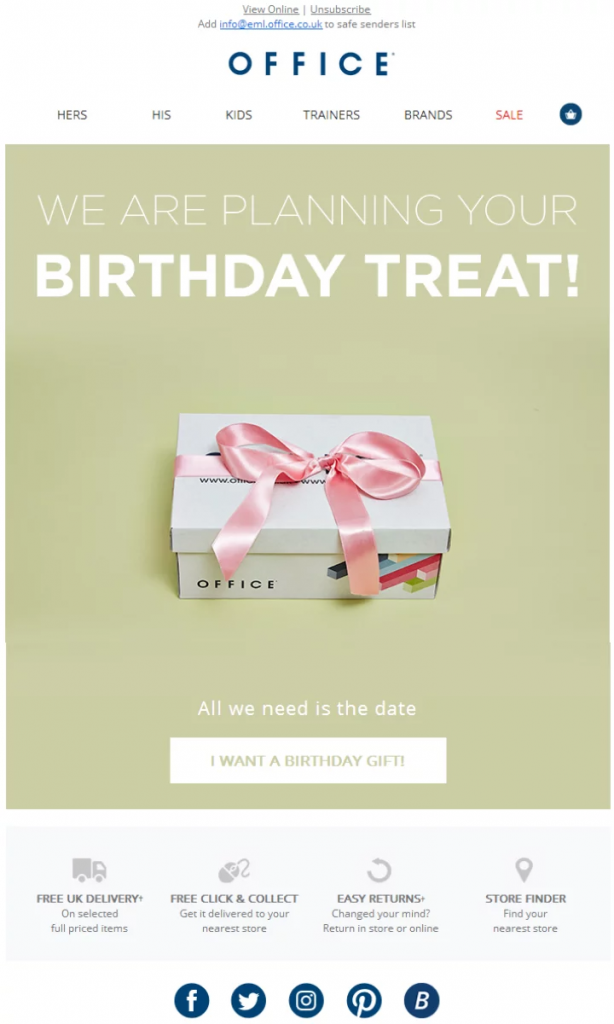 Also, notice how they have asked the user to whitelist their email address at the top of the email.
3. Expansion
Introduce your social media channels to the users and try to expand your reach. Promote your Facebook, Twitter, Instagram, LinkedIn, YouTube, and Pinterest link. Also, invite them to download your Android/iOS mobile app. A user will be more likely to purchase from you if they engage with multiple channels of your brand. You can also ask the subscriber to opt in to your sms marketing for instant updates.
Duolingo, in their welcome email, invites the subscribers to download their mobile application for a seamless user experience.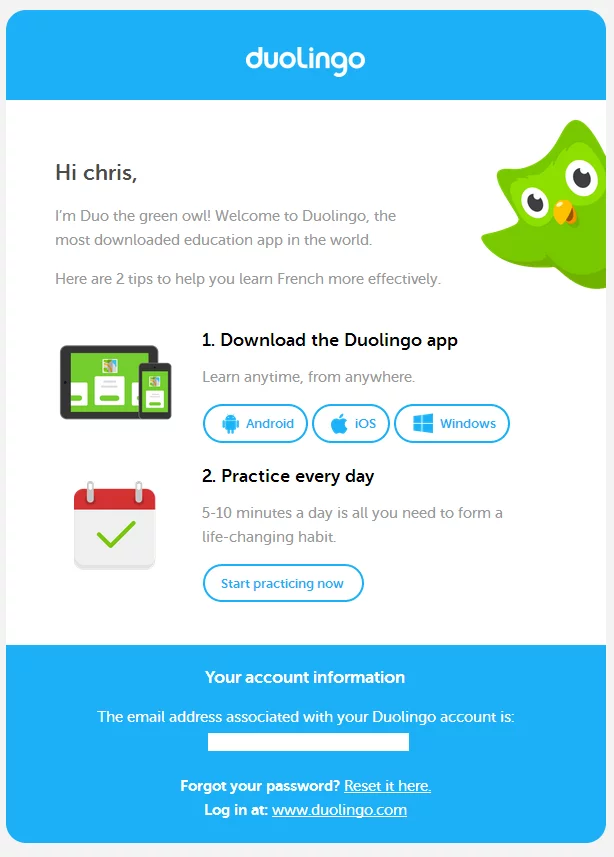 4. Promotion
The three steps above were more of email etiquette that you follow while welcoming a new subscriber. These steps are about building trust and strengthening the relationship with the recipients. The fourth step is about 'selling' your products. Incentivize the customer with a discount coupon or an offer that they cannot refuse. The primary objective of these emails is to drive the first purchase. Accordingly, you can plan the next campaigns and send out complementary product recommendations, new arrivals, and best sellers.
Riley welcomes the user with $25 off purchases of $150+. That's a good way to entice the user to make the first purchase and increase the average order value, all at once

5. Evangelism
Acquiring new customers is a hell of a task. You can make this exercise a bit easier by promoting your referral marketing strategy. Get your existing customers to make a purchase and refer their friends and family to buy from you. It will not only convert the prospects into customers but also bring new sales for your business in the form of referrals.
Go through this email example to see how you can introduce your referral marketing strategy to the subscribers.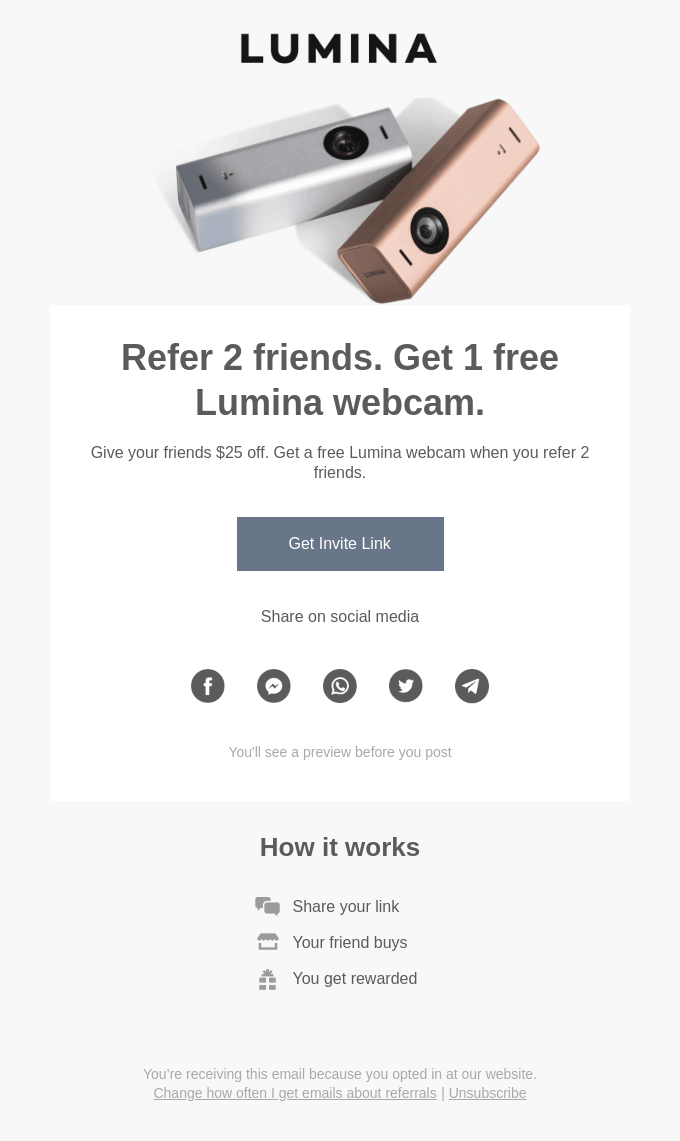 3. Welcome the users differently according to the acquisition source
You must plan your welcome email strategy based on the route of the subscriber's sign-up process. Let's say, a subscriber signed up through your mobile application. In such cases, you need not send an email asking them to download your app. On the other hand, if someone checked out from your website, you can send a welcome email saying something like — "Download our mobile app for real-time notifications and quick updates".
The acquisition source and kind of purchase will also influence whether you should incentivize them in the future or not. Think of it like this: Every user expects a different experience with your brand. Therefore, you must create your welcome emails in line with the user personas and journey.
4. Monitor your email analytics and keep optimizing your welcome emails
In my experience, brands often keep sending the same welcome emails through the years. That is the biggest faux pas on the part of the customers. So many introductory emails I receive in 2022 have ©2021 or 2019 in the footer. It instantly turns me off. Welcome email campaigns are not to be put under the "set it and forget it" workflows. You cannot sleep on the huge potential that they bring with them. Hence, you must monitor the performance of these emails and keep optimizing them for better results. Carry out A/B testing to see what works the best for your brand.
5. Update your welcome email campaigns according to the season
You must create seasonal welcome emails to ensure relevance in your communications. As an example, consider a travel agency welcoming the new users of March with (discounted) weekend getaways for Easter Sunday. These small changes can make a huge difference to your entire campaign. This also holds true for other industries and brands that want to use occasion-based marketing to its best potential.
In a Nutshell
As introduction emails constitute the initial communication, they are often thought to be somewhat awkward. Mostly, people expect an instant reply and use phrases like "as soon as possible", "immediately", and "at the earliest". Such language 'instantly' repels the subscribers and diminishes the possibility of getting a response.
Use the tips, tricks, and examples shared here and you will surely see a difference in the way your introduction emails perform.