When I came across the acronym EDM, the first thought to strike my mind was the iconic songs of Electronic Dance Music. Little did I know that the marketing world also has its own meaning for this abbreviation — Electronic Direct Mail marketing.
So, what is EDM marketing all about?
EDM marketing consists of strategizing and creating a list of prospective clients to whom you can send out relevant email communications after proper segmentation.
Besides, EDM marketing strategy also utilizes other channels like social media, printed material, SMS, push notifications, etc. to build your email list and drive conversions through the leads. This tactic works for all kinds of businesses, be it eCommerce, SaaS, or non-profit organization. As it takes 6 to 8 touchpoints before converting subscribers to actual paying customers, EDM marketing becomes all the more important.
How is EDM marketing different from email marketing?
While EDM and email marketing both utilize emails to drive business growth, EDM marketing is much more comprehensive. EDM marketing, in its true sense, starts with generic email blasts, followed by retargeting ads. Such an omnichannel approach will help reinforce the first communication sent through email. It adheres to the rule of seven according to which a prospect must see or hear your marketing message at least seven times before they purchase from you.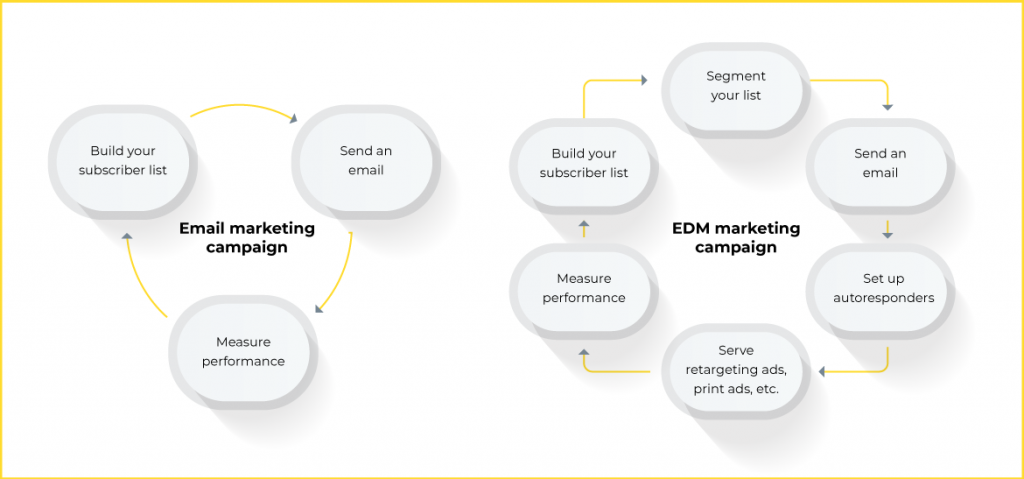 Advantages of EDM marketing
EDM marketing helps make the communications more impactful and reach a wider audience.
It is a versatile and flexible mode of marketing that also facilitates the list building efforts.
EDM and email marketing are quite cost-effective when compared to other channels. You only need an email list to get the ball rolling. Invest in a powerful ESP or CRM tool so that you get access to plenty of email templates and a DIY email editor. It will help you save resources and focus on growing your business.
Like email marketing, EDM marketing is permission-based marketing. It means you are reaching out to people who have opted in to hear from you. Therefore, they are more inclined to engage with your communications.
EDM marketing helps build trust with the users by sending timely and engaging messages.
You can personalize your email communications based on the customer personas and list segments. Consequently, you can build a stronger rapport with the subscribers and deliver more value to them.
Now, we will switch to the "how" of EDM marketing campaigns.
How to Formulate an Impressive EDM Marketing Campaign?
As shown in the chart above, an EDM marketing campaign entails a couple of more steps when compared to conventional email marketing.
Let's understand how to execute EDM marketing step-by-step.
1. Pick a suitable ESP
You can squirrel away your resources if you have an ESP in place. However, if not, you might have to invest some time in picking the right software tool. Check for functionalities like list segmentation, automation workflows, autoresponders, and analytics. You have a number of ESPs to choose from. Just research well and test the tool properly before you make the purchase. You can go for the free trial offered by different ESPs like Constant Contact, ActiveCampaign, and VerticalResponse. If you are looking for a "free for lifetime" kind of ESPs, you can explore the features offered by Mailchimp, Sendinblue, and ConvertKit. No matter which platform you choose, make sure that you have access to all the features required for EDM marketing.
2. Focus on email list building strategy
The primary requisite for email and EDM marketing is a quality email list. You must invest in a robust email list building strategy that will get more people to fill up the sign-up form.
Here are some ideas to help you out:
Have a short sign-up form
Long sign-up forms will frustrate the users and hamper your list building strategy. Therefore, you must include minimum fields on your sign-up form. Once they sign up, you can use profiling welcome emails to ask them for more information.
Prepare a compelling lead magnet
Free trial, discount coupon, and an insightful resource are examples of good lead magnets. Your lead magnet must tempt the audience to sign up and offer something valuable in exchange for their personal details.
Design a dedicated landing page
Your landing page should be designed in such a way that it compels maximum users to fill the form. Use visual cues, relevant imagery, and an engaging copy to encourage people to sign up.
Use different channels to collect email addresses
In addition to pop-ups and floating banners on the website, you must take help of social media channels to collect leads. Add a "sign up" CTA button on social media ads to boost your email list growth rate.
Pay attention to the offline mode
If you have a physical store, you can request the customers to share their personal details and email address. Let them know that you will use the email address to notify them about discount offers and other updates.
3. Carry out list segmentation
Sending personalized emails is the key if you want your email campaigns to work. Hence, you must employ list segmentation to create different categories and customer personas. You can segment the list based on your business type and objectives of the campaigns.
Broadly, you can segment your subscribers in four ways, namely:
A, Demographic segmentation
Demographic segmentation considers basic attributes like age, gender, ethnicity, and income details.
B. Geographic segmentation
Geographic segmentation helps target the customers according to their physical location — country, state, city, and postal code.
C. Psychographic segmentation
Factors like customer's interests, personalities, life goals, and the like fall under psychographic segmentation. You can subtly ask the subscribers of these details through email. Once you get access to such information, you can send out hyper-personalized emails that are more likely to bring results.
D. Behavioral segmentation
Parameters like past purchases, frequency of purchase, and order value are considered in behavioral segmentation. It is extremely valuable for eCommerce businesses. They can send out product recommendation emails according to the customer's previous purchases. Automation workflows in the eCommerce sector are based on this type of segmentation.
4. Build your email campaigns
Once you are through with the first three steps, you can start creating your email campaigns.
Discussed below are some best practices to follow while building your emails.
Do not keep the subject line as an afterthought. Write an engaging subject line that would tempt the users to open your email.
Keep your email copy brief and interesting to read. Use a lucid language that is free from any technical jargons. Focus on the benefits of your products or services rather than features.
Adhere to the branding guidelines and maintain consistency in the email cadence, design, and tone.
Take the help of visuals to reinforce your message. It will also make the email more readable by breaking up the content into small chunks.
Follow the email accessibility best practices. Choose the font size of at least 14px so that it is easy to read on smaller screens. Maintain an appropriate color contrast and avoid using any flashy images or animations. Add a suitable alt-text to every visual element. (For more accessibility best practices, head to our guide to email accessibility)
Abide by the anti-spam laws and keep the unsubscribe button clearly visible. Include your contact details and physical address in the email footer.
5. Set up the automation workflows
Triggered emails are messages that are automatically deployed according to the trigger events you have set in your ESP or CRM tool.
A few examples of triggers are:
i. When a user signs up for your emails
ii. When a prospect makes the purchase
iii. When a customer leaves some items in the cart without checking out
iv. When a client downloads a content resource from the website
Test the automation workflows before you set them up so that you do not end up sending the wrong email. Keep optimizing these automated emails based on their performance.
6. Monitor the email marketing metrics
Tracking email metrics is one of the most essential aspects of EDM marketing. You must know whether your emails are bringing results or not.
The metrics that you must keep tabs on are:
Open rate: Number of people who opened your email
Click-through rate: Number of subscribers who clicked on an email link
Click-to-open rate: Comparison of the number of unique clicks and unique opens
List growth rate: Number of new subscribers on your list
Email forwarding rate: Number of people who forwarded your emails
Conversion rate: ROI generated through your emails
Unsubscribe rate: Number of unsubscribes
Bounces: Number of people who did not receive your emails due to a temporary or permanent error (Soft bounces or hard bounces)
7. Take an omnichannel marketing approach
Let me explain this with the help of an example.
Check out this email by Rue la la in which they have promoted their spring styles.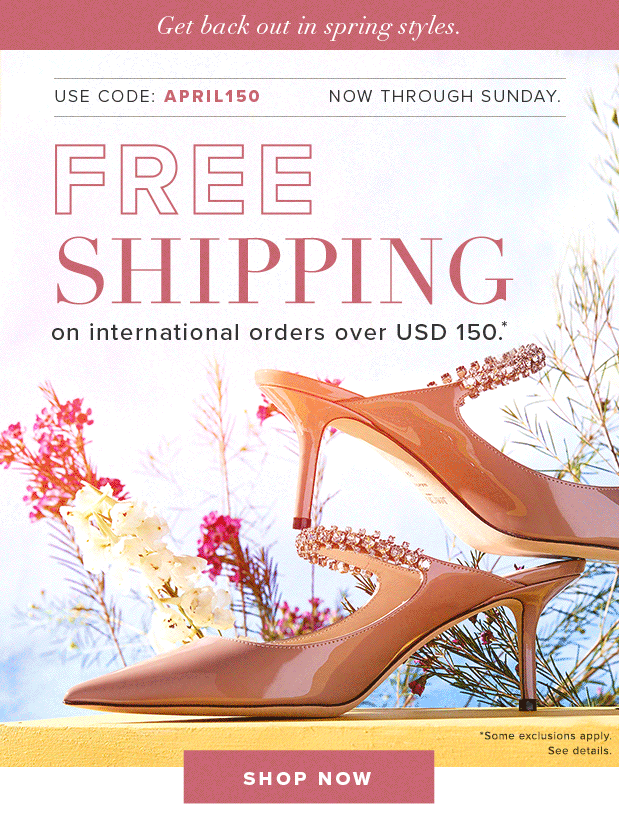 Now, if a user stumbles upon their Instagram page, they are ushered in with the same type of posts and product images accompanied with a descriptive caption.
In case a user does not convert through email, you have another chance to convert them through social media channels. The same applies to retargeting ads, pay-per-click ads, SMS remarketing, in-app notifications, and other advertisements.
Wrapping Up
In the nineteenth century, marketers focused on traditional direct mails, hoardings, and TV advertisements. Now, the revolution has turned to powerful CRM tools and EDM marketing. The best way to accomplish your marketing goals is to take a customer-centric EDM marketing approach and switch to complementary marketing strategies along with email marketing.
Need help with setting up autoresponders and creating impressive email campaigns?
Email Uplers can help>>