[This post was originally published on 20th Jan 2022. It has been updated on 17th Oct 2022.]
You've curated your copy, finessed your design, and employed the best opt-in email strategies out there- and of course, they work. Your sales funnel is now teeming with potential prospects, and the market is abuzz with the mention of your brand. So, what next? Step back, and relax? Nope, not at all. Lead nurturing; that's what needs to be on your agenda next.
Amassing leads is one thing, but converting them to paying customers is a whole different ball game altogether. Once you've roped in a customer into your funnel, you need to focus on building a strong relationship with them; convince them that you can (and will) add value to their lives. This is where lead nurturing emails come into the picture. From educating customers about your products and services to addressing their pain points to winning their trust- nurture emails are the full package. Want to find out more about them? You are at just the right place!
Table of Contents:
Why is Lead Nurturing Important?
Before we delve into nurture emails, let us wrap our heads around lead nurturing to begin with. Simply put, lead nurturing is the practice of establishing relationships with your customers at every stage of the sales funnel. It is what paves the path for satisfied customers and increased revenue growth. Read on to find out some of the other benefits of lead nurturing.
Establishes your business as a thought leader- When you're routinely engaging with your customers to educate them about various facets of your products or services and addressing their queries in the process, they start looking up to you as an industry leader and a figure of authority. Not only does this enhance the credibility of your brand, but it also helps you build an extremely loyal customer base. After all, if you have the answer to all their questions, why would they go anywhere else?
Ensures you are constantly communicating with your customers– Be it to create awareness, provide solutions, or obtain feedback, lead nurturing email campaigns allow you to be in constant and regular touch with your customers.

This serves two purposes-
1. You are constantly on their radar.
2. It makes them feel valued.
Learn more about your customers- Email nurturing campaigns present you with tremendous opportunities to amass a wealth of information about your audience. It helps you understand the challenges they are facing, what kind of solutions they might be interested in, and how they are responding to your existing competitors. You can segment your leads into various categories based on their responses to your questions and subsequently approach each segment with a unique plan.
Gather new leads- When you nurture your existing leads, you are, in effect, laying the foundation for generating new leads and attracting new visitors to your website. When you share valuable and insightful content with your leads, they'll feel motivated to forward the same to their friends and relatives, expanding your visibility and reach in the process. Another technique with which you can gather new leads using existing ones is by running a referral program. If your rewards are attractive enough, it will definitely spur your leads into action.
Lets you tap into cross-sell and up-sell opportunities- Constantly engaging in a back and forth dialogue with your customers has two resounding benefits:
– It leaves you with a detailed and nuanced understanding of their profile.
– It presents you with an opportunity to broaden their horizons regarding your offerings.
While the first benefit enables you to reach out to them with relevant content, the second one allows you to unearth a slew of cross-sell and up-sell opportunities. This, in turn, places you well to extract bigger sales out of them. In fact, a study from Market2Lead shows that nurtured leads have a 9% higher average deal size. And that's not all; they also have a 23% shorter sales cycle. If that doesn't convince you to nurture your leads, we don't know what will.
Saves you money- In case you were wondering, yes, generating new leads is a pretty expensive affair. Sufficiently more steep than converting existing ones. The cost of acquiring a new customer can be anywhere between 5 to 25 times the amount spent in retaining those already a part of your sales funnel.
Why Email For Lead Nurturing?
With the advent of social media, the population of nurture email naysayers has grown quite steadily over time. Many of them are of the opinion that lead nurturing emails are an ineffective marketing ploy, and brands would be better off investing the same capital boosting their social media presence. Well, we don't subscribe to that school of thought.
Of course, social media is an excellent medium when it comes to enhancing your visibility, but when engagement is concerned, email reigns supreme. While the email open rate across industries stands at 22.86%, social media's overall engagement rate is a paltry 0.58%. Email boasts of a staggering global user base of roughly 4 billion, and 99% of these users check their inboxes daily (sometimes even first thing in the morning). All these factors make email marketing a great channel for nurturing your leads toward conversion.
What is a Lead Nurturing Email?
Lead nurture emails are the messages you send to create relationships with your customers. Now, lead nurturing emails might serve multiple purposes-creating awareness, providing solutions, or fostering brand loyalty- but eventually, they have one objective; to drive conversions. When done right, nurturing emails keep your customers hooked to your business and make them look forward to your communications. The bottom line is, lead nurturing is beneficial for both the business as well as the customers.
However, churning out a lead nurturing email campaign does involve a lot of hard yards. At the outset, keep in mind the fact that your customers register several kinds of interactions with your business- subscribing to your newsletter, reaching out to your customer care cell, making a transaction, leaving feedback, and the like. With a nurture email, you should ideally be looking to intercept them effectively during all these stages. That's how you can ensure that you're always on their radar which, ultimately, gives you enough ground to nudge them towards a conversion.
Look, identifying sale funnel stages is not the tricky part. So, you needn't lose your sleep trying to figure out WHEN to intercept your audience; that's the easy bit. You need to contend with the "What" aspect of it; that's what separates the best from the rest. Content is the decisive factor when it comes to lead nurturing campaigns. That's not to say timing comes second, but even a well-timed nurture email will fail to fetch dividends if it lacks substance. And there's only one surefire way of coming up with content that is clutch- invest in your audience. Study user behavior, tap into their patterns, and use that to provide your subscribers with exactly what they want to see. Remember, the only thing better than content is analytics-driven content.
Different Types of Lead Nurturing Emails
As mentioned earlier, nurture emails depend on the nature of your customers' interactions and, thus, they take several forms. In order for you to create best lead nurturing emails, it is vital that you establish an effective lead nurturing email sequence in place. With the passage of time, some of your customers might start interacting lesser and lesser with your emails. This is where a well-thought-out lead nurturing sequence becomes critical.
Start with figuring out the possible reasons that might have caused your audience to disengage from your communications. Use your findings to craft your lead nurturing emails accordingly. For instance, how do you lure back a customer who has made their first purchase with you? Send them a recommendation email containing products that are similar to the one they bought; provide them with discounts on the same. That'll surely get their attention. Likewise, you will need to plan different sequences for different customer interactions.
Let's take a look at the various kinds of nurture emails.
Welcome Emails
We've said this in the past, and we'll say it again- a good welcome email is worth its weight in gold. As it is the customers' first point of contact with your brand, it goes a long way towards securing their trust and loyalty (you know the deal with first impressions).

Use your onboarding email sequences to educate new customers about your products and services and highlight the value proposition that your newsletter and communication in general poses. That said, don't go about spamming their inboxes either. If anything, allow them to specify the frequency with which they want to receive their emails.
Take a look at this simple, well-designed example from Otherland.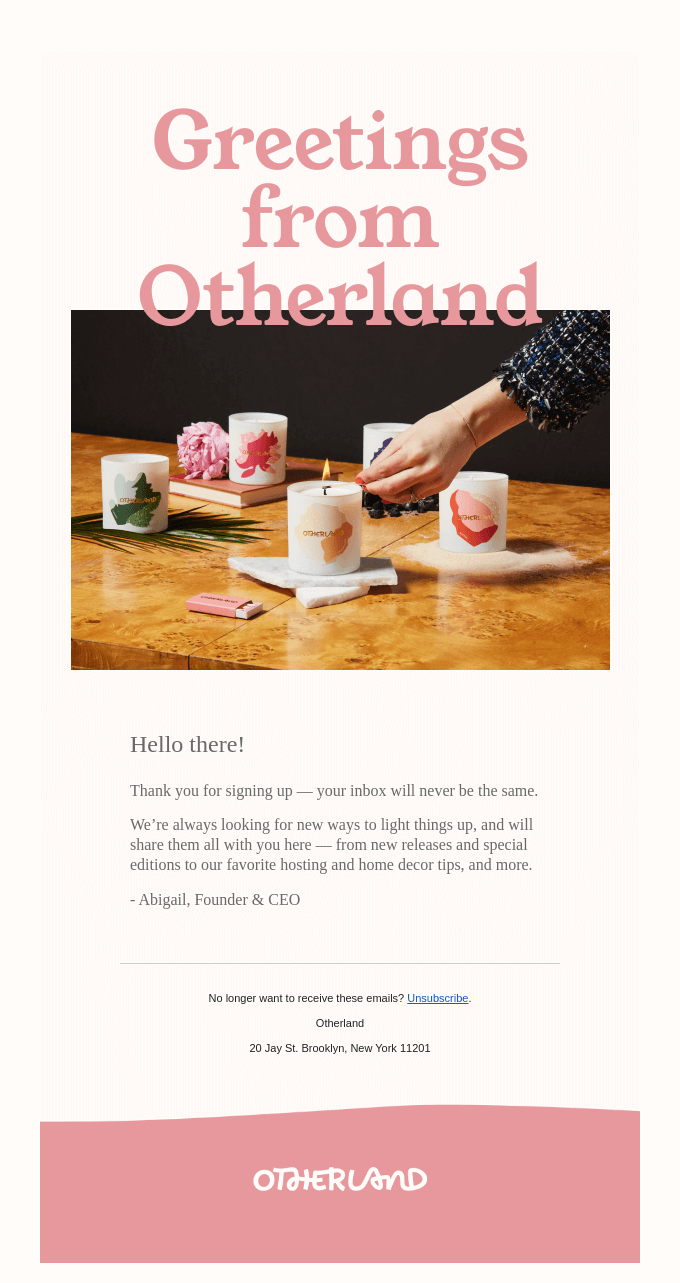 Informational Emails
If you're a SaaS or marketing services company, your reliance on informational emails is likely to be more than the rest in the industry. Your nurture emails will require you to share techniques and tricks using which your subscribers can make the most of your platform. For products that are particularly complex, break down its working in your emails to offer clarity. Use animation, illustrations, and bold typography to elevate the visual appeal. If your product has a free trial, explain what next they can avail from you at the end of the trial period. Operating with a freemium model? Send periodic emails that talk about the benefits of the features available with the premium model. Avoid talking about the merits in and of themselves; instead, elaborate on how those same features can effectively address your users' pain points.
Wondering how you should go about such an email? Take inspiration from this email by Asana.

Recommendation Emails
Nothing quite gets leads hooked to your business than a sequence of well-curated recommendation emails. The key to getting your recommendations right lies in closely studying the activities of your customers. Analyze their past purchases and browsing behavior to provide them with recommendations that align perfectly with their profile. The more personalized your recommendations, the better the responses you can elicit from your subscribers.
Here's an example of an excellent recommendation email from Houzz.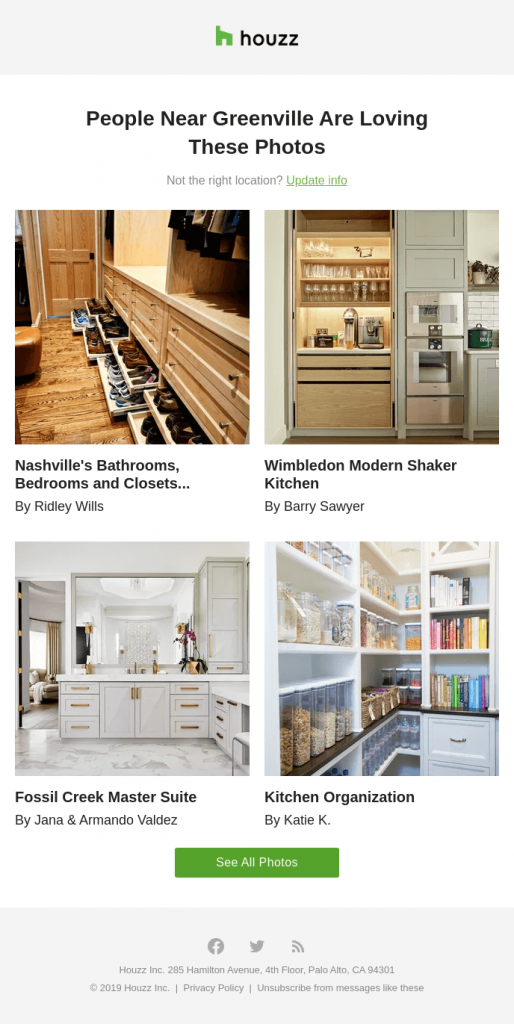 Engagement Emails
The entire process of lead nurturing hinges, effectively, around keeping customers engaged in your communications. This is what makes engagement emails a crucial component of any lead nurturing email sequence. Engagement emails need to be promotional yet relevant at the same time to have a shot at piquing your reader's curiosity. Along with good content, you can consider using visual elements like videos, cinemagraphs, and GIFs to attract your subscribers' eyeballs. Further, you can also incorporate gamification and interactive elements to heighten their appeal.
This engagement email from Brooks ticks all the right boxes.

Testimonial Emails
Want to be in your leads' good books? Win over their trust with positive review or testimonial emails. By sharing social proof from your previous satisfied customers, testimonials build the credibility of your brand and subsequently convince new customers to embark on a journey with you. Get this- as many as 84% of people trust online customer reviews as much as a friend's recommendation. Not wrong to say, then, that a testimonial email can well be the difference between a lead graduating to the next stage in your sales funnel or not.
Here's an example by Ritual.

Retention Emails
Reaching out to prospects who have gone cold of late is always a tricky task. It's no surprise, thus, that crafting a potent retention email poses headaches to the best in the business out there. Our advice? Get on top of your research before you sit down to write your re-engagement emails. What could cause your customers to click on that unsubscribe link? Is it the content? The email frequency or timing? The email accessibility? Once you've gathered these insights, get to work. Remind them why they signed up for your emails and newsletters in the first place, rekindle that spark; basically, give them plenty of reasons to stay engaged. There are many routes brands take with their retention emails- some try to grab attention with tempting offers and deals, some try to solicit feedback to understand where they're going wrong. Then there are also some who choose to ungate some of their previously gated content. As said already, re-engagement emails are tough; so, to understand what works best for your audience, you must religiously test them out.
This retention email from GoDaddy should fill you up with some ideas.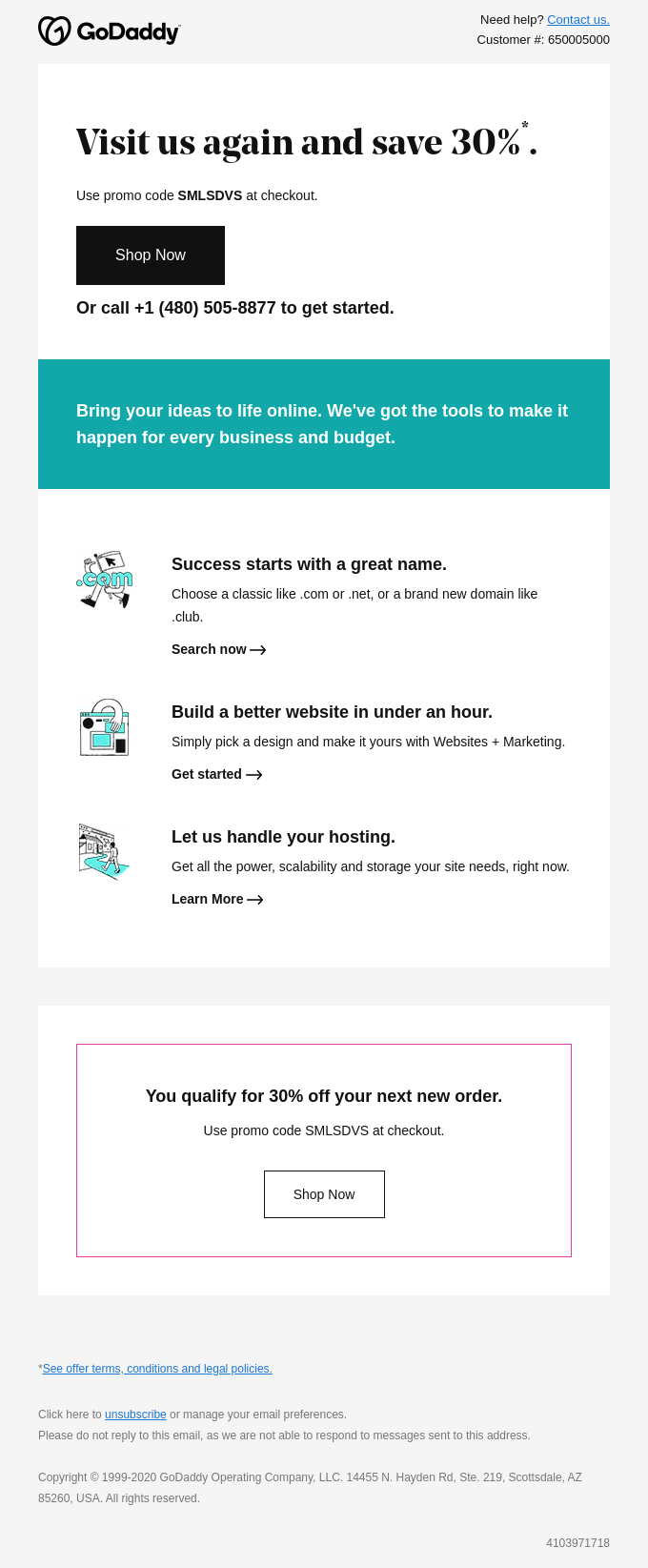 Announcement Emails
Whether it is regarding a new feature or an upcoming launch, announcement emails work wonders when it comes to capturing the audience's attention. That's not all; announcement emails make customers feel as if they're a part of the journey, thereby endearing them to the brand.
A good practice while composing these emails is to keep the most vital message in the first fold of the email itself. That way, the audience instantly understands what the announcement is all about as soon as they open the email. Provide additional details about the features or the updates but keep the email to the point. Your customers don't need to know everything about it; just what value this new event or feature could add to their lives. But the scope of an announcement email isn't just limited to sharing an update with your customers and explaining its value to them. It should also focus on coaxing some action from their end. And for that to happen, your announcement emails need to have super-compelling CTAs (call-to-action).
This example from Canva perfectly illustrates how one should go about their announcement emails.

Things to Follow While Designing a Nurture Email Campaign
The last thing you'd want for your lead nurturing emails is to end up in your subscribers' spam. Follow these tips to avoid that fate and script a winning nurture email campaign.
Use Your Insights To Add Value To Your Content
If your nurture emails present no value to your leads, they'll eventually start withdrawing from your communications. Factor in your industry insights to ensure that the information you are sharing with your customers either helps them to make the most of your offerings or is something they would be hard-pressed to find elsewhere.
If there's any particular topic you want to elaborate on, you can stitch together a series rather than cramming it all in one. Say you want to talk about "The Impact of AI." Instead of presenting a generic summary in one email, you can present your readers with a detailed picture of various AI applications across industries using multiple emails. The audience always appreciates content that has value and insight.
If you make a habit of teaching your subscribers something new every now and then, they will start looking forward to your emails, and you'll find your engagement metrics (and ultimately, your revenue) going through the roof.
Identify Your Leads' Positions In The Sales Funnel
With nurture email campaigns, the margin of error is extremely low. At all times, your focus needs to be on churning out content that is valuable and relevant to your leads. This can only be possible if you properly identify the stage they occupy in your sales funnel.
If it's an untouched lead, you can't just jumpstart their journey by bombarding them with your best-selling services and packages. You need to first initiate them into your community and walk them through your mission statement and objective before doing so. Top of the funnel leads are usually at the awareness and discovery stage, meaning they are still trying to identify their pain points and challenges. They're looking for a credible source of information who can both identify their problems as well as its antidote. Your communication needs to be such that it convinces the lead that your product or service is indeed the most apt fix for their dilemma.
Likewise, if it's a qualified lead, you don't need to waste time explaining to them why your offerings are valuable; they're already on board. Now, they're trying to figure out which of your solutions would be most suited to their requirements. Middle of the funnel leads are best engaged with case studies, white papers, and pros and cons lists- anything that offers a deep insight into your products and how they can resolve their challenges. At the same time, you also need to assess whether your offerings are suitable for your lead or not. There's no point in trying to sell an aquarium to a cat owner, is there?
As you gradually approach your bottom of the funnel leads, keep in mind that they're already well aware of their problem statement and also the kind of solution they need. At this point, they're on the lookout for vendors and will likely lean towards those who can best accommodate their terms and conditions. This is when you engage them with live demos, testimonials, competitor analysis, and customer success stories to reinforce the USPs (unique selling proposition) of your offerings.
Segment Your List
Along with identifying their position in the sales funnel, you must also segment your leads on various parameters such as:
Gender
Occupation
Location
Past purchases
Browsing history
Age
Interests and preferences, and the like.
This will empower you to grab their attention with highly personalized and customized nurture emails. Gradually, that'll make way for improved open rates, click-throughs, and conversions. Segmentation is vital because it helps identify the diverse buyer personas interacting with your business and, in the process, arms you with the requisite tools to cater to them effectively.
Besides understanding customer expectations, it allows you to foster greater participation and interaction. Further, by sending relevant content, you also lower your unsubscriber rates as well as the risk of your emails getting flagged by your email providers and ISPs (Internet Service Providers). This goes a long way towards enhancing your brand reputation.
Often, email marketers get too carried away and end up chalking out extremely sophisticated parameters for segmenting their audience. We suggest keeping things simple (applies for both newbies and veterans). Complex segmentation strategies rarely justify the investment (in terms of both time and resources) that go into crafting them. And they can become very confusing for your leads too.
Start simple, lay a solid foundation, and keep adding to it down the road as and when the need arises. Also, never be too rigid about your segmentation plans. Remember, email list segmentation is a dynamic practice and is largely (if not completely) dictated by the actions and interactions of your customers. The best course of action is to take stock of the latest trends and insights and respond to them accordingly.
Additionally, you must also learn to formulate a new and unique plan for different occasions throughout the year. For instance, you can't expect your Black Friday and Cyber Monday segmentation frameworks to succeed during Christmas or New Year's. There's no concept of "one-size-fits-all" in the realm of email list segmentation.
Personalize Your Emails
The better you are at segmenting your contacts, the more personalized will be your lead nurturing emails. At the end of the day, the ultimate goal is to greet your customers with messages that align perfectly with their profiles and which correspond appropriately to their behaviors. Think beyond addressing them by their first name. That trend is long gone. Modern-day personalization hinges around reacting to your leads' interactions.
While monitoring their actions, keep track of the following:
Have they responded to their welcome email?
Have they completed their first purchase with you?
When did they last open your emails?
Which kind of emails are they interacting with the most?
Answering these questions will give you enough fodder while writing your email content.
Nothing tells your customers you care and value them more than a personalized email. It's very important for you to let them know that you don't just appreciate their transactions but their very association with you. In this day and age of flooding inboxes, the only surefire way of getting through to your leads and encouraging them to take action is personalization.
Keep Things To The Point
Although content does take the front seat in lead nurturing emails, avoid making your emails monotonous and tedious. Make sure the email copy is informative, free of jargon, and precise. While inserting links to surveys and studies is a good ploy to increase the appeal of your message, avoid including anything that doesn't relate directly to the message you are trying to convey.
Ideally, your audience should be able to understand what the email is all about the minute they open the email. To make that possible, consider keeping the crux of the email in the hero section itself. Lead nurturing emails are typically prone to information overload. So, our advice would be to just keep enough content that sparks the readers' curiosity and then invite them to uncover the rest using a CTA. As per the placement of the CTA button, aim to keep one above the fold, right underneath the hero section, so that the readers don't have to scroll down to find it. If you want to place a few secondary CTAs below the fold, you very well can.
Maintain Brand Consistency
The tone of emails comprising your lead nurturing campaign plays a pivotal role in determining its success. If there's a particular voice you use while communicating across other platforms, stick to it while composing your lead nurturing emails too. A consistent brand voice instills trust and confidence in your leads' minds and inspires them to associate with you.
Just because lead nurturing emails are intended to educate and create awareness doesn't necessarily mean you have to adopt a drab and pedantic tone while scripting them. If your brand is known for its casual, informal, and quirky language, make those very attributes shine in your nurture emails as well.
However, a brand's tone is not defined by just the voice and cadence of its email copy; it also considers the visual elements that are part of its communication, like the color scheme, fonts, and images. When you think of popular brands- Google, Adidas, Coca-Cola, Disney, McDonald's- their color and logo font instantly flashes in your mind, doesn't it? As per images, some brands prefer using curated, modern pictures obtained from organized photoshoots, while others prefer vintage images sourced from stock photography websites.
Embrace Automation
As much as lead nurturing is about constantly communicating with your customers, it is equally about sending them the right message at the right time. How do you make it possible? With automation. Many have already hailed automation to be the future of email marketing. It is, without any doubt, going to be responsible for the majority of disruptions that are yet to come in the email landscape.
With the help of triggered emails, you can respond to your customers whenever their actions or behaviors oblige a specific pre-condition or "trigger." Confirmation emails that are dispatched moments after an individual completes a transaction are an outcome of this arrangement. It goes without saying, introducing automation to your lead nurturing email campaigns will enhance it by leaps and bounds.
Give Them The Choice of Leaving
We know this seems very incongruous in a blog about lead nurturing, but well, as it turns out, giving your leads the choice of unsubscribing is, in fact, one of the best lead nurturing practices out there. As you would have already figured by now, chalking out a lead nurturing email campaign is a rather demanding affair. So, it's only logical that it reaches only those inboxes that possess some kernel of interest in your business.
Don't think we're asking you to give up on your cold leads; do your research, figure out every possible reason that might be stopping them from responding, and put those insights to action. Despite that, if they still continue to be unresponsive, consider the possibility of letting them go. Cleaning your email list is an inherent part of lead nurturing. Besides, hot leads or cold, including an unsubscribe link (or button) in your emails is pretty much non-negotiable. Just as they had subscribed to your newsletter and emails of their own volition, they have every right to opt-out as well.
Along with keeping an unsubscribe link, add an "update preferences" option as well. At times, it is the sheer frequency of your emails that might be putting off some of your leads. Allow them to set their own frequency and watch your engagement rates and conversions go up!
How To Ace Nurture Emails For B2B Campaigns
Email marketing and content marketing, in general, become that much more challenging when the arena shifts to B2B companies. Most other rules and practices that hold up in e-commerce, SaaS, offline retail, NGOs, and other industries fall flat on their faces when it comes to B2B. So, what makes them so different exactly?
For starters, the target audience of B2B marketers is relatively small. They sell directly to another business, which effectively means that they're selling to the decision-making unit of that business. Now, that unit might be any one department or the team leaders of many departments assembled together.
Now, let's talk about products. B2B products are typically more complicated and sophisticated than their B2C counterparts, making marketing them a task and a half. Of course, you'd still be marketing to people who speak the same language as yours, but you still need to be able to communicate the merits and salient features of the product as effectively as possible.
That said, let's look at a few ways using which you can get on top of your B2B lead nurturing email campaigns.
Continuously stay on the lookout for industry trends and illustrate how your offerings align with them in your emails.
Though feedback is an essential aspect of all kinds of campaigns, it holds additional weightage and gravity in the B2B field. This is primarily because the "customer" in B2B dealings is an industry expert themselves, and any suggestion coming from their end is invariably going to improve the product.
Be clear with the flow of your lead nurturing campaign. Rely on the conversations you have with your leads to determine the progression of the emails you want to send their way.
Wrapping It Up
A successful lead nurturing campaign is hard to pull off, but it can really be a game-changer for your brand and business when executed to perfection. It demands uncompromising hard work, commitment, dedication, and perseverance, but considering the rewards that it showers on you, all of that is well worth it.