It is a fact that 22.5% of your email database decays every year. This can be due to multiple reasons like your subscribers changing jobs or abandoning the email address that they no longer use, or worse, they no longer find your emails useful or relevant.
When your subscribers stop engaging with your emails, as marketers, you should come up with re-engagement strategies to win them back. It is cheaper and easier to retain your old customers than to find new ones. This is because your brand has already done the task of establishing trust, so convincing them will not require as much effort as you put in the beginning.
Here are few tactics that you need to include in your re-engagement emails to win back their interest in your brand's emails.
1. Write a nice, captivating copy
Your emails should be engaging and effective enough to garner the attention of your subscribers. When your inactive subscribers open your re-engagement email, they should find something interesting in the email, something that would persuade them to click and engage with the email.

A catchy subject line, headline, and CTA are must-haves for your re-engagement emails.
2. Pique their curiosity by personalizing
Personalized emails help to create a stronger bond and improve chances of inducing engagement. How can you personalize a re-engagement email? Well, you can address the subscribers using their first name, show them their past purchase history, and send personalized recommendations based on past behavior.

Coffee meets Bagel uses first name personalization and a relevant image to show what the subscriber is missing while being inactive. The email has a captivating copy and stron g CTA that asks the subscriber to come back and reactivate the account.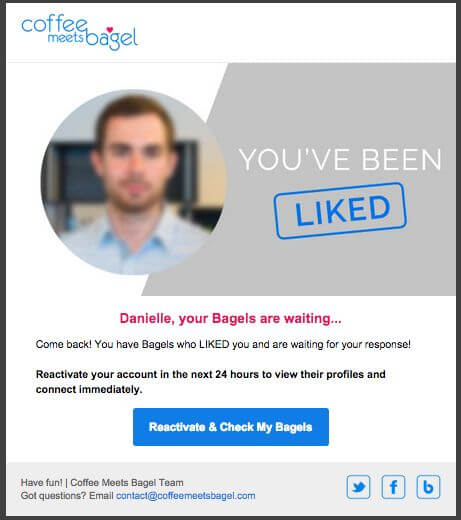 3. Ask for the problem and provide solution
There can be several reasons for your customers not engaging with your brand. You need to know the reason for their inactivity. Ask for feedback from your subscribers to avoid repeating the same mistakes again and again. Ask them the reason for inactivity and then provide an appropriate solution.
Check out this re-engagement email from Mini that asks certain questions followed by solutions to the problems. They provide the subscribers an opportunity to choose what kind of emails they want to receive.

4. Lure them with an offer
Giving your inactive customers gifts, offers or discounts is a great way to re-engage them. If your subscribers do not engage even after your second and third email to win them back, give them a discount offer. An effective way to do this is to mention the offer in the subject line. By offering a discount or a gift, you encourage the subscriber to revisit your store and purchase again.
NYX gives their inactive subscribers a discount deal to get them to open and click-through the email. The offer is mentioned in the subject line, which is "Hey, Stranger! Take 40% Off". The offer is highlighted in the copy, followed by a prominent CTA. Kudos!

5. Make sure you highlight the benefits
Remind your customers about the features and value of your products. Show them what they have been missing since the last time they engaged or bought something from your brand.
Here's an email from Skillshare that focuses on the new premium features and benefits that the brand has to offer. This will grab the subscribers' attention and entice them to visit the website and try out the new features.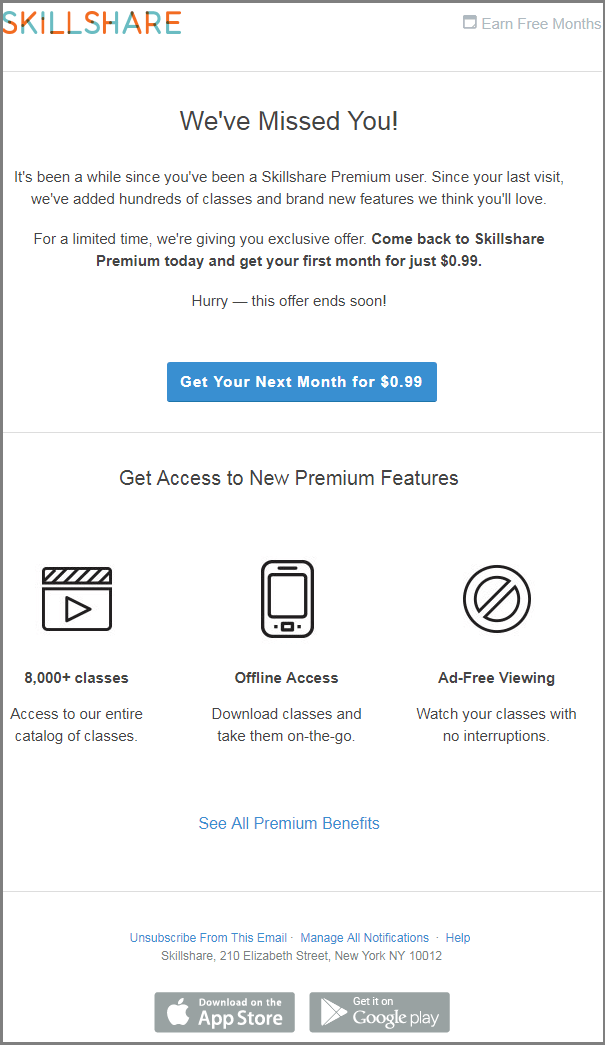 6. Segment the list of inactive subscribers
Based on how long a subscriber has remained inactive or the reason behind the disengagement, segment the list of inactive subscribers and craft your emails accordingly. This will help you to get maximum responses. Subscribers/ customers will appreciate if the emails they receive are related to and appropriate for them.
Check out this email from Kate Spade Saturday that is targeted to only Gmail users. With an attention-grabbing title and CTA, the email is sure to get users to re-engage with their emails.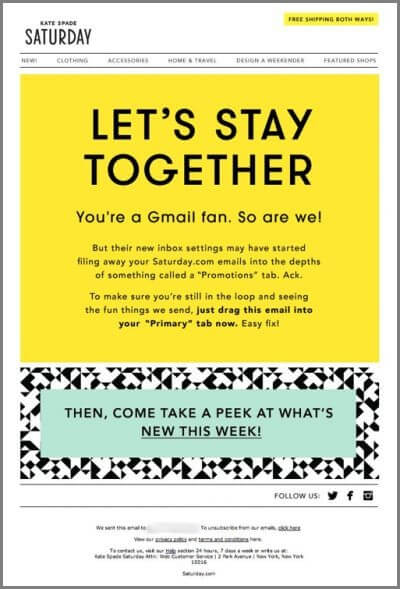 7. Send a series of emails for better results
Build a re-engagement campaign with a series of 3-4 emails. Send different re-engagement emails over a period of time to try to engage inactive subscribers. Try different combinations of subject lines, offers, and email copy, than relying on a single email.
Also, know when to stop. If they do not engage with your emails even after sending a series, know that it is finally time to remove them from your list. You don't want to keep sending them emails and spam their inbox which may give your company a bad reputation.

Check out the last email from the re-engagement series of Zwilling Online.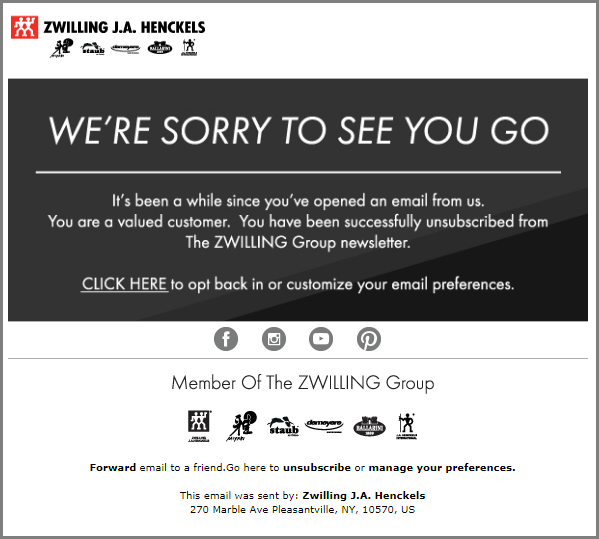 Wrap Up:
Getting your subscribers to re-engage is never going to be easy as they've stopped engaging with your brand for a reason. However, by incorporating these tactics and tips in your next re-engagement campaign, you can make it effective and successful. Make sure you leverage customer data to get a clear idea of when and what to send and when to let go.
Do you want us to design and code enthralling re-engagement emails for your brand? Get in touch with us.