Crate & Barrel's Email Lifecycle: Email Examples and Tips
Whenever we plan a road trip, reaching the destination means traveling through several milestones, taking short halts, clicking pictures and creating a memorable experience along the journey. Sometimes, the journey delights you just as much as the destination does. It's all about the way you feel. Same holds true for email marketing. It is the soul of marketing strategy that helps in building the entire user experience and conveying the right message at the appropriate time.
Email marketers do not make the most of lifecycle email marketing though it is one of the most promising opportunities that in front of them. Only 2.6% of emails are sent as a part of lifecycle email marketing.
Uplers analyze how Crate & Barrel, a popular housewares curator, implements email marketing throughout the digital tour of the customer.
Email marketing usually starts when a customer signs up to your emails. That's when you get "connected" with the customer for the very first time. Email marketing lifecycle of any brand begins at this point.
1. Welcome Email
Whenever a guest comes to your place, you always receive them with a warm welcome greeting. That's exactly what your email subscriber is expecting from you.
Take a look at Crate & Barrel's beautifully designed welcome email that entices the subscribers with images so captivating, they make them go "WOW". With CTAs in the right place, the brand makes sure the subscriber is motivated to make a purchase.

2. Introduction to the Brand
Once a subscriber signs up, the brand sends out emails introducing them to the Crate and Barrel family- a perfect move! The email displays their favorite products, introduces the subscriber to the artists they work with and reveals the registry benefits. It helps the subscribers to understand what kind of products they can expect from the store.

3. Promotional Emails (Drip Email Campaigns)
Offers and discounts bring good conversions, and it is thus important to highlight them. Crate and Barrel highlights the products beautifully in their emails. With the discount once placed prominently at the top and then everywhere in the email, it's a job well done on their part as the copy successfully centers the subscriber's attention.

Crate and Barrel also does a great job at sending out seasonal emails for promotions. Even though the below email has no mention of sale or discount offers, the vibrant colors and images set the mood of Christmas, enticing the subscribers to take action and buy.

4. Transactional Emails
After placing an order, subscribers invariably wait for an "Order Confirmation" email to be sure that their order has been successfully placed followed by "Order Shipped" emails.
Transactional emails can take the subscriber engagement a level further if you include recommended products in the email. That's a great idea to cross-sell and generate more revenue.
A subscriber who purchases yellow sconces receives the recommendations of pendant lights. That's truly a brilliant cross-selling strategy.

Another subscriber who buys canister sees glass jars in the product recommendations. See the level of personalization? It always feels nice to get such personalized product recommendations. Needless to say, it's a win-win situation for both the parties.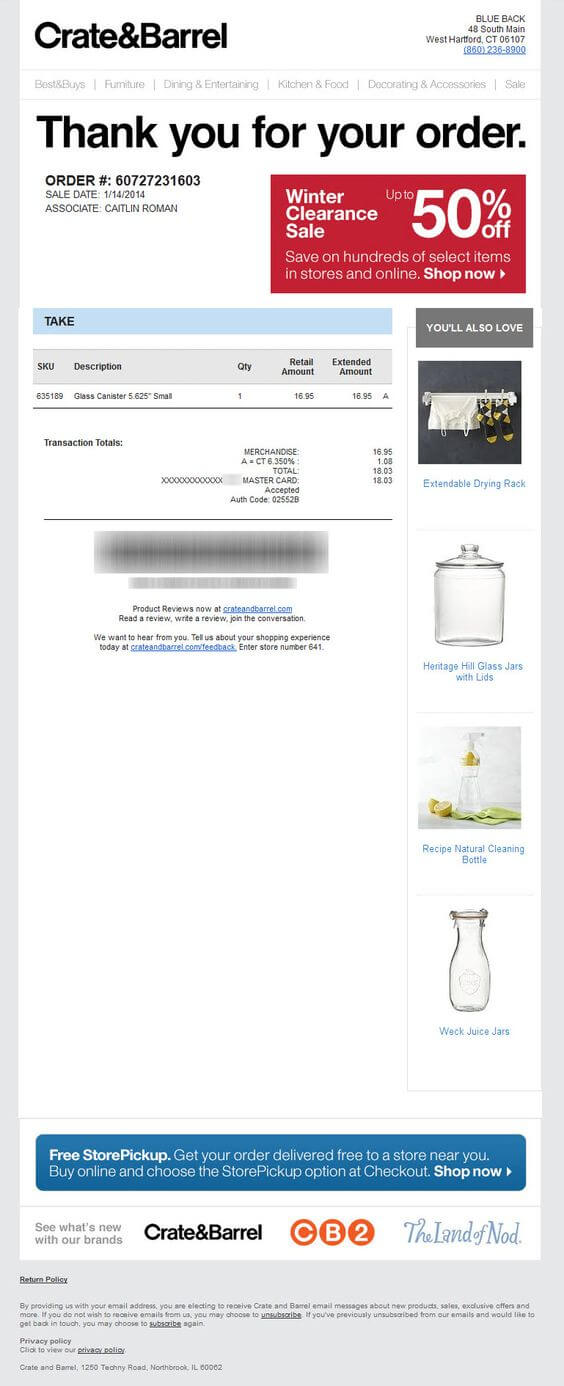 Once the product is delivered, Crate and Barrel follows up on the subscriber by sending an email that mentions some details about the product. What draws more attention is that the email is not salesy and intends to help the customer make best use of the product.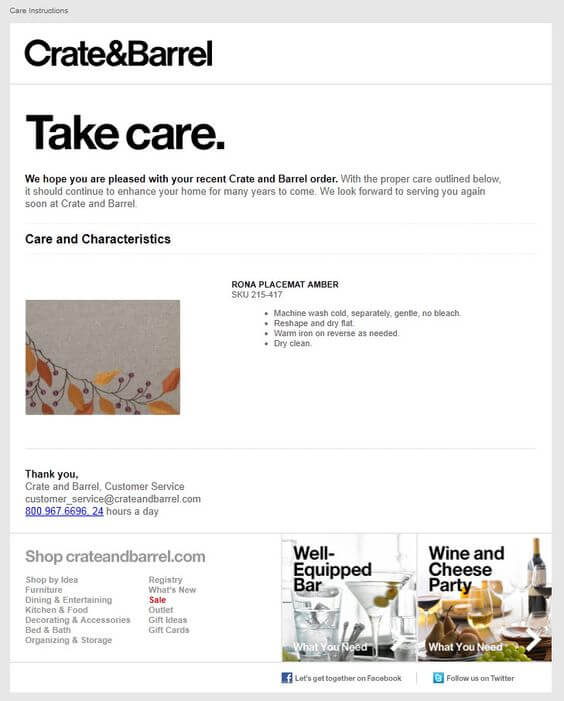 5. Behavioral Emails
A. Cart Abandonment Emails
Study has shown that 68.07% of shopping carts get abandoned. According to Marketing Land, more than 50% of cart retrieval emails get opened and more than a third lead to final purchases.
Have a look at the cart abandonment email by Crate and Barrel that assures the subscriber about secure checkout and easy returns policy. The email reminds us of the statement –"Most of the conversions take place when there's a perfect combination of urgency, trust, need and money". The fact is accurately depicted in the email.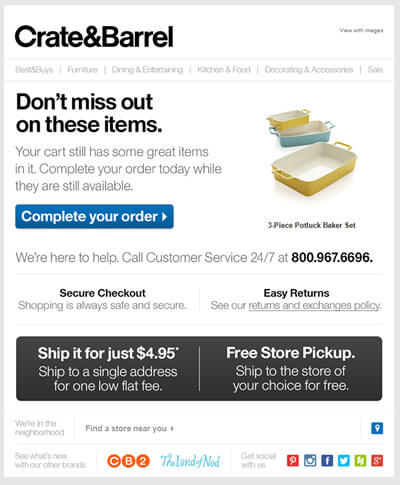 B. Product Reviews Email
Asking for product reviews and opinions is another example of behavioral email examples that also form an important part of email lifecycle. Check out how Crate and Barrel subtly asks their subscribers to leave feedbacks and "join the conversation".

C. Retention and Re-engagement emails
Attracting a new customer costs five times more than retaining an existing one. That's the main reason why re-engagement emails become so important. Suppose you have subscribers who open the emails but do not click through. How about sending them an email offering exclusive discount to win them back?
Take some inspiration from the business email samples sent by Crate and Barrel to re-engage the dormant subscribers. The below email is an excellent example for the same.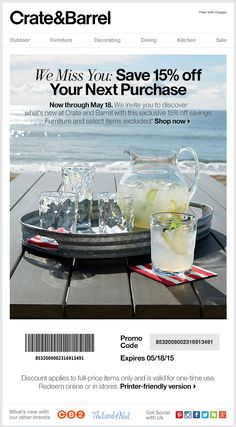 Wrapping Up
Lifecycle marketing is truly a boon for email marketers. You can plan out a prudent strategy and come up with an interesting email journey for your brand. It is not as complicated as it seems and you can surely use these ideas and make the most of such email marketing.